Handsome Dutch Gay Porn Star, Logan Moore
Years Active: 2014 – 2019
KRISTEN BJORN INFO:
Nationality: Netherlands
Height: 6'1
Weight: 175 lbs
Dick: 7" (17.78 cms) uncut
Position: Versatile

AT LARGE: Ricky Larkin fucks Logan Moore & Dillon Diaz
When Ricky Larkin faces death, he has a vision of an old friend, Dillon Diaz. Dillon isn't in the realm of the living anymore and now Ricky has a chance to fuck him one last time. "Get up!" Dillon keeps coaxing to the living Ricky, but ethereal Ricky wants Dillon to himself. Dillon knows that time is tight so he cuts to the chase and sucks Ricky's hard cock. Dillon can sense that Ricky is ready to fuck and hops on the detective's dick to ride it. As Dillon is getting fucked by Ricky, Logan Moore appears to Dillon and shoves him off Ricky to take his rightful place on Ricky's giant cock. There's a tension between Dillon and Logan but the studs work through it to get all the pleasure they can. Logan bends over to take Ricky's dick up his ass as he sucks Dillon's cock. Logan loves the feeling of all the dick he can get and rolls over onto his back to take Ricky even deeper. As Dillon tries to get Ricky to wake up to the land of the living, he relents and bends over to let Ricky fuck his tight hole one last time. With Ricky pounding his ass, Dillon lets loose and dumps his load. The sight of Dillon's jizz is all it takes for Logan to give himself permission to do the same. Ricky is the center of attention now! As he jacks his massive cock, he's torn between kissing Logan and Dillon. Will kissing Logan keep him from living? If he chooses Dillon is he choosing life? Just as he's ready to cum, Ricky faces a tough decision. Will he stay with Dillon and Logan for eternal bliss in death, or will he live and wrap up the case that could haunt him even on the other side of life?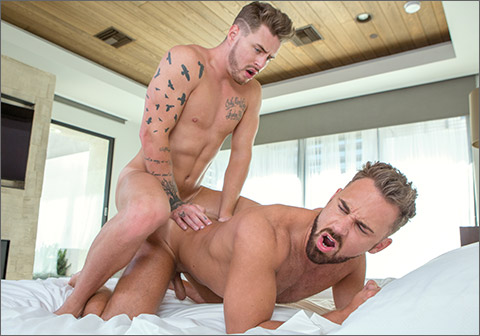 HUNGRY FOR MOORE: Josh Moore & Logan Moore flip-fuck
Josh Moore seems to have the upper hand over Logan Moore in an impromptu wrestling match in bed. The fun is just beginning for the lucky studs and as the wrestling subsides, they lock eyes and Logan relents to start exploring Josh's hard, ripped body. It's not long before Logan finds his way to Josh's fat, uncut dick and goes to work making it extra hard. Josh is eager to taste what Logan has to offer and returns the favor with a nice long suck session of his own. That's not enough for Josh though, who gets Logan's legs in the air and goes down on his ass to lube him up with his tongue. Logan is ready for everything that Josh has to offer and opens wide to let the muscle hunk slip his cock deep inside. Josh humps away on Logan's tight hole, making the stud grunt with every plunge from his rock-hard dick. After getting his hole worked hard, Logan is ready to switch it up and give Josh a stretching. Logan mounts up and fucks Josh with a steady pace. As the fucking continues, the studs keep flip-fucking, taking turns getting their dicks wet and their asses worked. After all the fun, Logan is the first to cave and squirts his load all over his tight, heaving abs. All the jizz is more than Josh can take and he pulls out to give Logan a massive facial.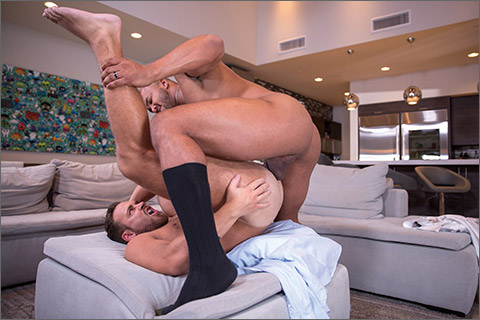 HUNGRY FOR MOORE: Jason Vario fucks Logan Moore
Logan Moore is whipping up a surprise dessert in the kitchen when Jason Vario comes home from a long day at work. Jason loves that Logan is so thoughtful and gives him a kiss that quickly leads to Jason unbuttoning his shirt and pants. Logan can see that Jason is ready for action and gets down to his knees to help Jason relax from a long day at work. Jason wants a taste of Logan's succulent ass so he bends Logan over the kitchen counter. Jason takes some of Logan's dessert and spreads it on Logan's hole. Logan loves the sensation of Jason's tongue eating his sweet hole. Logan is ready for Jason's swollen dick and takes off the rest of his clothes to invite Jason inside him. Jason slips easily into Logan's willing hole and pumps him deep, giving the horny stud exactly what he wants and needs. Logan is loving every thrust from Jason's big cock and turns over on his back to give Jason full leverage on his prostate. That's all it takes for Logan to get his relief and with Jason still inside of him, he unloads thick ropes on his own panting body. Jason is about to bust and pulls out to spill his load onto Logan. With Logan covered in cum, Jason bends down to seal their union with a kiss.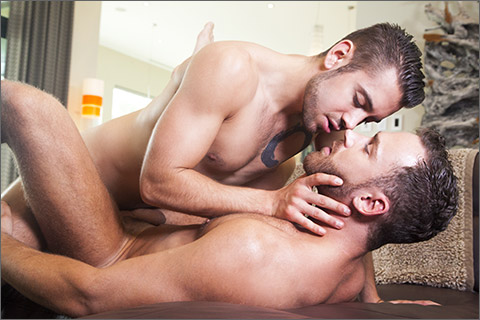 THE CHOSEN FEW: Dante Colle fucks Logan Moore
Logan Moore catches his handsome houseguest Dante Colle breaking the golden rule: hooking up with Alam Wernik. To teach him a lesson, Logan drags Dante into the house and orders him to eat his ass. Dante dives in tongue first, getting Logan's hole primed and ready for Dante's enormous cock. Logan rolls over Dante shoves it in and power-fucks a load out of his horny host. Logan pushes Dante back and sucks his cock, greedily licking up every last drop of cum. Judging from the look on Dante's face he has clearly learned his lesson.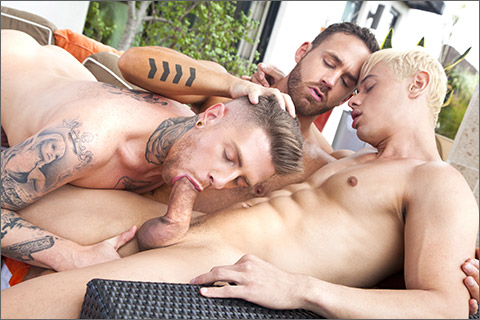 THE CHOSEN FEW: Logan Moore fucks Danny Gunn & Alam Wernik
Danny Gunn has been lusting after Alam Wernik ever since he arrived at the Moore estate. Always the tease, Alam hasn't made it any easier but little does he know that Danny has a few charms of his own. When he catches Logan More and Alam getting it on outside on the patio he watches from the doorway, jerking on his own hard cock. Logan sees the horny young stud and invites him to join. Before he knows it, he is on his knees worshiping both Alam's and Logan's hard cocks. It's all just foreplay for Logan who wants to fuck these fine young holes deep. He puts Danny and Alam next to each other ass up and moves from one to the other, rimming them then fucking them, back and forth until he can't take it. It's time to put Danny in the middle so Logan and Alam can fuck both his holes. Logan shoots all over Danny's torso while Alam feeds hi I'm his thick white load. Life is good when you're the chosen one.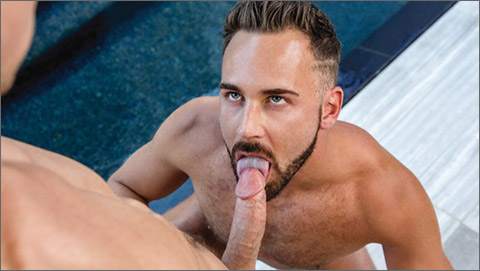 INTIMATE: Jack Hunter & Logan Moore
Logan Moore and Jack Hunter are kissing passionately in their underwear and tenderly rubbing their hands up and down their muscled-up bodies. Jack gets on the floor to show his lust for Logan by taking his thick erection into his mouth. Jack stares Logan in the eyes as he services his hunky man and takes him as far into his mouth as he can. Jack only stops momentarily to kiss Logan again before he gets back to work with his warm, wet mouth. Jack turns Logan around to tease Logan's tight, smooth hole with his tongue. Jack explores with excited intent, spreading Logan's cheeks wide open. Both hunks are in heaven as Jack licks and Logan enjoys the sensations. Logan wants to taste what Jack has to offer and gets on his knees in front of the stud. He gently pulls down Jack's underwear to let his thick pole out into the world. Logan pleasures Jack with his lips, taking the massive member in and out of his open, hungry mouth. Logan takes Jack's happiness to a whole new level when he works his magic and gets Jack to spill his seed all over Logan's beard and tongue. Logan can't get enough and continues sucking Jack, lapping up every last drop of semen as he lets out a moan and drops his own load all over the floor.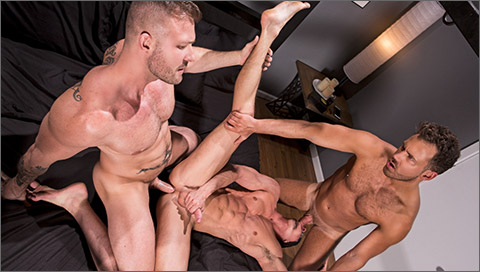 BLINDFOLDED: Austin Wolf & Logan Moore spit-roast Skyy Knox
Blindfolded and sprawled onto the bed doggy-style, Skyy Knox eagerly awaits his anonymous stuffing. Beefy stud Austin Wolf sneaks in from behind and dives straight into Skyy's hairless fuck hole, lathering Skyy's ass with spit. After prepping Skyy's hole, Austin hits record on his phone as he pushes his fat member into Skyy's ass. Starting off slow, Austin picks up speed hooking Skyy by the mouth with his finger as he drills his eager center. Austin invites his friend Logan Moore to have a turn while Skyy is still blindfolded. Austin films Logan having his turn then joins in taking turns pounding their unknowing bottom. The Skyy's surprise, Austin reveals his double-cock secret by feeding him his cock while Logan stuffs him from behind. Not opposed in the slightest, Skyy takes every single thrust as the hunks take turns on his holes. With Skyy on his back and Austin pumping his hole, Logan oozes a thick load onto Skyy's face and mouth. Austin feeds Skyy the creamy spunk until Skyy blows his load onto his washboard abs. When it's Austin's turn, he tweaks his nipples and drips his load into Skyy's awaiting mouth. Covered in cum, Skyy removes his blindfold and is pleased with the revelation of his unknown fuckers.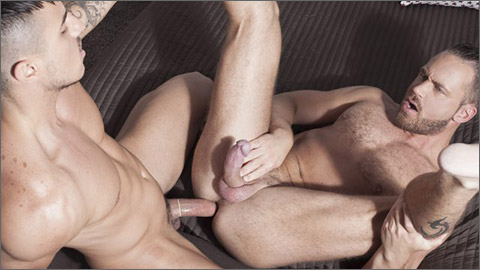 FLIP-FUCKERMATES – KLEIN KERR & LOGAN MOORE
This week we bring you two of our horniest mates: the handsome Spanish lad Klein Kerr and the sexy Dutch stud Logan Moore are back on www.fuckermate.com and meet to take turn fucking each other just for the pleasure of your eyes. The two mates enjoy every second and don't waste any moment. First they suck each other's succulent cocks, then they rim their hungry assholes to prepare them for a passionate flip-fuck. Both dicks are rock hard and they won't stop fucking until they rip off two thick loads of cum!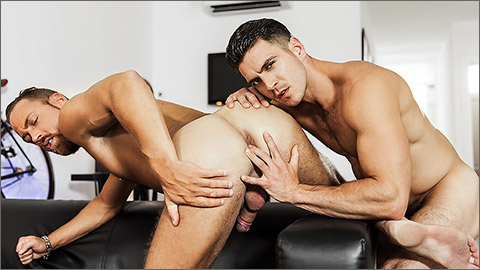 SENSE 8 A GAY XXX PARODY: Logan Moore, Paddy O'Brian
Paddy O'Brian finds himself transported from London to Prague when Logan Moore pulls him in with his Sense 8 ability. The guys take advantage of their teleporting power by stripping down and shoving each other's thick cocks down their throats.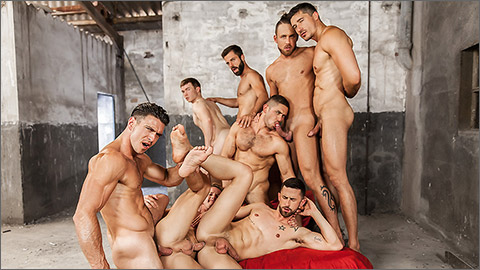 SENSE 8 A GAY XXX PARODY: Darius Ferdynand, Dato Foland, Gabriel Cross, Hector De Silva, Jay Roberts, Logan Moore, Paddy O'Brian, Sunny Colucci
It's the cum bursting conclusion of Sense 8, where all men come to their senses for an intimate globe-spanning release of sweat and semen all over their chiseled bodies.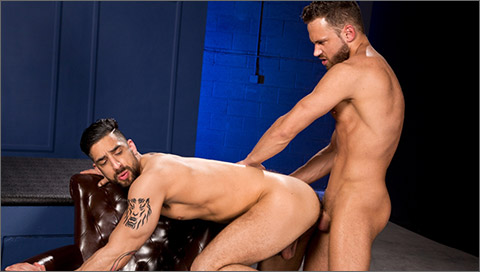 TEMPTATION: Logan Moore fucks Samir Hott
Two stunning studs, Logan Moore and Samir Hott kiss as they rub their hard sizable cocks together. They're locked in fiery passion, and their attraction can't be stopped. Samir licks and nibbles his way from Logan's lips down to his cock, grasping it around the base and stuffing its full length into his mouth. Logan pumps his hips reflexively as drool drips from Samir's lips. Samir plays with Logan's foreskin, stretching it, pinching it with his lips and pulling it, running his tongue under it. Forcing himself to stop, Logan bends Samir over a leather chair easing his cock into Samir's ass with ease and comfort. Taking Logan's fat cock without a flinch, Samir wants to be pounded harder, faster and deeper. The sexual energy culminates in two hot loads sprayed across their sweaty, sticky bodies.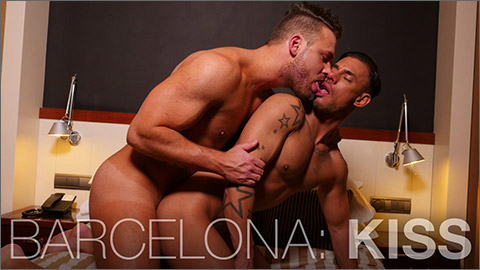 BARCELONA: KISS – LOGAN MOORE AND SERGIO
DominicFord.com is excited to introduce a new series: Barcelona! We traveled to Spain to film the Mediterranean's hottest studs in 4K. That's right: 4K Gay Porn, and it's amazing. The first scene, Barcelona: Kiss, features Logan Moore and Sergio, fucking, sucking, and, yes, kissing! This scene starts with some intense kissing, filmed in a way that will have your mouth AND your dick slobbering. But we all know what kissing leads to: hot fucking! Logan gives Sergio a fucking he won't soon forget. Sergio blows a load all over Logan's hard cock, and then logan explodes on his tight abs.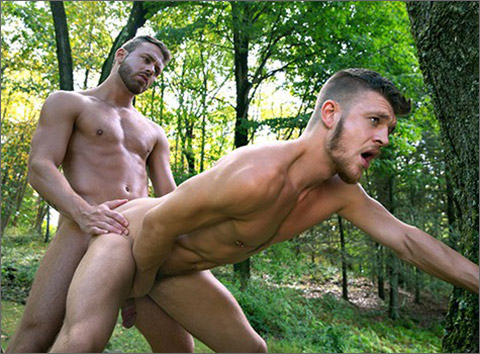 CALEB KING & LOGAN MOORE FLIP-FUCK!
Sexual chemistry is a wonderful thing, and when it comes to Caleb King and Logan Moore, the chemistry doesn't get much hotter. They're both tall, muscular, a bit scruffy with a few tattoos and piercings, and sexually versatile (both leaning toward top). So you know you're going to get some good old fashioned rough fucking with these guys — in a natural outdoor setting no less — and the only thing you're left wondering is which one will reign as the dominant top?
   Caleb was pretty confident about the brutal ass pounding he was going to serve Logan. He's done that to many CockyBoys in the past after all… but as soon as he locked lips with Logan, he suddenly fell to his knees and swiftly took all of Logan's cock in his mouth. The only time he paused was to look up into Logan's eyes and tell him what a beautiful cock he has. Logan then bowed down and gave Caleb an equally impressive blowjob, but it was clear that Caleb may have had a slight change of heart in terms of topping. Moments later, Caleb's ass was in the air ready for Logan to rim and prime him for the hot fucking he really wanted. If one thing's for sure, Caleb loves to be in control — even when he bottoms.
   With Logan backed against a tree, Caleb positioned his ass comfortably around Logan's thick dick and began pumping. But this only made Logan more aggressive — he soon gripped Caleb's meaty butt and showed him who was really in charge. Caleb then told Logan to sit on a rock so he could ride him, but just as he was getting close, Caleb flipped the switch and rather abruptly told Logan, "I'm gonna fuck you now." It was like Caleb had the whole thing planned out — within a matter of minutes, he had Logan bobbing up and down on his cock, then sprawled against the same tree getting rimmed, then getting railed like a jackhammer. In what must have been a dizzy blur for him, Logan quickly shot his load with Caleb still thrusting away. Caleb then flipped Logan around so he could blow a huge cumshot on his pecs! Two hot guys, a beautiful setting, and one hot twist of an ending for sure!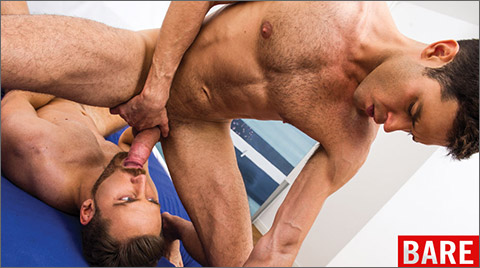 PLOWING & SEEDING: Leo Alexander Deep-Dicks Logan Moore Bareback
Logan Moore knows what he wants, and it's Leo Alexander's cock. Not even 30 seconds into the beginning of the scene and he moves his hand over to Leo's meat while they're making out. It's obvious he's sizing it up by touch, trying to figure out how exactly he's going to handle it. After all, the length and girth of Leo Alexander's penis has become a Lucas Entertainment legend in a very short amount of time. But how exactly does Logan make out taking Leo's dick' Well, after touch he measures it with his mouth… and realizes it tastes as good as it looks — you can see some of this action at the 2:45 timestamp. Logan eventually summons the courage for a bareback ass pounding, and at 16:40 you'll hear his moans, which tell you all you need to know!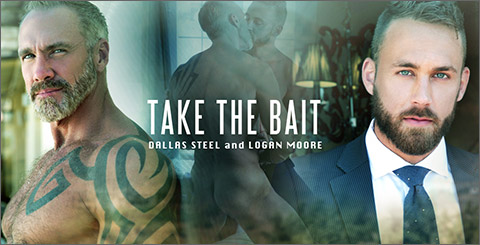 TAKE THE BAIT
Dallas Steele is back on Menatplay and this time the silver haired daddy is completely stark-bollock-naked. Yes he's swapped his business suit for his birthday suit and, while letting it all hang out in the morning sun on his private terrace, his exhibitionism is interrupted by a knock at the door. His neighbour Logan Moore (why cant my neighbour be Logan Moore?!) coyly points out that you can see everything, and he means EVERYTHING, from the opposite building, which is apparently upsetting for his girlfriend. To Dallas this seems like a lame excuse to come round and take a closer look so Dallas gives Logan an eyeful, which turns in to a mouthful, which turns in to a butt-full, of his thick American cock. Seeing straight laced, suited businessman Logan, down on his knees, his piercing blue eager eyes staring up at Dallas who towers over him completely naked in the brilliant sun , pushing his dick to the back of Logan's throat, is so hot and horny you'll be wet with precum before they even get to the good hard pounding, that Logan was so looking for when he arrived at his neighbours door.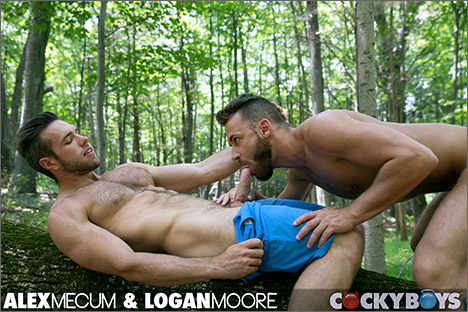 LOGAN MOORE & ALEX MECUM FLIP-FUCK
There's something about the outdoors that makes men horny… especially deep in the secluded woods, the only sounds being birds and planes passing by overhead. It's reminiscent of the earlier days of "cruising" in the Meat Rack, where guys were more savage, raw, and primal. Alex Mecum and Logan Moore proved to be a good example of those times — their hunky, slightly hairy, and very muscular bodies coming together without speaking a single word for some dirty flip-fucking.
   Alex was on his knees in no time sucking off Logan's very thick cock. He could only get a few breaths in and out by the way he was engulfing it! Then Logan set Alex down on a nearby log and gave him the same treatment, his bearded jaw bobbing up and down on Alex's dick with vigor. Alex wanted a taste of Logan's ass before he fucked him, but all Logan allowed him was a rimjob because he wanted to be the one to fuck Alex first!
   So Logan drilled Alex hard up against the log, before he moved him up to a tree branch and fucked him from behind. Just as Alex was about to cum, Logan finally let Alex fuck him. By this point, Alex was so horned up, he straight up pounded the cum out of Logan only minutes later. Alex helped finish off Logan back on the log, rubbing his balls until he shot his load all over his own pecs.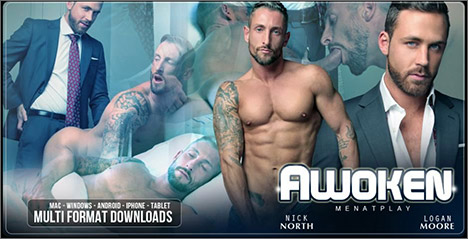 AWOKEN
Like every top executive the stunning blue eyed Logan Moore is always sharply dressed and punctual. But today Logan's efficiency is put to the test as he tries to hurry along fellow housemate Nick North so that they both get to the office on time. As Nick isn't stirring Logan takes the opportunity to peek at what's beneath the sheets and sees how far he can go without awaking his collegue. After a gently stroking Nicks back, his hand flows down to the firm arse and Logan even uses a finger to play with Nicks hole. Now that gets nicks attention and he grabs a hold of Logans tie and pulls him in to take his dick in his mouth. And since everyone likes a good stretch in the morning Logan spreads the cheeks of Nicks arse apart and stretches his hole, pummeling him with his thick juicy dick. No doubt, Nick is definitely awake now!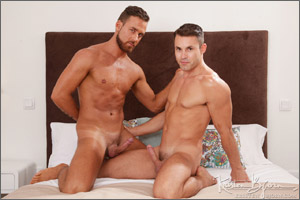 RAW ADVENTURES SCENE 4 – PHOTOBOOTH
Rainer and Juan have hooked up online for a wild flip fuck. Juan's enormous cock is unleashed and Rainer chokes it all the way down his throat. Juan then switches up and feeds his hunger on Rainer's steel rod. Rainer postures his pucker hole just above Juan's probing tongue as he begins fucking Rainer's smooth hole. Rainer takes Juan's magnificent cock in his mouth as Juan's continues tongue fucking him. Juan switches up and sits down on Rainer's spit slicked cock, gliding it all the way to the base. Rainer pounds his ass with such force as Juan's cock remains rock solid. Juan flips Rainer and rams his engorged cock deep inside of Rainer. Juan pounds away at Rainer until he blows his load all over Rainer's tongue and lips. While eating Juan's creamy load Rainer unleashes his thick, hot load of cum all over his ripped abs.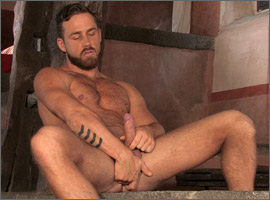 UP CLOSE WITH LOGAN MOORE
He was Mr. Gay Netherlands at 16. He became a fashion model. He's now one of Europe's sexiest, most promising and most sought after pornstar. Logan Moore opens up in a candid, no holds barred interview about his past, his present, his likes/dislikes. And tapes an intimate yet unforgettable solo.
VIDEO ON-DEMAND: Logan Moore @ AEBN SMUTJUNKIES THEATER
DVDs & ON-DEMAND: Logan Moore @ TLA VIDEO