Raging Stallion Blond Power Bottom American Gay Porn Star, Brian Bonds
Known Aliases: Brian
Years Active: 2011 – 2020
FAB SCOUT INFO:
Nationality: U.S.A.
Age (2011): 22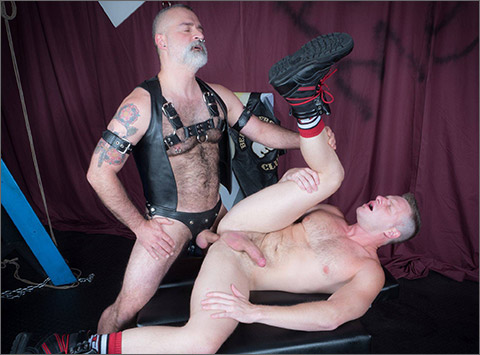 TOM CARLTON BREEDS BRIAN BONDS
We've never seen Brian Bonds in such a frenzy. Paired with hairy muscle bear and silver daddy, Tom Carlton, we can see why the sexy blond is in such a state! From start to finish, the leather-clad submissive bottom doesn't just become a whore for Tom's big fat uncut cock, it's like he's possessed, spouting a litany of commands, barely above a whisper. But don't worry, you can make it all out. At least, when Tom's big fattie isn't shoved balls deep down Brian's throat! Bottom line, Brian is a huge cock and cum whore with a major obsession for taking Tom's thick pierced cock, getting bareback fucked by the bearded silver daddy and seeded by the intense top until Brian blows his own load. Nasty and sexy and romantic all at the same time, this is one scene you'll want to cum back to…again and again and again. So get the lube ready, men. You're about to be driven into your own bareback frenzy!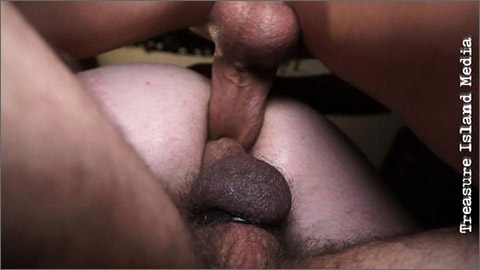 KENNY'S RAW FUCKS – What He Wants
BRIAN BONDS came to me the MOMENT his exclusive contract ended begging me to put him in a bareback scene. His love for getting raw meat would put even the most sadistic butcher to shame. BRIAN had been taking wrapped dick for so long his hole couldn't take it anymore. So I flew down to Las Vegas and grabbed all the boys I could get my hands on to fill his aching cum receptacle. BRIAN's a full-on whore, gentlemen, and I encourage to you play with him. He's worth 10 times what he charges. Tell him Paul Morris and Kenny Host sent you and he might give you a nice deal. I love a cheap fuck! And he loves older dudes, so don't hesitate!

BLOOD MOON – TIMBERWOLVES 2: Brian Bonds & Drake Masters (all oral)
Desperate and on the run, Drake Masters and Sharok are driving through the desert and in need of gas and money. Pulling into a rest stop, Drake gets out and goes into the men's room, where he finds Brian Bonds, a hot and hung straight dude taking a piss while his wife is in the car. Drake locks the door and wastes no time servicing Brian's thick pole with an expert blowjob against the urinal. Lost in the aroma of crotch and butthole, Drake works Brian over. "Yeah, smell that man musk!" he says getting his balls and ass sloppy and wet. Brian gets so turned on he offers to reciprocate, but Drake demands cash, or he'll tell the wife. A crisp $100 later and this so-called straight guy is on the filthy bathroom floor devouring Drake's cock balls deep, eating his hot furry asshole and getting face-fucked till Drake blows his sweet tasty jizz all over Brian's handsome grin. Gulping every bit he can get, Brian blasts his own load on his belly and Drake goes on his way.

PRIMAL: Brian Bonds & Brogan Reed flip-fuck
Muscled, hairy stud Brian Bonds has a big, girthy boner that needs sucking. Brogan Reed is up to the challenge and welcomes a vigorous face fucking. Thick spit appears as Brogan deepthroats Brian's shaft and sucks his hefty balls. To return the favor, Brian positions Brogan face down in a sling, parts Brogan's ass cheeks, and dives in tongue first. Brian loves rimming Brogan's hairy hole, which is soon drenched in slick saliva. Taking advantage of the natural lubricant, Brian can't resist using the tip of his cock to tease Brogan's tight sphincter. Eager to fuck, Brian mounts Brogan doggy style and thrusts with deep, powerful strokes. Flipping over in the sling, Brogan takes Brian's cock in missionary position. His ass hair clings to Brian's cock with every thrust, and his bulge fills his jockstrap to the limit. Releasing Brogan's meat, Brian goes down for some deep cock sucking, which makes him eager for a flip fuck. Throwing a leg over Brogan's shoulder, Brian revels in pleasure as Brogan pounds like a wild animal. The intense sensation pushes Brian over the edge, blasting his big, hairy pecs with wet cum. The hot scene brings Brogan to the brink as well: he jerks out his load on Brian's face, and Brian licks the last drop off the tip of Brogan's dick.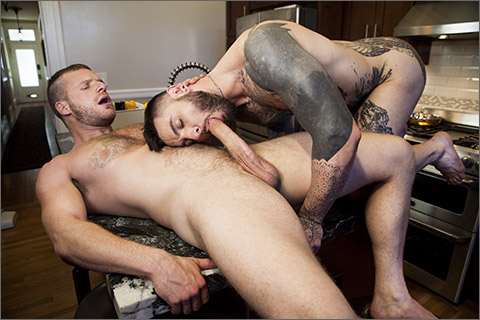 MAKING RENT: Bryan Bonds fucks Teddy Bruce
Brian Bonds calls houseboy Teddy Bryce to come and give his kitchen a deep cleaning. While Teddy works up a sweat Brian spies on the young tattoo'd hunk and offers him 3x the money if he'll work naked. Before you can say "rent's due" Teddy is down on his knees deep-throating Brian's huge cock. Brian throws Teddy on the counter top and eats his ass then shoves his cock in deep for a hardcore ass-pounding. Teddy takes it all until he blows his load then gets down to drain Brian's cock, swallowing every drop.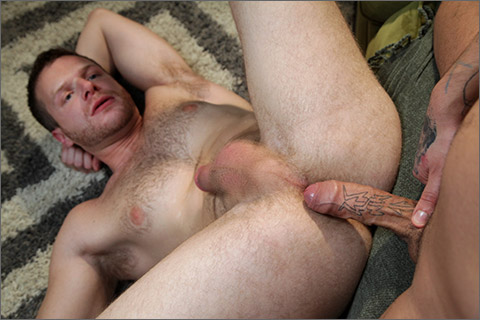 THE LAYOVER: Brian Bonds & Mickey Taylor flip-fuck
Our jet-setting playboys are here to tackle the question on every horny traveler's mind: What should I do during my layover? You can bet Mickey Taylor and his friends aren't browsing duty free, reading a book, or taking a nap between flights. From Vegas to Los Angeles to Puerto Vallarta these young, hung, full of cum studs show you how they spend their temporary downtime in The Layover!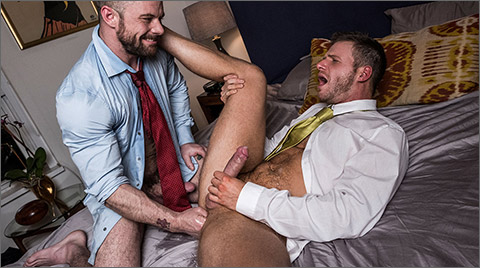 GENTLEMEN 20 – INSIDE TRADE: Sergeant Miles Dominates Brian Bonds' Ass
The executive and former military man Sergeant Miles lures his business associate Brian Bonds into his personal bedroom. Sergeant begins his private session with some foot worship before moving on to swallow Brian's hard cock. After Sergeant gets his oral fixation out of the way, Brian preps Sergeant's cock with a blowjob before getting on the bed and taking to all fours for fucking from Sergeant Miles' fat cock.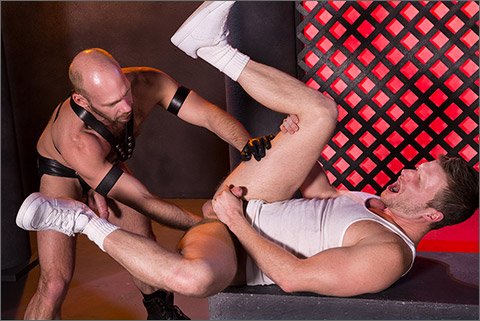 PIG ALLEY: Mike Tanner fists Brian Bonds
Brian Bonds, clad in white briefs and a white tank, makes out with Mike Tanner, who wears a kinky black leather harness with matching jockstrap. Mike pulls down the waistband of Brian's briefs and shoves his tongue deep down Brian's hole. With Brian's ass lubed and ready, Mike shoves his cock between Brian's ass cheeks and gives him an intense doggy style fucking. Pulling on his black gloves, Mike lubes up his hands and begins exploring Brian's hole from the inside. Putting his legs in the air, Brian jerks his cock as Mike penetrates deep into Brian's most sensitive areas. Lube drips from Brian's gaping hole whenever Mike pulls out and reapplies. Brian stands, using gravity to help push him down even deeper on Mike's thick, hairy arm. Rolling on his back again, Brian feeds his cock to Mike while Mike drives elbow deep into Brian's ass. Stroking his meat, Brian deposits his load into Mike's hand, who then uses it as lube to push his fist back into Brian's ass.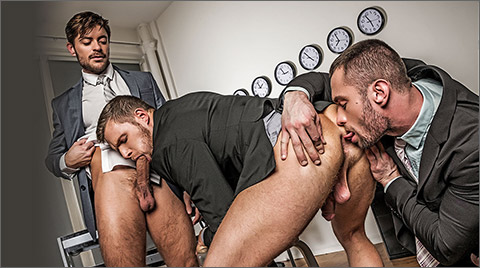 GENTLEMEN 19 – HARD AT WORK: Stas Landon And Jack Andy Double Penetrate Brian Bonds After Hours
It looks like Stas Landon learned a thing or two from his business mentor, Dylan James: if someone wants favoritism in the office, then they need to earn it. Stas is supervising two new employees he finds himself attracted to: Brian Bonds and Jack Andy. He gets a read that Jack is a wild pig and Brian was born to serve, so when everyone goes home for the day these three stick around. The bareback sex heats up when Brian opens up his ass for both Stas' cock and nine inches of meat Jack has between his legs.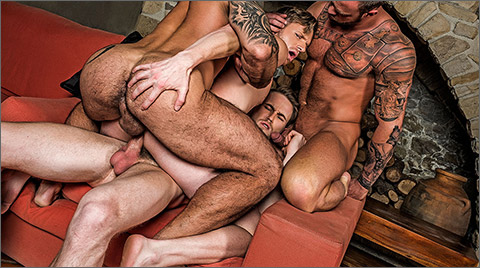 RAW DOUBLE PENETRATIONS 04 – STUFFED: Adam Killian, Marq Daniels, Brian Bonds, Michael Roman | Raw Double-Penetration
Brian Bonds and Michael Roman are cruising in the woods when Marq Daniels and Adam Killian show up looking for some action. Brian follows after Marq while Adam and Michael admire each other's muscles and kiss. The two couples join up to suck each other's cock and share in fucking Michael and Brian in the ass. Adam Killian and Marq Daniels are in charge as the tops in this scene. Brian's ass is split in two when Adam and Marq double-penetrate him raw while Michael Roman gets his dick sucked.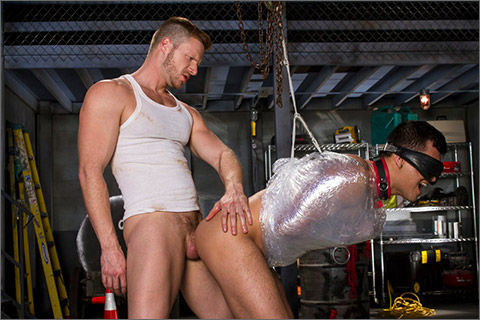 BONDAGE GARAGE: Brian Bonds & Eli Lewis
Brian Bonds rolls into the 'Bondage Garage' with junk in his trunk: specifically, Eli Lewis, who is lying naked, bound, gagged, and blindfolded in the back of Brian's SUV. Brian pulls Eli out of the car and has him stand in the center of the dark, dirty garage. Utilizing his rope skills, Brian connects Eli's wrist restraints to his collar. Grabbing an industrial-size roll of shrink wrap, Brian encircles Eli's entire body until his arms and torso are completely immobilized. A rope running down Eli's back, underneath the shrink wrap, enables Brian to suspend Eli from a pulley. Brian gets out his big, thick cock and feeds it to Eli, giving the captive sub the change to practice his oral skills. As a reward for a job well done, Brian sucks Eli's cock for a spell. Now focusing on Eli's ass, Brian spreads the firm cheeks and uses his tongue to lube up the tight hole. Picking up a massive industrial pipe wrench, Brian lubes up the handle and slides it into his submissive bottom. Eli moans as the huge tool disappears inside his stretched hole. Brian fucks Eli's ass with the handle, then makes Eli clean the handle with his tongue. Grabbing an oil can, Brian slicks up his fat cock and thrusts it in Eli's backdoor. Eli submits completely, shouting out, 'Thank you, sir!' in between moans as Brian relentlessly pounds away. Picking up speed, Brian pummels Eli's hole with his cock, and the intense penetration makes Eli cum. But Brian's not done with him yet…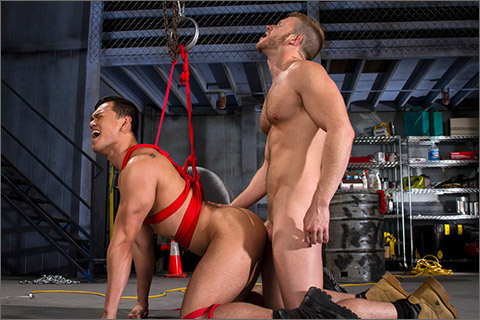 BONDAGE GARAGE: Brian Bonds & Eli Lewis
Dom top Brian Bonds releases his sub, Eli Lewis, from his cage for some intense, deep cocksucking. Eli's chest is bound in a red rope harness, which Brian attaches to a suspended ring. Gathering more rope, Brian connects Eli's legs to the ring and suspends him several feet above the ground. Brian lays on the ground underneath Eli and they 69 each other's cocks. Lowering Eli to the floor, Brian unties the ropes binding Eli's legs knot by knot. He raises the ring, forcing Eli to assume a doggy style position, and probes Eli's asshole with his tongue. Using an oil can, Brian applies lube and starts to fuck his sub. Eli jerks his cock as Brian thrusts deep inside the sub's tight hole. After having his fill, Brian lowers Eli to the floor once more and stomps Eli's ass with his leather work boots, leaving a red mark on Eli's ass cheeks.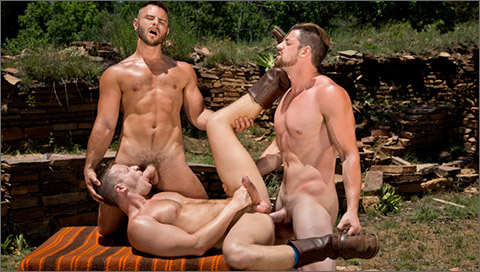 TOTAL EXPOSURE 2: Nick Sterling & Andrew Stark fuck Brian Bonds
Beefy Nick Sterling and dreamboat Andrew Stark spot Brian Bonds sunning near the old Native American ruin. They're both horned up and Brian is always up for a hot three way, so the hunks jump straight into the fun and slide their tongues into each other's mouth. Andrew's dick is so hard, his jeans are ready to burst, but Nick solves that by letting the cock out of its cage, having no choice then but to suck it. Andrew is a giant man, standing well over 6 feet, with the rest of his body parts in equal proportion. Nick tackles Brian's cock next, but his head continues to whiplash back and forth from Brian to Andrew. Nick and Brian entangle themselves in a sixty-nine, while Andrew bastes Brian's hole with his tongue and explores them more deeply with two fingers. When Brian lifts his ass into a shoulder-stand, it's a free-for-all on his hole, but Andrew's thick cock is first into the breach. Brian nurses on Nick's cock while Andrew fucks him. It's a super-hot change-up when Brian fucks Nick. Andrew's raging cock finds its new home in Nick's mouth. Climax for this trio finds Brian on his knees, swallowing two hot loads and drenching the thirsty ground with his seed.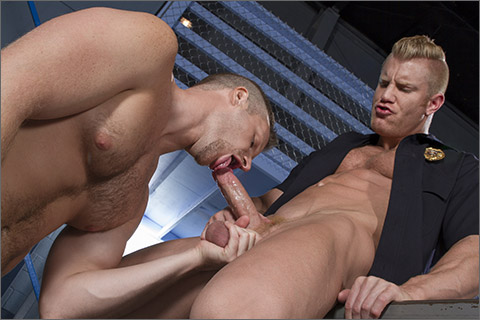 STIFF SENTENCE: Johnny V & Brian Bonds flip-fuck
While on the late-night shift, horned up officers Johnny V and Brian Bonds take some down time to watch some porn on the job. As Officer Johnny starts to stroke his cock, Office Bonds takes notice and wraps his warm mouth around Johnny's swollen member. The sex-hungry cops take turns gagging and choking on each other's meat. Officer Bonds bends over his desk and spreads his ass wide open for Johnny. Wasting no time, Johnny loosens up Brian's hole with his talented tongue. Officer Bonds desires something thicker, so Officer Johnny stiffs him with his rod. After pounding Officer Bonds' hole, Johnny's wants the same treatment. He positions himself to have his colleague eat his hot hole and fuck his ass with the same intensity. Officer Johnny rockets his spunk all over his ripped abs and Office Bonds adds his creamy load to the mix.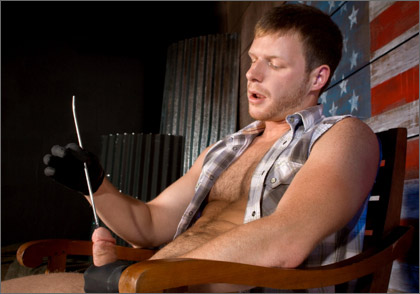 SOUNDING #9: Brian Bonds
Brian Bonds looks like a classic all-American stud–furry and muscled from head to toe–but he has a piggy side. He needs to bust a nut, and an ordinary jerk fails to satisfy his hard cock. He snaps on a pair of black latex gloves and grabs a surgical sounding rod. Lubing the angled tip, he takes aim and pushes the steel into his cock. His dick responds to the foreign object; the large vein along the underside swells and throbs. Brian uses one hand to stoke his cock and the other to raise and lower the sound, but he still wants more. He switches from smooth to ridged steel and shoots rivers of cum across his thigh. But he's not finished until he scrapes up his big load and eats it.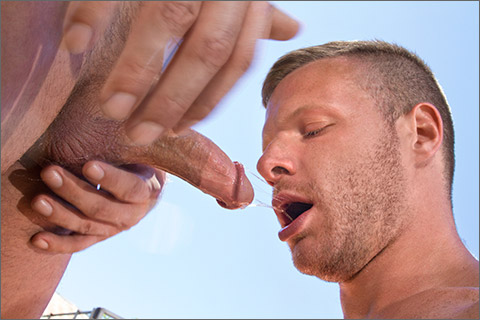 TOTAL EXPOSURE 1: Brian Bonds services Austin Wolf
Dress code is blue jeans only when Brian Bonds meets Austin Wolf by a stack of tires. Brian's roving hands block Austin from unzipping his jeans as he shouts, "spit in my mouth." The instant Austin's jeans come down Brian is on his cock, slamming his nose to pubes and chin to balls until he gags. He twists Austin's nipples and Austin hooks his thumbs into Brian's mouth and stretches it while he face-fucks him hard. Austin is a massive, muscled, sexual force, and Brian is an eager cocksucker. When Brian's tonsils can take no more punishment, he buries his face in Austin's muscle-butt until he nearly asphyxiates. Brian yells "whoa!" when Austin unexpectedly hoists him into the air, flips him upside-down and plugs a tongue in his ass while Brian dangles airborne. He reattaches his mouth to Austin's cock and his flailing hands grab onto that pile of tires. Austin lowers Brian to solid ground and drops his nuts in his mouth, jerking out a warm, wet load. Brian ejaculates at the same instant, leaving trails of jizz on Austin's leg. Austin trembles and vocalizes total satisfaction when Brian licks his cock clean.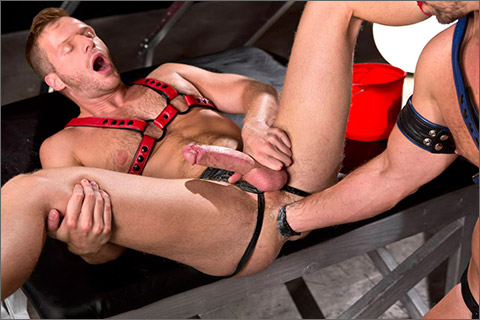 FULL DEPTH:
Watch Brian Bonds convert Manuel Olveyra from a fisting newbie to a nasty, needy punch slut! Brian strokes his meaty cock with one hand while working Manuel's ass with the other. The puckered, pink flesh takes a lot of effort to open up wide like a good fistpig's should, and Brian pushes Manuel to the brink of his limits. This is the biggest hole-busting workout Manuel's ever had! After stretching Manuel farther than ever before, Brian finally gets what he wants a gaping, wide-open ring. Brian grabs his throbbing cock and teases the rim of Manuel's aching man hole. Taking it to the next level, Brian smacks his thick shaft right into the crack between Manuel's ass cheeks, and the lube stretches from skin to skin like massive strings of precum. Putting his fist deep into Manuel's hole again, Brian jerks out a load that plummets down towards the camera, like you've been lying there on your back this whole time waiting to catch that hot load in your mouth.
FISTING CENTRAL / FETISH FORCE
KRISTOFER WESTON'S BOUND JOCKS
CLICK HERE TO GO TO HIS RAGING STALLION DETAILS
CLICK HERE TO GO TO HIS FISTING CENTRAL / FETISH FORCE DETAILS
VIDEO ON-DEMAND: Brian Bonds @ AEBN SMUTJUNKIES THEATER
DVDs & ON-DEMAND: Brian Bonds @ TLA VIDEO
ENDLESS STREAMING MEMBERSHIP: Brian Bonds @ NAKEDSWORD