Raging Stallion Hansome Ripped American Go Go Boy & Gay Porn Star, Donnie Argento
Known Aliases:
Years Active: 2018 – 2019
RAGING STALLION INFO:
Hair Color: Blonde
Eye Color: Blue
Body Type: Body builder
Body Hair: Hairy
Height: 5'10"
Position: Versatile
Cock: 7.5
Foreskin: Cut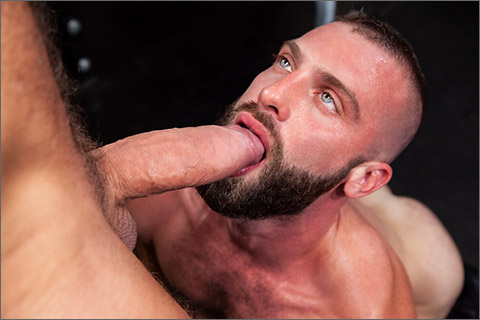 OUTTA THE PARK: Wade Wolfgar fucks Donnie Argentino
Teammates Donnie Argentino and Wade Wolfgar are training hard at the gym for this year's playoffs. As Donnie spots Wade doing bench presses, Donnie whips out his dick and lets it flop on Wade's forehead to distract him. Wade takes the bait and promptly gets on his knees to suck the dick that was just slapped on his face. Donnie is cock-hungry too and eagerly opens his mouth to suck all the dick he can cram down his throat. Wade's extra thick stick barely fits in Donnie's mouth, but Donnie is determined to get it all in and he does. There are no foul balls on this field as Donnie works Wade's meaty sack and sucks on his big nuts. The guys are both eager to suck cock and continue switching it up fucking each other's throats until Wade wants a taste of Donnie's ass. He gets down between Donnie's cheeks and eats him out. That's all it takes for Wade to get close and he stands up to spray his creamy load all over Donnie's waiting ass. He slaps his sticky, dripping cock on Donnie's hole then gets on his knees to take his teammate's load all over his hungry tongue.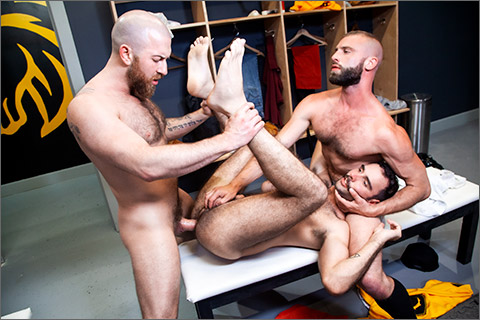 OUTTA THE PARK: Nigel March, Anthoni Hardie & Donnie Argentino fuck around
During the Stallions game Anthoni Hardie slips into the locker room to sniff the team's dirty jocks. He hits the mother lode when he finds a laundry bin stuffed to the brim with old smelly jocks. Ball players Nigel March and Donnie Argentino catch the culprit in the act. When Anthoni asks for a couple to take home, Nigel offers up his own sweaty sack for Anthoni to sniff. Anthoni gets on his knees between the two hung baseball players and goes back and forth sucking each of their musky dicks. Donnie wants in on the ball action and moves past first base to get Nigel's thick cock down his throat. The hunks form a rim train with Anthoni in the middle, both sucking ass and getting eaten out. All the ass eating gets Donnie in the mood to fuck bareback and he moves to the scoring position with his ass in the air. Nigel steps up to the plate and drills Donnie hard, sinking his cock deep into his teammate's open, raw ass. Anthoni feels left out and bends over under Donnie to give Nigel all-access to two tight holes. Nigel plugs both studs hard alternating holes until Anthoni flips over to watch his aggressor fuck him deep. Nigel hits just the right spot and makes Anthoni cum while he's getting fucked. When Nigel sees Anthoni's mess, he pulls out and blasts a load all over Anthoni's thick, black pubes. Nigel finishes and goes directly in for a double play when he slides his cock back into Donnie and fucks his buddy until Donnie slathers himself with his creamy white cum.
CLICK HERE TO GO TO HIS RAGING STALLION DETAILS
VIDEO ON-DEMAND: Donnie Argento @ AEBN SMUTJUNKIES THEATER
DVDs & ON-DEMAND: Donnie Argento @ TLA VIDEO