Hot House / Falcon Studio Exclusive Gay Porn Star, Jacob Peterson
Known Aliases: Edward @ Sean Cody
Years Active: 2014 – 2018
TWITTER @jacobvpeterson
VOYEURBOYS / CHATURBATE INFO:
Birth Date: June 2, 1994
Age: 20
Sex: Male
Interested In: Men, Women
Location: Arizona, United States
This Russian born stud loves going for hikes, biking, swimming, camping and off-roading during his free time. He is a huge fan or toy play and bdsm role play in the bedroom.

July 15, 2015: CAM STAR JACOB PETERSON BECOMES FALCON STUDIOS GROUP EXCLUSIVE
Falcon Studios Group, America's Gay Porn Company and the world's largest producer of all-male adult erotica, announced today that it has forged an exclusive agreement with live cam star Jacob Peterson. In addition to appearing exclusively in Falcon, Raging Stallion and Hot House releases, Peterson has also been added to the roster of the Falcon Studios Group A-Team. His first scene for the group from HotHouse.com's 'The URGE: Huntin' For Ass,' goes live on the membership site on July 16, when it will also be available on the Falcon Studios Group Store for download. Jacob is paired with super stud Sebastian Kross in the scene.
Peterson has a stunning, athletic, 6'3" frame. His super defined pecs, dusted with over-the-top sexy chest hair, sit above a six pack that will leave everyone in envy. His other impressive assets include a thick, uncut, 8-inch cock; a firm, round ass, and muscled arms and legs. While his body is a testament of physical excellence, he was blessed with extremely good looks and piercing eyes that draw in anyone. His amazing body and striking appearance are only the beginning. His powerful, versatile performances are what will have fans coming back for more, and he's just getting started.
  This new A-Team model has developed thousands of fans through his work with the popular camming group, Voyeur Boys. Falcon Studios Group President, Chris Ward, commented, "Jacob Peterson hits all my buttons! My own personal taste leans toward muscular, lean, hairy studs with fashion model faces. Jacob hits all of these. I cannot say that I have seen a hotter man in the past few years. I am certain that fans will respond well, and I'm thrilled that Jacob joined our A-Team!"
   "It is an honor to be named the newest A-Team Member and Falcon Studios Group Exclusive. I'm very thankful to the entire team at Falcon for this opportunity" states Peterson. "It's really amazing to work with such a dedicated staff, talented group of directors and all the hot A-Team stars. I've already shot a few movies, and I'm so happy that my first scene is debuting this week. Thank you to all my friends and fans for their support, and I can't wait to show you more hot scenes from Falcon Studios Group."
   In Peterson's first HotHouse.com scene, inked up Sebastian Kross is wandering around the sex club when he sees Jacob showing off in a tight black jockstrap. Sebastian sets his sights on Jacob, who bends over to expose his smooth sexy ass. Jacob's tight hole becomes Sebastian's target, and he moves in. Sebastian contorts Jacob's legs in the air so that he can munch on his ass while Jacob continues to suck Sebastian's cock. Jacob's hole is fully prepped and he can't wait any longer, so he gets on all fours and lets Sebastian dick deep into his hot center. Sebastian works up a sweat as he slams Jacob's asshole in multiple positions. While taking an intense pounding on his back, Jacob shoots his cum all over his body and Sebastian pulls out and unloads all over Jacob's cock and nut sack.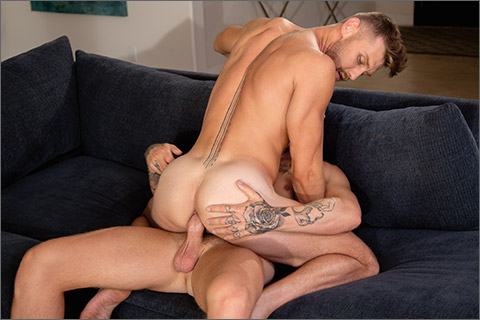 CASUAL CONNECTIONS: Josh Moore fucks Jacob Peterson
Two blond studs, Josh Moore and Jacob Peterson are hanging out and getting hot and heavy on the couch, getting each other revved up while making out and rubbing each other's hard bulges. Soon, Jacob is on his knees and takes out Josh's hard dick from his shorts and swallows every uncut inch down his throat. After gulping down Josh's dick, Jacobs buries his face in the pillows, giving Josh's tongue direct access to his tight, pink hole. Josh laps up the smooth crack with nice, wet strokes as he rims Jacob, preparing him for his thick, bare cock. With Jacob's hole thick with spit, Josh slides his girthy member deep into Jacob's backside. Jacob bites the pillow and takes every thrust from Josh's uncut, raw pole before climbing on top to take every inch of Josh for a ride. Josh has other plans and wants to take it to the table so he can pound away at Jacob's hole missionary until Josh erupts his hot creamy load all over Jacob's ripped abs, followed by a rim job to help Jacob add his hot jizz to the mix all over his own body.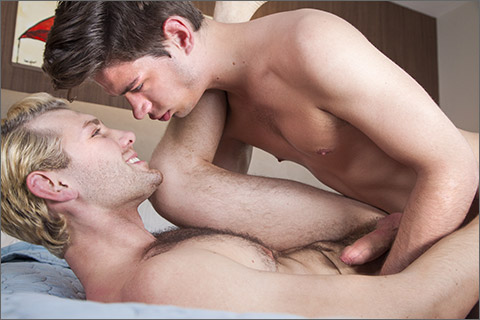 THE CHOSEN FEW: Michael Delray fucks Jacob Peterson
Being part of the Chosen Few is a fantasy come true, but between the private yacht, the luxurious home, and stunning men, Michael DelRay can hardly believe any of it is real. That's why when he catches a glimpse of a handsome, half-naked Jacob Peterson he wonders if he's hallucinating. When Jacob corners Michael in the guest bedroom and shoves his uncut cock in Michael's mouth there's not doubt he is real. After some mutual cock worship and ass-eating, Jacob offers his tight hole and Michael plows him hard in a reverse pile-driver that has to be seen to be believed. Michael pulls out and blows his load then sucks Jacob's huge cock dry. Taste the fantasy!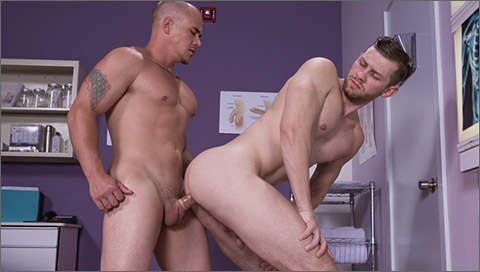 INTERNAL SPECIALISTS: Adam Bryant fucks Jacob Peterson
As the doctor leaves for the day, he sternly instructs his assistants Adam Bryant and Jacob Peterson to clean up the examination rooms and get the office ready for tomorrow. When the door closes behind the doctor, Adam and Jacob look at each other mischievously. They know they'll be reprimanded if they don't do their job, but the temptation of the empty office is too much to resist. Without a word, they make their decision: screw work! They want to fuck! Slamming their faces together, they kiss passionately while stripping off their scrubs. Jacob inhales Adam's fat cock all the way down to the base. Adam slaps Jacob's ass and shoves his tongue deep into Jacob's crack. With his boner throbbing, Adam gets Jacob spit-lubed and ready for an internal examination. Sliding his dick into Jacob's tight hole, Adam commences an intense doggy style pounding. Bracing himself against the wall, Jacob savors every second that Adam's cock is inside him, stretching out his hole and massaging his prostate. Adam lies flat on the exam table and Jacob jumps up to go on a ride. Grinding his hips, Jacob uses his ass to milk Adam's cock while jerking himself off. Jacob's hot, white load gushes from his uncut cock while Adam is still inside him. Dismounting from Adam's cock, Jacob sucks on Adam's balls, watching intently as Adam's cock swells and throbs. With giant spurts, Adam shoots his load onto his chest, and Jacob laps it up, savoring the taste on his tongue. Damn the consequences; it was worth it!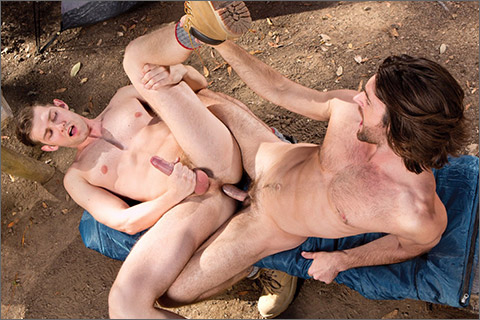 PITCHING TENTS: Woody Fox & Jacob Peterson
When you have a fire to stay warm, who needs clothes? Clad only in their tight, white briefs, sexy Woody Fox and tall, lean Jacob Peterson kiss passionately. Their bulges grow larger with every second, and the briefs don't stay on for long. Getting down on his knees, Jacob whips out Woody's rod and crams it into his mouth. As Jacob works up his saliva into a thick lather, Woody raises his arms, showing off his hairy pits and flexing his incredible six pack. Trading places, Woody opens up his throat to accommodate Jacob's huge cock. With his mouth working the sensitive tip, he can still grasp the base with his hand. Spinning Jacob around, Woody dives in face first to taste Jacob's delicious ass. With his hole wet and willing, Jacob backs his ass into Woody's cock for a wild doggy-style ride. Picking up speed, Woody rams Jacob with athletic power. Laying down on their sleeping bag allows Jacob to straddle Woody, pushing Woody's cock deep into Jacob's ass. Flipping over and raising his legs, Jacob takes Woody in missionary position, and his rock-hard cock slaps against his stomach with each of Woody's thrusts. With Woody hitting all the right spots, Jacob jerks his cock until he spews his load all over his stomach. Standing up, Woody strokes himself until he nuts all over Jacob, adding jets of hot, white cum to the puddles already on Jacob's torso. Leaning forward, Jacob eats the last drops of cum hanging from the tip of Woody's cock before putting their lips together.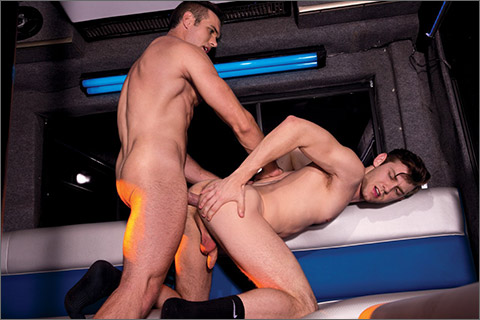 ABOUT LAST NIGHT: Alex Mecum & Jacob Peterson
Jacob Peterson walks alone towards the bachelor party bus he took to the club with his buddies. The driver, Alex Mecum, lets him in and asks, "Where are the guys?" "They're out having fun," Jacob replies, clearly feeling left out. Alex joins Jacob in the back of the bus to keep him company, and Jacob shows Alex some pics he took on his phone, including one of Jacob's buddy Ryan Rose getting his dick sucked in the club! When Alex hands Jacob's phone back to him, he leans in for a kiss, and Jacob reciprocates by grabbing Alex's bulge. Opening his fly, Alex pulls out his huge, thick, throbbing erection, and Jacob uses his tongue to provide expert oral service. As they strip down inside the party bus, Alex reveals his ripped body and furry chest; Jacob shows off his smooth swimmer's bod. Wrapping his lips around Jacob's uncut meat, Alex eagerly swallows every inch of it. After getting his dick sucked, Jacob turns around and gives Alex the chance to taste his sweet hole. Rising to his feet, Alex uses the tip of his cock to tease Jacob's tight hole, then presses in until his cock is balls deep. After pounding Jacob's ass doggy style, they move to a seated position with Alex on the bench and Jacob riding him. Alex picks up speed, stretching Jacob's hole with every thrust. Putting Jacob on his back, Alex grinds his dick into Jacob's sweet spot. Grabbing his cock, Jacob strokes until hot, white cum overflows from his foreskin. Alex jerks out a massive load, shooting multiple ropes through the air and drenching Jacob's chest and cock with spunk.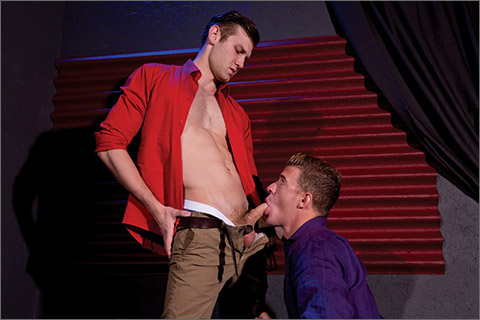 ABOUT LAST NIGHT: JJ Knight & Jacob Peterson
When the party at the club gets a little too wild and crazy, JJ Knight retreats to the back room to chill. JJ's friend, Jacob Peterson, comes in to check on him and help him relax. Falling to his knees, Jacob takes out JJ's dick. With his right hand wrapped around the base, Jacob opens his mouth and sucks on the sensitive tip. As JJ supports himself against the wall, Jacob manages to get JJ's monster cock even deeper down his throat. Trading places, JJ pulls out Jacob's uncut rod and gives him some oral pleasure in return. JJ's back leaning against the wall and strokes his girthy member as Jacob licks JJ's balls. As his eyes roll back in his head, JJ unleashes enormous jets of cum that splash across Jacob's chest. Still on his knees, Jacob works his uncut cock with his hand, his foreskin rolling over the sensitive cock head and providing intense stimulation. When he reaches his climax, Jacob's cum balloons inside his foreskin until it overflows in massive, gooey drops that splatter onto the floor.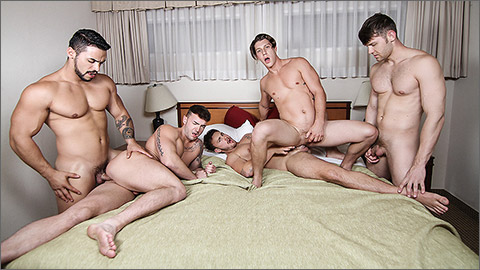 ON THE RUN – PART 3
Paul Canon and Arad Winwin are hot on the tail of the three outlawed hunks… but it could do them better to know what the guys on the run actually look like. Arad is tricked by Jacob Peterson, who gets down on his knees and sucks his beautiful cock. Paul Canon enters the scene and the seduction of the officers continues. The men worship each other's bodies, and it only gets hotter when the clueless cops invite the rest of the thieves to join them in a jizz orgy.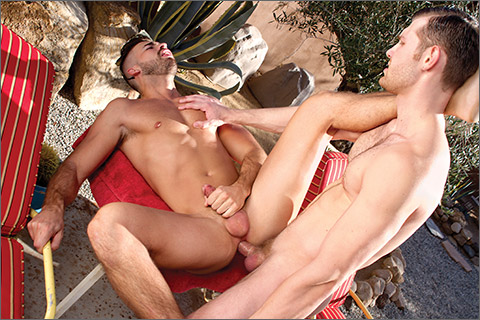 DESERT GETAWAY: Jacob Peterson & Jonah Fontana flip-fuck
First to arrive at their 'DESERT GETAWAY' locked rental house, handsome Jacob Peterson and sexy Jonah Fontana have an hour to kill while they wait for their friends to arrive with the keys. Their attraction for each other is clear and with time on their hands, they don't waste a minute. With the beautiful desert landscape as their backdrop, Jacob Peterson and Jonah Fontana press their lips together in a passionate kiss and fall back onto the outdoor lounge chair. Jonah peels off Jacob's shirt, revealing ripped, washboard abs, and then undoes Jacob's fly. Jacob's thick, uncut cock springs to attention, and Jonah wraps his lips around Jacob's meaty tool. The two strip naked under the hot desert sun, and Jonah plants his scruffy face into Jacob's crack. After lubing up Jacob's ass with spit, Jonah slaps his dick across Jacob's butt, then inches his shaft inside his hole. With Jonah pounding away, Jacob's balls sway and his giant cock bounces with each satisfying thrust. Ready to switch it up, Jonah gets on his back and invites Jacob to hit it. Jacob spreads Jonah's legs wide for a deep, sensual penetration. Jonah savors every minute of it, and jerks his big cock in time with Jacob's thrusting. A move to doggy style lets both studs show off their tight muscle while they fuck with abandon. Jonah reclines back to receive a massive facial from Jacob, the thick, white cum dripping down his bearded chin. Jonah jerks out his own load onto his washboard stomach, and the two share a final kiss in the fading desert light.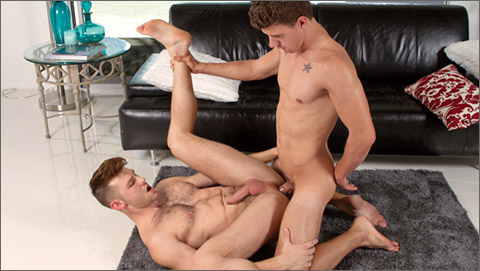 HEATED – PART ONE: JJ Knight fucks Jacob Peterson
Jacob Peterson jacks off on a deck chair while watching ripped stud JJ Knight frolic naked in the pool. Enticed by Jacob's exhibitionism, JJ takes the bait and it's not long before they're locked lip to lip. Jacob has a furry chest and 5 o'clock shadow, and JJ is smooth and clean shaven. They smash their uncut cocks together as they kiss, until Jacob bends to suck JJ: balls first, then his tongue traveling to the tip of JJ's cock and finally swallowing his cock whole. JJ lays back and spreads his legs, giving Jacob total access to his mouth-watering goods. They flick tongues, then JJ redirects his attention to eating Jacob's hot hole, with intermittent slurps of dick. Jacob finger-fucks himself while JJ rims him, then he grabs JJ's cock and guides it into him. Groans compete with the sound of flesh slapping flesh. JJ's up-curved cock sprays its load in a high arc that coats Jacob's torso from chin to nuts. Jacob grabs his meat and doubles the load.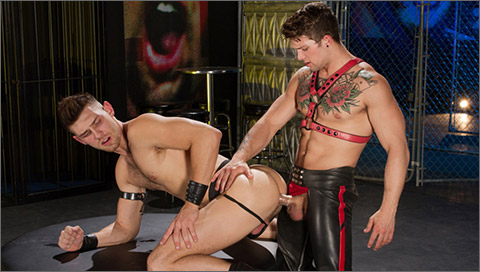 THE URGE – HUNTIN' FOR ASS
'THE URGE: HUNTIN' for Ass' explores the unrestrained realm of a raunchy, testosterone-filled sex club where hot and horny men go when they're craving some sexy ass and quick NSA fucking. Their moans of satisfaction echo in the air as they find the hottest holes and drill each other with wild abandon. Award-Wining director Tony Dimarco leads eight sex-crazed men on a hot and anonymous expedition for ass in this den of deviance. Jimmy Durano plays voyeur as buff and rugged Austin Wolf stakes his claim on willing and eager Alexander Gustavo's hungry hole. Jacob Peterson has been waiting all night to have his tight hot hole pounded by the hottest stud. When inked-up Sebastian Kross sets his eyes on Jacob's butt, he takes aim with his hot cock and captures Jacob in an acrobatic fuck. Muscle studs Jimmy Durano and Johnny V feed off each other's sexual hunger in a power fuck that has Johnny shooting his load so hard it lands on his own face. XL lures in Logan Moore and his fine ass by stroking his humongous uncut cock. When Logan nears, XL's claims that hole and never lets go. Succumb to all of your burning sexual desires, and join the men of 'The URGE: Huntin' for Ass' who are guaranteed to make you blow your load with no strings attached!
HOT HOUSE
MEN.COM
FALCON STUDIOS
HOT HOUSE
SEAN CODY
CLICK HERE TO GO TO HIS FALCON STUDIOS DETAILS
CLICK HERE TO GO TO HIS HOT HOUSE DETAILS
LIVE CHAT & PRIVATE SHOWS @ FLIRT 4 FREE
JACOB PETERSON / VOYUERBOYS @ CHATURBATE
VIDEO ON-DEMAND: Jacob Peterson @ AEBN SMUTJUNKIES THEATER
DVDs & ON-DEMAND: Jacob Peterson @ TLA VIDEO
Hot or Not? Let us know.
[Total:

132

Average:

4.1

]