Sexy William Higgins Czech Gay Porn Star, Jeremy Robbins
Known Aliases / aka: Tyler Ross (Staxus)
Years Active: 2019 – 2020
WILLIAM HIGGINS INFO:
Jeremy Robbins is aged 20 and lives in Prague. He is a student who enjoys sports, swimming and soccer. He is such a good looking guy and looks great as he sits on the side of the bed for his interview. During the interview he adds sex to his list of hobbies, telling us about his experience. Then he lays on the bed, checking his phone before beginning to grope himself in his jeans. With his tee shirt up a little his hairy belly is exposed as he rubs his jeans. Then Jeremy opes his jeans and releases his cock which he starts to wank as he rubs his other hand over his sexy body. He pushes his jeans down to give better access to cock and balls and keeps wanking his hardening dick. Then Jeremy removes his tee shirt to show that sexy chest. Next he removes his jeans completely and lays back down to continue wanking. His cock has grown to its' full length as his balls bounce up and down while he wanks hard. With his legs spread we are teased with some ass crack as Jeremy rubs the cock and balls. Then he raises one leg to show off that sexy ass, rubbing over the hot hole. He sucks on a finger and rubs it over the hole, pushing it deep inside too. He changes hands and continues to finger fuck his hot ass hole. That tight hole gets to feel different fingers probing and rubbing. Then Jeremy moves onto his knees, to show off that hot ass some more, reaching back to rub all over it. He spreads the ass cheeks as wide as he can, pulling on the tight hole which opens up to gape some. Then the finger slides back inside to fuck a little more. Moving again he kneels to wank his big cock, getting it rock hard in the process. He keeps up his hard wanking until his balls are tight against the shaft and the cum shoots out of that big cock. Then, after milking himself dry, he goes off to the shower to clean up.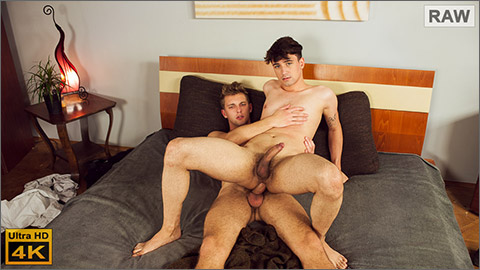 FULL CONTACT: JEREMY ROBBINS & JAKUB SLIZSKY RAW
Jeremy Robbins and Jakub Slizsky are feeling very horny. They begin to undress each other as they kiss. Jeremy kisses Jakub's bare chest. Very soon Jakub's stiff cock in in Jeremy's hand being wanked. Jeremy goes down and starts to suck on the hard cock. He wanks and sucks on that cock, cupping the balls too. The hot mouth works hard on Jakub's dick for a good while. Then Jeremy stands so they can kiss again. Jakub lowers Jeremy's pants, releasing his cock. Jakub's mouth takes the swelling cock in his mouth and starts sucking it. Jeremy grabs Jakub's hair as his cock is sucked. Jakub then sucks on the big balls and then takes the big dick in his mouth again. Jeremy fucks his cock deep into the eager mouth. Then Jakub stands and they kiss again before moving to the bed. Jakub lays on his front, presenting his sexy ass. Jeremy spreads the cheeks and slides his big dick into the hot hole. The big cock is fucked deep into Jakubs ass, going it right up to the balls. Jeremy's hips thrust hard as his cock pounds Jakub's ass. Then Jeremy lays on the bed and Jakub slides his hot ass down on the big dick. He rides that cock, sliding up and down on the big pole. As Jakub rides the dick Jeremy reaches round to rub his friends cock. Jakub slides off the big cock and they kiss again. Then they swap around with Jeremy on his back, legs up, as Jakeb's dick slides into the waiting hole. Jakub fucks the tight hole with hard thrusts. Jeremy's hole takes the cock all the way as Jakub continues to fuck. Jeremy grabs his own cock and starts to wank as he takes the dick in his ass. Wanking hard as he is fucked Jeremy soon shoots a hot cum all over the place. Jakub continues to fuck until he is ready to cum too. Then he pulls out of the hot ass and milks the cum from his cock. Then he leans over and kisses Jeremy again.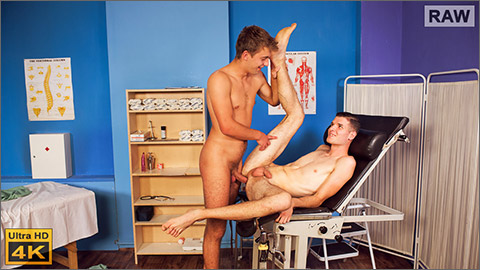 CZECH UP: DR JEREMY ROBBINS & MIREK DUJAK RAW
Dr Jeremy Robbins is in he office when Mirek Dujak arrives for a Czech UP. Jeremy tells Mirek to remove his tee shirts and then he checks the chest with his stethoscope. Then Jeremy uses his hands to check Mirek's neck and he does a eye test too. He tell Mirek that he has to check the groin, so off come the jeans and Mirek stands naked. Jeremy uses his hands to check the thighs and then he lifts the cock and checks Mirke's balls. Jeremy professes some concern and gets on his knees to check more. As he holds the balls he leans foward and takes Mirek's cock in his mouth. He sucks on the cock and wanks it. Mirek stands straight and looks skywards ase he feels the mouth working on his cock. He sits on the table edge as his cock, nice and hard, is sucked. Jeremy wanks the cock too as he licks the balls. Jeremy sucks hard on the cock, looking up as Mirek's face. His tongue laps around the cock head and up and down the shaft. He reaches up to rub Mirek's chest too as he keeps up his sucking. Then Jeremy stands and tells Mirek to suck him. Mirek has never done it but, as Jeremy pulls his stiff cock out of his pants Mirek goes down on his knees. Mirek takes the fat cock in his mouth and starts sucking as Jeremy gets naked. Jeremy pushes Mirek's head down on his cock as it is sucked. Mirek licks at the cock too and then it is pushed into his mouth again. He licks at Jeremy's big balls as well. Jeremy holds Mirek's head and fuck his cock into the mouth. Then he asks to fuck Mirek. As Mirek lays, on his belly, bending over the table Jeremy positions himself behind and slides his fat cock into the tight ass hole. That big dick works deep into the ass as Mirek fucks. He grabs Mirek's hips as he thrusts the cock into the tight hole. Jeremy's fucking gets faster as his cock works hard into Mirek's ass hole. The Mirek lays on the examination chair, with his legs up, for more cock in that hot ass. He wanks himself hard as Jeremy pounds his hole, going balls deep as he fucks. As Jeremy fucks hard and fast Mirek keeps wanking and dumps his hot cum onto his left thigh. Jeremy continues to ram his dick hard into that hole until he is ready too. Then he pulls out to unload his cum onto Mirek's cock and balls. He slaps his cock to offload drips before declaring Mirek as being fit.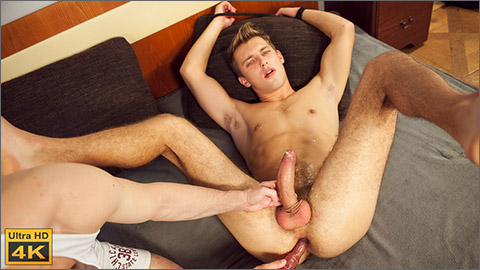 MILKING MEN: JEREMY ROBBINS
Our sexy Jeremy Robbins looks so good as he runs his hands over his hot chest. He pulls on his nipples too and then reaches into his shorts to grope himself. He is joined by a helping hand. The hands rub over Jeremy's shorts and his hot body. Then Jeremy's hands are shackled and placed over his head. The hands continue to rub over the shorts, allowing Jeremy's hardening cock to poke out. That cock is wanked a little and then the shorts are removed and oil is dripped onto Jeremy's cock. That hard cock is wanked and the balls are rubbed. That big cock is rock hard as it is wanked hard and fast, almost to the point of cumming. Then the wanking stops until the feeling recedes. Jeremy's hips thrust as the hands rub his cock and his balls. Jeremy lifts his legs, showing off his hairy hole too as that cock is wanked hard. The hand spread Jeremy's ass even further, and oil is dripped onto his hole. The oil is rubbed over the tight hole and a thumb slips inside as that big cock is wanked some more. With that cock rock hard and still being wanked a vibrator is pushed deep into Jeremy's ass to fuck it hard. The toy fucks that hot ass deep and hard as the cock continues to be wanked. With the toy still workng his hole Jeremy soon unloads his creamy cum, shooting it all over his hot body.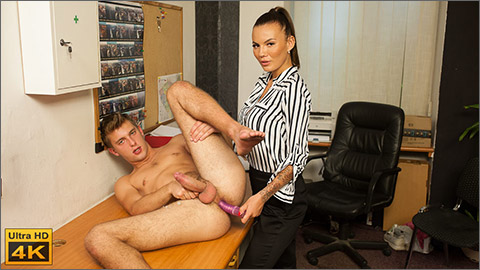 CFNM: JEREMY ROBBINS
Jeremy Robbins needs a job, so he calls into an employment office to be interviewed. The young lady asks him a series of questions to see what work may be suitable. It seems that Jeremy may not suit work in computing so he is offered work to model underwear, if he completes an application. Then he will have to have some photos taken. Jeremy completes the paperwork and then strips down to his underwear, ready for photos. The girl then uses her phone to take some photos. She then tells Jeremy to lower his underwear. He protests a little, but does as he is told, just giving a little tease of cock. The girl then suggests an idea, which means better money for naked photos. Jeremy is not really surprised and he soon agrees. He removes his underwear to be fully naked, letting his cock hang down as the girl takes more photos. Then the girl says she needs to photograph his cock when it is hard. Jeremy isn't really sure but she insists. So he agrees, but says he needs help to make it hard. He begins to wank himself and them moves close to the girl so that she can wank him. That big cock soon gets rock hard as it is wanked. The girl rubs Jeremy's balls too as she wanks on his stiff cock. Then he has him kneel on the chair, to show off his ass. She pulls his cock back between his legs, wanking it as she inspects his hot ass and the tight hole. Jeremy helps to spread his ass cheeks and show off that inviting hole. The girl is full of ideas and has another one. This one involves her dripping oil onto Jeremy's tight ass hole. Then she teases the hole with a vibrator, rubbing it all over. Again Jeremy spreads his ass cheeks as the girl pushes the vibrator into the hole. She fucks the toy into the ass as she also wanks on Jeremy's cock. That vibrator is soon replaced by a much larger one which stretches Jeremy's hole wide as it is fucked deep inside. Moving over to the table he lays on his back with his legs up. He wanks himself as the girl uses the toy to fuck that hot ass hole. Jeremy's hole is fucked hard by the toy as he keeps wanking himself. He soon unloads his creamy cum onto his right thigh as he takes the vibrator deep his ass hole. Then, with the cock milked dry Jeremy is sent off to the shower.
CLICK HERE TO GO TO HIS WILLIAM HIGGINS BIO PAGE
CLICK HERE TO GO TO HIS STR8HELL BIO PAGE
VIDEO ON-DEMAND: WILLIAM HIGGINS @ AEBN SMUTJUNKIES THEATER
ENDLESS STREAMING MEMBERSHIP: WILLIAM HIGGINS @ NAKEDSWORD