William Higgins Muscle Stud Czech Gay Porn Star, Leo Lombar
Known Aliases / aka:
Years Active: 2019 – 2020
WILLIAM HIGGINS INFO:
Leo Lombar is aged 24 and lives in Prague. This very handsome and well built straight guy is a student who enjoys sports, bodybuilding and fitness. This big, studly guy looks great as he rubs his hands over his hot, clothed, chest and arms. He lifts the tee shirt and shows off his hairy torso. Removing the tee shirt really shows off the hot chest and Leo flexes his massive biceps and works through a series of great a poses to let us enjoy the muscles. He runs his hands all over that hot chest as well. Leo opens his jeans and pushes them down, and off, to stand in just his underwear, showing off this massive thighs too. He sits on the edge of the bed and continues to feel his body, groping his underwear as well. He rubs himself through the underwear and then runs the hands all over those massive biceps. Standing again he removes the underwear to release his rock hard cock. Leo lays on the bed and takes hold of his cock to wank it. Dripping oil on that cock he continues to wank before moving onto his knees to show off his big, sexy, ass. Leo reaches back to run a hand over that hot ass as the camera closes in to show the tight hole. He reaches back and spreads the cheeks to really show off that hole. Then Leo stands again and wanks his cock. He soon shoots his hot cum, squirting it all over the place. Then Leo milks his cock dry and goes off to the shower to clean up.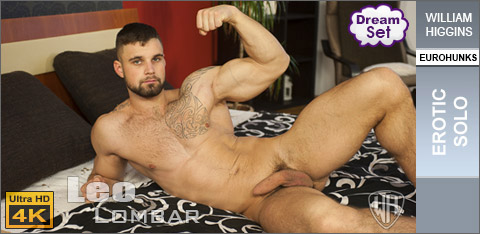 EROTIC SOLO: LEO LOMBAR
Our sexy and very handsome Leo Lombar serves up a lovely Dreamset. This hot-bodied guy looks so good as he lays on the bed rubbing his bare chest. He is quickly joined by a helping hand who takes some oil to rub all over the massive chest. The hands coat the chest in oil, pinching the nipples in passing too. Our handsome stud lays back and enjoys the hands on his body. Then he is relieved of his shorts to release his stiff cock. Leo slowly wanks that cock as oil is dripped onto it. He releases the cock to the care of the helping hand. The hands use more oil on the stiff dick rubbing all over and then starting to wank it. Leo's balls are coated in oil too as they are rubbed. the balls are tight against the base of his shaft as he enjoys being wanked. After his chest and dick have been oiled for a while Leo's legs are raised to expose his hot hole too. The oily hands are soon rubbing all over the ass and that hot hole. More oil is used to rub over the hole as the cock is wanked too. A finger teases the tight hole and then slowly slips inside. That hole opens up to take the finger as it begins to fuck slowly in and out. The finger goes in right up to the knuckle as it fucks the inviting hole. Leo's dick is rock hard and is wanked as his ass hole takes the finger all the way. Then Leo turns over, onto his knees. That presents his ass again and it soon feels the finger going it again. His dick is wanked down between his legs ad the finger works his ass hole. The hole is fingered deep, with the hands changing from time to time. More oil is applied to the stiff cock too. Then Leo lays on his back and is allowed to wank himself as hands run over his hot body. The hot chest is rubbed by the hands as Leo continues wanking until he shoots a big stream of hot cum all over his sexy body. Leo milks his cock dry and then takes us to the shower where he washes himself all over.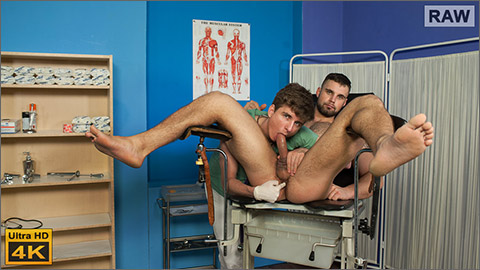 CZECH UP: JAN NURAD & LEO LOMBAR RAW
Jan Nurad is doing the army Czech Ups today and Leo Lombar is due for his. Leo comes into Jan's office and looks so hot in his uniform. Jan tells hi to strip to his waist so he can check his chest. He uses his stethoscope to listen to Leo's sexy chest and his abdomen. Then he feels Leo's sides with his hands before turning him around to listen to the back of the body too. He feels the lower back too. Then he tells Leo to remove his pants. Leo bends to remove his boots, then the pants come off as well. Leo isn't wearing underwear so hi cock, balls and ass are exposed when the pants come off. He takes off his socks too and then is ready for Jan to continue his checks. Jan drops to his knees and check Leo's balls, and the cock too, with his hands. Everythis seems fine so he has Leo move into the exam chair with his legs in the stirrups. That exposed Leo's tight ass hole and Jan uses his gloved hand to check it. A finger is pushed into the tight hole as Leo enjoys the feeling as he lets a hand rub against his cock. Jan's finger works deeply into that hot hole and he leans forward to lick as well. As he feels that hot tongue on his hole Leo uses both hands to rub his cock. Jan moves to the side and fingers that hot hole as he takes Leo's stiff dick into his mouth. He fingers the ass as he licks and sucks on Leo's throbbing cock. Leo pushes Jan's head down on his cock as it is sucked hard. Jan works that rock hard dick so well and continues to finger Leo's tight ass hole. Then Jan has Leo climb down from the chair. He gets naked hmself and takes Leo's place in the chair. He is quick to rub Jan's tight hole and has a quick suck on his dick too. Then he moves into position to slide his rampant cock into Jan's hot hole. Leo fucks that ass hole deep and hard as Jan grabs his own cock and starts to wank it. He wanks himself as Leo's fat cock is deep in his ass fucking hard. Leo's fucking gets faster as Jans wanking speeds up too. That hot hole is stretched wide as Leo's dick pound in and out of it . Jan keeps wanking hard and soon shoots a hot load all over his belly, He milks his cock as the cum runs down his side. Leo keeps up his fucking until his cock is ready to cum too. Then he pulls out to unload his cum onto Jan's balls. Jan rubs the cum over his balls as Leo milks himself dry and then leans forward to kiss Jan.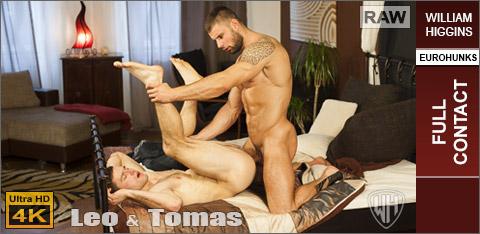 FULL CONTACT: LEO LOMBAR & TOMAS SALEK – SCREEN TEST RAW
Stunning str8guy Leo Lombar has his screentest today. He is paired with the equally hot str8guy Tomas Salek who has proved himself to be a great bottom. The guys walk into the room after a heavy training session. As the sit on the bed Leo flexes his biceps and Tomas comments on what a good body he has. Leo explains that he still has to work harder. He stands up and starts flexing as his hot body is admired by Tomas. He strips down to his underwear showing off that hot body. Tomas is very impressed and takes some oil and begins to rub it all over Leo's massive chest. Tomas' hands rub all over the chest and abs and onto the biceps. He lets a hand run onto the underwear, feeling Leo's dick. The guys start to kiss as Tomas is pulled hard against Leo's hot body. When he is released he drops to his knees, pulling down the underwear, and starts to suck Leo's hard cock. Leo's hand finds the back of Tomas' head pulling it onto his stiff dick. Tomas sucks and licks on the cock and balls too, eager to get as much as he can. Leo's hips start to thrust as his dick is being sucked. He fucks Tomas' eager mouth, enjoying the hot lips as they wrap around his dick. Then Tomas stands up and the guys kiss again. Leo pulls off Tomas' tee shirt and then open his jeans too as he drops to his knees. He takes Tomas' cock into his mouth and begins to suck it. Leo feels the cock get hard in his mouth as he sucks it so well. His hot mouth works tghe dick for a while, then Tomas kneels on the bed, presenting his ass. Leo positions himself and slides his rock hard cock into the waiting hole. He fucks Tomas' ass deep and hard, stretching the hole. As he fucks his slaps the ass too. Leo looks magnificent as he thrusts his throbbing cock in and out of Tomas hot hole. Tomas takes the cock so well, feeling every thrust. Leo's hips keep working as he fucks hard into Tomas' ass. Then Tomas is turned over, onto his back with his legs in the air. Leo's dick pounds the hot hole hard and fast as he holds Tomas' legs. Tomas takes hold of his own cock and wanks it as he enjoys the pounding in his hole. He wanks his cock, moaning as he feels the cock in his hole. Soon Tomas shoots his creamy cum onto his hot body as Leo keeps fucking him hard. Leo continues to fuck until he is ready too and then pulls out to shoot his cum as well. He milks the cum from his cock and leans over to kiss Tomas again to end a great screentest.

MILKING MEN: LEO LOMBAR
Leo Lombar is just about the sexiest guy you can imagine. With his hot, hairy body, and his handsome face his is simple perfection. He is at work, stacking things on top of a cupboard when he is quickly overcome by an intruder. Leo is gagged and shackled to his step ladder and the intruder begins to take his pleasure from feeling Leo's hot body. Leo wriths and struggles but cannot prevent his tee shirt being ripped open to reveal that hot body. The intruder runs his hands over Leo's hairy body. The nipples are rock hard and get tweaked as Leo writhes around. Then his shorts are opened and a hand reaches inside to feel his cock and balls. Leo cannot prevent it, and the shorts are lowered to expose his cock. The cockhead peeks out of the foreskin and the errant hand grabs the dick and wanks it a little. Leo's shorts are removed, showing off his massive thighs. The intruder wanks on that beautiful cock, applying some oil to it as he works. Despite his best efforts Leo cannot stop his cock from getting hard as it is wanked. His balls tighten against the cock shaft too. The hands keep working on that beautiful cock, keeping it rock hard. Leo's body quivers as his cock throbs, needing to cum. But he isn't allowed to cum yet. The wanking gets harder and faster and Leo's dick is rock hard as it wants to drop his load. Then he is moved, bent over to expose his massive ass and the hot, tight hole. His dick is still hard and is wanked between his legs as oil is dripped onto his ass. A toy is rubbed over the tight hole and then starts to push inside. Leo grimaces but is powerless and feels the toy slide into his hole. It is fucked in and out of his ass as his cock is wanked too. That tight hole is stretched by the toy and keeps his cock throbbing. Leo is then moved again, standing up and the intruder wanks that cock again. The wanking keeps Leo on edge for quite a while and then he is allowed to cum.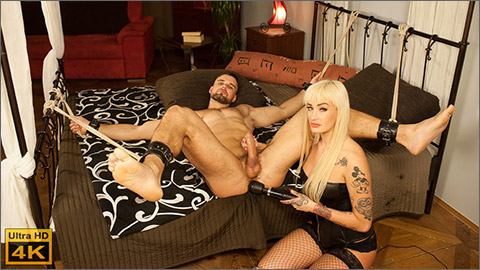 CFNM: LEO LOMBAR
Our sexy Leo Lombar is an ideal subject for CFNM and gets a good work out from his temptress. At first he is alone and enjoying his own hot body as he feels his huge, muscled, chest. He pulls out his cock and starts to wank hismelf. Then he is joined by the temptess who takes over the wanking of that cock, She slap the dick too and before long he has Leo on knees to show off his ass. A riding crop is used on that hot ass as the hole is fully exposed. Then he lays on his back with his legs up and the girl works that hot ass with a dildo, fucking his hole deep. She also used a massang wand on that hot hole and continues to fuck with the dildo. Leo takes it all so well, as his ass opens up to receive. After she has fucked that hole enough he lays him down and wank his throbbing cock until it releases the creamy cum.
CLICK HERE TO GO TO HIS WILLIAM HIGGINS BIO PAGE
CLICK HERE TO GO TO HIS STR8HELL BIO PAGE
VIDEO ON-DEMAND: WILLIAM HIGGINS @ AEBN SMUTJUNKIES THEATER
ENDLESS STREAMING MEMBERSHIP: WILLIAM HIGGINS @ NAKEDSWORD