Comically Sexy American Gay Porn Star, Wesley Woods
Years Active: 2015 – 2020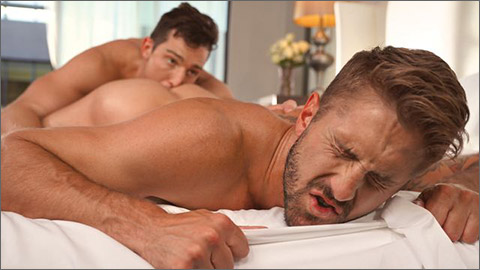 7 MINUTES IN HEAVEN: Steven Lee fucks Wesley Woods
Wesley Woods, who's in a non-sexual marriage, reluctantly plays a game called '7 Minutes in Heaven' and ends up picking Steven Lee's name from a bowl. The two head off to a bedroom, where Steven helps Wesley unleash his pent-up sexual libido. They quickly get naked and hard. Wesley loves to suck cock and gets Steven's extra thick dick down his throat. Steven wants a mouthful of Wesley too, and the two 69 as Wesley continues sucking dick and Steven opens Wesley's hole with his tongue. Wesley can't hold off any longer and hops on Steven's massive raw dick to ride the stud bareback. Wesley takes it all the way to the base before Steven takes control and bends Wesley over. Steven slides back into the stud and picks up the pace to give Wesley the pounding of his life. Wesley wants to take it even deeper and rolls onto his back to let Steven pound his prostate. Steven doesn't stop and hits just the right spot to make Wesley blow his load while he's getting fucked. When Steven sees Wesley let go, he pulls out and covers the stud with cum. Will Wesley reconsider his monogamous relationship after '7 Minutes in Heaven' with Steven?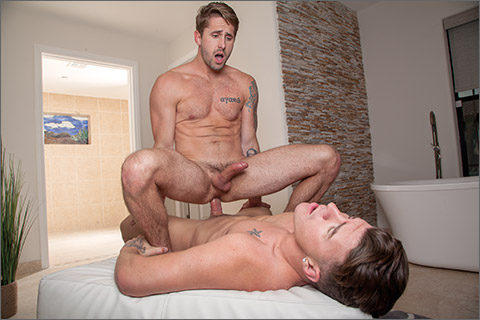 ZACK & JACK MAKE A PORNO: JJ Knight fucks Wesley Woods
Zack and Jack's first big scene of their new porno starts when JJ Knight shows up on set and needs some extra time to get hard. JJ leaves for a little privacy and as the crew takes a quick break, Jack (Wesley Woods) steps in to give JJ a helping hand. JJ is high maintenance and is never satisfied with just a handjob and orders Jack on his knees to have a taste. Jack is happy to help and soon has JJ's massive 10" dick crammed firmly down his throat. Jack can hardly wait for JJ's giant pole to fill his ass and bends over to take every inch that JJ has to offer. The horny jocks switch it up for maximum penetration before Jack hops on top for one last ride. JJ hits just the right spot as he pounds away to fuck the cum out of Jack's throbbing cock. With Jack's cum still dripping down his ripped body, JJ lets loose and blasts a load into Jack's eager mouth. Jack realizes he may have made a mistake for the production by making JJ cum so hard. Did Jack ruin the opening scene by letting the star conquer is hole?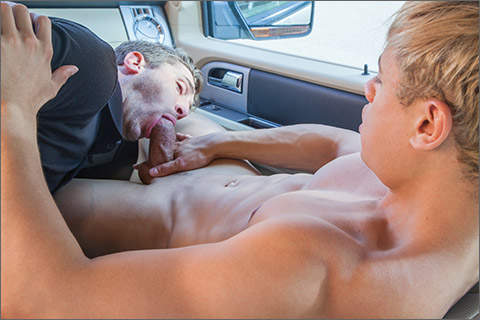 ZACK & JACK MAKE A PORNO: Wesley Woods & Alam Wernik (all oral)
On the second day of production, Zack and Jack decide to switch things up by re-casting their movie. Things are going well until they decide to take a break to get some food. Alam joins Jack (Wesley Woods) in the car and asks Jack if he can suck his cock. Jack isn't one to say turn down a blowjob and Alam gets to work as Jack drives them to the restaurant. As the studs pull up in the drive thru, Alam only stops sucking long enough for the fast food lady to hand them their food. Jack needs to concentrate and pulls over to let Alam work his cock even more. It's a long and slippery blowjob and the harder Jack gets, the more he needs to get a piece of Alam. Alam gets completely naked and bends over to let Jack eat his bare ass. It tastes so good that Jack needs to see what the rest of the stud is like. Jack opens his mouth and lies back to let Alam face-fuck him. Both hunks turn into cock connoisseurs as they take turns giving each other head. Jack is the first to get his reward and as he licks the tip of Alam's swollen dick, Alam busts his load all over the cum-hungry stud. Alam wants cum too and finishes up by swallowing Jack's massive load. Both studs and the inside of the car are covered in cum when they realize they've been gone for way longer than they'd promised.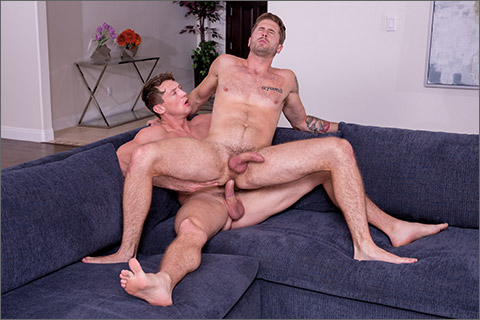 SERVICE ME!: Pierce Paris fucks Wesley Woods
Wesley Woods is enjoying a glass of wine and techy stud Pierce Paris shows up to set up Wesley's TV. Once Pierce has shown Wesley how to use his new entertainment system, Wesley notices Pierce's boner bulging in his pants. Without any hesitation, Wesley pulls Pierce's pants to his ankles and gets to work servicing the hung studs meat. Pierce is excited to return the favor so he rips Wesley's clothes down and throws him on his back to lick his hole. With a quick spit for lube on Wesley's hole, Pierce drives his tongue deep into the studs scruffy crevice. Wanting to feel Wesley's ass from the inside, Pierce pushes his cock deep into the homeowner. Taking it first on his back and then doggy style, Wesley shows Piece he appreciates his cock inside of him. Wesley gives Pierce a break and climbs on top of him until he blows a massive load all over Pierce's washboard abs. Seeing Pierce covered in cum makes Wesley hungry for more and strokes Pierce's cock until he gets blasted in the mouth with thick ropes of cum.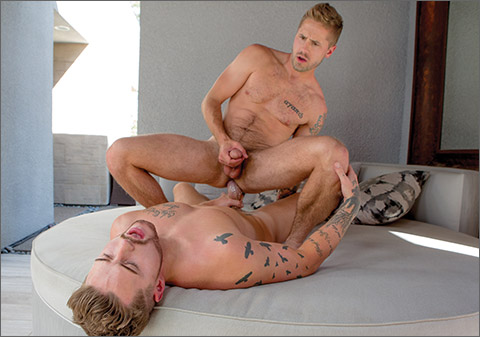 HUNGRY FOR MOORE: Josh Moore fucks Wesley Woods
Josh Moore is lounging on a day bed when Wesley Woods sneaks up on him for some passionate making out and playful wrestling. With both studs bulging from their briefs, Josh slips Wesley's undies off first and wraps his lips around Wesley's swollen cock. Wesley groans in ecstasy as Josh deepthroats the fat cock to the base. Wesley wants a taste of Josh's uncut cock, so Josh drops his briefs and feeds Wesley his cock. After face-fucking Wesley, Josh immediately goes straight for the hole and mounts Wesley on his back. The two keep their lips tightly locked as Josh keeps a steady pace stretching Wesley's hole. Wesley wants to show Josh how much he loves getting fucked and climbs on top of Josh to take his pole as deep as it can possibly go. Wesley bounces hard on the fat cock in his ass while jerking his cock until he unleashes a thick load all over Josh's washboard abs. Covered in cum, Josh gets over Wesley once more to give him a creamy oral facial that Wesley makes sure to lick up.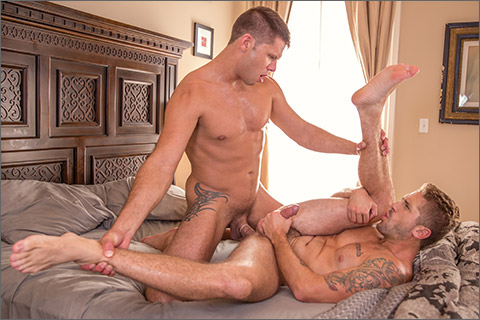 LOVE & LUST IN NEW ORLEANS: Tyler Roberts fucks Wesley Woods
Tyler Roberts is soaking in the tub when his thick boner pops out of the suds. It's a hard thing to ignore and Tyler doesn't even try. He grabs it and wraps his fist around the shaft just as Wesley Woods walks into the bathroom to give him a helping hand. Tyler wants more than just a hand and hops out of the water to offer himself up for Tyler to savor with a nice long blowjob. After getting revved up, Tyler returns the favor to Wesley and gets the stud out of his tighty whities and hard as a rock with his warm and hungry mouth. The two horny studs take it to the next level and open each other up by taking turns rimming each other's tight hairy asses. When Tyler sees that Wesley is fully opened and ready to be entered, he stands up and slowly slides his massive dick deep inside the muscled-up jock bent over in front of him. Tyler grunts and drives every inch deep into Wesley's well-worked back door as Wesley screams out for more. With Tyler still deep inside of him, Wesley is the first to explode and shoots his seed up over his own head. Once Tyler sees Wesley's pleasure, he pulls out and finishes himself off in Wesley's wide-open mouth.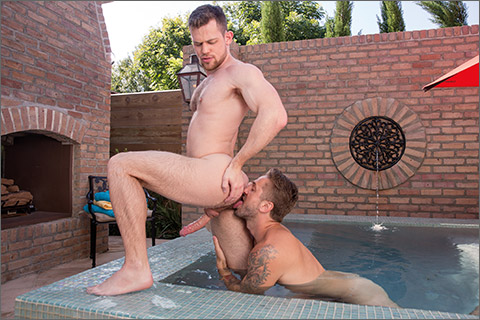 LOVE & LUST IN NEW ORLEANS: Wesley Woods & Kurtis Wolf (all oral)
It's another hot day in the South and the weather isn't the only thing steaming up the place. Wesley Woods and Kurtis Wolf are cooling off in the pool and making out when Wesley senses that Kurtis is hungry for some dick. Wesley stands up and lets the stud have what he wants when he opens his mouth wide and accepts Wesley in his mouth. Kurtis works his magic and gets Wesley hard as a rock before he decides he wants Wesley's tongue deep inside of him. Kurtis bends over and offers up his tight hairy ass for Wesley to do with as he pleases. Wesley gets to work licking every bit of the stud's welcoming ass as Kurtis' eyes roll to the back of his head. Wesley is hungry for dick and flips Kurtis over to suck the hairy jock. Wesley's mouth feels amazing to Kurtis and he blows all over Wesley's beard and in his mouth. Kurtis is ready to taste what Wesley has to offer and gets back down between his legs. After working Wesley's dick one final time, the stud blasts his cream all over Kurtis' well-worked tongue.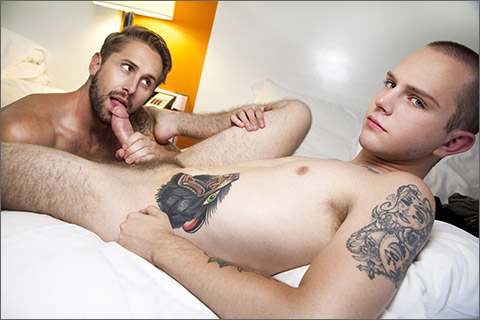 BERKELEY: SOPHOMORE YEAR – ALUMNI REVIEW: Wesley Woods fucks Timothy Drake
Alumni recruiter Wesley Woods has interviewed some interesting legacy applicants, but nothing could have prepared him for the scene at Timothy Drake's parent's house. Wesley barely sits down before Timothy's brother (Colton Grey) enters the room with a big bulge in his underwear and an even bigger fuck buddy (Brian Bonds) in tow. The two begin suggestively feeding each other bananas as Timothy makes overtures toward Wesley who decides to continue the interview in his private hotel room. Timothy walks in the door and Wesley begins his in-depth interview by probing Timothy's tight virgin hole with his tongue and two fingers while jerking and sucking on the young stud's giant cock. Wesley kicks back so Timothy can worship his cock before he sits down on it. Wesley fucks the young recruit fast, hard and deep until he pulls out and cuts on Timothy's fresh young ass. Welcome to Berkeley, Timothy!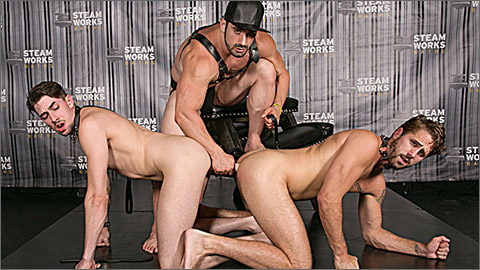 THE STEAM ROOM: Jaxton Wheeler & Jack Hunter fuck Wesley Woods
We're treated to a kinkier side of steam rooms and bathouses, including leather-play, leashes and a very dominant Jaxton Wheeler. Jaxton plays master to cum-guzzlers Jack Hunter and Wesley Woods, and wields his power effectively. He controls everything, from edging Jack, to how deep Jack's huge cock goes down Wesley's throat, or how fast or slow Jack gets to fuck Wesley's hungry ass.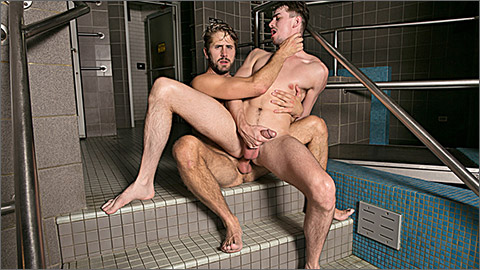 THE STEAM ROOM: Jack Hunter & Wesley Woods flip-fuck
When Welsey Woods and Jack Hunter are left alone in the pool, things quickly heat up. Jack quickly makes good use of his pretty mouth by going down on Wesley's huge cock and balls, before flipping him around and burying his face in Wesley's eager ass. The two pound each other Bareback in what is arguably one of the hottest flip-fuck scenes we've seen in a while.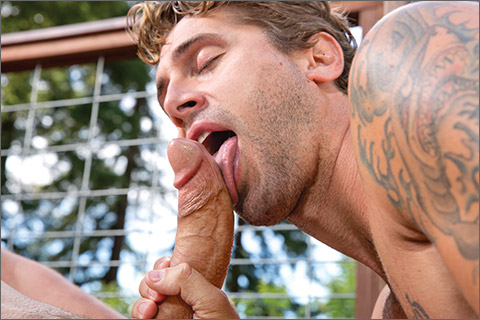 WILD WEEKEND – PART 2: JJ Knight & Wesley Woods (all oral)
JJ Knight and Wesley Woods make out on a wooden deck with a sweeping view of the Russian River wilderness. Peeling off their clothes, they run their hands over each other's ripped, muscular bodies. JJ sinks to his knees and expertly services Wesley's throbbing boner, licking the sensitive tip with his tongue and swallowing the entire humongous shaft all the way down his throat. JJ grips Wesley's cock and strokes while sucking on Wesley's sensitive cock head. Returning the favor, Wesley starts working over JJ's massive member. It's so huge that Wesley can wrap both hands around the shaft and still have plenty of length to suck on with his mouth. Spit drips as Wesley struggles to get every last inch of JJ's dick. The intense oral worship gets JJ ready to blow, and he shoots a huge wad that spurts upwards and splashes across Wesley's face. Cum drips from Wesley's lips as he slurps the last drops from JJ's incredible cock. Standing up, Wesley milks his own load out of his cock and splatters JJ's muscular chest. They press their lips together one more time, enjoying the taste and smell of sweat, spit, and cum.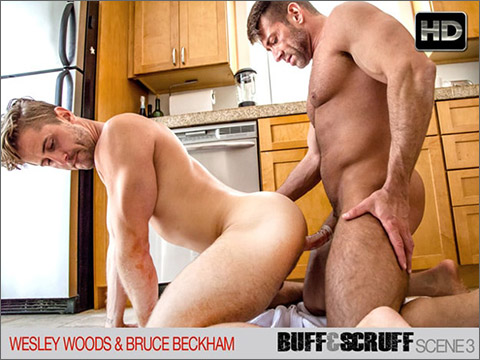 BUFF & SCRUFF: Bruce Beckham fucks Wesley Woods
Nothing beats morning sex after a nice cup of coffee. Bruce Beckham and Wesley Woods really heat things up!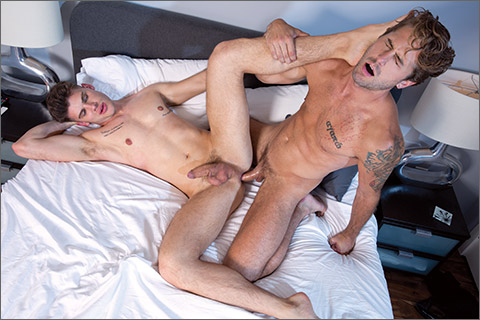 WILD WEEKEND: Wesley Woods fucks Ken Rodeo
The crew is chilling over pizza and beer at their vacation house on the river, settling in after the drive up from San Francisco. Ryan Rose asks European studs Brute and Ken Rodeo why they decided to come visit. Ken says that they wanted to see what San Francisco Pride was all about, and Brute adds that they want to "shag as many blokes as possible." Ken says that he views American guys as a challenge – because they're more uptight sexually! The Americans protest, proclaiming that they're just as sexually liberated as Europeans. But it's late, and the guys head to bed without resolving their debate. Later, as Wesley Woods is undressing for bed, he hears a knock at his door. It's Ken, and he wastes no time telling Wesley, "I want you to fuck me!" "That's very to the point," says Wesley, feeling a bit shocked, but something about Ken's assertiveness really turns him on. They start making out, and Ken goes down on Wesley's cock. Moving into a 69 position, Wesley eats Ken's ass while Ken continues sucking Wesley's dick. Ken jerks his cock and rides Wesley's face while moaning with pleasure. "Fuck, you taste good!" exclaims Wesley. Wesley leans back on the bed, and Ken sits on Wesley's cock and rides it like a cowboy. They switch to doggy style, and Wesley gives his cock to Ken with long, powerful strokes: all the way in, all the way out. Rolling on to his side, Ken makes his hole extra tight for Wesley to fuck him sideways. Moving to missionary, Ken strokes himself off while getting fucked, blasting his creamy load on his stomach. Wesley jerks his load out into Ken's open mouth, dripping cum on his chin, and bends down to taste his load on Ken's lips.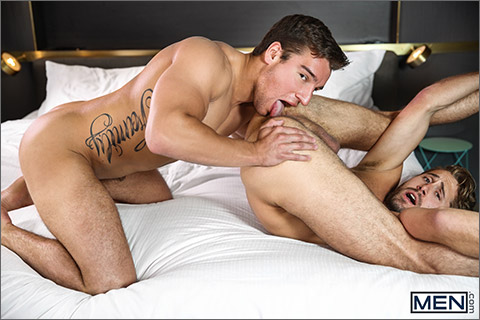 ON DEMAND
Wesley Woods orders room service — in the form of Jordan Boss. Wesley salivates over Jordan's cock, sucking away until Jordan flips him on his back and begins rimming his tight pink hole. Once properly loosened, Jordan plunges deep into Wesley filling him full of his delicious cock. The boys then flip and Wesley gets his turn stretching Jordan's hole before cumming on his face.

THE POOL BOY
Young and hung pool boy seduces hunky home owner.

WET HARD COCK
Hot muscle twinks just get done washing the cum off their dicks and are ready for more.
CHANNEL 1 / RASCAL
CLICK HERE TO GO TO HIS GAYROOM DETAILS