Handsome Romanian Gay Porn Star, Jared Shaw
Known Aliases: Jarde
Years Active: 2016 – 2021
BOY FUN INFO:
AKA: Jarde
Nationality: Romanian
Date of Birth: 1999
Height: 181 cm / 5'9
Weight: 79 kg / 174 lb
Dick Size: 8″ uncut
Role: Top
Orientation: Straight
Hobbies: Gym, Food, Video games
BADPUPPY INFO:
Jared Shaw is one hot, young stud who comes to us from Romania. We learn during his interview that Jared does not use weights or machines when he works out. His incredibly sculpted body comes strictly from resistance training, using only his own body. Jared, ever so slowly, strips out of his clothes giving us time to take in his beauty. His cock is already rock-hard and doing its best to pop out from the top of his underwear. Jared pushes his underwear to the floor and grabs his thick, uncut cock. As he plays with himself he turns for the camera, bends over and makes sure everyone gets a perfect view of that tight, sweet asshole of his. Jared spreads out on the big black rug and gets down to some serious cock-jacking. He beats his cock faster and his breathing rate increases. As his nuts tighten and his toes curl under, Jared squirts a thick load of cum all over his perfect set of abs. With a wink towards the camera, Jared scoops up some of his cum and begins spreading it all over his naked torso and cock.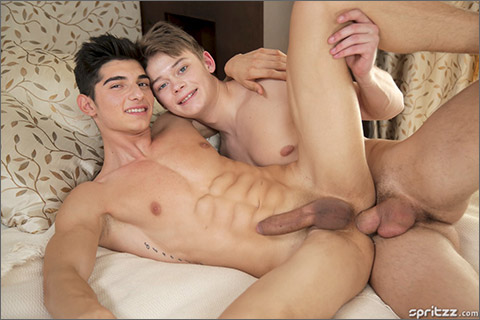 MUSCLE BOY JARED SHAW FUCKED HARD
Gorgeous muscle boy Jared looks truly stunning in the shower, playing with his swelling uncut cock. It's no wonder his curious friend Abir is so enthralled by the sight of him and has the urge to play with his own super long cock. Jared wasn't planning to entice his friend into a play session but he's not going to say no when Abir joins him under the water, their hard young cocks meeting in a playful joust as they combine their dicks for a little friendly wanking. Their innocent stroking has quickly lit the fires of passion, however, and as the two move to the bedroom a feast of sucking and rimming ensues that can only lead in one direction. Muscle boy Jared can't wait to get his pucker around that big pink bareback meat, spooned on his back and taking a ride on his pal he pauses to suck the offered dong, then gets right back to having his hole filled by the well-endowed boy. By the time his abs and ass are coated in hot cum he'll need another shower.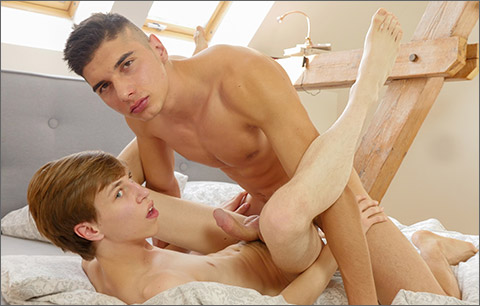 WHILE THE GIRLFRIEND'S AWAY
Handsome straight lad Jared Shaw works out a lot, which is perhaps why he always finds himself so damn horny all the time. He's the kind of young man who doesn't need a whole lot of persuasion to try sharing some BoyFun, and when a gay twink as forward as Gabe Isaac makes a move on him he just can't say no. A little groping of Gabe's impressive bulge and a friendly kiss is all he needs and he's soon feeling less guilty about cheating on his girlfriend. The boys move to the bedroom where they can really get to know each other and within moments Gabe's incredible cock is being released from his straining underwear. Jared is in awe, tasting the pink length for the first time and realizing just what he's been missing. A little licking of the boy's snug little hole and he's ready to get his own uncut jock cock out for his friend to taste, feeding Gabe his gorgeous shaft and sharing a wild session of mutual sucking. It's clear the straight boy has already been convinced that cock is awesome, but when Gabe offers his ass and slides down on the gorgeous young hunk's throbbing tool it seems he's more certain than ever. Perhaps knowing he has an opportunity to add the gorgeous young man to his list of regular fuck buddies Gabe goes all out, riding that cock with his own length swinging around and laying back to give Jared complete control of his butt, his bareback ass willing to be totally used and enjoyed by the handsome young man. By the time Gabe has splashed his semen all over his pale twinky body and Jared has fired off ropes of hot jock cum over the boy's face, it seems a future of continued illicit encounters is already confirmed!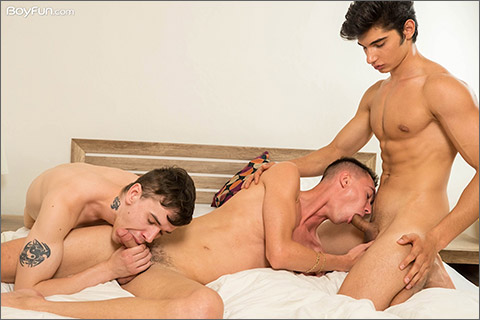 THIRD WHEEL FUCKFEST
Gorgeous jock boy Jared Shaw can't wait to get his smooth and sexy twink friend Vitali Kutcher in private for some horny BoyFun, but to be honest we would all be just as eager as he is. Once in the bedroom he doesn't wait, giving his buddy a friendly nudge onto the bed, their lips meeting in a sexy make out session that can only lead to more. The two are soon shirtless thanks to Jared's eagerness to get things moving, showing off their contrasting physiques. They really compliment each other, with Kutcher's smooth twink frame looking even more slight than he is against Shaw's toned and tanned jock torso. While the boys might be different in so many ways, their cocks are quite similar and their hunger to suck and slurp them are equal in vigor. The gorgeous duo swap their shafts in a greedy session of mutual dick loving, but just as Jared starts to focus on that tight little ass his friend has to offer him who should appear at the door but tall and slender Max London! It seems he might have had a clue of what was going on while he was out of the way, but perhaps not surprisingly he's soon invited to their private party when the boys catch him spying and groping his big dick in the doorway. Max doesn't waste a moment, quickly accepting the invite and getting on the bed to share his own cock with the two horny friends. Thankful for a new cock to enjoy, a fresh mouth to feed and a tight hole to fuck, Vitali and Jared are soon sharing their friend, with Shaw's big bare jock cock squeezing into his butt hole while Kutcher feeds him his boner! It's a good thing tall young Max is such a greedy boy, he gets plenty of cock as the two team up to share his holes between them, ending with both giving him their loads right in his face and his own cum being sucked out of his big cock by Jared! I guess next time they won't be neglecting to invite their thirsty friend.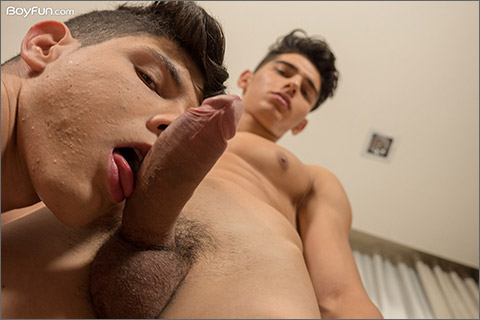 FERRIS WHEEL FEEL UP
Sexy jock boy Bastian Karim isn't sure about taking a ride on the Ferris Wheel, it's so far up, but he's easily convinced when his horny and handsome friend Jared Shaw offers a tempting little treat once they're on it. It might be the proposition of a kiss that had him agreeing to hop on, but perhaps the young man knew it would lead to a lot more than just a smooch. It's probably a good thing the boys wait until they're home before they start really exploring each other, already a little worked up from their sexy make out session. With a little massaging Bastian soon has Jared's incredible body at his disposal, not to mention his gorgeous thick uncut cock! Jared has an amazing dick, so meaty and delicious, any boy would love to spend a good amount of time licking and sucking it, which is precisely what handsome Bastian does. His lips slide over the tip and stretch around Jared's girthy shaft, tasting the clear nectar from his swollen tip. He loves giving head, but he enjoys getting some just as much. Once he's had a little massaging action from his buddy his own tasty muscle boy dick is out for Jared to enjoy, the young man showing off his own oral skills while he works the length and tip. As you might expect, a round of mutual cock play isn't quite enough for these two BoyFun superstars. Bastian offers up his smooth round ass for his friend to enjoy and Jared wastes no time easing his naked shaft into that snug pucker, filling his boyfriend with his warm and wet meat. Bastian is quickly in heaven, the feel of his lover's rigid cock easing in and out of his jock hole is enough to make his own cock dribble clear juice in anticipation of the climax to come. He takes that dick from behind, helped with a little reach around action before laying back and getting pounded even deeper. Jared's aggressive thrusting makes his buddy's cock pump hot cream out over himself, the pleasure rushing through him with each jolt of orgasmic bliss. With Bastian spent and his cock dripping he prepares to take a massive facial from his gorgeous friend, Jared's solid prick splashing ropes of hot man milk out to rain down all over his friend's handsome face and into his waiting mouth. No surprise it was easier to get him riding cock than it was to get him on the Ferris Wheel.