Cute Scruffy Bottom American Gay Porn Star, Jackson Fillmore
Known Aliases / aka: Jackson Filmore
Years Active: 2015 – 2021
LUCAS ENTERTAINMENT INFO:
Height: 5'9
Weight: 150 pounds
Dick Size: 7″
Position: Versatile
Jackson Fillmore is your quintessential San Francisco otter: he's cute, lean, and loves cock. And he has a touch of hipster in his character because he works as a barista from time to time. But he's also an escort and gay porn model, which is something he always wanted to do. He's completely versatile, loves the moment when his partner shoots his load after a hot fuck, and is up for having sex anywhere. Jackson has a soft spot for beefy teddy bears with big dicks.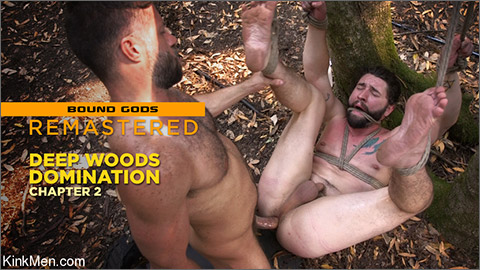 REMASTERED 2022: DEEP WOODS DOMINATION: CHAPTER 2
In this second chapter of a 3-part series, "Deep Woods Domination", Tristan Jaxx is on a camping trip with his stepson Jackson Fillmore. During a brisk walk they discuss the recent disappearances of hikers from the nearby woods. But it's only a fleeting thought, because Tristan actually has his eye on Jackson's smooth, fuckable ass.
   After a night in the tent, they awake to find Tristan's other son still has not returned from his own outing the night before, leaving Tristan and Jackson to their own devices. Tristan knows that Jackson's had his eye on him, so in the calm of the morning he decides this is the right time to take him down. Tristan can't help but reach for his stepson's smooth perfect ass, then ties him up with his shirt as he wakes. He feeds Jackson his huge hard cock, giving his exactly what he's secretly wanted all along. Jackson chokes on Tristan's giant dick, but takes it down his throat as he's told.
   Later, Tristan binds Jackson to a fallen tree with plastic wrap, and proceeds to suck his cock and flog him, all while sliding his own cock into his stepson's hungry throat. Finally, Jackson is suspended between a couple trees while Jackson primes his sweet hole for fucking. He sucks his cock and eats his ass, then lets him down so he's in just the right spot to get his ass pounded. Tristan pumps his huge dick into him as Jackson's screams echo into the woods. The two of them fuck and suck in the great outdoors, until they both blow their loads all over each other.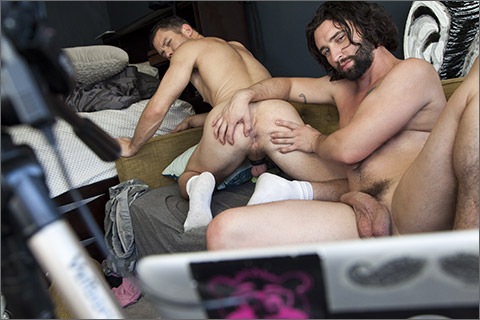 MAKING RENT: Jackson Fillmore fucks Ashley Ryder
What's a horny hung couple with a web cam to do when rent is due? Put on a live cam show for tips from their SOMA flat aka "The Pig Pen." Luckily there's nothing Ashley Ryder and Jackson Fillmore won't do. Ashley starts the show by edging Jackson's uncut cock until he can't take it any more and the tokens start rolling in. Tickling earns the guys another 200 tokens. Jackson spanks Ashley's ass for 150 until both cheeks are on fire. A large dildo up Ashley's ass is worth another 500. But when Ashley opens his hole for Jackson's probing fist and thick cock it's clear the are making rent!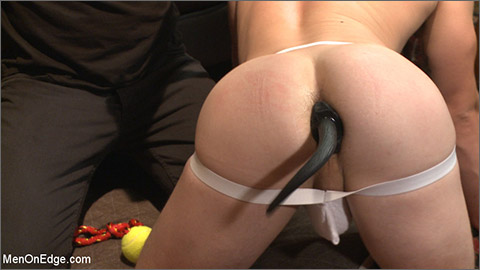 PUPPY CAN SUCK HIS OWN DICK, AND DOES IT LIVE!
Hot boy next door Jackson Fillmore joins Men on Edge Live to try out puppy play for the first time. He jumps right into the role, submitting to Christian and Sebastian as soon as the puppy mask goes on. Christian leads Jackson around on a short leash and has the pup worship his boots while Sebastian hogties him. Jackson is made to wear a rawhide bone on his balls as they edge him repeatedly, getting suggestions from the members. Jackson is even made to suck his own dick in a piledriver. Sebastian and Christian take Jackson to the bed, bending the eager pup over and toying his his hairy asshole. Jackson may not be allowed to cum yet, but Christian takes the opportunity to blow a load all over Jackson's face. Flipped over Jackson endures an alternate between torment and pleasure as he's relentlessly tickled. An even bigger pup tail plug is inserted before Jackson finally gets to blow his load, obediently lapping up his cum from Sebastian's hand. Helpless to move, Jackson's finished off with a vicious tickling and apple polishing on his sensitive, uncut cocked.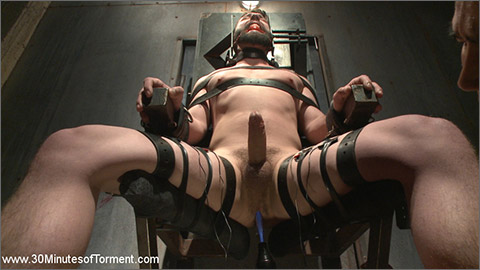 NO MERCY FOR JACKSON FILLMORE: BEATEN, ELECTRIFIED, HUMILIATED & FUCKED
Jackson Fillmore is a full-time BDSM lifestyler. Is his experience enough to help him endure 30 minutes of excruciating sadistic torment until he blows his load?
THE PIT: Strapped down to the platform, balls secured tight to the front, Jackson stands completely immobile and must face a serious torrent of corporal punishment. Van starts with open palms and fists to tenderize Jackson's flesh before flogging it raw.
THE CHAIR: Jackson sits in the electric chair, his lower half already starting this round with a painful current through his thighs. The torment intensifies with more electrodes clamped to his balls and an electrified butt plug deep in his hole. Van zaps Jackson's erect cock and runs electric arcs from a violet wand all over Jackson's body and straight into Jackson's ass. At the final moments, Van fries Jackson with the electrodes turned up to full power.
THE GIMP STATION: Jackson has to make his cock hard for the gimp's arrival while Van lands sharp hits from the crop all over Jackson's ass. The gimp plows into Jackson with a raging hard-on as Jackson grits his teeth and moans. With his back splattered in hot wax, Jackson rides the gimp as he jerks off. Jackson successfully blows his load, but the clock is still ticking. His face gets smothered in the gimp's cum and Van finishes Jackson's 30 minutes with a wicked beating.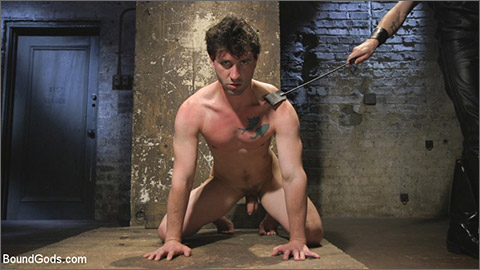 MR. KEYS TAKES THE HOUSE SLAVE TO THE NEXT LEVEL
Master Sebastian Keys just found his newest contender for house slave: Jackson Fillmore. First Jackson must endure days of confinement in full duct tape bondage, while Master Keys beats and toys with him. After Jackson is released from his tape restraints, he must escape the imprisonment of his own mind. Master Keys torments Jackson with his crop while delving deep into the pain sluts inner psyche. Jackson needs to understand his desire for pain if he wishes to continue. Jackson's arms are suspended above him as Master Keys unleashes the full power of his flogger on him. Jackson embraces the torment, and is rewarded by being tied against the wall, and feeling his master's hard cock fill up his asshole. Master Keys fucks Jackson, until he can no longer contain himself, and coats Jackson's slutty ass with his fuck juice. Jackson is proud to have passed the challenge and releases a cum stream that trickles across the floor.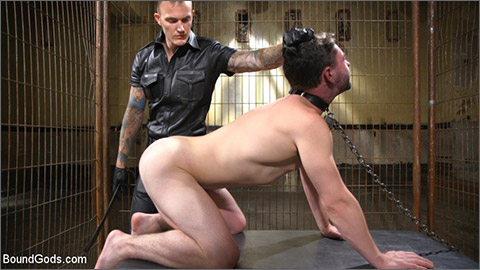 MR. WILDE SHOWS COCKY EXECUTIVE WHO'S THE BOSS
Jackson Fillmore impatiently sits in a cage, wondering why the dom he hired, Christian Wilde, hasn't started yet. Mr. Wilde finally gets up to silence the ungrateful bitch, barking at him to remove his clothes. He inspects every inch of Jackson, reducing him to only pieces of flesh. When Jackson thinks he can order Mr. Wilde around, Mr. Wilde responds with his hard leather paddle all over Jackson's feet and ass. Jackson learns to follow orders and show gratitude as Mr. Wilde turns his body lobster-red with a belt. After choking all over Mr. Wilde's massive dick, Jackson has whatever remaining noncompliance flogged out of him. Jackson accepts his nothingness, swinging over the ground in ropes while Mr. Wilde continues to take his time. He finally approaches Jackson and fucks his ass relentlessly before coating his face in hot cum. He unties Jackson and commands him to crawl to his throne over the sharp iron bars of the cage and lay his body at his master's feet. Jackson complies with Christian's order to cum, finally grateful for his master's treatment. As Jackson gasps in relief from his orgasm, Mr. Wilde stomps on his tender cock.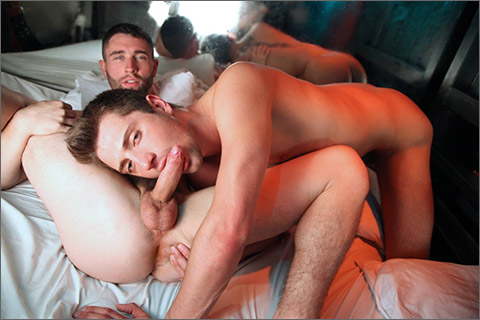 BIGGEST CATCH – DADDY'S WATCHING: Jackson Fillmore and JD Phoenix Flip-Fuck
After making a bet to see who can find the richest daddy in San Francisco the boys split up and JD Phoenix heads to "church," aka Steamworks in Berkeley. There he finds sexy hung stud Jackson Fillmore who tells him he's got a rich daddy (Max Cameron) who wants to see a show. The hot sex-pigs find a room with a plexiglass wall and start sucking dick. When JD turns around and gives Jackson a taste of his world-class ass Jackson shoves his rock hard dick deep in his hole. Jackson fucks the hell out of him until JD decides it's his turn; he lubes up his meaty cock and pounds Jackson's ass. JD greedily sucks a load out of Jackson's cock then jerks his stream of jizz all over Jackson's hot hole then eats it out. Daddy is happy and JD gets a condo. It's a win/win.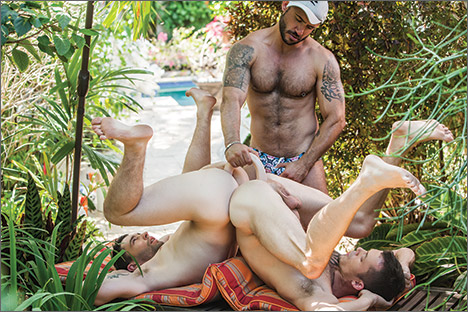 JACKSON FILLMORE AND JIMMIE SLATER FLIP-FUCK IN THE FLORIDA SUN
Jackson Fillmore is your quintessential San Francisco otter: he's cute, lean, and loves cock. He's meets up with Jimmie Slater and they get into all kinds of trouble: kissing, licking, sucking, and rimming (make note of Jimmie's body, too: it's clear he's been hitting the gym — his body is so ripped it's crazy). These guys spend plenty of time taking each other's cock, and with a cameo from Pedro Andreas, they both get their asses fucked with a double-headed dildo he brings along. Oh, that Pedro — he's prepared for every situation!
CLICK HERE TO GO TO HIS LUCAS ENTERTAINMENT DETAILS
VIDEO ON-DEMAND: Jackson Fillmore @ AEBN SMUTJUNKIES THEATER
NOW STREAMING: Jackson Fillmore @ NAKEDSWORD