Spanish Gay Porn Star, Andrea Suarez
Known Aliases / aka:
Years Active: 2014 – 2022
FUCKER MATE info:  
Andrea Suárez is a perfect versatile mate . He is ready for anything .His mouth and ass can can take all that is given to him. His beautiful eyes light up at the sight of a hard cock or tight hole. The easy he moves will leave you wanting more and more.
Country: Spain
Age (2014): 25
DOMINIC FORD info:  
Andrea Suarez stares at you through the camera. He shows off his tight, hot body. Slowly, he reveals his huge uncut, meaty c0ck. He plays with the camera, teasing us, making us want to see more. He strokes his c0ck until we're about to c$m. And then he looks into the camera and asks us to make him c$m. The he c$ms large buckets of c$m while we jerk him off. This is sensual, sexy, provocative and unbelievably hot!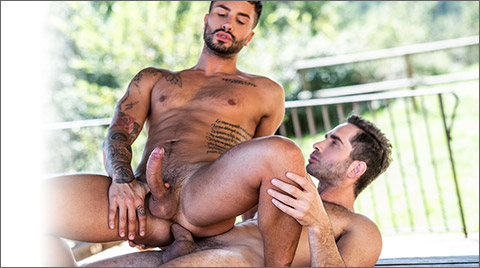 SEEDED MAN WHORES: Andrea Suarez Bottoms For Michael Lucas
Andrea Suarez has one hell of a heartbreaking smile — if he flashes those pearly whites, then any guy will swoon for him. Even brighter than Andrea's smile is his fiery Latin sex appeal, and he shows it all off when he's servicing Michael Lucas' 10-inch uncut cock. Andrea swallows Michael's cock first, getting ready to feel it plunged up his ass.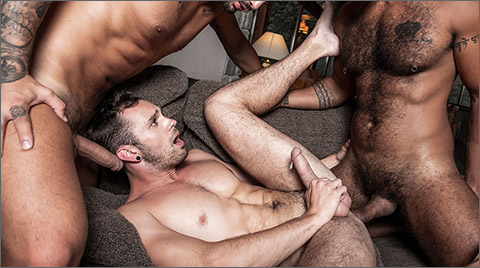 FUCKED WIDE OPEN: Louis, Apolo, Drake, And Andrea's Ass-Splitting Foursome
Drake Rogers has the house all to himself, and as soon as everyone is gone he invites his friends Louis Ricaute, Andrea Suarez, and Apolo Fire over to hang out and fuck around. It doesn't take long before the guys become a bundle of twisted limbs as they suck and fuck, and in a surprise topping encounter, Drake Rogers (who is usually taking dick) lubes his cock up after getting turned on hardcore seeing Andrea ride Louis' cock. Drake slips his hard-on inside Andrea too for some fucked-wide-open double penetration, all while Andrea is blowing Apolo!

LAS VEGAS: Andrea Suarez, Brandon Jones, Samuel Stone
Las Vegas, city of sin, luxury and new experiences… Brandon Jones had a special surprise for his man for their first night. Raising the bar of temptations he hired the services of one of the world most famous escort : Andrea Suarez. The 2 lovers waited impatiently on the bed as the latin stunner came in the room to service them one by one. The 3 boys kiss one another passionately and lick every inches of their uncut cocks. Foreskin lovers will be pleased with this scene. Samuel and Brandon then take really good care sucking and deepthroating the escort. Getting eaten from the front to the back Andrea cant get enough of them. Then getting him his man slowly brandon start fucking his love while he still sucking deeply. You can feel the intensity threw the screen…Samuel is then ready to take the pounding of his new friend riding him while brandon enjoy the beauty of his ass getting fucked hard. Samuel climax while getting pounded and then ask for what he love the most and its 2 hung boys covering his face with one cumshot that will stay in your memories for many jerk off to come…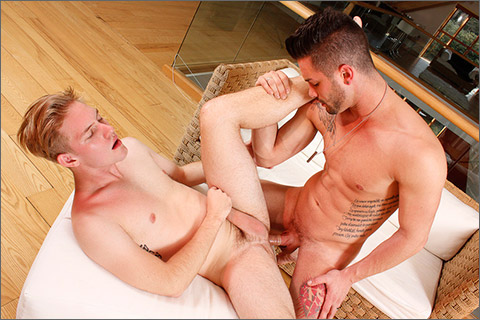 FANTASY FUCK: ANDREA SUAREZ FUCKS JAXON RADOC
It must be some book that blond bombshell Jaxon Radoc is reading, as his imagination runs wild with the appearance of Spanish stud Andrea Suarez coming from behind, the perfect position for the handsome tattooed fucker. Jaxon sucks deep and hard on Andrea's large uncut dick like his favourite popsicle, he just can't get enough, and when the favour's returned, Jaxon's on big dick is the star of the show, Andrea can't believe his luck as he looks up with a face full of dick with more to spare and gazes at the beautiful face of Jaxon, head back in sheer pleasure. The sight of this makes Andrea even hornier and slams his big dick deep into Jaxon's willing butthole, slapping his peachy cheeks to get even deeper, his balls swinging back and forth with each thrust. Walking off after doing the deed, Jaxon is left sweaty, spunky and satisfied!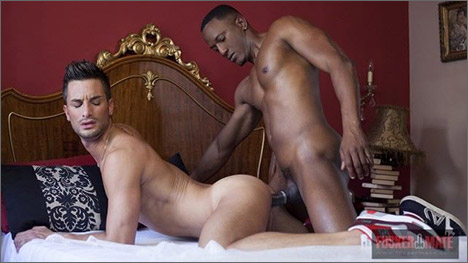 INTER-RACIAL-DOUBLE-CUM: HECTOR AGUSTI & ANDREA SUAREZ
Andrea Suarez has always had a love of ebony men. Until today we didn't realise how much. Héctor Agustí is without doubt the perfect mate for Andrea Suarez, his huge black cock and toned physique are exactly what Andrea wants in a mate. Today he got exactly what he wanted, this is another hard dominant Fuckermate session with intense chemistry and passion. Agustí wasted no time and went straight for Andrea's tight white hole. Agustí made Andrea his own and rewarded him with two hot loads of cum. The action ends in the shower and is another Fuckermate session that cannot be missed.

LUCIO SAINTS