Kristen Bjorn Muscular British Gay Porn Star, James Castle
Years Active: 2014 – 2019
KRISTEN BJORN INFO:
Nationality: United Kingdom
Height: 6′
Weight: 180 lbs
Dick: 8" (20.32 cms) uncut
Position: Versatile
James is single and states that he is very happy with that and is not in any rush to be in a relationship. James did tell us that he does have a fantasy where a sling would be used in his next shoot. I am sure we can accommodate him with his fantasy. With his smooth, lean, muscular body and thick uncut cock James becomes very popular when he steps on set. James is not only about his incredible good looks, James also enjoys debating current events and politics.
   James made his debut in Casting Couch 327. He has already been scheduled for many new projects, some already in the works and some still being developed. So much more to come from this very handsome, sexy and intelligent young man.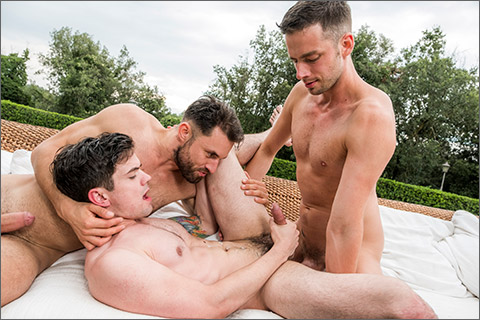 BAREBACK AUDITIONS 9 – EAGER TO PLEASE: Damon Heart And James Castle Double-Team Dakota Payne
Lucas Entertainment's new exclusive model, Dakota Payne, has been in a few scenes already since the summer of 2017. But Dakota gets his formal introduction to the set with Damon Heart and James Castle in "Bareback Auditions 09: Eager To Please." Damon and James make nice with Dakota in the interview portion, but once the talking is over Damon and James take turns using Dakota as their own personal bareback sex object. Dakota certainly is eager to please, and he uses his leanly muscle body to bend into plenty of positions for Damon Heart and James Castle!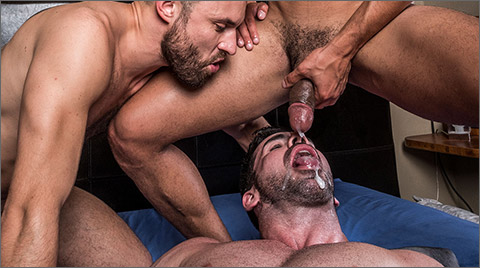 MUST SEED TV: DINE ASS-TY | Drae Axtell, James Castle, Billy Santoro
It's a parody, it's a reboot — it's a reboot-parody! It's Must Seed TV! Lubricant tycoon Drake Barrrington (Billy Santoro) has it all: a life of luxury, decadence, and debauchery. It's a life he's ready to share with his soon-to-be husband, Kristoffer Jennings (Drae Axtell) — but just when life seems to be a wet dream come true — ENTER ALEX! Alex Barrington (James Castle), Drake's hot-tempered first husband, returns to makes things as sticky and slippery as the lube magnate could imagine. These three are ready to dine on drama, and on ass.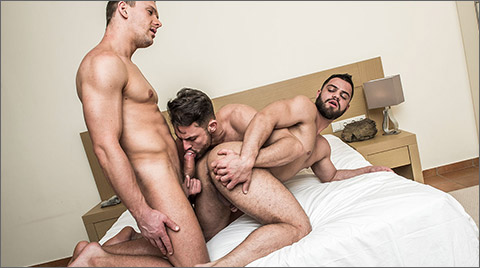 BOTTOM BOY BITCHES: Andrey Vic And James Castle Spit-Roast Ares Fly
Ares Fly is truly in his element when presented with two cocks to service. Andrey Vic and James Castle are both looking to get off, and that lands them in bed with Ares, who couldn't be more excited to help them out. Since Ares Fly loves sucking dick as well as getting fucked in the butt bareback, both his holes are put to use. Andrey Vic is the first to loosen him up while James gets his dick sucked, and then they switch off. Note that fans of ass-to-mouth get an extra something special in this scene!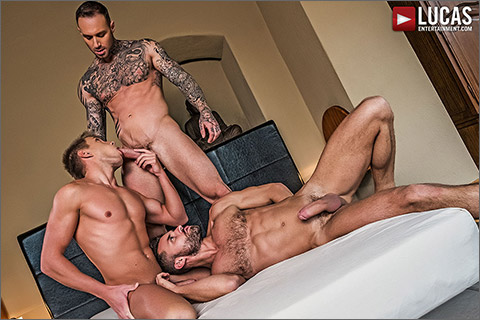 ASS-FUCKING ALPHA MALES: James Castle and Dylan James Own Bogdan Gromov's Ass
James Castle snuggles up with his young lover, Bogdan Gromov, in bed watching television. James is fresh from the shower with only a towel covers his always stunning body. What Bogdan doesn't know is James invited over alpha-male Dylan James to shake things up and give them both a taste of some masculine dominance. Dylan shows up in a tank top and jeans and jerks his dick while James and Bogdan fool around. But before long Dylan James strips down (showing off his sexy-as-hell tattoos) and gets his hard raw cock wet in both James Castle and Bogdan Gromov.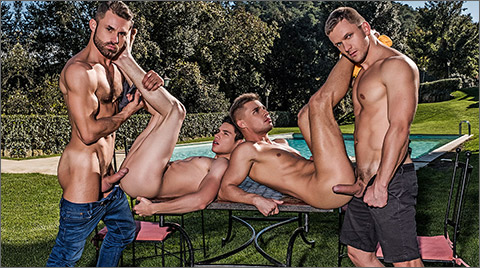 ASS-FUCKING ALPHA MALES: Klim Gromov and Ricky Verez Bottom for James Castle and Andrey Vic
Blue-eyed Russian twink Klim Gromov and sexy Latin twink Ricky Verez are two wild bottoms who need a firm hand to keep them in line and teach them how to be good receptacles for raw cock and cum. James Castle and Andrey Vic both have the skill and patience to show Klim and Ricky how to properly service the rock-hard cocks of no-bullshit alpha males. Ricky Verez and Klim Gromov both enter into the sexual encounter cocky and full of themselves, but when they wind up getting their asses pounded without mercy by James Castle and Andrey Vic, their attitudes change and they learn their place as submissive bottoms.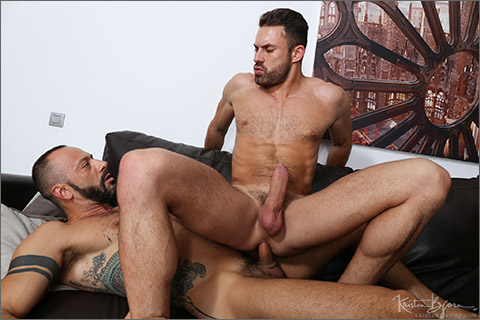 BARE TO THE BONE #12: ALBERTO ESPOSITO & JAMES CASTLE FLIP-FUCK
Alberto and James have hooked up online and waste no time going after what they each want from the other. Alberto frees his uncut cock as it springs forward and James wraps his hand around the hot man flesh. James then takes Alberto's cock into his mouth as the burly Alberto moans with pleasure. Turning things around, Alberto sucks on James's cock and then ass, showing James that a rugged man can be tender as well. Alberto then gives up his hairy hole for James' raw cock as James buries his cock deep inside of Alberto. Flipping over, Alberto has James sit on his hard cock and ram the raw flesh deep inside of his ass. James rides Alberto hard and deep as his own cock remains rock solid. Alberto pummels James' pink hole until his cock forces James to blow his thick, creamy load as he continues to grind away at Alberto's cock in his ass. Alberto coats James' pink hole with his load before shoving his cock back inside of James to unload the remainder of his cum. Rugged and tender can always come together when there is a common bond. Never underestimate the rugged man's desires or the tender man's abilities.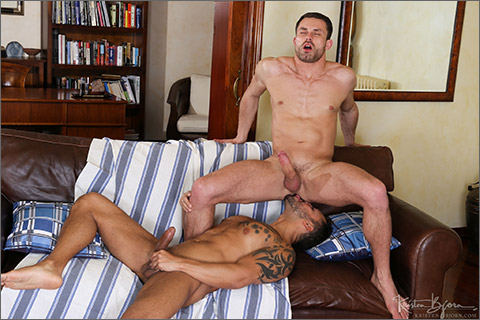 BARE TO THE BONE #9: VIKTOR ROM FUCKS JAMES CASTLE
Viktor and James are old friends and when they meet up on the street they decide to rekindle an old desire. Viktor remembers how well James swallowed his huge cock before and wastes no time in putting his talents to work again. James devours and luxuriates in the taste, smell and feel of that hefty cock in his mouth and throat. Viktor rewards James' expert cock sucking by taking James' fat cock into his own mouth and pleasuring it from the base to the uncut head. James knows what Viktor's true desire is so he grinds his ass onto Viktor's hungry mouth and probing tongue. Fucking that hot hole and prepping it for his own mammoth cock, Viktor strains to withhold his huge eruption. James demands that Viktor fuck him and Viktor is more than willing to give him exactly what he desires. Viktor rams his raw cock deep inside of James' greedy hole and teases him by thrusting his rock hard cock in and out of his wet hole. Flipping James over, Viktor is treated to deeper access and pounds away at James' ass as James strokes his ever hard cock. Viktor has fucked James so hard and so deep that he explodes a huge load of cum as Viktor continues fucking his ass. As Viktor feels the spasms of James' ass muscles working his cock he shoots his thick, creamy load all over and then inside of James. An old friendship has been rekindled.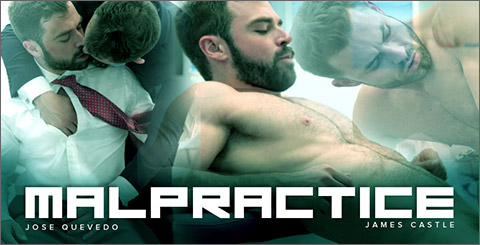 MALPRACTICE
The hunks of Menatplay have been examined by their fair share of hot doctors. The waiting room just seems to be overflowing with willing patients and their dubious ailments. This week however, its not a doctor taking advantage of an accommodating convalescent, instead Dr. James Castle is working shifts on the hospital ward and it's his colleague Dr Jose Quevedo that gets the full medical treatment. Under the charade of a well-meaning buddy massage, Dr James attempts to turn Jose in to putty in his hands! Maybe if he can just get Jose loosened up enough he can slip his sticky wet cock into that peachy Spanish rump. And Dr James being the sly smooth operator that he is, makes sure he can re-watch the event by surreptitiously turning on his hidden camera, perfectly positioned for such occasions (he's obviously done this before as you'll find out in a few weeks time!)
   James gives Jose lots of attention, working his lips around his fat cock and getting his hole loosened up with his tongue, rimming long and deep , all the while priming his work partner for a heavy fuck session. But Dr. Jose is no fool and has clocked the camera very early on. Jose plays along right up until the point where James thinks he's about to inject some of his tonic into the young medic. Jose flips the situation and roguish Castle is soon bent over getting a dose of Dr Jose's very engaging bedside manner.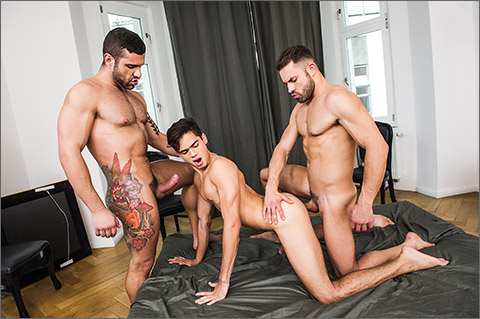 LETTERIO AMADEO AND JAMES CASTLE DOUBLE-TEAM ASHTON SUMMERS
Another Lucas Entertainment exclusive model is having his debut scene in what will be collected into the future film "Raw Threeway" — Ashton Summers. Ashton is a professionally trained ballet dancer, which comes in handy for handling his body during sex. Letterio Amadeo makes a return to give Ashton a test drive alongside James Castle (who I've taken note of having a very handsome face). Everyone gets a turn bottoming, but Ashton is first up as Letterio and James pass him around. But even though he has a deliciously tempting ass, Ashton is more than capable of pounding his tops too!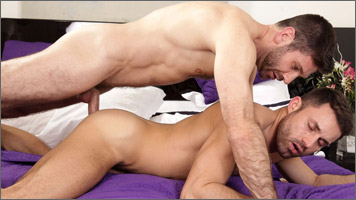 RAW ADVENTURES SCENE 11 – CHEMISTRY: JAMES CASTLE & CRAIG DANIEL
James and Craig return to their hotel after some sightseeing around the city. Both men have worked up an appetite for some wild sex and are planning to feed on the other. James seems to be the hungrier cock sucker and immediately goes for Craig's huge, uncut cock. After seeing James stroking his fat cock Craig's appetite has been peeked and he goes in and down on James' fat shaft. After some hot 69 cock sucking, James plants his hot, pink hole directly over Craig's hot fuck tongue. Craig savors the intense sensation of his strong tongue penetrating James' perfect ass. James gets on all fours and turns his amply, spit slicked ass up for Craig. Craig takes full advantage of this position and slams his raw cock deep inside of James. James's hot ass is no match for Craig and milks Craig's creamy load up and out of his long shaft. Craig and James are still hungry and James flips Craig and shoves his fat cock deep inside of Craig's tight hole. Craig gets vocal with his pleasures, desires and demands of how he wants James to fuck his ass. James complies as he knows that Craig's pleasure is also his own. With Craig's legs spread wide open, James has complete access to that hot hole and gives him a fucking he won't soon forget. James has worked himself into a frenzy and explodes his huge, thick load all over Craig's taught ass. Craig demands that James "stick it back in" and James complies with his cum slicked cock sliding back inside of his raw ass.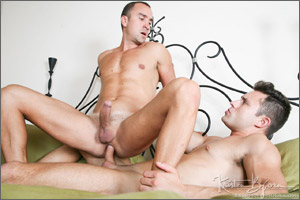 ON THE PROWL #13: JAMES CASTLE & MANUEL OLVEYRA
After meeting up in the 3 way the night before James invited Manuel to spend the night "you never know, he might be mister right." Manuel wakes up with the pleasure of his cock being sucked by James. After some hot oral pleasures, James moves up to Manuel's mouth and begins feeding him his fat cock while stroking Manuel's wet cock. The guys switch up into a deep throating 69 position, which James takes full advantage of Manuel's talented throat. After lubing James' cock up with his spit Manuel squats down onto James' fat, wet cock. Manuel rides him hard and deep and James responds with a rock solid cock and balls drawn tight with the anticipated explosion. James flips Manuel and takes his hot ass from behind, shoving his fat cock as deep as he can inside of Manuel. James rides Manuel fast and furious, enough so that Manuel shoots his thick, milky load as James continues to rapid fire fuck him. Only able to hold out for a short time longer, James explodes his creamy load all over Manuel's ass, balls and then back inside of his hungry ass. Possible romance or hot fuck buddy?
CLICK HERE TO GO TO HIS KRISTEN BJORN DETAILS
CLICK HERE TO GO TO HIS LUCAS ENTERTAINMENT DETAILS
2015 CYBERSOCKET BEST NEWCOMER NOMINEE
VIDEO ON-DEMAND: James Castle @ AEBN SMUTJUNKIES THEATER
DVDs & ON-DEMAND: James Castle @ TLA VIDEO