Sexy American Gay Porn Star, Ian Greene
Known Aliases / aka:
Years Active: 2016 – 2019
Lucas Entertainment Stats / Info:
Position: Bottom
Dick Size: 8.5"
Height: 5'9
Ian Greene makes his Lucas Entertainment debut getting his ass railed by Ben Batemen and Tyler Roberts in the upcoming movie, "Ready For Dick."
FAB SCOUT INFO:
Age (2016): 22
Height: 5'10"
Cock Size: 7″ Cut
Position: versatile, bottom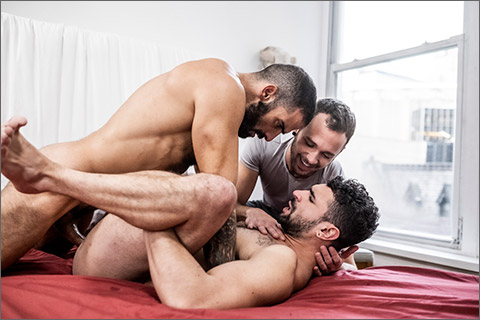 A CUCKOLD'S SUBMISSION: Drake Rogers Watches Edji Da Silva Bareback Ian Greene
There's one person in charge in the relationship between Edji Da Silva and Drake Rogers — and that's Edji. When Edji decides Drake is allowed to have sex, he has sex, and if Edji is horny for a new hole to breed instead of using Drake's body as a sex object, he instructs Drake to find someone different to pleasure him — and Drake always obeys. Drake finds Ian Greene on Grindr and invites him over. Edji Da Silva approves of Drake's finding, and breeds the bottom slut while Drake watches on in envy.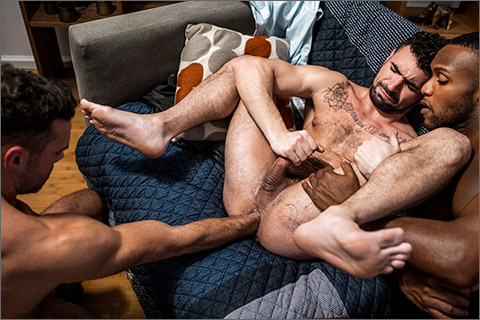 GENTLEMEN 25 – EDJI'S THE BOSS: Manuel Skye And Andre Donovan Double-Fuck Ian Greene
Manuel Skye and Andre Donovan are two top-level executives working at Edji Da Silva's company. They both take charge at work and after hours when they exploit their power over their subordinates. Ian Greene has always had a thing for both guys, but he never knew what would be in store for him when he stayed late for a special performance review. Manuel and Andre do not hold back on the guy; they double fuck his ass, shove their hands up his hole, and leave him with a rosebud he won't soon forget. And that's how you earn a promotion at Edji's company!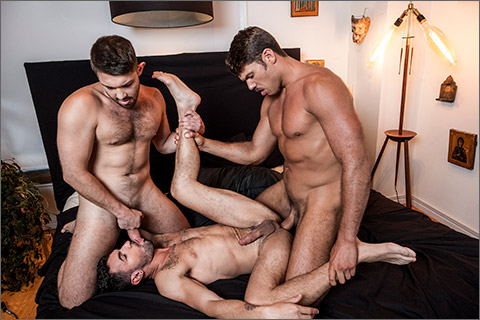 READY 4 DICK: Ben Batemen And Tyler Roberts Double-Team Ian Greene
No guy can resist Ben Batemen's sweet face — his adorable good looks and heart-breaking smile will make anyone swoon. But don't be fooled — when he finds a guy he wants to fuck, he treat the guy like an object for his own bareback pleasure. Ben teams up with the macho hunk Tyler Roberts, whose pornstache makes him all the hotter (that and his hulking gym body). Ben and Tyler find the sexy Ian Greene and invite him over for a raw fuck. Ian has a tough-guy look, but he can be very submissive in the bedroom. Ben Batemen and Tyler Roberts prove this as they take turns fucking Ian in this mouth and ass!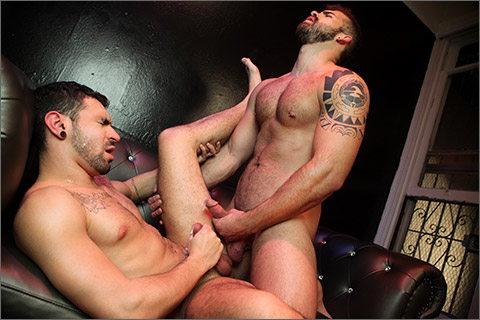 THE TEN SPOT: Jonah Fontana fucks Ian Greene
Bonafide "Tens" Jonah Fontana and Ian Greene hook up and Jonah knows just where to go – The Ten Spot. Ian asks to many questions so Jonah tells him to stop talking and put his dick in his mouth. Ian proves to be a world-class cock sucker which only makes Jonah more eager to fuck Ian's hot ass. Once Ian's hole is wet with spit Jonah sticks his hard cock in and nails him hard on the legendary Ten Spot couch. After a brutal fuck-down, Jonah pulls out and shoots a hot stream of jazz three-feet into Ian's hungry pie hole.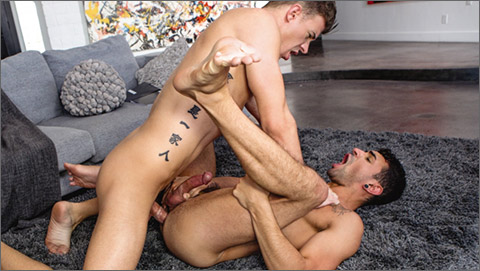 INTIMATE: JJ Knight fucks Ian Greene
Ian Greene and JJ Knight are completely head over heels with each other. Their passion transcends lusty physical instincts and they take their attraction a whole new level when they explore the electricity in each other's gorgeous bodies. They're lounging on the couch together in their tighty whities when Ian initiates the fun by arousing JJ with his toes. That's enough for JJ to stiffen his manhood and Ian doesn't waste a second getting the massive curved member inside his warm and giving mouth. Ian crawls onto JJ and teases his full erection with his ass as the amorous couple kisses and gets deeper into their passion. Ian turns around to 69 while JJ gives his perfect, hairy bubble butt some attention with his tongue. Both of the athletic studs are ready for the next level of play, and JJ slides his hardon inside of Ian to get ridden hard. They move it to the floor where Ian gets on his back and opens his legs wide for JJ to enter him again. JJ pumps his lover with a steady and measured rhythm until Ian lets loose all over his own muscled up stomach. Knowing that JJ has given his man the ultimate intimate pleasure makes him ready to blow. He pulls out of Ian just in time to feed him a gusher of fun and fills his face and mouth full of cream.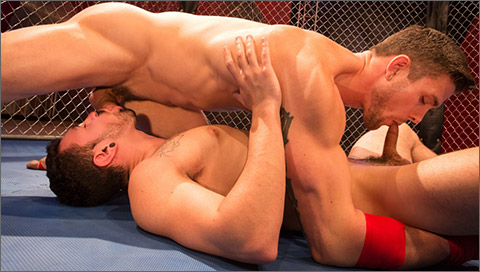 TKO TOTAL KNOCKOUTS: Ryan Rose fucks Ian Greene
Enter the cage for the ultimate fight: the winner gets to fuck the loser! Ryan Rose and Ian Greene are the contenders duking it out for sexual glory. Ryan wins round one, using his USMC training to get the better of Ian Greene. Round two sees Ian putting up a good fight, but he ultimately succumbs to Ryan again. By round three, it's clear that Ryan is the victor, and to the victor go the spoils. In this case, that's Ryan's cock deep down Ian's throat. Long trails of spit drip towards the mat as Ian wraps his thick lips around Ryan's tool. With deep thrusts of his hips, Ryan pushes his cock ever deeper into Ian's mouth. Getting down on the floor, they get in the 69 position and suck each other's cocks. Ryan spreads Ian's ass and starts fingering his hole, working in the blowjob spit for lube. Eager for a taste, Ryan dives into Ian's ass with his tongue, making sure it's wet and slippery to take his cock. Standing over Ian, Ryan fucks Ian like a jackhammer, pile-driving his cock against Ian's g-spot. When Ryan lies down on his back, Ian sits down and rides Ryan's cock, using gravity to grind Ryan's tool deep inside. With Ryan still inside him, Ian blows his load across Ryan's rock hard abs. Ryan grabs his meat and shoots his wad across Ian's face. It's a TKO.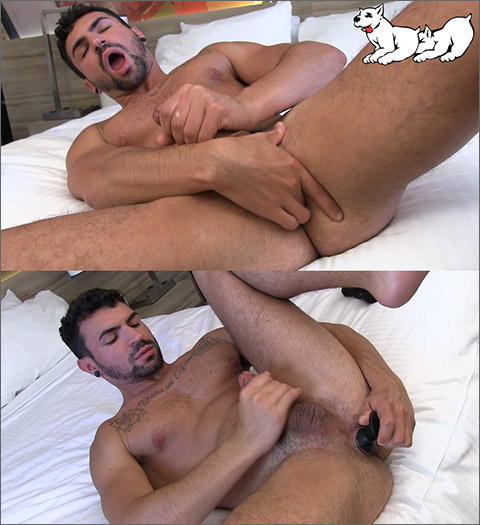 IAN GREENE BUTT-PLUG SOLO
23 year old Ian Greene is a lean, rock-solid young man who has only been in the adult industry for about a year; but, he's already made himself quite a name. Today he's making an appearance on Badpuppy doing a solo video for us. After the interview Ian does a little strip tease for us as he slowly undresses and caresses his hot, tight body. Rubbing his cock thru his shorts starts to make everything come alive. Ian stands up, strips off his shorts, lubes up his already aroused cock and starts jerking. Pulling his legs back gives us an awesome view of his asshole which he starts stimulating with his fingers. With one hand working his cock and the other teasing his hole, Ian's eyes roll back in his head from pure pleasure. He reaches over, picks up a butt plug and begins working it up his ass while the other hand continues to jerk his cock. Ian rams the butt plug harder and harder, his jacking rate increases and with a burst of energy Ian shoots his load of jizz all over his rock hard abs. With a final parting glance he scoops up his cum with his fingers, tastes it and gives a wink to the camera.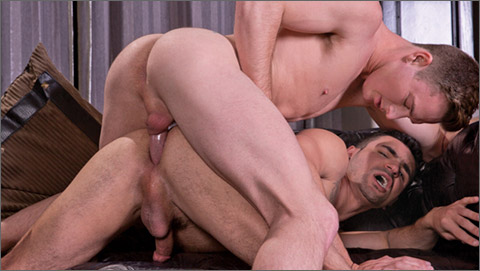 HOOK'D: Brent Corrigan fucks Ian Greene
Brent Corrigan takes a look at his phone and notices a particularly hot guy on the grids: Ian Greene. Ian likes what he sees in Brent's pics, so they arrange to hook up. As soon as Brent arrives at Ian's place, Ian gets to work servicing Brent's big cock. Thick, slippery spit lubes the shaft of Brent's cock as Ian works his deep-throating magic. Brent slips his fingers down the back of Ian's underwear to finger his hole, then grabs his phone to take some pics. Slipping off Ian's shorts, Brent returns the oral favor, wrapping his soft lips around Ian's rock-hard shaft. Brent returns to fingering Ian's hole, which quickly leads to a full on rim job, with Brent expertly tonguing the sensitive center of Ian's eager ass. When the fucking starts it's slowly at first, then faster and faster. Brent's long, hard cock spears deep into Ian's backdoor. Ian is face down on the couch doggy style, and Brent's round, muscular ass flexes with each pump. Rolling on their sides, Ian raises a leg in the air and strokes his cock as Brent continues his full-throttle pounding. Ian gets on his back with both legs in the air, and as Brent pummels deep into his hole, Ian jerks out a massive, pearly load that splatters across his tattooed chest. Grabbing his hard cock, Brent strokes out a super thick white load, and their cum mingles together as they share a final passionate kiss.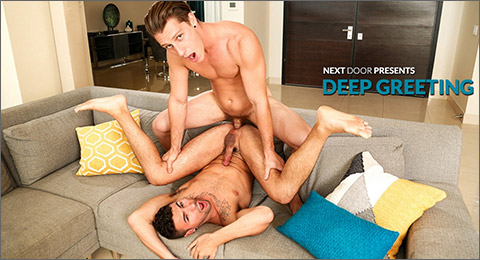 DEEP GREETING
With new neighbor Paul Canon on his couch, Ian Greene tactfully inquires about what Paul does for a living, disclosing to Paul that he does adult films in the process. Paul, a student loans collector, has ethical issues with his own job, but seems to project unfounded assumptions on what Ian does for a living. Ian reassures him that Paul has the wrong idea, and asks him if he's ever had sex with a porn star. Paul denies the possibility, and Ian asks him if he knows what he's missing. Paul, again, answers in the negative, and so Ian inches closer, kisses Paul on his ear and asks him if he'd like to. Paul stammers, but Ian has already begun to slide down Paul's body to remove his pants, taking Paul's cock in his mouth and downing it to the base. Paul stiffens his back and his cock, locking up at the touch of Ian's tongue, and Ian proves his professional acumen as Paul gets rock hard inside his mouth. Paul is instantly ready to fuck, so he flips Ian over, tonguing his ass to get it ready for penetration while stroking Ian's dick from behind. Ian's bubble butt is well maintained and ready for action, so Paul slides his cock deep inside. Ian takes every inch of Paul's thick cock with no problem, telling Paul to pound him. Paul does as instructed, fucking Ian hard from behind, then slamming Ian up and down as Ian rides, before finally flipping over his new neighbor onto his back. Ian watches Paul fuck the cum out of him, then begs for Paul's seed. Paul pulls out and blasts him with a huge load, coating him in jizz like a real pro, as Ian tells him to imagine getting paid for this. Paul smiles and considers taking Ian's advice to change careers.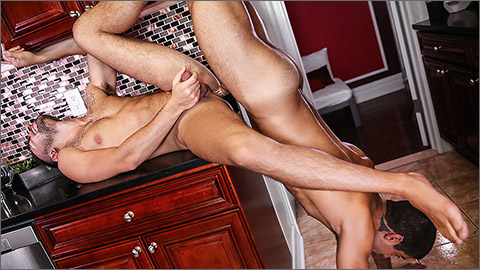 TOGETHER
Diego Sans and Ian Greene spend an intimate fuck-session together.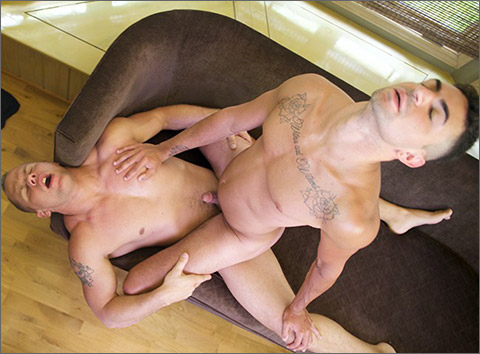 RAW CASTING #369: IAN GREENE
Ian Green is the Latin jock dream and is the type of guy who will go far in this industry. We all know how the casting couch candidate trumps up their skills and experiences to either calm themselves down or be the right man for the job, but Ian was exactly as he described. He mentions that he is vers/top, but mostly bottoms because people love his ass, and that he loves recording himself fucking. Turns out that his love of home movies was great practice for our camera. We tell him that he has been paired up with Austin Andrews, which he says that he doesn't know who he is. We figured it'd be a nice surprise and test of his claims. Austin and Ian chat a bit and Ian shows off his body for the camera; tan, smooth, and we automatically see why so many people want to top him! Austin seems to get excited too, taking out his fat cock and without a second thought Ian swallows it. That must have been one of the best blowjobs on camera, no problem deep throating, wetting Austin with his watering mouth, and then licking it clean. Ian clearly knows how to lube up a cock for some real raw fucking- lube free. Austin kicks back and lets Ian ride him and boy does he; bottoms could take a page out of Ian's book. He bounces on that cock like it's his last meal, even making Austin cum. At some point this is less of an audition and more of a sneak peek into two long time fuck buddies going at it; the sexual connection was unbelievable! Austin doesn't stop, he keeps pounding rough and Ian doesn't wince or back off from it, they just keep fucking and fucking. Ian mentioned earlier that his favorite position was on his back and Austin gives him that treat. Ian gets so excited that he goes for his cock and starts jacking it, cumming quickly as Austin keeps ramming him as rough as ever, before cumming a second time straight on Ian's tongue. Ian needs no direction, he sucks Austin's cock clean. Austin was so impressed that he says to Ian "you're the first guy to ever take my dick like that-ever!" Quite the fucking compliment!
CLICK HERE TO GO TO HIS LUCAS ENTERTAINMENT DETAILS
CLICK HERE TO GO TO HIS FALCON STUDIOS DETAILS
CLICK HERE TO GO TO HIS NEXT DOOR STUDIOS DETAILS
CLICK HERE TO GO TO HIS MEN.COM DETAILS
VIDEO ON-DEMAND: Ian Greene @ AEBN SMUTJUNKIES THEATER
DVDs & ON-DEMAND: Ian Greene @ TLA VIDEO