Handsome Hung Titan Men exclusive Gay porn star, Dean Flynn
Known Aliases / aka:
Years Active: 2006 – 2011
TITAN MEN INFO:
Age: 34
Height: 6'2″
Penis Length: 8″ Cut
Bio: I have a Masters in Education and am currently an adjunct professor at a major Eastern University.
Turn-ons: Big strong daddy types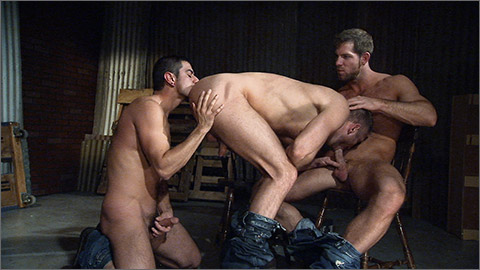 WAREHOUSE: Dean Flynn and Dominic Sol fuck & fist Rick van Sant
In another dark corner of the warehouse, TitanMen exclusives Dean Flynn and Rick van Sant are busy going at it, kissing and tasting each other's bodies while being watched by Dominic Sol, who's stroking his hard cock from behind a crate. It doesn't take long for Dominic to join in, burying his face into Rick's hungry ass while Rick's swallowing Dean's cock. The three exchange deep, gag-inducing blowjobs, with a special emphasis on the tonguing of Rick's hole. The three all shoot big loads of jizz, with Dominic's being particularly impressive.
   They move on to fucking, with Dean fingering and tongue-fucking Dominic's gorgeous bubble-butt while Rick face-fucks him. While Dean plows Dominic, Rick fists himself; Dean and Dominic then plunge their own fists deep into Rick, never taking a break from fucking each other all the while. With Dominic's fist and forearm buried deep in his ass, Rick shoots his second load. Dominic and Dean shoot again – and then Rick manages to shoot an amazing third time before they're all done!

SPY QUEST 3 – TITAN INTELLIGENCE OPERATION (TIO) TRAINING GROUNDS: Nickolay Petrov, Dean Flynn and Brett Mathews explore each others asses, cocks and throats.
Tall, lean, broad-backed new TitanMen exclusive Dean Flynn is jogging shirtless through the woods. The TIO agent-in-training is spied on by the darkly handsome Nickolay Petrov, who knocks him unconscious and abducts him, spiriting him away to a lab. With Dean buck naked and spread eagled on an examination table, doctor Brett Mathews prods, probes and finger fucks Dean's tight hole and shoves an electronic identity transfer device deep into his asshole. As the probe works its way up Dean's fuckchute and does its nefarious work, his dick springs to life. Displaying his best bedside manner, Brett deepthroats his patient's flexing shaft as Nickolay massages Dean's ripped, blond-furred pecs.
   Brett strips off his white lab coat and lies back as Nickolay sits on his face and jacks off. Dean sucks Brett's dick, then gobbles down Nickolay's cock while Brett continues to chow down on his ass. Nickolay blasts a load of sticky jizz all over Dean, while Dean jerks a load out of Brett and then shoots his own cream onto Brett's back while Brett sucks Dean's ball sack.
   Dean grabs Brett's beefy butt cheeks and pries them apart, prodding and tonguing Brett's smooth ass as Brett sucks Nickolay's cock. Dean slides in and hammers Brett's ass while Nickolay feeds him his impossibly long shaft.
   Brett lies on the examination table with his butt over the edge, the perfect position for Nickolay and Dean to take turns cracking Brett's hole open with their hard cocks. The three become a fuck sandwich with Dean pumping Brett's butt while Nickolay pound his penis into Dean's ass. Nickolay can't hold back any longer, and pulls out and squirts a giant load all over Brett's hairy chest, while Dean continues to thrust his way up Brett's ass as Brett shoots all over his ripped torso. Finally, Dean pulls out and strokes out a load that coats his balls and abs.
   Mission accomplished? If the mission is getting nine of the hottest TitanMen around to scorch the screen with almost three hours of sucking, rimming, fucking, pissing and fisting… then YES!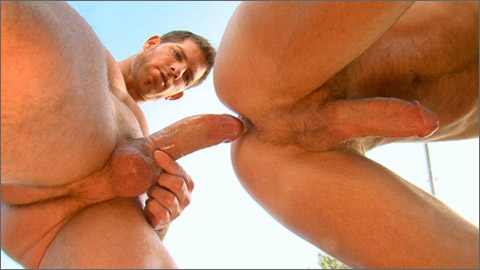 DUST DEVILS: Dean Flynn fucks Jock Hudson
While hiking through the great outdoors, shirtless Dean Flynn and Jock Hudson stop on the path to enjoy the view. But they're quickly distracted with each other as the smooth-chested Dean plants his tongue on Jock's pit. Dean rubs the hairy chest of his bearded bud, whose boner bursts beneath his jockstrap. Soon on his knees, Dean wastes no time working up glorious gobs of spit, planting his lips to the base as he deep throats Jock. Dean's dick pulses in excitement as he sucks; he reaches up to rub Jock's nipple as great side shots capture the action. Jock returns the favor as Dean whips his cock on the sucker's eager mouth: "Stick your tongue out!" Jock deep throats with ease, his scruffy beard bristling against Dean's balls as he licks them. Dean holds on to Jock's head and face fucks him before the sucker returns the favor, the two soon firing their loads. After a kiss, Jock gets pinned down as Dean plows his hole. The bottom's genuine smile gets even bigger as Dean grinds inside, with low shots capturing great penetration. Now on his back, Jock continues to get rammed—his hot bod caught in a great aerial shot. Dean coats the bottom's hairy stomach before Jock lets out a memorable gusher, a kiss ending the scene.
CLICK HERE TO GO TO HIS TITAN MEN DETAILS

MEN MAGAZINE PRESENTS: TITAN MEN

MEN November 2009
UNZIPPED May 2007
TITANMEN 2008 CALENDAR
TITANMEN 2009 CALENDAR
TITANMEN 2010 CALENDAR

DEAN FLYNN 7.5″ REALISTIC COCK
VIDEO ON-DEMAND: Dean Flynn @ AEBN SMUTJUNKIES THEATER
DVDs & ON-DEMAND: Dean Flynn @ TLA VIDEO
Hot or Not? Let us know.
[Total:

123

Average:

4.9

]