American Gay Porn Star & Butt Slut, Tony Orlando
Known Aliases:
Years Active: 2014 – 2018
TWITTER @tonyorlandoxxx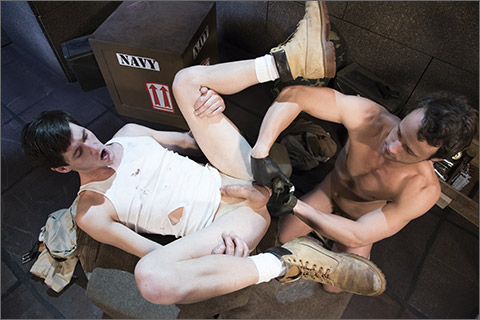 ARM-AGEDDON: Nate Grimes fists & fucks Tony Orlando
Down in the bunker, Nate Grimes is sharpening his machete when Tony Orlando crawls in, in search of refuge from the carnage outside. Nate offers the tired man some water and rest as long as Tony does something for him in return. Soon, Nate has Tony bent over and buries his tongue and face into Tony's smooth hole. Tony gets into the probing from Nate's tongue, but is longing for something bigger. With a few slaps of Nate's dick on Tony's ass, he slides it into the stud. After a few hard pumps, Nate asks Tony, 'How about something bigger?' Without hesitation Tony agrees and Nate stars slow with a few fingers stretching Tony's hole. Tony is eager so get lets Nate squeeze his entire fist into his gaped center. Nate sinks to his knees to gain more leverage on the stud's butt and soon has both hands churning in and out of him. It's time to let Tony cum so Nate puts him on his back and fist punches his hole hard until Tony jacks out a think load onto his stomach. When they're finished, Nate asks one last time, 'You still hungry boy?' to which Tony says 'yes', prompting Nate to squat right onto Tony's awaiting tongue.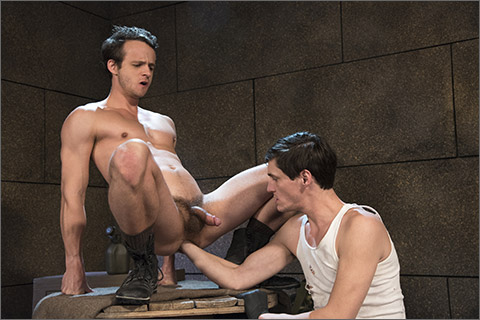 ARM-AGEDDON: Tony Orlando fists Nate Grimes
Nate is sitting on Tony's face jacking his thick cock when he moans out, 'you wanna stay here, you gotta earn your keep.' Tony doesn't want to be thrown back out into the throes of 'Arm-ageddon' so he takes on a total throat assault from Nate's massive rod. Nate wants all the attention so he gets on all fours and tells Tony, 'grease me up!' Going straight for Nate's prostate, Tony shoves his fist deep into Nate's abyss. Tony's works each fist into Nate making sure to stretch his hole to its absolute limits. Wanting total control, Nate gets up and descends straight down on Tony's arm. Tony still needs to prove he's worthy of staying so he gives Nate a sopping wet hummer while Nate rides his fist from up top. Nate decides to hand the reigns back over to Tony and lays back to give him complete access up inside of him. With Tony's fist nearly elbow deep inside of him, Nate rides Tony's arm one last time and strokes his cock until it explodes white ropes of cum into Tony's hungry mouth.
HOT HOUSE CLUB INFERNO
RICHARD.XXX
KINK MEN
VIDEO ON-DEMAND: Tony Orlando @ AEBN SMUTJUNKIES THEATER
DVDs & ON-DEMAND: Tony Orlando @ TLA VIDEO