Sexy William Higgins / BelAmi Czech Gay Porn Wanna Be, Ivan Petera
Known Aliases: Morgan Bailey (BelAmi)
Years Active: 2013, 2016
WILLIAM HIGGINS INFO:
Age (2013): 20
Home Town: Brezno, Slovakia
Height: 188cm/6'2″
Weight: 88kg/193.6lb
Foot Size: EU45/US9.1/UK8.6
Penis Size: 18cm/7.09″
Profession/Student of: Cook
Hobbies: My job
Favorite Sports: Fitness
Active Sports: Bodybuilding
Movie/Music/Sport Stars: Nigella Lawson
Visited Coutries: Czech Republic
Want to Visit Coutries: Italy
Dream of My Life: Work in Paris as a chef!
Zodiac Sign: Leo (July 23 – August 22)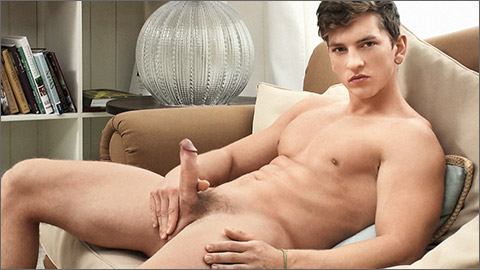 CASTING: MORGAN BAILEY
Today's casting boy comes from Slovakia and works as a cook and waiter in a restaurant. He's got a nice, tight body and sexy big dick. He is a little maimed by having just removed his ear tunnels. Let's hope he uses his money from the casting to get them fixed as other than that he is a very cute guy.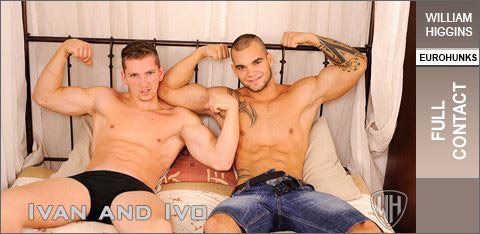 FULL CONTACT: IVAN & IVO – SCREEN TEST
We brought the handsome, studly Ivan Petera in for a screentest, and chose a real hot guy to pair with him, Ivo Kerk. Ivo interviews Ivan as they sit on the bed. It seems that Ivan has never done anything with another guy, so this is his very first time, and we get to enjoy it all. Ivo leans over and kisses on Ivan's hot chest. Then Ivan does the same for Ivo before they both lose their underwear. They take hold of each other's cocks and begin to wank them. Ivo then leans over and begins to suck on Ivan's dick. As it sucks it that cock gets nice and hard, swelling to a good thickness and nice length. Ivo's mouth wraps round the cock and works it very well. He stands Ivan up and kneels before him to suck some more. Then Ivo sits on the bed and has Ivan sit down on his cock, riding it up and down. Ivo fucks that hot ass nice and deep, and wanks on Ivan's cock. The cock stands up, rock hard as Ivo's works his hole. Moving Ivan onto his side Ivo continues to fuck that hot hole, hard and fast. Then Ivan is on his back, legs up, and his ass still filled by that rock hard cock. He wanks himself as Ivo fucks him, before changing position again. Ivo is soon ready to shoot his load and pulls out, squirting his cum right up Ivan's back. Then it is Ivan's turn and he wanks himself to a big, creamy load. What a great scene, with Ivan showing us that he is really up for guy-guy sex.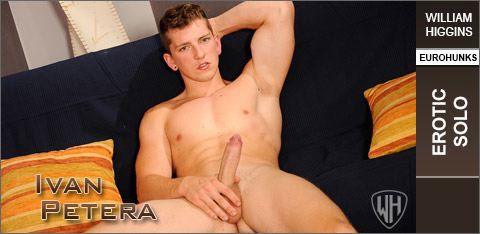 EROTIC SOLO: IVAN PETERA
Ivan Petera is aged 20 and lives in Blezno. He works as a cook and in his spare time he likes to go to the gym. Ivan walks in and sits down, for his interview, which is conducted in English. The he stands up and lifts his tee-shirt, to show off a very nice body. With the tee-shirt completely removed we see Ivan's excellent chest. He runs his hands all over that hot chest and then removes his shoes and shorts, to be completely naked. He looks great, with his flaccid cock hanging there. Ivan takes hold of that cock and begins to wank it, as his other hand feels his body. That beautiful cock gets nice and hard as Ivan wanks it, with his balls tightening as well. Turning around Ivan then kneels on the sofa, legs apart, to show off his hot, sexy ass. The cheeks spread to show off his tight hole as one hand feels over that ass. It pulls the cheeks open so the hole is more exposed. Then Ivan turns and sits on the sofa, leaning back in a most relaxed fashion as he takes hold of his cock again. He caresses his body as he wanks on that beautiful cock. It is soon nice and hard again and Ivan lifts his legs, trapping that hard cock between the thighs as he shows off his ass hole again. Then he lays back again, and wanks his cock to a big, creamy climax, his cum squirting all over his left thigh. Then Ivan goes off to the shower to clean up after a lovely shoot.
WILLIAM HIGGINS
STR8HELL
BEL AMI
CLICK HERE TO GO TO HIS WILLIAM HIGGINS BIO PAGE