Lucas Entertainment Gay Porn Star Daddy, Sergeant Miles
Years Active: 2013 – 2018
LUCAS ENTERTAINMENT INFO:
Height: 5′ 6″
Weight: 165 Pounds
Dick Size: 8.5″
Position: Versatile
One of the first things you'll notice about Sergeant Miles is the animation in his face: he has an expression for every single way he takes cock, making him one of the liveliest porn stars we've seen in a long time. Sergeant found his way into the adult industry when a producer contacted him due to a single picture of him floating around on the Internet. It's worth noting that Sergeant has an oral fixation he likes to put to work on camera, and he's known for his attraction to gym rats and muscle daddies. But hey, who isn't?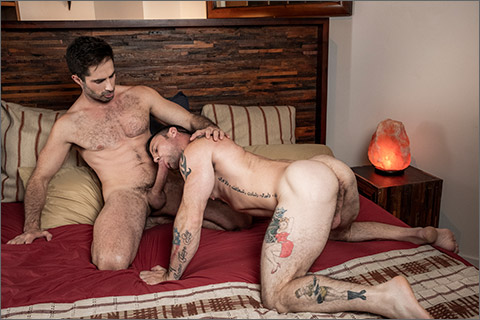 READY 4 DICK: Sergeant Miles Bottoms For Michael Lucas
Sergeant Miles has a well-earned reputation of being a macho guy. He has a military history, a strong body, an incredible cock, and masculine good looks. But sometimes Sergeant likes to take on a submissive role in bed. He does so here in this gay bareback sex encounter, where he goes total bottom for Michael Lucas' uncut 10-inch Russian cock!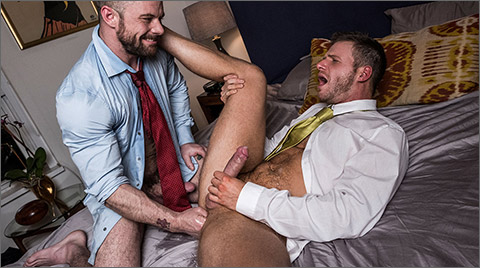 GENTLEMEN 20 – INSIDE TRADE: Sergeant Miles Dominates Brian Bonds' Ass
The executive and former military man Sergeant Miles lures his business associate Brian Bonds into his personal bedroom. Sergeant begins his private session with some foot worship before moving on to swallow Brian's hard cock. After Sergeant gets his oral fixation out of the way, Brian preps Sergeant's cock with a blowjob before getting on the bed and taking to all fours for fucking from Sergeant Miles' fat cock.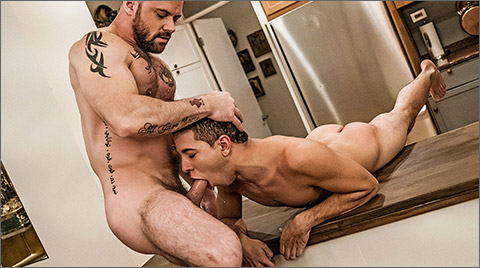 RAW DILFS: Sergeant Miles Owns Diego Gaston's Ass
Sergeant Miles is Diego Gaston's young stepfather, and he rules the household. While he's washing up in the bathroom shirtless and only wearing a pair of jeans, he orders his stepson Diego Gaston to make him a sandwich. Diego, however, has no intention of doing what Sergeant says, leading Sergeant to discipline his stepson with a spanking. This only turns on Diego, which leads to Sergeant sucking on his throbbing cock while he sits on the counter. Sergeant gets off on blowing Diego, so he gets rough with him in a hardcore suck-and-fuck encounter between stepdad and stepson!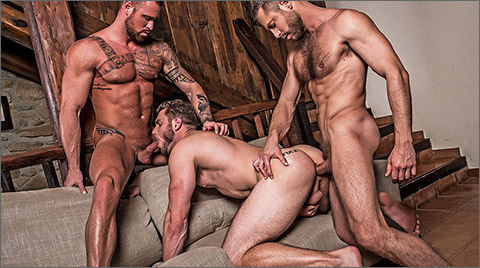 ASS-FUCKING ALPHA MALES: Bulrog Takes Command of Ace Era and Michael Roman
Bulrog is a French alpha-male top that likes bossing around guys who are strong muscular men in the streets, but total bitches in the sheets. Michael Roman and Ace Era are his servants in this bareback sex encounter, and he orders them to play with each other before they both begin sharing and working on his uncut cock. You might think a pair of two hulking guys like this is too much for any top to handle, but not Bulrog. He's man enough for both of them and has no problem staying in total control from beginning to end.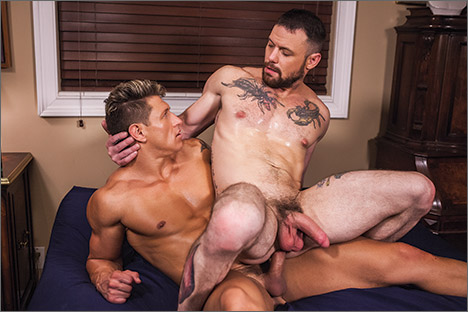 SERGEANT MILES AND BRYCE EVANS TAKE TURNS BREEDING ASS
Sergeant Miles returns to perform for the Lucas Entertainment camera, and he once again demonstrates how much he likes sucking cock. Sergeant has a major oral fixation as he showed off with Sebastian Young, and Bryce Evans is the lucky recipient of all of that pent-up energy this time: all he has to do is kick back and let Sergeant do the rest. But pay attention to when Sergeant Miles lets Bryce Evans get a turn at sucking his dick: Sergeant shows off his hot military body, and the cum-gutter display is mouth-watering — check it out at 6:00. And remember how it was mentioned that Sergeant is completely versatile? Well, he proves that again here: this guy can take a dick just as good as he can give one.
CLICK HERE TO GO TO HIS LUCAS ENTERTAINMENT DETAILS
VIDEO ON-DEMAND: Sergeant Miles @ AEBN SMUTJUNKIES THEATER
DVDs & ON-DEMAND: Sergeant Miles @ TLA VIDEO