Handsome Blond MormonBoyz American Gay Porn Star, Elder Garrett
Known Aliases:
Years Active: 2017
MORMONBOYZ INFO:
Elder Garrett is a quiet, introspective boy who has never been one to seek attention or praise. He prefers to keep his nose out of trouble and do as he's told. Now that he's on his mission, he's finding it harder than expected to stay hidden.
   With his handsome good looks and beautiful butt, he's getting the attention of boys and men alike. He's unsure of how to handle it, and he's desperate to stay in the good graces of his leaders.
   The Brethren know this young man is bursting with potential. They're eager to get him out of his shell and put him on full display.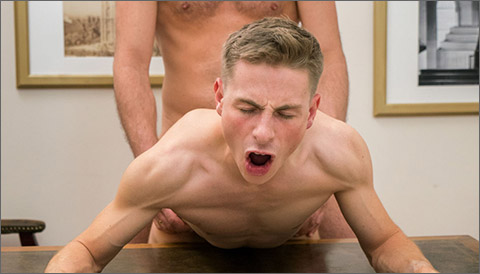 THE INITIATION OF ELDER GARRETT:
CHAPTER 2: THE CALLING
Things between Elder Garrett and his companion definitely changed after the two of them had sex. For one, Elder Xanders was less shy about being naked. Even after his probationary period ended, the two maintained the same open-door policy that they'd had before.
   It was very hard for Garrett, however, to be that open. He never felt comfortable in his body and had been raised to think any sexual urges he had were bad and sinful.
   Still, he felt compelled to check out other guys and compare himself to them. And every time he got aroused.
   Practically everything about other boys turned him on. He was turned on by boys who were taller, more muscular, or simply had adult body hair.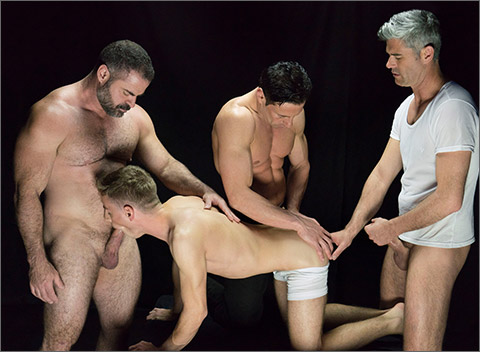 THE INITIATION OF ELDER GARRETT:
CHAPTER 4: SETTING APART
Elder Garrett wasn't quite sure how to proceed with his mission. He was terribly conflicted between what he thought he should do and what his leaders were telling him to do.
   While he was at the MTC, Garrett understood that unquestioned obedience was critical to the success of a young Mormon. And he wanted more than anything to be seen highly by his leaders. But since having a secret calling extended to him by President Oaks, he found himself questioning everything he understood to be true.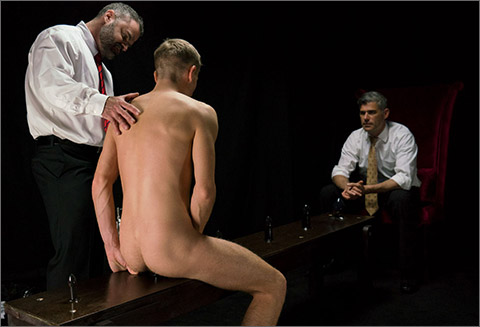 THE INITIATION OF ELDER GARRETT:
CHAPTER 6: ATONEMENT
Elder Garrett made his way into a dark room in the temple, moving cautiously as his eyes adjusted to the dark. Every part of the temple was bright and white except for this secret space.
   There was so much that Garrett did not know about this history of the priesthood in the church, and the higher priesthood order. He would have never known to ask what secrets were guarded and passed down by early priesthood leaders.
   As the Brethren have called him back to meet with them, he blindly obeyed, trusting his leaders completely. This time was no different in that sense. Though having been called before, he knew he would be expected to service the men of the Order in some way.
   At no time in his life previously could he have imagined repeatedly and routinely sexually satisfying his priesthood leaders while on his mission.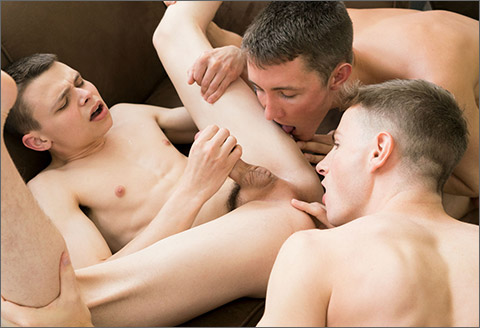 THE INITIATION OF ELDER GARRETT:
CHAPTER 11: DISTRICT MEETING
Elder Sorenson has privileges the other missionaries do not. Part of that is due to his beautiful face and lean physique. Part of it is due to his history with the Brethren and proving time and again that he can be counted on to take a cock. But mostly, it's because of his recruitment record.
   No missionary is as committed to or responsible for bringing in as many hungry, horny, submissive young missionaries as Elder Sorenson. And as such, the Brethren from time to time like to reward his good works.
   The young man had been given permission to hold a district meeting at the home of The Brethren. He was allowed to take with him whomever he chose, and naturally, he wanted to bring along his two new favorite playmates: Elder Xanders and Elder Garrett.