Scruffy Handsome MormonBoyz American Gay Porn Star, Brother Eyring
Known Aliases: Alex Killian, Jacob Armstrong
Years Active: 2017
MORMONBOYZ INFO:
Brother Eyring has a strange way about him. On the surface, he's handsome, intelligent, soft spoken, and attentive. When most talk to him, he seems a typical mild-mannered Mormon.
   Looks, however, can be deceiving. Behind his thick glasses are blue eyes that often stare just a little too long. His smile is sometimes just a little too creepy. …It also seems he has a special liking to the very young looking boys.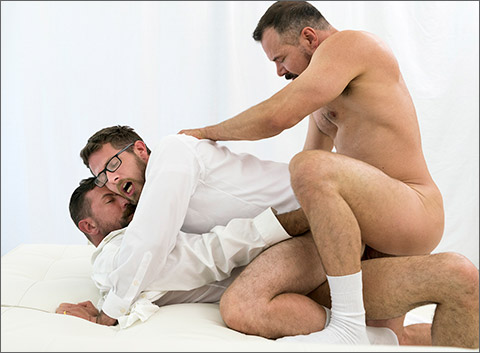 BROTHER EYRING'S BONDS OF BROTHERHOOD
Brother Strang has enjoyed partnering up with Brother Eyring, but it was never fully above board. Brother Eyring loved having the boys of the mission suck and service his cock, but he was not fully set apart as an ordaining member of the Order.
   Brother Strang was tasked with identifying suitable candidates for the higher priesthood order, including those no longer on their mission. While Brother Calhoun was a recruit he brought in by force, Brother Eyring was someone with whom he found a sense of fraternal love.
   Both men held mid level positions in their local congregations. But they had other things in common including their love of the beautiful Mormon boys under their supervision. Knowing this Brother Strang had invited Brother Eyring ialong on many of his personal assignments…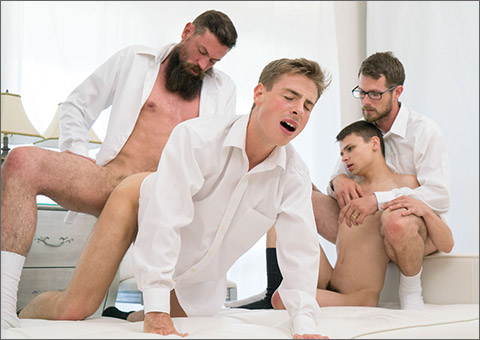 THE INITIATION OF ELDER GARRETT:
CHAPTER 9: FORGING BONDS
Elders Garrett and Xanders walked through the temple together, neither saying a word.
   The Brethren had summoned them both to meet in the holy of holies. The boys were escorted to this sacred space in the temple, and instructed to not speak, but simply present themselves and do as directed
   The two boys were cleanly showered, well-groomed, and dressed appropriate for a visit to the temple.
   Both boys had become accustomed to doing as the men of the Brethren asked, not asking questions or expressing any personal hesitation or doubt. They knew their role and their place and were dedicated to satisfying those in authority.
   In a private room of the temple, Brothers Erying and Strang sat on a couch and waited for the young boys to arrive. They two men had become quite close, even going so far as to indulge in their carnal pursuits together.