Hung Handsome American Gay Porn Star turned Director, Doug Jeffries
Known Aliases / aka: Doug Jefferies
Years Active: 1997 – 2016
CHANNEL 1 RELEASING INFO:
Hair Color: Light Brown
Eye Color: Green
Height: 5′ 10″
Position: Versatile
Build: Gymnast
Body Hair: Smooth
Cock: 8" cut
AEBN INFO:
Doug Jeffries is a jack-of-all-trades who exceeds in everything he does. Doug is an award-winning director, writer and porn star who has been appearing in films since 1996. His long list of credits have led him to work for many studios but as a director Doug has primarily worked Channel 1 Releasing, which includes his own line- Electro Video.
   As a performer Doug made his debut in All Worlds Videos' WHY MARINES DON'T KISS. All Worlds also gave Doug the opportunity to direct with UNTAMED, a film for which he also wrote the script. Having appeared in over 350 films Doug now spends most of his time behind the scenes although he's not opposed to doing scenes. However, his new status as acclaimed director allows him to be more picky about the roles he takes, opting to shoot the more hard edged stuff which is what he prefers. Some of Doug's hottest scenes can be seen in his "Best of" video released by Channel 1 Releasing and All Worlds Video. Doug Jeffries has also been nominated for several awards both as a director and as a screenwriter.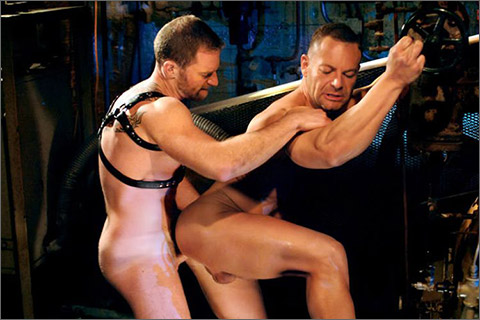 MANHOLE: Adam Faust and Doug Jeffries flip-fuck
Leatherman Adam Faust and Doug Jeffries spend some quality time playing, sucking rimming and fucking deep in the manhole.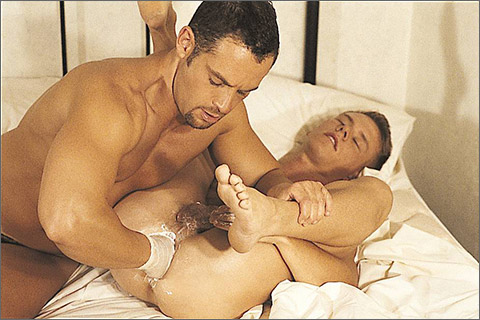 STEAL THE NIGHT: Doug Jeffries fucks Matt Skyler
It turns out that houseboy Matt Skyler is more than an innocent peeping tom. He enters the room of Doug Jeffries and is caught red handed trying to steal something out of a drawer. Matt pleads with Doug…he'll do anything so long as Doug doesn't turn him in. Doug is quick to take advantage of the situation…making Matt suck his cock before turning Matt over for some heavy assplay and fisting…followed by a stiff hard fuck.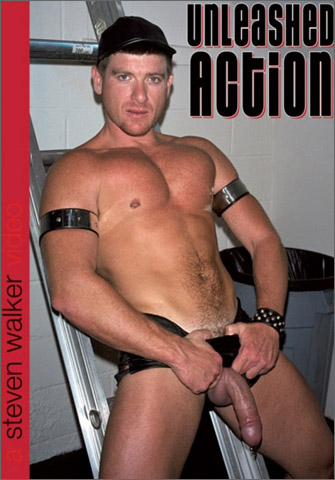 UNLEASHED ACTION
Master Doug Jeffries goes at it with muscle stud Kyle McKenna. He works Kyle's pecs over with a riding crop while commanding his slave not to flinch. Jeffries removes a glove and uses it to turn McKenna a bright shade of red. Kyle is in heaven and his cock is throbbing beneath the cock sleeve he is forced to wear. Master Jeffries then adds weights to the end of the cock sleeve. This pulls Kyle's cock from the head to his balls. All the time begging for more as the Master flogs his chest and legs. This pig bottom gets what he really wants and that's a "Jeff Stryker" dildo shoved up his hole. This gets Doug so worked up that he has to fuck that perfect ass. In the next scene super-bottom David Pierre is caged and waiting for his Master, Australian leather man Andrew Lennox. While he waits he loosens his ass hole with a butt plug. His Master arrives and he wants his 10″ serviced. Through the wires of a chain link fence David stuffs his Master's member into his mouth. Heavy duty nipple clamps and a vice that squeezes the shaft of Davids cock may this one hot scene. Hot wax and whipping are next. It's amazing to see David take that huge cock up his fuck tunnel. This nearly splits him in half.
SCENE 1: Doug Jeffries punishes Kyle McKenna with a bit of flogging, ball weights, nipple clamps
SCENE 2: Doug Jeffries dildo-fucks and then tops Kyle McKenna

PROJEX VIDEO
CHANNEL 1 / RASCAL
ALL WORLDS VIDEO
CATALINA VIDEO
MASSIVE STUDIO


MEN  December 2006
UNZIPPED  January 20, 1998, December 22, 1998, February 2006, May 2006, August 2006, January 2007, March 2008
HONCHO  April 1998, February 1999, November 1999, April 2006
MANDATE  September 1999
BLUEBOY  April 2001
DUDE  October 1998 (Vol. 2, No. 1), May 2000 (Vol. 4, No. 4)
INDULGE  #023
JOCK  May 2000
MANSHOTS  December 1997, September 1998, February 2000
BADPUPPY  #21
HOT MALE REVIEW (HMR)  February 1997
HARD  Spring 1998
PUNK  v02 n04
XXX SHOWCASE  July 1997, v12 n05, v14 n03
ADAM GAY VIDEO: 2002 XXX-STAR CALENDAR
ADAM GAY VIDEO: 400 PORN STARS
ADAM GAY VIDEO: XXX INTERVIEWS
ADAM GAY VIDEO: 500 WORLD'S GREATEST PORN STARS
CATALINA: CUMMIN' UP  v08 n01
BAD BOYS OF VIDEO 3
VIDEO ON-DEMAND: Doug Jeffries @ AEBN SMUTJUNKIES THEATER
NOW STREAMING: Doug Jeffries @ NAKEDSWORD