American Ginger Bear Cub Gay Porn Star, Adam Faust
Known Aliases: Adam Foust (Randy Blue)
Years Active: 2004 – 2011
AEBN Biography:
Adam Faust
Date of Birth: 2/1/74
Height: 5′ 7″ (170 cm)
Weight: 155 lbs (70 kg)
Eyes: Green
Ethnicity: White
In the gay adult industry there are very few redhead performers and certainly none as kinky as Adam Faust. Hunky Adam went from managing a trendy gay store on Eighth Avenue in New York City to being one of the most popular fisting tops in the industry, all thanks to his work for various Internet sites. Now a mainstream performer residing in Los Angeles, Adam has worked for several big name studios including Studio 2000, Titan Media, Raging Stallion and Falcon. Adam has also worked with several big name stars including Arpad Miklos and Francois Sagat. Aside from shooting big features, Adam spends a lot of his time on the road meeting fans at various clubs and events. He loves to get feedback and learn what his fans have to say about his performances. He also works as an escort and has won awards for his ability to please clients. His biggest passion as a performer and in his personal life is fisting. Adam enjoys promoting healthy and safe ways to fist through his informational and completely free site, Fisting Academy.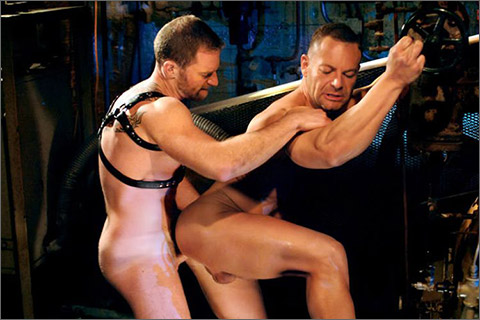 MANHOLE: Adam Faust and Doug Jeffries flip-fuck
Leatherman Adam Faust and Doug Jeffries spend some quality time playing, sucking rimming and fucking deep in the manhole.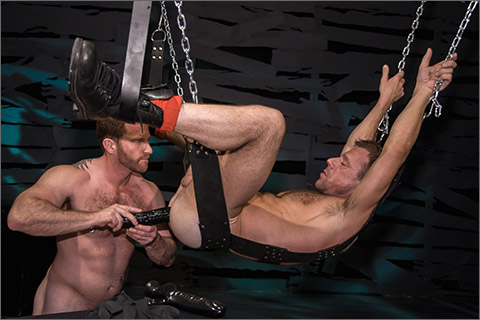 SCENE 3: David Korben [Korben David] (bottom/fist), Adam Faust (top)
Adam Faust and David Korben make out and suck dick, then Adam fucks and fists David in a sling. Hot and hairy stud David Korben and beefy blond and tattooed Adam Faust suck face and yank on each other's cum-swollen balls. Adam stands on a ladder, grabs David's head and face fucks him, then Adam sucks down David's uncut cock, pulling David's foreskin back and forth over his sensitive dickhead with his tongue and mouth. Adam eats David's ass, driving his tongue deep into his fuckhole, then Adam lies on his back and David crouches over him and drags his ass crack back and forth over Adam's tongue. They both jerk off with David dumping a huge thick load on Adam's furry pecs while Adam shoots his load all over his beefy, hairy torso. David bends over face down in a sling. Adam smacks David's ass to show him who's boss, slides his thumb up his butt to loosen it up, and then grabs him by his shoulders and sinks his cock deep into his butt, pounding mercilessly in and out. David flips over to lie back in the sling with his shiny black boots in the stirrups as Adam sucks his stiff dick, punches David's hard cut pecs and shoves a few fingers up his ass to get it good and ready. Adam grabs a hold of David's stiff cock and uses it to pull David back and forth onto his hard cock until he pulls out of David's ass and shoots his spunk all over David's balls and cock. With Adam's greasy fingers buried deep up his ass, David jerks his dick and shouts and grunts as he sprays himself with jizz. David's hot demanding hole still hasn't had enough, so Adam pulls some gloves on, greases up and shoves one fist after the other up David's ass while David rocks his ass back and forth onto Adam's fists, taking Adam in all the way up to his thick forearms. David moans and gasps for air as he gets split in two by Adam's fists, and adding to the sensory overload, Adam soaks David's hairy pecs and abs in a steady stream of piss.

MEN MAGAZINE PRESENTS: TITAN MEN
VIDEO ON-DEMAND: Adam Faust @ AEBN SMUTJUNKIES THEATER
NOW STREAMING: Adam Faust @ NAKEDSWORD