Hung Handsome British Gay Porn Star, Craig Daniel
Known Aliases: Craig Daniels (Butch Dixon)
Years Active: 2014 – 2015
TWITTER @CraigDanielXXX
2015 PROWLER PORN AWARDS NOMINEE:
BEST BRITISH DADDY 2014
BEST BRITISH TOP 2014
BLAKE MASON INFO:
Age: 31
Race: White
Hair Type: Brown
Body Type: Athletic
Pubic Type: Trimmed
Hung Craig is a very hot scientist contributing to the world in so many ways
Rugby and volleyball playing scientist with a hung uncut cock and a very fit body… do I need to say more? Okay! Craig is totally hot, a hunk with brains and a great attitude to life too, this is the kind of guy you could take home and cuddle, show off at black tie events, and have fucking your brains out too.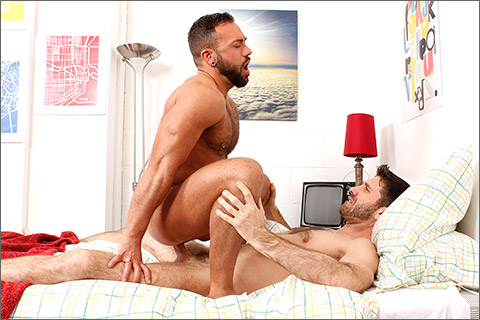 BIG BARE DICK!: CRAIG DANIEL FUCKS SERGI RODRIGUEZ
Big dicked Craig Daniel loves it raw, and especially when it's with a hot young hairy cub like Sergi Rodriguez! Chilling out on the bed, they soon get down and dirty, their hairy bodies pressed against each other perfectly, Sergi's tanned skin complementing Craig's paler skin, especially as Sergi sucks on Craig's massive meat like a boy with a lollipop! Once Sergi's got the taste for cock, there's only one thing on his mind and that's to treat his ass to it too! Lowering himself down onto the long shaft he works his ass open so he slides all the way to the balls, gaining as much raw dick as he could and Craig loves every second of it! Not one to leave all the work to the bottom, Craig raises Sergi up and slams himself upwards, his big balls slapping against his butt as they both work up a real sweat as they fuck raw, the feeling of all-natural sex turning them both on so much Craig ends up shooting all over Sergi's open and freshly fucked hole, pushing the hot spunk deep inside not wanting to waste a drop, just like a good raw fucker!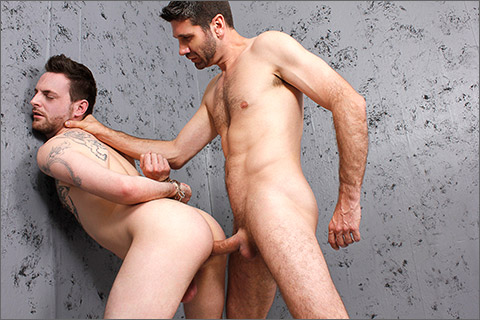 OFFICER SUBMITS: CRAIG DANIEL FUCKS RILEY TESS
New officer Riley Tess is sent to deliver some good news, prisoner Craig has made bail and he can finally get rid of him and free up some time. Craig's been a pain in the butt since arriving and he's not getting any better even with bail. Pretending to be asleep, Riley has to enter the cell to get him out but is quickly jumped and the tables are turned! Officer Riley is now submitted to what the officers have been doing all along – fucking their way out of work! Whipping his giant dick out, Craig wants one final fuck before he leaves his cell and Riley is the man to give it to him. Thrusting his giant meat down his throat, bearded hairy cub Riley has no option, not that he's complaining either, with a hot raw dick like that teasing his hole, it's no surprise! It's soon pumping away inside him, deeper than he's ever had, the hot dick is fucking him hard – getting barebacked by a prisoner has never been hotter, and the sweat is soon glistening on their skin as Riley's instinct takes over and he pushes back, wanting more raw dick inside, working his hole around the throbbing shaft until it explodes, unleashing Craig's big load all over Riley's freshly fucked ass, letting Riley suck the remaining spunk off as he finishes himself off, covered in cum at both ends!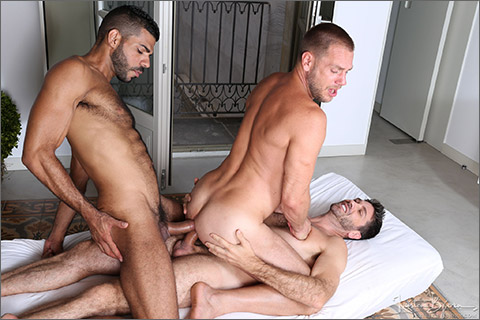 SKINS – DOUBLE OR NOTHING: CRAIG DANIEL & HUGO ARENAS DP HANS BERLIN
While checking out the goods in the shop windows, Daniel and Hugo find themselves being checked out by Hans. Hans knows what he wants and is ready to close the deal. Daniel and Hugo immediately take Hans back to their new apartment where he is quickly put into action. Hans finds that Daniel and Hugo like it rough, just like himself. Hugo unleashes his mammoth cock and begins stuffing Hans' mouth and throat to capacity. Daniel then whips out his huge cock and takes Hans by the head and fucks his mouth hard. Hans' limits are stretched with these enormous cocks as Daniel and Hugo tag-team Hans' hungry mouth. Hans is spun around as one man fucks his hairy, pink hole with his tongue as the other fucks his mouth with his hot cock. After both men tongue fuck his ass, Hans' mouth is then jammed full with both of those huge cocks. Now that these two gargantuan cocks are hard as rocks and well lubed, Hans sits down on Daniel's cock. Just as he gets Daniel's raw cock all the way inside of him, Hugo comes from behind and rams his raw cock deep in his ass as well. Both men gyrate and pump their cocks in that hot hole as Hans repeats "that's too big" but he never stops the incredible sex. Hans is then flipped and squats down on Daniel's cock. With his legs spread wide open Hugo comes along and shoves his cock back in his drenched pucker hole. The fucking continues until Hans can no longer hold back and lets his hot load of cum fly. While Hans' cum is flying Daniel showers his load all over Hans' balls and ass as Hugo shoots his thick load and mixes it with the other two loads. You never know what you might find while shopping!

AITOR BRAVO & CRAIG DANIEL FLIP-FUCK
REALLY! I don't know what Craig Daniel is doing but that cock is getting bigger every time we see him and its an absolutely throbbing, nine inches of bareback meat for stunning, taut, toned – Aitor Bravo. With real raw passion and plenty of bodily fluids flowing these oversexed spunk-luvers were at it like pistons. Handsome Guapolindo – Aitor was begging for the whole length of that uncut cock inside him, right up to the bollocks – and he got it. Craig is a connoisseur of men, and hand picked this hunk for his pleasure, and it shows – these guys are SO into each other. And they're both fucking dirty cum-luvers. Aitor takes Craig's sticky load all over his puckered, glowing, aching hole and when Aitor is ready to burst ( the feel of jizz on his holes always makes his balls clench ready to squirt) – he turns Craig around and shoots all over Craig's spit-slick butt hole and slides in to keep unloading. As much passion as there is filth, this ones finger-lickin'-good.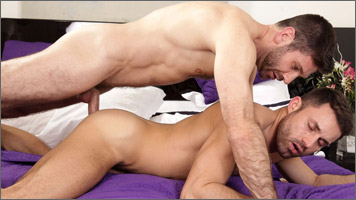 RAW ADVENTURES SCENE 11 – CHEMISTRY: JAMES CASTLE & CRAIG DANIEL
James and Craig return to their hotel after some sightseeing around the city. Both men have worked up an appetite for some wild sex and are planning to feed on the other. James seems to be the hungrier cock sucker and immediately goes for Craig's huge, uncut cock. After seeing James stroking his fat cock Craig's appetite has been peeked and he goes in and down on James' fat shaft. After some hot 69 cock sucking, James plants his hot, pink hole directly over Craig's hot fuck tongue. Craig savors the intense sensation of his strong tongue penetrating James' perfect ass. James gets on all fours and turns his amply, spit slicked ass up for Craig. Craig takes full advantage of this position and slams his raw cock deep inside of James. James's hot ass is no match for Craig and milks Craig's creamy load up and out of his long shaft. Craig and James are still hungry and James flips Craig and shoves his fat cock deep inside of Craig's tight hole. Craig gets vocal with his pleasures, desires and demands of how he wants James to fuck his ass. James complies as he knows that Craig's pleasure is also his own. With Craig's legs spread wide open, James has complete access to that hot hole and gives him a fucking he won't soon forget. James has worked himself into a frenzy and explodes his huge, thick load all over Craig's taught ass. Craig demands that James "stick it back in" and James complies with his cum slicked cock sliding back inside of his raw ass.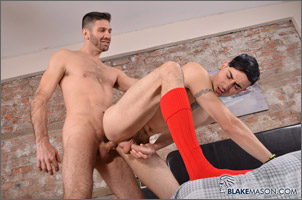 TIMMY TREASURE & CRAIG DANIEL in SPORTY TIMMY LIKES IT HARD!
KRISTEN BJORN
UK NAKED MEN
BUTCH DIXON
BLAKE MASON
BULLDOG PIT
HARD BRIT LADS
CLICK HERE TO GO TO HIS KRISTEN BJORN DETAILS
DELTA KOBRA & CRAIG DANIEL
MAX TORO & CRAIG DANIEL
CRAIG DANIEL & GASTON CROUPIER
LETTERIO & CRAIG DANIEL
CRAIG DANIEL HARD BRIT LADS SOLO
TIMMY TREASURE & CRAIG DANIEL in SPORTY TIMMY LIKES IT HARD!
CRAIG DANIEL & NATHAN GEAR in HAIRY HUNK OWNS HOT ARSE!
CRAIG DANIEL SEXY HUNG AND INTELLIGENT TOO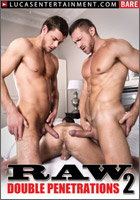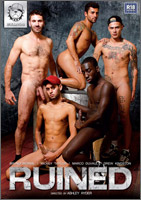 RAW DOUBLE PENETRATIONS 2
   SCENE 1A: Dato Foland And Craig Daniel Flip-Fuck Raw
RUINED
   SCENE 3: Craig Daniel fucks Bruno Bernal