Black British Gay Porn Star, Drew Kingston
Years Active: 2014 – 2016
EUROCREME INFO:
Exuding charisma through the screen to you, Drew is one new face on the block that you're not going to forget! With his gorgeous dark skin and thick dick that stands proud in a matter of moments, this real top fucker has the rhythm you want and the sexual prowess to fulfil your deepest desires!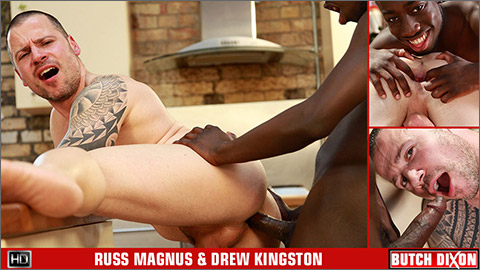 DREW KINGSTON FUCKS RUSS MAGNUS
We packed it all into this beauty and I don't mean the way we packed that magnificent, nine inches of black cock into Russ' raw hole. Its an older for younger, black on white, cut vs uncut cock, bareback fuckathon with a cum facial, some 'ass-to-mouth' and a steaing internal cream pie ( with a few hot squirts over Russ' ass cheeks for good measure. 40 year old – Russ Magnus is a beefy guy with a big thing for black guys, whilst Drew Kingston is a 21 yea old stunning black guy with a big thing! Its gonna get creamy as these two handsome, hung gents fuck up a storm all over the kitchen. Just watch that greasy pole slide all the way up to the heaving nuts in Russ' bareback fuck-hole – YUM! And quite frankly one look at Drew's incredible, round, hard butt cheeks and you'll know all men are not created equal, they're breathtakingly firm and biteable hard as an unripe peach!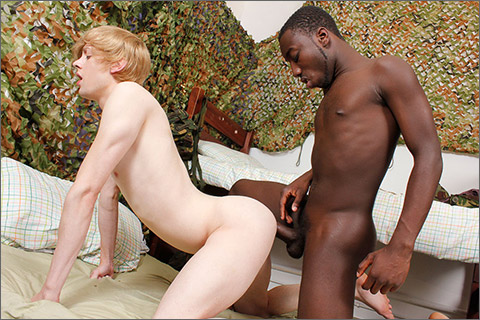 BIG BLACK AND BAREBACK: DREW KINGSTON FUCKS JOHANNES LARS
Waking in the middle of the night with a raging hard-on, black recruit Drew Kingston looks down from his top bunk on the slim, smooth twinky Johannes Lars for inspiration and jumps down to give him a wake-up call only the best of bunkmates can! Sucking on his impressively large dick, Johannes wakes with a big smile on his face, and Drew carries on getting a face full of dick! Cock hungry Johannes jumps up and raises his pert little white butt high into Drew's face who gladly obliges, getting it wet with spit before pushing his big bare dick into Drew, the thick dick stretching him wide and looking massive against those tiny white butt cheeks. Pumping him doggy style before Johannes lowers himself on top of Drew, giving the best close-ups of this interracial raw ass fucking, Johannes loves the ass-stretching action so much that when Drew empties his balls all over his freshly fucked hole, he still wants more and Drew fuck the cum into him, using his own load as lube, no wonder Johannes quickly shoots after that, giving Drew his own load all over his face!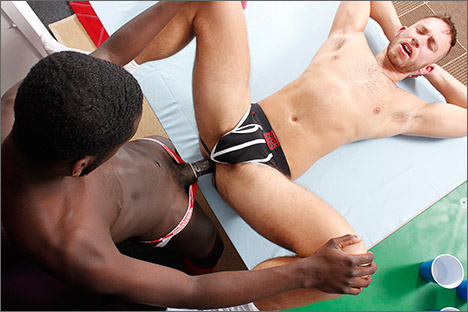 INTER-RACIAL JOCK FUCK!: DREW KINGSTON FUCKS BRENT TAYLOR
Chilling out together playing beer pong, things are bound to get interesting, especially when Drew and Brent decide to heat things up a bit by stripping and the loser gets to treat the winner to a long slow blowjob! These competitive fuckers instantly get the ball bouncing and black guy Drew wins hands down! It's almost as if hairy muscle boy Brent wants a face full of dark meat! It's not just his mouth though, his ass has a craving for thick dick too, and gets it good! Brent pushes back with every thrust Drew gives, keeping their jocks on at all times and Brent's socked legs are kept high in the air as he allows Drew a totally unrestricted access to his hairy young butt!

CITY BOY: DREW KINGSTON FUCKS KAI ALEXANDER
Back in the office, it's the day after the night before and Brad walks in obviously feeling the effects of his high flying lifestyle. Undeterred, it's 4:30 and time to hit the bar once again! Showing off about his previous conquest, cute long haired Max slowly starts to realise if he wants something, he's gotta pay for it, and after some Dutch courage, he goes about playing with the big boys but without knowing the rules of the game! Losing this round and pissing off cute Jack, Max flees to the office to get his keys disturbing the very handsome cleaner who's just starting. As Drew lets Max into a secret, how he enjoys cleaning naked, Max wants to unleash some of this pent up tension, and as Drew slowly strips for him, showing his smooth dark skin and big black dick slapping on the clear glass desk, it's the perfect tonic! Dropping to his knees, Max swallows the entire length, getting more and more cock hungry as his throat is stretched open. Taking off his own suit, skinny but lean Max, freckled and damn sexy gets his perfect twink bubble butt ravaged by Drew's hungry tongue before rocking the entire desk as he pounds hard, showing it's not just the high flyers that know how to fuck!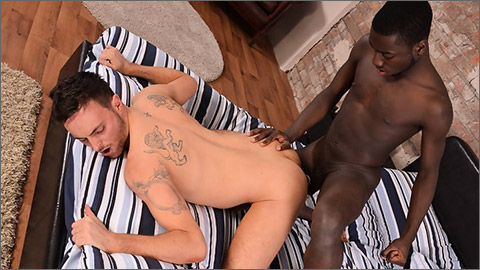 DREW KINGSTON FUCKS RILEY TESS
We could not wait to get Drew in for a hardcore fuck after his solo wank debut, but it took a while to get him back in the studio. When we heard from him again and he said he was finally ready to make some videos, Riley was the obvious choice for his first on-screen fuck. Hairy and uber-horny Riley is loving it as they snog and get each other naked, and the moment he gets the chance that big dark length is between his lips for some expert oral. Drew loves it, of course, but not as much as he loves sinking that big shaft into a willing hot hole. Riley takes a ride, fucking himself on that filling shaft, then doggy style to hand over control, and finally on his back where Drew fucks the load out of him and erupts his own hot mess!
BULLDOG PIT
EUROCREME
BUTCH DIXON
BLAKE MASON