Portuguese Gay Porn Star, Alejandro Alvarez
Years Active: 2014 – 2015
TWITTER @DJ_A_ALVAREZ
FUCKER MATE info:
This beautiful Portugese is a sexy and horny guy. He is willing and able and ready to please. His eyes make you melt with desire. Everyone wants a piece of Alejandro.
Country: Portugal
Age (2014): 25
Cock size: 8 Inches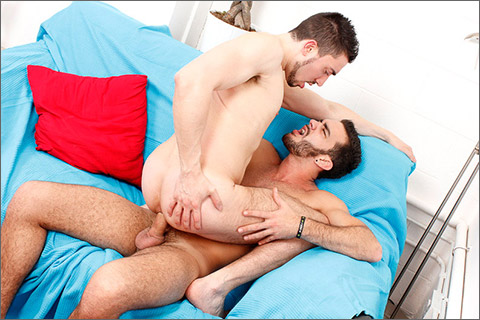 DARK YOUNG STUDS FUCK RAW: ALEJANDRO ALVAREZ FUCKS GASTON CROUPIER
Handsome young fuckers Alejandro Alvarez and Gaston Croupier give us a sexy interview as they get turned on talking about their sexual exploits. Slowly starting to strip off, it's soon obvious that Gaston assumes to role of hungry bottom boy, on his knees lapping at Ale's hard dick, pushing forward to take it all down his throat, pulling out and leaving it dripping with spit, his peachy ass pushing out as we watch him swallow inch after inch of meat into his cute face, getting it wet enough to slide effortlessly up his ass, the bare skin pushing past his hole and deep into Gaston. Ale's muscled toned body working hard to ram him full of raw dick, holding his legs up in the air and gaining as much depth as possible whilst Gaston has to lay back and hold on to the sofa and them hold his ass even more open for his raw fucker. Flipping him doggy style and stuffing him with more dick, Alejandro can't hold back for long and pulls out as he cock is already squirting spunk, covering Gaston's ass with cum inside and out before plunging it back in and fucking even more spunk into him. Don't miss the cum shooting out of Gaston's ass afterwards, damn hot! Gaston then repays the favours, shooting all over Alejandro's face, leaving both boy totally covered in cum!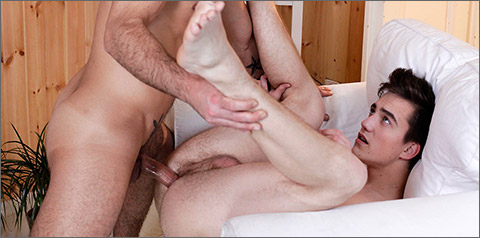 USE ME!: COCK-HUNGRY PUP GETS HIS HOLES PLUGGED BY SMOKING HOT STUD!
So okay, he's maybe a little older than most of us have come to expect from STAXUS guys, but there's still something wonderfully sexy about Alejandro Alvarez – not least of all when he's brooding manfully with a cigarette, as is the case here in the opening moments of this terrific pairing with Edward Fox. Mind, the young pizza-boy isn't too bad at blowing smoke, it has to be said; although (as very quickly becomes apparent) it's blowing of a very different kind that's soon concentrating the minds of both these over-sexed buggers.
   Indeed, given the manner with which they take it in turns to slurp on cock like it's going out of fashion, it's pretty fucking clear that these lads won't be content until they've had the chance to bang each other senseless; with Fox soon presenting his ass to his buddy with an air of near-desperation, his legs spread akimbo so that the older fellow can tongue his gaping fuck-hole to ecstasy. An invitation that the Spaniard accepts with no hint of restraint; before first fingering and then finally fucking the youngster's pucker to seal the deal.
   By this point, of course, there's every good chance that you'll be so lost in your own little world of tight-fisted pleasure that you'll be edging dangerously towards a premature jerk-off; but hang on in there as Alvarez gives the young pup the fuck of his life, hammering into the lad for all he's fucking worth. It's little wonder that Fox is quite literally soon spurting like a fountain; with the Spanish stud giving an equally ferocious cascade, before burying his spent shaft deep into the lad's jizzed-up little hole!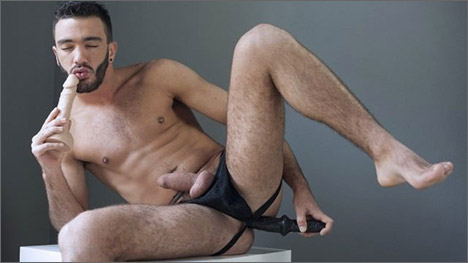 ALEJANDRO ALVAREZ INTIMATE MOMENTS
This week we have the great pleasure of showing you some intimate moments with Alejandro. These are moments of pure extasy and imagination, when he lets his mind run wild and plays with his body. Alejandro shares this special time with us…and his dildos. His every movement and expression is full of sensuality and will make you very horny. We want to say a big thank you to Planeta BDSM for providing us with all the accessories.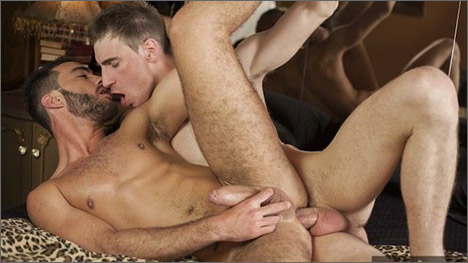 CHEMISTRY REACTION: KAYDEN GRAY & ALEJANDRO ALVAREZ
This week it is our pleasure to bring you these two hot guys together for the first time. We must admit that during filming it was difficult to keep these two horny guys apart. they never stopped but don't worry our cam caught the best of the action. This is a passionate and exclusive Fuckermate encounter bewteen two young, hot horny and smooth guys. The chemistry is explosive as you can see. Just sit back and enjoy it.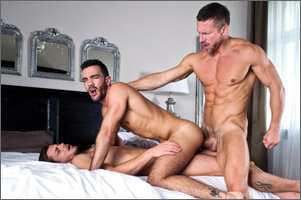 RAW DOUBLE PENETRATIONS 2
BB PARTY @ MY PLACE
USE ME!
BULLDOG PIT
STAXUS
LUCAS ENTERTAINMENT
FUCKERMATE
HARDKINKS