Handsome Brazilian / Spanish Gay Porn Star, Carlos Caballero
Years Active: 2005 – 2011
KRISTEN BJORN INFO:
Age: 32
Dick Size: 7.5
Sexual orientation: Gay
Carlos Caballero is a sensual Spaniard with classic telenovela good looks. Fully dressed, he's the type of man you'd expect to see on television or in the movies. Naked, however, he's the kind of man you wish you had in your bed. This quiet, reserved bad boy is only shy in appearance. In the bedroom, however, he knows how to work it and get you to do anything he wants you to do.
MEN AT PLAY INFO:
Age: 34
Height : 6′ 0"
Dick Size: 8″
Sexual Orientation: Gay
Role: Active
When you see a guy like Carlos you cannot help but take notice and do a double take. Standing at Six feet tall, and with piercing green eyes that seem to stare right through your clothes. its impossible not to feel the sexual charisma gushing from the Brazilian born stud. So imagine when he waltzed into our office in his immaculate dark suit, it was like all our christmases rolled into one! We have a tingling feeling (down below) that Carlos is quickly going to become one of the MAP favourites.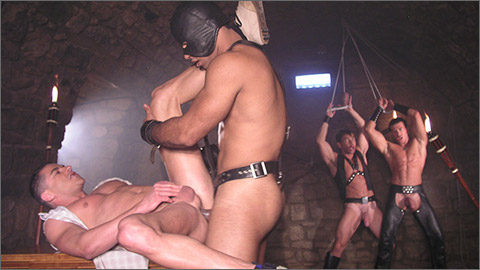 FIRE DANCE SCENE 8
Every medieval castle has a dungeon, and as Carlos Caballero is incredulous to learn, there are still prisoners (Erick Noguiera, Mauricio Goldstein and Mukhtar Safarov) being held there, and all three sport harnesses, leather, chains, cock rings and monstrous erections. Carlos takes on Erick first, loosing him from his chains while the other two watch, their dicks straining with excitement at the show. The minute Erick is freed, he takes control of Carlos, and with very few preliminaries, he's fucking him hard. Across the room, and with his hands still manacled over his head, Mauricio's cock spits out a hands-free load with such force that it rockets away from his body. The sweaty, hot and cum-soaked leather orgy is riveting as it proceeds; all of the studs produce memorable pop-shots.
KRISTEN BJORN
MEN AT PLAY
LUCAS ENTERTAINMENT
JALIF STUDIO
CLICK HERE TO GO TO HIS KRISTEN BJORN DETAILS
CITYBOY SLEAZE
CARLOS CABALLERO
EXECUTIVE PLEASURES
CASTING COUCH #34: CARLOS CABALLERO & RENZO BELLI
CASTING COUCH #27: CARLOS CABALLERO & ORLANDO TORO
CASTING COUCH #22: CARLOS CABALLERO & ARITZ SAN JUAN
LAST ORDERS
SPANK 2
STAR PROFILES: CARLOS
ONE TO ONE: CARLOS CABALLERO
SPANK
THE BOARDROOM FILES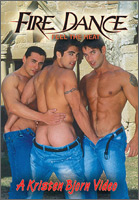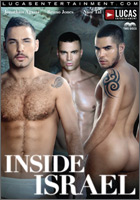 CASTING COUCH, VOLUME 6
CASTING COUCH, VOLUME 1
ROCKS & HARD PLACES
FIRE DANCE
MANVILLE – THE CITY OF MEN
MISSING
INSIDE ISRAEL
PISS GODS
FUCK!
GENTLEMEN
MANSIZE 12: OPEN YOUR FUCKING MOUTH
SOLOS CASTING: BARCELONA – VOL 1