Buff Hung British Gay Porn Star, Theo Reid
Years Active: 2013 – 2015
TWITTER @TheoReidXXX
LUCAS ENTERTAINMENT INFO:
Height: 5'8
Weight: 154 lbs
Dick Size: 7.5″
Position: Top
Theo Reid is a fitness manager by day, and by night he's decided to make more of an effort to get noticed and have some fun while doing it. That's why he decided to start having gay sex on camera for money, and there's no one better for the job! Theo is originally from Wales and currently lives in Leicester. He's all top who prefers the doggy style position; one time he even showed off his skills in a country park. When Theo isn't fucking or working he's playing sports, working out in the gym, or kayaking. His favorite place to have sex is in the shower after a good solid workout!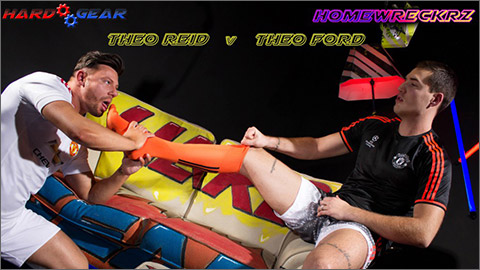 HOMEWRECKRZ – FOOTIE FUCK: THEO FORD vs THEO REID FLIP-FUCK
When two footie kit clad lads get together after a hard sweaty game, they feel dirty and wana get dirtier. Tired and hot feet need a rub down… maybe a little more The smell of fresh sweat, used trainers and stinky socks fills the air. Reid is first up and gets down on his knees to rub and worship Ford's aching plates. Licking the sock fabric, chewing on his toes and inhaling his sexy musty scent, he's enthralled! Ford is loving this and can't wait for his turn. Two vers lads swap feet for cocks and suck each other off, bulging muscle straining their football kits and hard dicks bursting out of silky shorts. They can't get enough of each other, dicks, socks, sloppy kisses and hairy arses. Ford goes in face first to Reid's sweaty crack, softening him up for a good energetic fuck and his first bottom experience for UKHotJocks! Ford doesn't take to him lightly and rails his arse into the armchair all the while making eye contact and sucking on his crisp white footie socks. Flip over, Reid on Ford. Showing off his freshly fucked arse he bends over to get his tongue in Ford's ass, returning the favour. You gotta lick it before you stick it! Pay back time and Reid absolutely pummels Fords perfectly toned ass. Socks, spunk and tow very satisfied lads. Good game!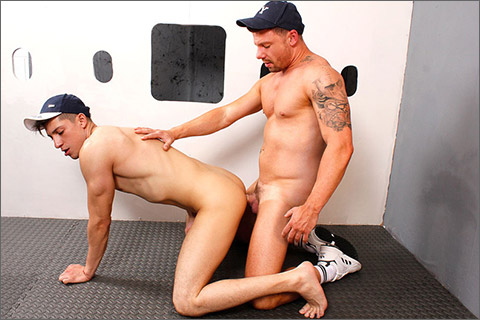 HOLES – SCENE 2: THEO REID FUCKS DANNY MONTERO
UK HOT JOCKS
LUCAS ENTERTAINMENT
MEN.COM
ALPHAMALES
EUROCREME
BULLDOG PIT
HARD BRIT LADS
THEO REID FUCKS DAN BROUGHTON
SNEARKERFUCK – PART 1
THEO REID & JACK GREEN
HANDSOME THICK DICKED THEO REID FUCKS HOT BEEFY MUSCLE BOTTOM SERGI RODRIGUEZ
THEO REID FUCKS SCOTT HUNTER
THEO REID FUCKS GUY ROGERS
THEO REID SOLO
A ROYAL FUCKFEST – PART 1
MERITOCRACY
BARBERSHOP
MUSCLE MAN GETS POUNDED
I, SPY – BEHIND THE SCENES
THEO REID & JUSTIN BLAKE
THEO REID & JUSTIN BLAKE
THEO REID & MARK COXX
THEO REID WORKS OUT HIS ABS, THEN ROX MATTHEWS' HOLE
LOCKER JOCK: THEO REID
HOMEWRECKRZ
HARD GEAR
LURED
BANGERS & ASS
PENANCE
STRAIGHT BOYS FUCK
I, SPY