Blond Furry Uncut Hunk, American Gay Porn Star, Drake Temple
Known Aliases: Drake Temple, Elder Allen, Benny, Chad (Roped Studs)
Years Active: 2012 – 2014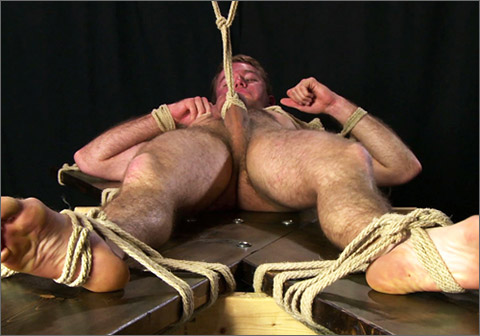 ROPED STUD CHAD
Age: 21
Height: 6? (1.8 m)
Weight: 172 lbs (78 kg)
Waist: 31? (79 cm)
Chest: 41? (104 cm)
Hairy, straight stud Chad, spread-eagled on a bed, his body badly scared with prick points all over it, has a massive dildo shoved up his virgin asshole by rope man James. And if that weren't bad enough, Chad's cock is rock-hard the whole time, his uncut member stroked expertly by James as the rope man simultaneously fucks his boy's ass with the hard rubber dildo. Maybe our straight stud isn't so straight after all. After reaming Chad's succulent hole for an hour, James ropes the dildo firmly in place, rammed deep up his ass, roping the dude's hard cock at the same time. Chad's humiliation is complete.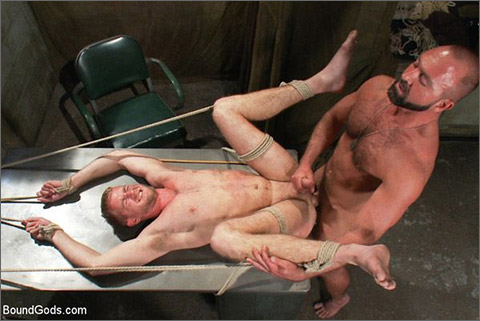 HOT NEW SUB DRAKE TEMPLE
Josh West ties up Drake Temple and works him over. Drake endures a hard beating, electricity and the cane. Josh locks him in the padded cell until he gives in to Josh's humongous cock.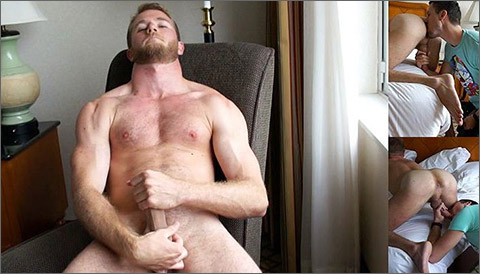 GET ME OFF – DRAKE TEMPLE & BEN
I couldn't wait to get up to San Francisco and meet up with Drake Temple. We had been emailing each other a little before I arrived in the states. Drake pointed me to a porn shoot he had done previously over there. I thought he looked okay. I like hairy blond guys. But then when I met him I realised that he was far hotter in real life. 27 year old Drake is a talented designer and model in San Francisco. He had heard that we were passing through earlier this year and dropped me n email about the possibility of modelling for me. There was no way I was gonna miss meeting this guy. And it turns out that Drake is a super sweet guy too. We had a lot of fun shooting in this tiny inner city hotel room. He looks amazing. Especially when that shirt comes off and he's showing off that big barrel chest. I suspect Drake is going to be fairly popular. My mates here in Australia would love to meet him.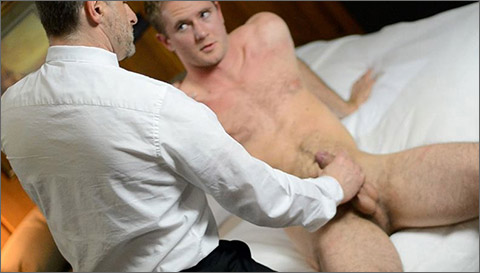 ELDER ALLEN – EVALUATION
Patriarch Smith had plans to see Elder Allen in his office. He simply wanted to interview the young Missionary and ensure that he was preparing properly for his calling in the Priesthood.
   But when the strapping young man came into his office another thought popped into the Patriarchs mind, "Perhaps I should help him out of his suit and conduct the interview while he is in the nude."
   But then, as soon as Allen was completely naked, the Patriarch forgot all about the interview and could not help but play with the young man's firm body and smooth skin.
   The Patriarch gave in to his desires and groped him, slid his lips over the mushroom head of the missionary's uncut cock, moved his mouth up and down on his throbbing shaft and then bent him over to slide his tongue in the youth's moist and tight pink hole.
   Elder Allen did nothing to resist the advances from the Patriarch, and in fact very much seemed to enjoy the attention he was getting.
   When the Patriarch realized the young boy was getting close, he moved away from the Elder, and allowed the young man to give him a private performance.
   It was a turn on for the Elder to bust his load while being watched. And watching the young man cum all over himself proved to Patriarch Smith that the boy was ready for ordination into the Priesthood.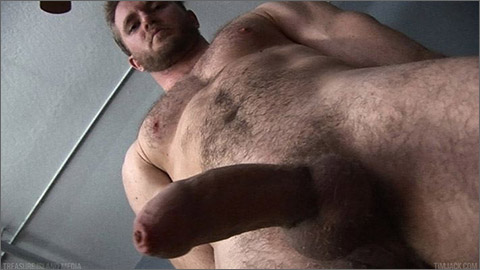 BENNY SOLO
Cock: 7.5″
Height: 6′
Eyes: Blue
Hair: Blonde
Age: 27
Turn Ons: Gang Bangs & Ass-Play
MORMON BOYZ
KENNETH BENJAMIN'S DREAM BOY BONDAGE
KENNETH BENJAMIN'S ROPED STUDS
KINK MEN
KINK.COM / BOUND GODS
KINK.COM / NAKED KOMBAT
TREASURE ISLAND MEDIA
TREASURE ISLAND / TIM JACK