Handsome American Bareback Gay Porn Star, Brogan Reed
Years Active: 2009 – 2016
TWITTER @BroganReed

PRIMAL: Brian Bonds & Brogan Reed flip-fuck
Muscled, hairy stud Brian Bonds has a big, girthy boner that needs sucking. Brogan Reed is up to the challenge and welcomes a vigorous face fucking. Thick spit appears as Brogan deepthroats Brian's shaft and sucks his hefty balls. To return the favor, Brian positions Brogan face down in a sling, parts Brogan's ass cheeks, and dives in tongue first. Brian loves rimming Brogan's hairy hole, which is soon drenched in slick saliva. Taking advantage of the natural lubricant, Brian can't resist using the tip of his cock to tease Brogan's tight sphincter. Eager to fuck, Brian mounts Brogan doggy style and thrusts with deep, powerful strokes. Flipping over in the sling, Brogan takes Brian's cock in missionary position. His ass hair clings to Brian's cock with every thrust, and his bulge fills his jockstrap to the limit. Releasing Brogan's meat, Brian goes down for some deep cock sucking, which makes him eager for a flip fuck. Throwing a leg over Brogan's shoulder, Brian revels in pleasure as Brogan pounds like a wild animal. The intense sensation pushes Brian over the edge, blasting his big, hairy pecs with wet cum. The hot scene brings Brogan to the brink as well: he jerks out his load on Brian's face, and Brian licks the last drop off the tip of Brogan's dick.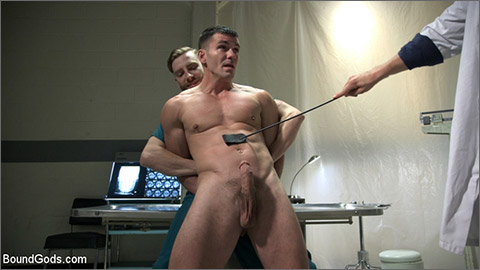 PATIENT AND NURSE BATTERED AND ASS FUCKED BY SADISTIC DOCTOR AND HIS 10 INCH COCK
Brogan Reed is having problems with his cock, and decides to visit Dr. JJ Knight and his assistant Nurse Sebastian Keys. After rigorous testing, Dr. Knight concludes that the best solution is to attack Brogan's erection until it goes down. Nurse Keys grabs Brogan, while Dr. Knight beats Brogan's hard cock, using his hands, and a crop. Dr. Knight pulls out his ten inch cock and shoves it down Brogan's mouth. Dr. Knight's new patient takes all ten inches in his throat, until the doctor can't restrain himself, and fills Brogan's mouth with hot cum. Nurse Keys wants some sloppy seconds, and ties Brogan to the bed before sticking his stiff cock down Brogan's throat. Dr. Knight decides that only he can treat the patient, and proceeds to savagely beat Brogan and Nurse Keys with a crop. Nurse Keys dreams of the doctor in a maxcita sleep slack, while he and Brogan lick all over the doctor's luscious dick. Nurse Key's awakens from the sweet dream, and finds himself in a padded cell next to Brogan. Dr. Knight towers over his bound nurse and patient. The vengeful doctor paddles Nurse Keys and Brogan as they grovel on the floor. Dr. Knight then chains them to the ceiling, and brutally flogs them until they cry for mercy. Dr. Knight lets them down and then presses them against the wall. The three form a fuck train as Dr. Knight thrusts his massive cock in Nurse Keys' ass, while Nurse Keys butt fucks Brogan against the wall. Nurse Keys wants even more cock, and takes both Dr. Knight and Brogan's dicks up his ass simultaneously. The intense double penetration leads Nurse Keys to shoot his sticky cum all over Dr. Knight's chest. Dr. Knight pushes the nurse off his cock and bends Brogan over to fuck the cum out of him. Brogan takes Dr. Knights thick dick up his ass while Nurse Keys strokes the cum from his cock. Dr. Knight then pulls Nurse Keys and Brogan to the floor, where he showers their faces with his cum.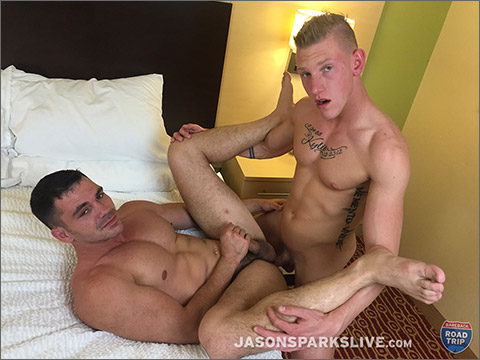 PAXTON GREY & BROGAN REED BAREBACK IN OMAHA
Meet our latest find Paxton Grey – he's a hot blonde bottom who dreams about being cum on but 30 or 40 guys and just loves to fuck. Today though he's doing the fucking and he's pounding our favorite muscle guy Brogan Reed. Brogan's ass sure takes some punishment from Paxton and he gets covered in a huge load as an extra special treat!