American Muscle Hunk Gay Porn Star, Jaxton Wheeler
Known Aliases: Valentino at Chaos Men
Years Active: 2012 – 2018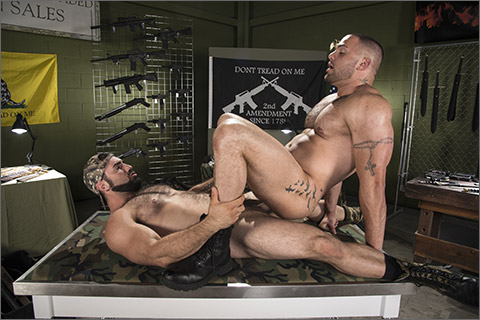 GUN SHOW: Jaxton Wheeler fucks Julian Knowles
The 'Gun Show' is winding down from a long and successful weekend of gun sales. Julian Knowles is packing up his booth when he hears something unusual. He walks over to investigate and finds Jaxton Wheeler jacking off to a rack of semi-automatic rifles and pistols. When Julian questions Jaxton about what's going on, he commands Jaxton to put his hands on his head. Jaxton explains that guns turn him on and when Julian sees how excited Jaxton is, he walks over to lend his mouth to the action. Julian sucks on Jaxton's thick knob and forces him to keep his hands on his head every time he tries to lower his arms. The cock sucking puts Julian in the mood to have his bubble butt serviced and he tells Jaxton that he wants him to eat and fuck his ass. To avoid any problems, Jaxton obliges and gets down to munch on Julian's crack and big balls. He slips his fingers inside the tight pink hole to loosen it up before he slams his cock all the way in. His big pole makes Julian sweat as it goes in and out before Julian gives his ass a slap and has his new butt buddy hop on to take a ride. Jaxton gives the ass a jackhammer pounding and gives the go ahead for Julian to let loose. Julian does as he's told and within seconds of seeing him pump his cum all over himself, Jaxton allows himself the pleasure of doing the same. He covers Julian's fuzzy crotch with gun-inspired load and scrambles out the door as Julian tells him to get the fuck out.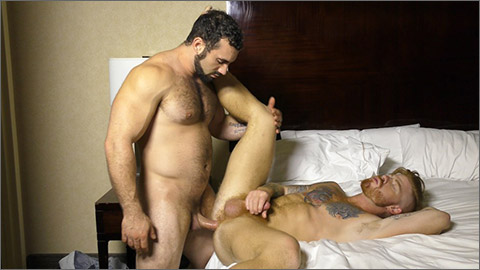 BENNETT ANTHONY BAREBACKS
For his first bareback movie, Bennett chose to work with someone he feels comfortable with and wants to fuck, Jaxton Wheeler. There's real chemistry here between them. I didn't give direction, just let them go with me just filming and not interfering. The result is a hot movie with kissing, rimming, and, bareback fucking.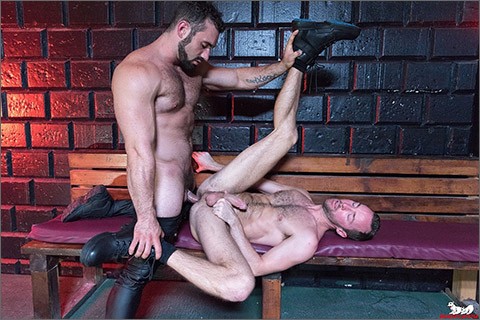 JAXTON WHEELER FUCKS ALEX HAWK
New comer Alex Hawk shoots his very first adult video ever, and it's with industry veteran muscle stud Jaxton Wheeler. Unfortunately for his first job, Alex shows up late and Jaxton meets him at the door, not wanting any excuses. Jaxton wants to make sure Alex knows who is the master and commands him to remove his shirt, drop down on all fours and start licking his boot like the bad puppy he is. Jaxton tells Alex to remove his belt, pull down his pants and kneel on the floor again. Jaxton takes the belt, makes a lease out of it and commands his pup to stand up, lick his armpits and nipples. Pushing Alex back to his knees, Jaxton frees his cock from the confines of his leather pants; wagging it in front of Alex like a chew toy in front of a dog. Alex is finally permitted to take the bone and he sucks every last inch as deep as it will go. Jaxton puts his hand on the back of Alex's head and begins face fucking him until Alex is gagging on his cock. To further insure who is master, Jaxton turns his ass to Alex, shoves Alex's face into his hole and commands him to lick his ass until it's clean. Jaxton has Alex bend over the bench, takes his cock and points it right for Alex's ass. He very quickly buries his cock deep inside Alex and Alex moans very loudly with a definite pained pleasure. Jaxton goes to town ripping Alex a new asshole. The pounding is incredibly intense and when Alex is finally permitted to touch his own cock he blows his load onto his leg and stomach. Jaxton pulls out quickly, straddles Alex's face and dumps a huge load of jizz all over Alex's face and mouth. As Alex licks up his tasty treat his new master walks away, leaving him lying in his sweat and cum.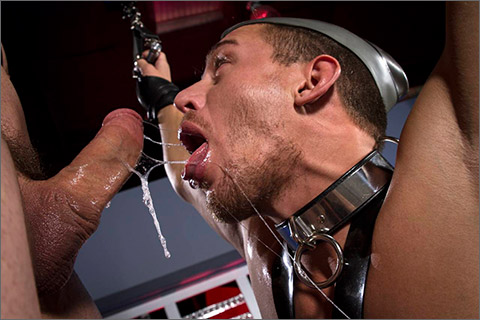 HANGIN' HARDCORE 3: Jaxton Wheeler & Alexander Gustavo
With a slender cane in his grip, Jaxton Wheeler menaces his sub, Alexander Gustavo. Pulling back the thin rod, Jaxton lets it slap across Alexander's bare, unprotected ass and legs. Jaxton penetrates Alexander's tight hole using a cane with a sphere on the end, and then uses a massager to make the cane vibrate inside Alexander's ass. Grabbing two more canes, Jaxton works Alexander over with both hands. When Alexander reaches his limit with the canes, Jaxton rewards him with cock. Jaxton is as relentless with his cock as he was with the canes. Doggy style allows Jaxton full access to Alexander's hole. When Alexander's ass needs a break, he uses his mouth instead, giving Jaxton a messy, spit fueled blowjob. When saliva drips onto Jaxton's boots, Alexander must clean them by holding a brush in his mouth. Alexander worships Jaxton's boots dutifully, and starts jerking himself off with one of Jaxton's socks. With the boot blacking, Jaxton marks his sub with the words SLOBBER SLUT and PIG ASS. Jaxton gets his ass rimmed before returning his cock to Alexander's hole. The handle of Alexander's leather leash serves as a handy whip. Alexander cums on the leather chair, and Jaxton pushes his face into it for him to lap it up.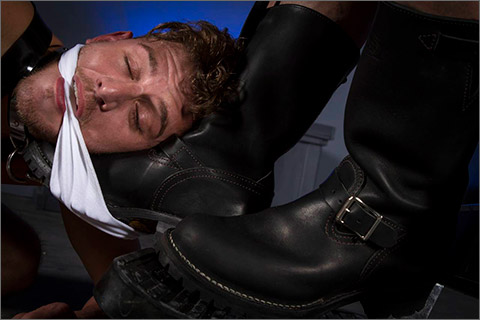 HANGIN' HARDCORE 4: Jaxton Wheeler & Alexander Gustavo
Athletic Alexander Gustavo's wrist restraints are bound to a spreader bar hanging above his head. Beefcake Jaxton Wheeler, dressed in a full rubber uniform, spanks Alexander's ass, leaving his ass cheeks with a pink tinge. Grabbing an anal massager, Jaxton stimulates Alexander's prostate. Alexander moans with pleasure, and his cock swells inside his rubber jockstrap. Looking for a new way to use his sub, Jaxton grabs a metal ass hook and slides it in Alexander's hole. Rigging the hook to the spreader bar creates constant tension, and Jaxton uses the massager to make the hook vibrate inside Alexander's ass. With Alexander immobilized, Jaxton then pummels his ass with the open palms of his hands, reddening Alexander's cheeks even more. Climbing atop a chair, Jaxton unleashes his massive cock and gets a wet, slurping blowjob from Alexander. Jaxton removes the metal hook for an intense doggy style fuck that brings him to the edge. Jaxton releases Alexander from his bondage and showers his face with cum.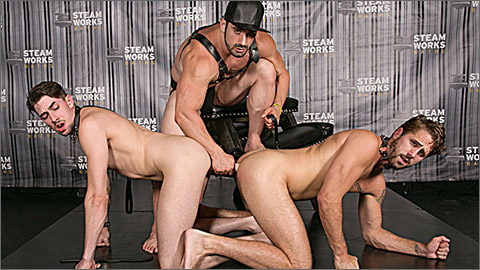 THE STEAM ROOM: Jaxton Wheeler & Jack Hunter fuck Wesley Woods
We're treated to a kinkier side of steam rooms and bathouses, including leather-play, leashes and a very dominant Jaxton Wheeler. Jaxton plays master to cum-guzzlers Jack Hunter and Wesley Woods, and wields his power effectively. He controls everything, from edging Jack, to how deep Jack's huge cock goes down Wesley's throat, or how fast or slow Jack gets to fuck Wesley's hungry ass.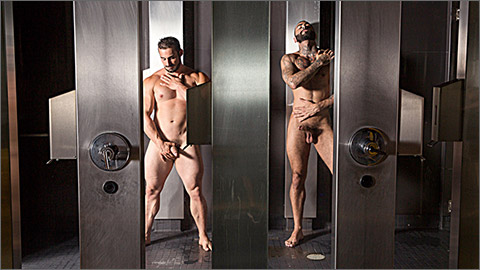 THE STEAM ROOM: Jaxton Wheeler fucks Rikk York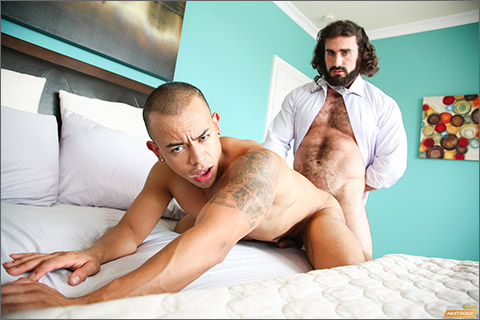 CHEATING BUSINESS
Jaxton Wheeler is a high-powered exec with one thing on his mind: Rey Luis's dick.
   Jaxton is staying at a resort on business, away from the wife and away from the kids. Last time he was in the area, he met Rey at a casino, just off the interstate. The two had some drinks together and ended up fucking in Jaxton's hotel room. Since then, Jaxton's cock has been aching for more Rey.
   Now is his opportunity. He calls Rey to see when they can get together. Rey comes over as soon as he can and the two have a glass of champagne. But the bubbles go down quick, and Rey pulls down Jaxton's pants so he can wrap his soft, wet lips around that thick meat.
   Rey's mouth is even more incredible than Jaxton had remembered. After a little while, they move to the bed where Jaxton enjoys tasting Rey's hard dick for a while. It's not long before Jaxton is sliding his erect cock into Rey's tender ass. Ah yes, this is the sweet hole Jaxton's been craving. And that hard pounding is what Rey had been missing.
   Check into the room with Jaxton and allow some pleasure to mix with business as these smoking hot guys reconnect.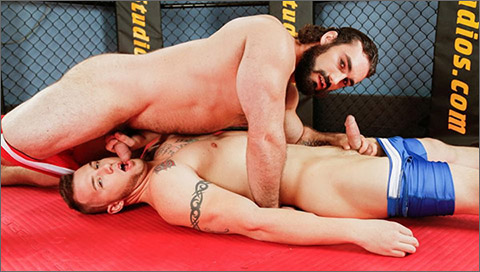 THE SINGLET LIFE
As Jaxton Wheeler & Chris Noxx spar on the wrestling mat, it becomes rather obvious immediately who has the upper hand. Jaxton, the bigger man of the two, conveys a swagger that conveys confidence and control, while Chris works for every opportunity available, only to have Jaxton use his brute strength to ultimately force his opponent into submission. Jaxton thrives on submission, and his need to control extends beyond just wrestling. So when he spies a hard on located in Chris' shorts, he seeks to dominate him there as well. Stripping him out of his singlet, Jackson hovers over Chris as he begins to take Jaxton's hard cock into his mouth. Jaxton puts his hand on the back of Chris' head and pulls him in closer, shoving his cock down Chris' throat before turning him over right there in the middle of the gym and having his way. Chris takes Jaxton's pounding like a good bottom boy, as Jaxton shows no mercy, bending Chris over up against a wall, and then flipping him over onto his back, pounding him without concern before dousing him with a victorious load that leaves Chris covered in cum and hell bent on besting his friend, even if it's the last thing he ever does.
VIDEO ON-DEMAND: Raging Stallion Films @ AEBN SMUTJUNKIES THEATER
DVDs & ON-DEMAND: Raging Stallion Films @ TLA VIDEO