Handsome Masculine Tattooed American Gay Porn Star, Michael Roman
Known Aliases: Jackson Powers
Years Active: 2016 – 2018
TWITTER @RomanMichaelXXX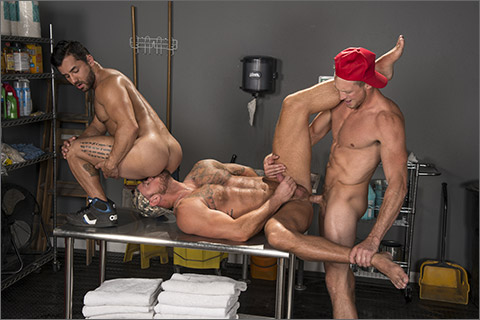 GUN SHOW: Pierce Paris fucks Michael Roman & Bruno Bernal
Michael Roman and Pierce Paris are right-wing Americans at the 'Gun Show'. They run into Bruno Bernal who doesn't quite fit into Michael and Pierce's idea of what an American should look and act like. After chanting "build the wall" to Bruno's protests, the two country boys take him to a back room and throw him to the ground as they unzip their pants and whip out their big thick cocks. Bruno loves the idea of getting the two hicks' dicks down his throat and he opens his mouth for Michael and Pierce to stuff his face. Bruno complies with every one of the demands from Pierce and Michael and even sucks on their hairy, sweaty assholes to make the guys think they're dominating everything he does. Bruno is having the last word by getting his face used like a hole for the two hot studs to double fuck his mouth at the same time. It's a tight squeeze fitting all that meat in his face at once, but Bruno manages to get the job done. The rednecks want to take their fun to the next level and shove Bruno into a utility closet. Michael needs Bruno's tight hole wrapped around his massive cock and he bends him over a table to stuff his asshole balls deep while Pierce takes control of the front to complete the spit roast. With all of Michael's raves about Bruno's tight ass, it's time for Pierce to get a feel and he slips his massive rod deep inside Bruno's well-worked butt. With all the big cock and ass fucking action, Michael wants to see what all the fuss is about and offers up his own ass for Pierce to destroy. Bruno sits on the gun toter's face while Pierce works his buddy from behind. Michael moans out for Pierce to fuck him harder and Pierce takes the challenge. He pounds as hard as he can until his big stick finally puts Michael over the edge and he blows a massive load all over his own hairy abs. Once Pierce sees that he's done the job of getting his buddy off, he pulls out and dumps his own load all over to mix with Michael's pure white jizz. Bruno finishes off in Michael's mouth then grabs their clothes, flips them off, calls them "fucking assholes" and leaves the two rednecks alone and naked to "make America great again" on their own in the closet.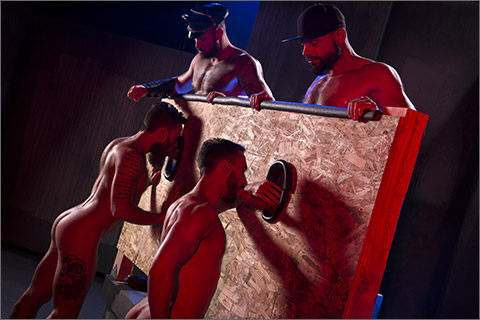 BEARDS, BULGES AND BALLSACKS!: Tex Davidson, Michael Roman, Ryan Finch & Hoytt Walker
Tatted leather daddy, Michael Roman, and bearded muscle hunk, Tex Davidson, stick their big hard cocks through a double glory hole. They don't have to wait a second before Ryan Finch and Hoytt Walker come in and offer up their hungry mouths to suck them off. Hoytt takes on Michael, and Ryan gets Tex's massive curved cock. The horny studs both suck dick like it's the last one they'll ever see. They gag and spit as they get their faces fucked and their throats stretched. Hoytt walks over to give Ryan a helping hand with Tex's tasty meat. They take turns sucking him off and give him a double blowjob with a slobbery, wet mouth on each side of his big sweaty cock. Tex thrusts his pole between their mouths until Michael steps in to offer up a third mouth. Tex pounds Michael's mouth through the glory hole until the guys pair up again. Snagging Hoytt away to a bench, Michael sits down to let the bearded stud suck his cock one more time. Hoytt's big balls hit the floor as he bobs up and down on the tatted daddy's cock. Hoytt tickles Michael's big hairy sack with his tongue and begs for cum in his face. Michael lets go and slathers Hoytt's bushy beard and wide-open mouth with a massive load of jizz. Hoytt gobbles up every last drop and sucks what didn't land on his face off the tip of Michael's still throbbing cock. Michael returns the favor to the bearded stud. He sucks him off and tugs his nuts until Hoytt blasts his own load on Michael's face, beard, chest, and in his mouth. The studs rub beards and swap cum as they catch their breath from the eye watering, thirst quenching, cock sucking marathon.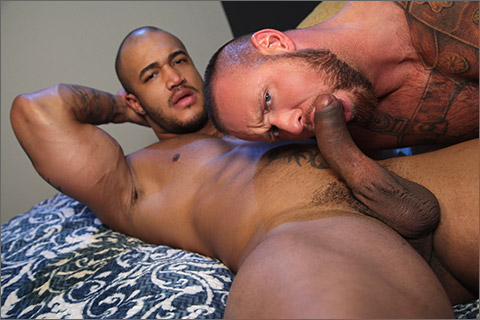 THE LAYOVER: Jason Vario fucks Michael Roman
Our jet-setting playboys are here to tackle the question on every horny traveler's mind: What should I do during my layover? You can bet Mickey Taylor and his friends aren't browsing duty free, reading a book, or taking a nap between flights. From Vegas to Los Angeles to Puerto Vallarta these young, hung, full of cum studs show you how they spend their temporary downtime in The Layover!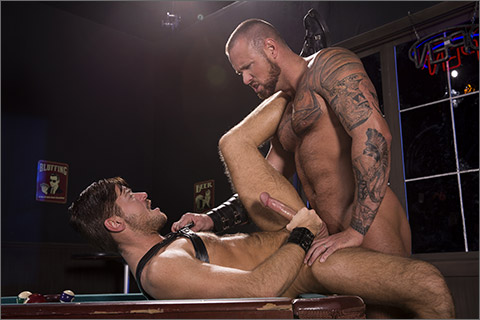 TWO DICK MINIMUM: Michael Roman fucks Jack Andy
In the dark alley outside the local cruise bar, big and muscular Michael Roman makes his move on ripped stud Jack Andy. They kiss passionately, then Jack frees Michael's bulge from his pants and wraps his lips around Michael's hard cock. Kneeling down, Michael returns the favor, tugging on Jack's balls and slicking up his shaft with slippery spit. The body hair that covers both men catches the light from the bar's signage. Bending over, Jack spreads his ass wide and Michael dives in face first. Moving inside the bar, Michael and Jack remove all their clothing (save for Jack's leather harness) and get down to business. Bracing himself against the pool table, Jack takes Michael's cock from behind. Putting all the power of his physique into his thrusting, Michael fucks Jack like an uncontrollable sex beast. Jack gets up on the pool table and throws his leg over Michael's shoulder. As Michael pounds his hole, Jack strokes his huge cock, getting closer and closer to cumming. Michael's thrusting is relentless and unyielding. With Michael deep inside him, Jack explodes with thick ropes of cum that drip across his hairy stomach. Michael grabs his hard meat and blows his load on Jack's cock and balls.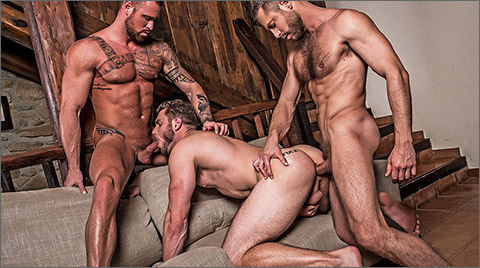 ASS-FUCKING ALPHA MALES: Bulrog Takes Command of Ace Era and Michael Roman
Bulrog is a French alpha-male top that likes bossing around guys who are strong muscular men in the streets, but total bitches in the sheets. Michael Roman and Ace Era are his servants in this bareback sex encounter, and he orders them to play with each other before they both begin sharing and working on his uncut cock. You might think a pair of two hulking guys like this is too much for any top to handle, but not Bulrog. He's man enough for both of them and has no problem staying in total control from beginning to end.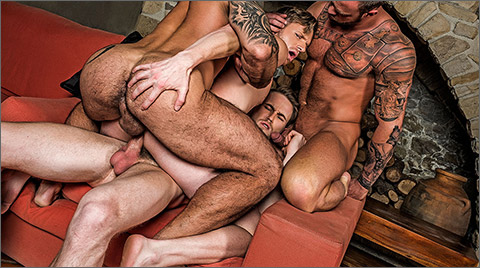 RAW DOUBLE PENETRATIONS 04 – STUFFED: Adam Killian, Marq Daniels, Brian Bonds, Michael Roman | Raw Double-Penetration
Brian Bonds and Michael Roman are cruising in the woods when Marq Daniels and Adam Killian show up looking for some action. Brian follows after Marq while Adam and Michael admire each other's muscles and kiss. The two couples join up to suck each other's cock and share in fucking Michael and Brian in the ass. Adam Killian and Marq Daniels are in charge as the tops in this scene. Brian's ass is split in two when Adam and Marq double-penetrate him raw while Michael Roman gets his dick sucked.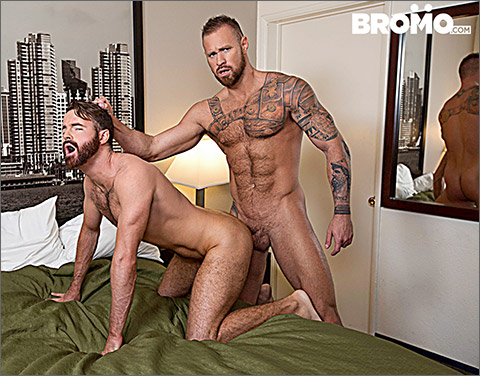 RAW SPANKERS
Michael Roman and Brendan Patrick like a bit of rough stuff. Brendan especially loves to get spanked hard, which Michael is more than happy to oblige. The two hunks play rough with Michael face-fucking Brendan before spreading his cheeks wide open and sliding his massive cock raw inside him. Michael then tosses Brendan around like a rag-doll until the two blow their loads all over each other.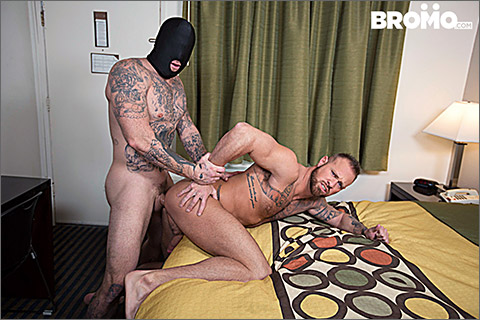 ANON BREEDER
Michael Roman likes a bit of mystery when hooking up, so he gets his masked "friend" to manhandle him the way he likes. The masked man starts off by cumming on Michael's eagerly awaiting ass, then promptly breeds him raw. The rest is some of the most intense banging we've seen in a while, and we couldn't be happier.
REALITY DUDES NETWORK: STR8 CHASER
VIDEO ON-DEMAND: Raging Stallion Films @ AEBN SMUTJUNKIES THEATER
DVDs & ON-DEMAND: Raging Stallion Films @ TLA VIDEO