Blond Hung Firefighter American Next Door Studios Gay Porn Star, Pierce Paris / Pierce Hartman
Known Aliases: Brother Hales
Years Active: 2014 – 2020
INFO:
changed name to Pierce Paris early 2017
MORMONBOYZ INFO:
With his piercing blue eyes and toned, muscular body, it's no wonder that the Order brought Brother Hales onboard. His charming personality and incredible good looks drive the boys crazy. Young Mormon missionary boys who meet him for the first time stare at his body, at first with envy, but eventually with unrepentant lust.
   He looks and acts like the perfect, wholesome gentleman. But underneath those garments lies a dirty mind, a huge cock and bull-sized nuts that stretch his scrotum with their considerable size and weight. And there's nothing Brother Hales loves more than feeling his heavy balls slap against a boy's taint as he pounds his massive cock deep inside the tight ass of a cute elder.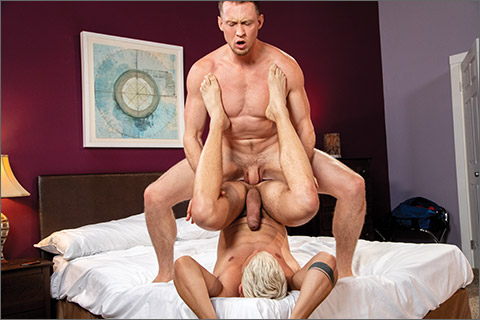 ROOM 106: Pierce Paris fucks Jay Dymel
When the airlines abruptly cancel Pierce Paris and Jay Dymel's flights, the two are forced to share a hotel room together for the night. After they get settled, Pierce goes thru Jay's bag seeking body wash when a massive manrammer falls out. Pierce quickly wraps the toy back up and hops in the shower before Jay notices. Pierce comes out of the shower and sees Jay rubbing lotion on his hard body in the mirror. Jay asks Pierce to rub some lotion on his back, and Pierce nervously agrees. When Jay is all moisturized, he turns to Pierce and says "my turn", and grabs a handful of Pierce's meat. The two lock lips and Jay quickly sinks to his knees to gulp down his new roommates swollen cock. Pierce is relentless with his rod and grabs the back of Jay's head to push it to the base. Continuing to assert his dominance, Pierce yanks Jay from the floor, throws him onto the bed and rips his underwear off. With Jay's inviting hole in his face, Pierce dives in and works his tongue in and out of Jay's warm crack. Now that Jay is wet and slicked up, Pierce slides his massive, 9-inch dick into Jay and pounds him deep. Unforgiving with each thrust, Jay can't get enough of Pierce slamming his ass bareback. Pierce wants one more go at Jay's mouth and face fucks the blond stud one more time, but Jay really wants Pierce inside his ass again. Pierce gives Jay a series of powerful pumps and pulls out to coat the studs hole with a fresh load. To finish Jay off, Pierce shoves his bare cock back in and fucks the hunk while Jay beats thick ropes of jizz out of his own swollen cock and onto his abs.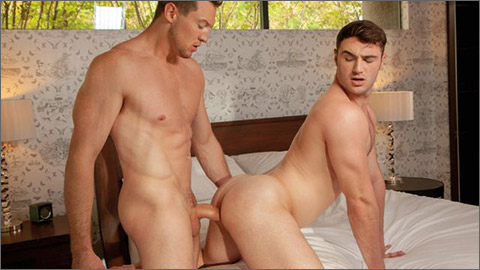 7 MINUTES IN HEAVEN: Pierce Paris fucks Michael Boston
While playing '7 Minutes in Heaven', sexually open bottom, Michael Bolton, draws top Pierce Paris' name. Pierce, who is nervous about the game, because he no longer has sex with his husband, leads Michael Boston to the bedroom where Michael strips down to his undies and gets to work servicing Pierce's monster cock. It's a tight fit, but Michael takes it like a champ and gets the whole thick shaft down his throat. Pierce wants a taste of Michael's ass and bends the hunk over to lick his hole. Pierce gets Michael's giant ass nice and opened up before he takes the next step to give Michael the stretching he craves. Pierce slides his massive raw dick into Michael's tight ass, going slow at first to make sure the eager stud can take it all. When he's convinced that Michael can handle his entire bare pole, Pierce picks up the pace and loosens Michael up even more. Pierce can't get far enough into the young stud and rolls him over to fuck him bareback even harder. Keeping a steady pace, Pierce fucks the cum out of Michael, who blasts his load all over his panting stomach. Pierce wants to finish up his way, and he rolls Michael back onto his stomach where he pounds the stud until he finishes up all over his ass. A spent Pierce fucks the cum into Michael and caps their secret tryst with a kiss and a cuddle.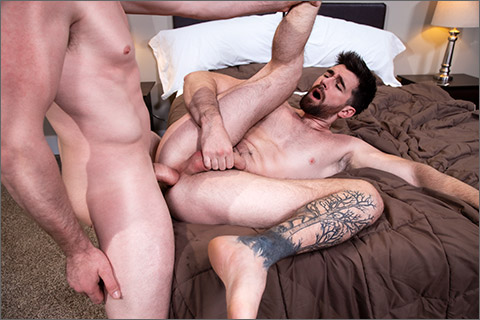 HOT, RAW AND READY!: Pierce Paris fucks Woody Fox
Woody Fox lucks out when Pierce Paris hops out of the shower and drops his towel by the edge of the bed. Woody is cock hungry and wastes no time getting Pierce's monster meat down his throat. Pierce barely fits his rod in Woody's strained jaw, but the Aussie stud is eager to please and takes every inch he can cram inside. Pierce wants a taste as well and bends over to 69 with Woody, getting his uncut dick down his hatch. The taste of Woody's pole gets Pierce in the mood to stretch his ass. After rimming out Woody's hole, Pierce lays back to let Woody hop on for his first bareback bottom scene and the ride of his life. Pierce's thick pole impales Woody and the stud moans out with each thrust from the massive cock in his ass. Pierce has the urge to go even deeper and gets Woody onto his hands and knees to shove his raw cock in and pump even faster. It's a race to the finish as Pierce rolls Woody onto his side and picks up the pace to go the final distance. Woody declares that he's ready to blow and as his hole clenches around Pierce's cock, Pierce gives in as well. Pierce pulls out and the two studs cum together, leaving Woody a drenched in jizz.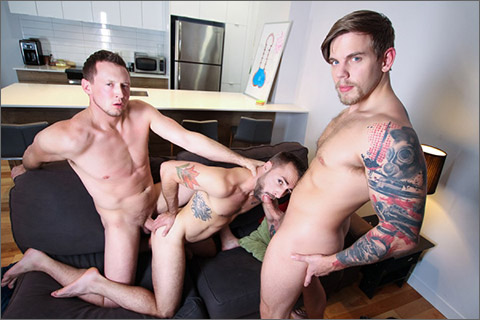 THE CUM DUMP – PART 2
With that first anonymous load still deep in his hole, Jeremy London is eager to mark his achievement on his Cum Dump whiteboard. Hardly time to celebrate however, as the little 'slut' has his eyes set firmly on the prize. In no time he's got two new big cocks (Steve Rickz and Pierce Paris) arriving at his door, ready to make him a 'Cum Slut'.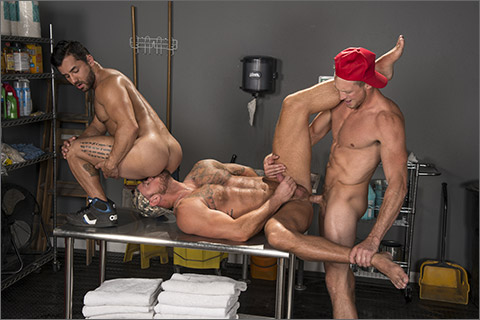 GUN SHOW: Pierce Paris fucks Michael Roman & Bruno Bernal
Michael Roman and Pierce Paris are right-wing Americans at the 'Gun Show'. They run into Bruno Bernal who doesn't quite fit into Michael and Pierce's idea of what an American should look and act like. After chanting "build the wall" to Bruno's protests, the two country boys take him to a back room and throw him to the ground as they unzip their pants and whip out their big thick cocks. Bruno loves the idea of getting the two hicks' dicks down his throat and he opens his mouth for Michael and Pierce to stuff his face. Bruno complies with every one of the demands from Pierce and Michael and even sucks on their hairy, sweaty assholes to make the guys think they're dominating everything he does. Bruno is having the last word by getting his face used like a hole for the two hot studs to double fuck his mouth at the same time. It's a tight squeeze fitting all that meat in his face at once, but Bruno manages to get the job done. The rednecks want to take their fun to the next level and shove Bruno into a utility closet. Michael needs Bruno's tight hole wrapped around his massive cock and he bends him over a table to stuff his asshole balls deep while Pierce takes control of the front to complete the spit roast. With all of Michael's raves about Bruno's tight ass, it's time for Pierce to get a feel and he slips his massive rod deep inside Bruno's well-worked butt. With all the big cock and ass fucking action, Michael wants to see what all the fuss is about and offers up his own ass for Pierce to destroy. Bruno sits on the gun toter's face while Pierce works his buddy from behind. Michael moans out for Pierce to fuck him harder and Pierce takes the challenge. He pounds as hard as he can until his big stick finally puts Michael over the edge and he blows a massive load all over his own hairy abs. Once Pierce sees that he's done the job of getting his buddy off, he pulls out and dumps his own load all over to mix with Michael's pure white jizz. Bruno finishes off in Michael's mouth then grabs their clothes, flips them off, calls them "fucking assholes" and leaves the two rednecks alone and naked to "make America great again" on their own in the closet.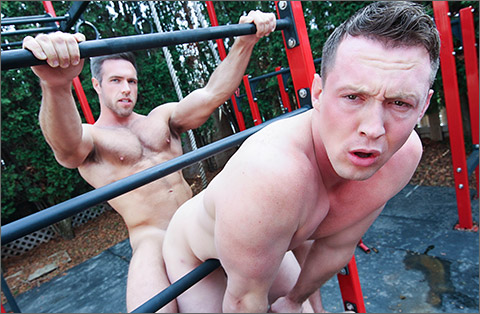 PUBLIC FIGURE
Fitness influencer Alex Mecum loves to show his fans how he gets that toned sculpted body and that killer ass and his biggest fan Pierce Paris never misses an episode. When Pierce unexpectedly catches Alex taking a stroll and live streaming in his neighborhood he can't help but follow him to get a closer look. This turns in to an episode that Alex's fans won't soon forget.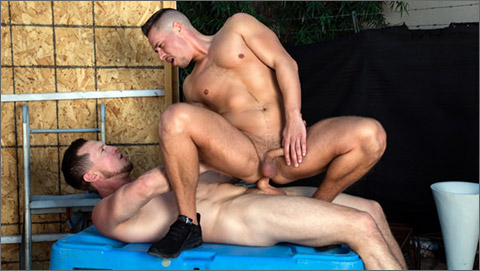 RAW WORKLOADS: Pierce Paris fucks Aston Springs
Pierce Paris and Aston Springs are working in the hot sun and decide to take off their shirts. When they get a look at each other's ripped bodies, they can no longer concentrate on the job at hand. Aston makes the first move and goes down on Pierce's monster cock, working it slowly with his tongue and taking special care with the stud's big nuts. Pierce's dick seems to never stop growing, and just as he's hitting full capacity, he knows that he needs to plant it in Aston's tight ass. Pierce bends down to take a taste of the stud before entering and gets Aston opened up and ready for his giant cock. Aston quickly offers up his hole for Pierce to own. Pierce shoves his raw cock inside and pumps hard to fill Aston with all the bare dick he can take. After taking it from behind and riding it, Aston wants to finish it off facing Pierce and his hard body. Aston lies back to let Pierce drill his prostate from a different angle. Aston's ass feels amazing, and Pierce builds to a frenzy before pulling out to cover Aston's hole with jizz. When he's done, he shoves his cum back in the hole with his giant dick and then lets Aston finish himself off. Pierce feeds Aston his cum before the two of them decide to go back to work.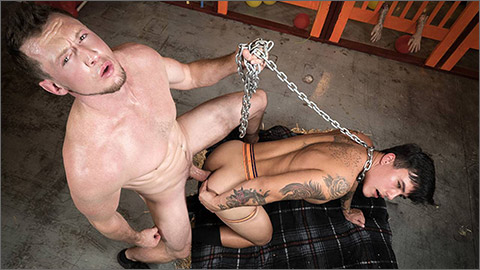 SEXUAL NIGHTMARES – PART 1
Tattooed hunk Trevor falls asleep while watching a documentary on sexual nightmares, and ends up having one himself! He dreams up a creepy clown and fit stud Pierce Paris. Pierce shoves his crotch in Trevorís face before stuffing his fat cock in his mouth. He bends dark-haired Trevor over, and demolishes his tight hole.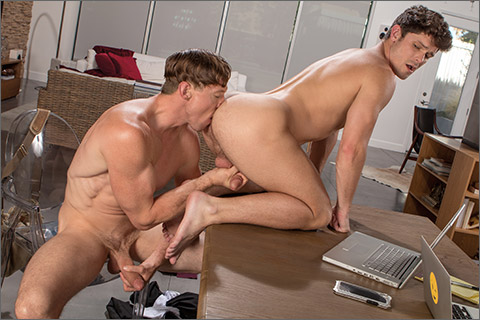 WORK IT UP: Pierce Paris fucks Devin Franco
Devin Franco arrives to the offices and accidentally walks in on Pierce Paris taking a leak. Embarrassed but amazed by Pierce's huge member at the same time, he sits at the conference table and waits for his co-worker to finish. Devin tries to apologize but notices Pierce didn't mind as his cock is bulging from his jeans. Devin smiles and unbuttons Pierce's pants to reveal his massive cock and wastes no time slurping it down. Devin makes sure not to forget to give attention to Pierce's balls as he continues with his oral fixation. Pierce decides it's time to open Devin up a little to prepare him for what's to cum and bends him over the table to lick his fuzzy hole. Devin loves each lap from Pierce's tongue and stays bent over to receive Pierce's hole-stretching dick. Devin takes the rough pounding like a champ welcoming each thrust from Pierce's giant cock with a load moan. Devin switches on his back and tweaks his nipples as Pierce gapes out his hole even more. To 'Work It Up' even more, Devin switches positions one last time to ride his fellow co-workers thick meat until he unloads all over Pierce's smooth abs. Getting covered in his co-worker's cum is enough to make Pierce launch his thick load into Devin's awaiting mouth.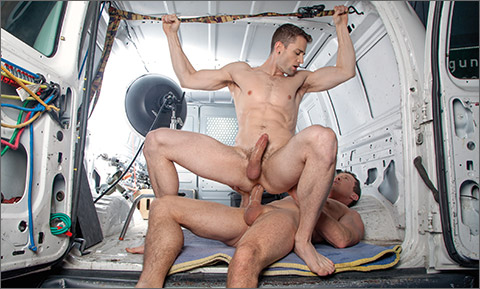 ZACK & JACK MAKE A PORNO: Pierce Paris fucks Quin Quire
Pierce Paris and Quin Quire are former fuck buds who meet on the set of Zack and Jack's porno with Quin running the camera and Pierce shooting his first scene as a porn star. When they have a minute to step out of production, they sneak away to a storage space to reminisce about the great sex they used to have. The old memories turn Quin on so he gets on his knees to take Pierce down his gagging throat. It's a tight fit but Quin is prepared to do anything to have Pierce inside of him. Pierce doesn't want to be left out of the sucking action and takes his turn on the floor in front of Quin's big, thick cock. Quin face-fucks Pierce before he decides it's time to open up his hole. Quin sits on Pierce's face and lets the stud rim his ass until neither of them can hold back any longer. Quin takes his place on Pierce's dick and rides it up and down to get his ass stretched out before Pierce switches it up and pummels Quin on his back. That's the magic position that makes Quin pop his load all over his own heaving body. After he douses himself with cum, Quin begs for Pierce to unload in his mouth. Pierce doesn't need any coaxing after that nice tight ass and bellies up to Quin's face to unleash a river of cum. Both studs leave satisfied and ready to keep their secret from the rest of the cast and crew.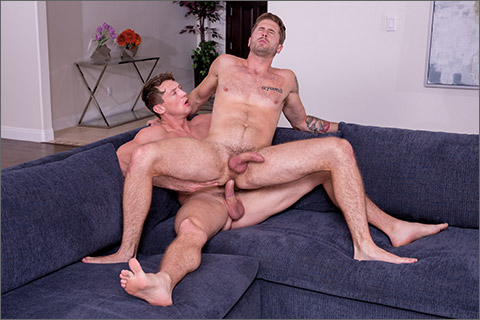 SERVICE ME!: Pierce Paris fucks Wesley Woods
Wesley Woods is enjoying a glass of wine and techy stud Pierce Paris shows up to set up Wesley's TV. Once Pierce has shown Wesley how to use his new entertainment system, Wesley notices Pierce's boner bulging in his pants. Without any hesitation, Wesley pulls Pierce's pants to his ankles and gets to work servicing the hung studs meat. Pierce is excited to return the favor so he rips Wesley's clothes down and throws him on his back to lick his hole. With a quick spit for lube on Wesley's hole, Pierce drives his tongue deep into the studs scruffy crevice. Wanting to feel Wesley's ass from the inside, Pierce pushes his cock deep into the homeowner. Taking it first on his back and then doggy style, Wesley shows Piece he appreciates his cock inside of him. Wesley gives Pierce a break and climbs on top of him until he blows a massive load all over Pierce's washboard abs. Seeing Pierce covered in cum makes Wesley hungry for more and strokes Pierce's cock until he gets blasted in the mouth with thick ropes of cum.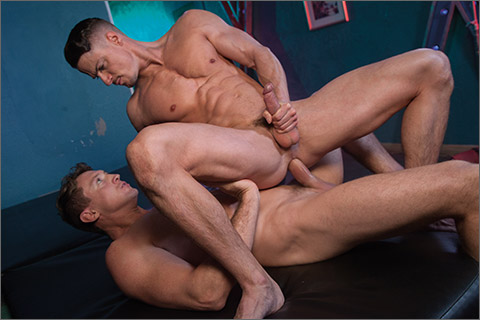 A NIGHT AT THE ENTOURAGE: Pierce Paris fucks Skyy Knox
Pierce Paris is in the bathhouse shower when Skyy Knox walks by and gives him a suggestive glance before walking away. Pierce knows a good thing when he sees it and cuts his shower short to follow the ripped stud down the hall. Pierce finds Skyy bent over with his ass in the air just begging to be rimmed. Pierce can't wait to eat Skyy out and gets down to plunge his tongue deep inside the hunk's ass. He fingers and licks Skyy's smooth hole until Skyy is ready to take a taste of Pierce's giant pole. He gets down to deep throat the monster cock and takes the whole thing down his throat with ease. With tears in his eyes and spit dripping from his chin, Skyy fights to swallow Pierce's cock down to the base. Pierce can tell that Skyy is more than ready to get plowed and bends him over to slide his dick inside. After taking it deep, Skyy instructs Pierce to lie back and let him do the work. Skyy sits on the giant dick and bounces up and down, putting himself in control as his own uncut cock flops up and down with each plunge into his ass. The studs try everything they can and switch up their positions until Skyy shoots his load all over his own ripped abs. The sight of Skyy in such pleasure is all it takes for Pierce to let go. He straddles Skyy's hungry face and shoots his load all over the hunky stud's awaiting mouth.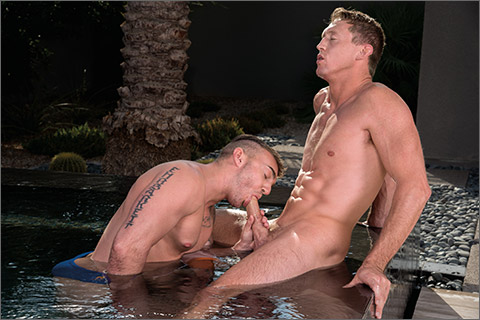 HIDDEN PALMS: Pierce Paris & Jake Ashford (all oral)
Jake Ashford is relaxing in the hot tub when Pierce Paris hops in to join. The two studs barely share a glance before they meet in the middle and start making out. To satisfy a bit of curiosity, their hands move down south to give each other an intense rub. Jake is the first to cave when he releases Pierce's monster into the bubbling water and gets to work sucking off the young stud. Jake is good at giving head and it shows when Pierce gives way to moans of ecstasy. Pierce enjoys every slurp from Jake, who's working very hard to get every inch of Pierce into his mouth. Pierce is ready to give Jake a taste and bends the hunky jock over to lick his perfect ass. After a satisfying rim job, Pierce decides to give Jake a sample of his own dick sucking skills. Jake moans out as Pierce gobbles the swollen member. Jake needs a dick in his mouth to finish the job and gets back down in front of Pierce, who promptly fills Jake's mouth with cum. After Pierce's big finale, he shows Jake his appreciation by opening wide to let Jake's sperm hit his face and then run down his chin.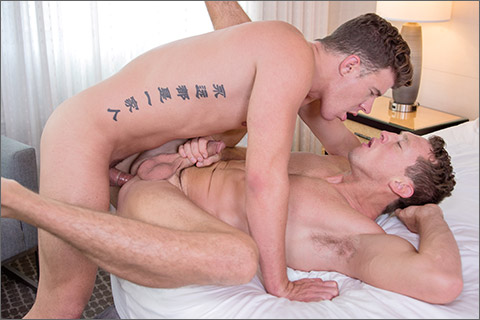 LOVE & LUST IN NEW ORLEANS: JJ Knight fucks Pierce Paris
Last night, JJ Knight and Pierce Paris enjoyed taking in some of the historic sights of the French Quarter in New Orleans. After a good night's sleep, Pierce wakes up next to JJ with a raging hard-on. Pierce starts to take care of business and reaches over to wake JJ from his dreams. JJ is happy to have a helping hand from Pierce as Pierce takes care of both of their needs with a dick in each hand. Pierce isn't satisfied with just a hand job and surprises JJ with a blowjob. JJ wants a taste as well, and soon the studs are 69ing on the bed. JJ realizes that Pierce wants to get fucked and rolls the stud over to eat him out. He eagerly takes care of Pierce's tight, hairy hole and gets it nice and opened up. JJ is ready to enter Pierce and slides his massive dick deep into the muscle stud. He pounds away, making Pierce's back door gape. JJ's dick feels so good inside of him that Pierce shoots a geyser while JJ is pumping him deep. After giving Pierce all the pleasure he can, JJ pulls out and covers the jock with cum. Pierce is so turned on by JJ that he starts jacking again and cums a second time.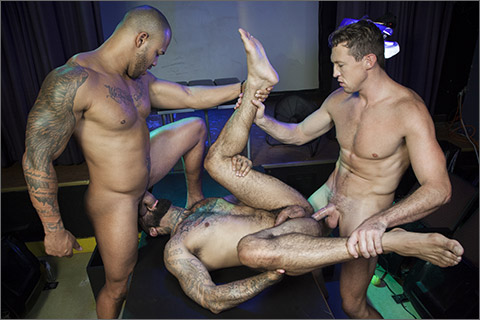 MAKING RENT: Jason Vario & Pierce Paris spit-roast Rikk York; Jason Vario fucks Pierce Paris
Rikk York is having one of those days. He's broke, rent is due and he's fucked. Desperate for cash, he picks up the local paper to skim the classified ads and comes across "production assistant needed for gay porn shoot". Why not? When he shows up to the Nob Hill Adult Theatre, he's greeted by the director and gay porn stars Pierce Paris and Jason Vario, who are super horny but worried they're going to have to cancel the shoot because of a no-show. No scene = no pay! Rikk flashes his bubble butt and 6-pack abs and offers to be the replacement. The horse-hung superstars approve and within minutes he's got 2 dicks in his ass and choking on man meat. The Who says Making Rent can't be a load-full of fun?!?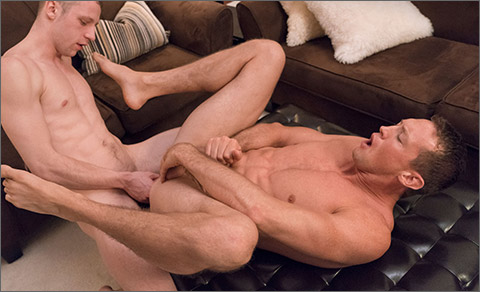 THE INITIATION OF BROTHER HALES:
CHAPTER 2: HOME OF THE BRETHREN
After Elder Holland's new companion went to sleep, the handsome young man snuck out of his bed and went downstairs. Brother Hales had invited him and his companion to stay for the evening at the home of the brethren, treating them to a dinner and conversation. By the end of the night, it was clear what Hales was really up to.
   He knew of Holland's recent induction into the Order and was eager to try the boy out for himself. Unsanctioned sex between men of the Order is commonplace, but the two were anxious to not wake up anyone if possible. Once his companion was fast asleep, Holland and Hales snuck downstairs…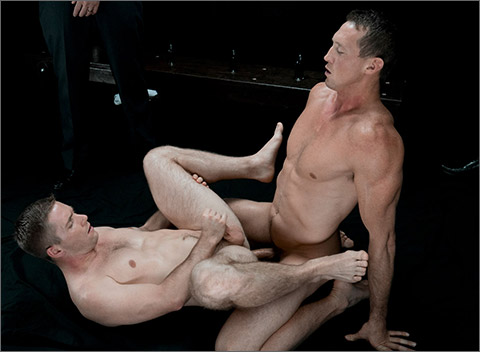 THE INITIATION OF BROTHER HALES:
CHAPTER 6: ATONEMENT
Elder Kimball made his way into the temple basement, led by the strong but silent Brother Hales.
   It hadn't been too long since his initiation where Hales had fucked the young man with his massive cock, but he still maintained the same formal demeanor now as he did then.
   Like most inductees into the Order, Kimball was completely in the dark about what was about to happen to him. After confessing his past transgressions to Bishop Angus, he was told that he would need to be physically disciplined in order to repent….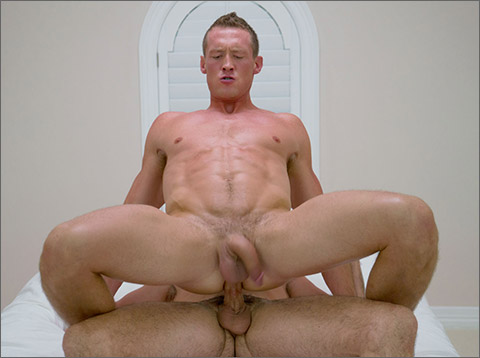 THE INITIATION OF BROTHER HALES:
CHAPTER 8: THE COVENANT
Brother Hales is still relatively new to the Order. After his mission, he attended BYU to become an institute teacher and taught at the Mission Training Center (MTC) to earn a few extra credit hours.
   It didn't take long before he caught the attention of the Brethren serving in the MTC leadership.
   He has both the looks and the talent to effectively seduce and dominate other young Mormon boys. Indeed, on more than one occasion, he seduced a young elder when the missionary boy was in his dorm room and the other missionaries were attending a devotional…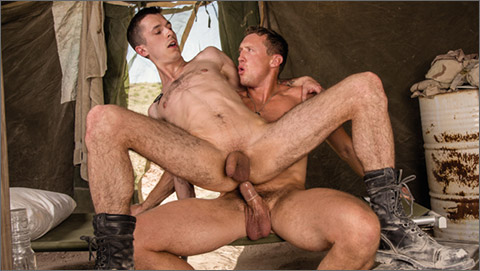 CODE OF SILENCE: Pierce Paris fucks Kyle McMillan
Kyle McMillan has a camera and he's sneaking up on Pierce Paris in his tent on the military base to see what Pierce is up to. Kyle is in for a surprise when he finds his buddy fully immersed deep inside a FleshJack. Pierce pleads for privacy but Kyle insists that there's no such thing in the military. Kyle offers up some help and when Pierce has his eyes closed, he slips the FleshJack off of Pierce's stiff dick and starts using his hands and mouth. Pierce has no complaints and rolls with the new development. When Kyle sees that Pierce isn't going to put up a fight, he gets more into the work of pleasing the hung stud. Kyle's mouth and fist feel amazing enveloping the thick dick and Pierce takes off his shirt as the action gets more heated. Kyle comes up for some air and the two studs make out as Kyle gets out of his uniform. Pierce is so aroused that he's ready for anything. When he sees Kyle's uncut dick, he immediately opens wide and goes down to service the fit jock. Once he has his fill, he bends Kyle over and gets busy eating him out. His tongue goes deep and he loosens Kyle up for insertion. Pierce enters his toned friend and pumps away, even commenting on how tight Kyle feels. Pierce has Kyle lie back with his legs in the air for maximum penetration. The big dick goes as deep as possible while Kyle strokes his own rod to get himself close. Pierce says that he wants to make Kyle cum, and that's enough for Kyle to let loose and cover his own body with pleasure. Once Pierce has done his job, he's ready to finish up. His big dick explodes on Kyle's face as sweat runs down Pierce's muscled body. Kyle can't get enough of Piece's plump dick and continues to suck and taste the stud's cum in the extreme desert heat.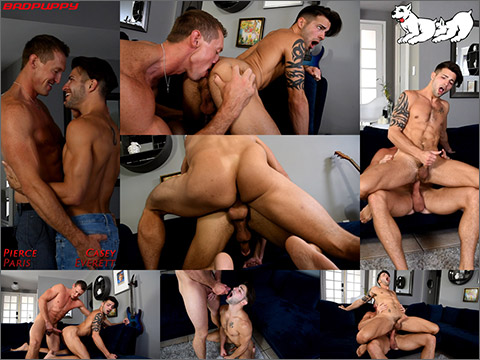 PIERCE PARIS FUCKS CASEY EVERETT
Our latest video features Casey Everett returning with new comer, horse-hung Pierce Paris. From the very beginning of the video as Casey and Pierce strip each other out of their cloths it's quite apparent that Casey is very into Pierce. Casey kneels in front of Pierce, kissing his way down Pierce's incredible abs before he unzips his jeans and slides them to the floor. It was at that point we could tell that Pierce had something special hidden in his shorts and when Casey pulls off Pierce's underwear he's met with a cock that would make just about anyone cringe thinking of it ramming up their ass. Casey swallows it whole, gagging periodically as it hits the back of his throat; but, he persists none the less. Pierce spins Casey around, bends him over the sofa and shoves his tongue deep into Casey's asshole, priming it for the huge tool he's about to shove in it. Slowly at first, Pierce pushes his cock deep into Casey's ass and when Casey is used to the size, Pierce begins rocking back and forth, pounding harder and faster. Pierce fucks the shit out of Casey whose own cock is rock hard from the ass spreading Pierce is delivering to his backside. The pounding continues in many positions until these two hot studs cannot take it anymore. Now this is where I need to tell you there was a wee problem with the camera and we missed Casey's cumshot because he just could not hold it back with Pierce continuing to pound. Pierce; however, makes up for it when he pulls that thick, long cock of his out of Casey's ass and blows thick loads of juicy cum all over Casey's face and mouth. Casey wastes no time licking up the jizzy mess and makes sure to clean off every drop from Pierce's cock.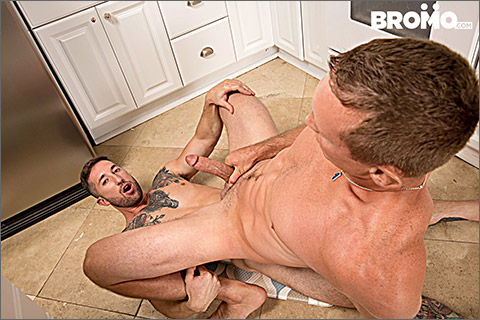 THE INTRUDER: Brad Powers fucks Pierce Hartman
In the first installment of The Indruder series, Pierce Hartman is putting the final touches on his cake when Intruder Brad Powers comes through the backdoor. Pierce offers more than a piece of cake, and soon finds himself face down and filled up by Brad's huge cock.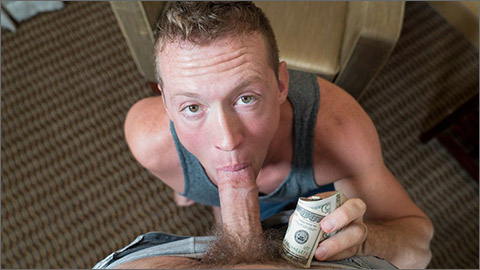 STR8 CHASER: PIERCE
I found Pierce jogging in the park, and his pretty face and muscular physique attracted me to him right away. I knew getting him to do what I wanted would come at a high price but he was worth it. His juicy mouth and plump ass were better than I could imagine. Hope you enjoy as much as I did.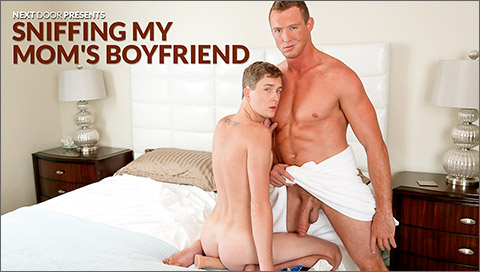 SNIFFING MY MOM'S BOYFRIEND
Preston Burgess is so tired of hearing his mom and her boyfriend fuck! Her room is right next to his and their amorous, nocturnal activities have been keeping him up lately. But it's not only the fact that he can't sleep. You see, Preston has become jealous of his mom. Her boyfriend, Pierce Hartman, is one of the hottest guys Preston has ever seen. He wishes he could get the kind of hard pounding he hears his mom taking every night!
   When Preston wakes up on a weekend morning, he's surprised to happen upon a nude Pierce making coffee in the kitchen. Pierce doesn't see him, so Preston watches quietly, from behind a cracked door. When Pierce finishes and heads off to the master bathroom for a shower, Preston follows. He continues his morning of peeping by watching Pierce in the shower for a little while.
   While Pierce is occupied, Preston takes the opportunity to sneak into his mom's bedroom and sniff all up on Pierce's underwear. Oh, they smell just like he expected! While poking around in there, he also sees a dildo under the bed.
   When Pierce returns to the room, he finds Preston with the underwear on his face and the dildo deep in his ass. As Preston strokes his cock, Pierce hears him saying how he wants Pierce to fuck him. Preston realizes Pierce has returned and is quite startled. 'I didn't hear the shower turn off!' is all he can blurt out.
   Pierce tells him to relax, because he won't tell Preston's mom. Instead, he takes a cue from Preston and gingerly takes Preston's cock in one hand and cautiously continues the dildo banging with the other. Preston can't believe what's happening! But he's not about to stop it, that's for sure.
   From there, the two become engaged in passionate kissing. It's not long before Pierce is sucking on Preston's happy, stiff cock. He goes from enjoying that dick, to licking Preston's tight, Twink hole. After a while, Preston returns the favor by slurping on Pierce's fat dong, the same one he's fantasized about for months!
   Then Pierce has Preston turn around and take Pierce's big dick, right in his tender ass. What happens next is even more than Preston could've dreamed. Check out this cock-hungry Twink getting just what he wished for when his mom's incredibly hot boyfriend decides to take advantage of the perfect situation. It's the good, hard fucking he deserves for putting up with all the late-night noise!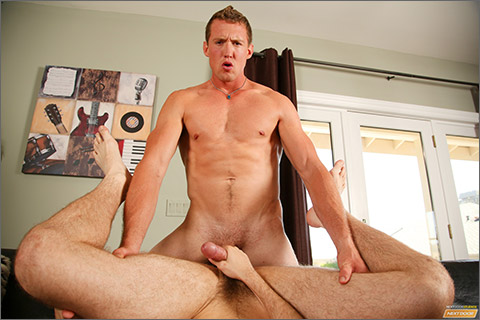 BROTHERLY SECRETS – PART 2
With their parents gone for the day, Pierce Hartman lays around as his step-brother sneaks into his room to poke around. Duncan Black is definitely the mischievous brother, and he's constantly pushing Pierce's buttons to try and get a rise out of him. Today is no different, as Duncan skulks around Pierce, teasing and mocking him. Duncan slowly caresses Pierce's smooth skin and works his way down to his cock, playing with it lightly before taking it all the way into his mouth. Pierce stirs a bit but continues Duncan continues his sultry seduction, working Pierce into a semi-hard state. Pierce's body is already telling him to finish what his brother started, so Pierce pushes Duncan back down to continue the blow job, before pulling Duncan up and letting him sit on his face. Duncan rides Pierce's face like that, as Pierce tongue-fucks his hole, moistening it up for Pierce's big cock, which he plunges deep into his step-brother. Pierce proceeds to fuck Duncan with all the built up tension that can only happen when you are family, and Duncan takes every pounding inch with glee, before losing his load all over himself as Pierce pulls out and wets his step-brother with a well earned load and a promise to keep everything quiet until the next time the parents are away. We'll see if Duncan obliges.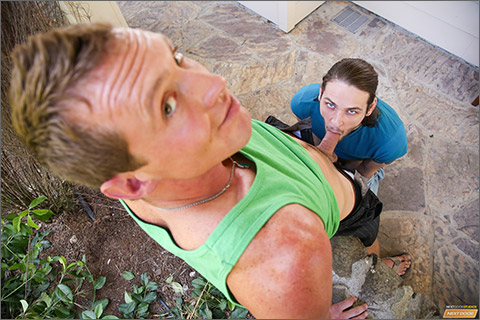 BROTHERLY SECRETS – PART 1
Neither Pierce Hartman nor Duncan Black are particularly thrilled about their parents marrying. Both step-brothers are finding that the arrangement cramping their styles. For Pierce, it's hard enough just trying to find a quiet place to jerk off anymore. So when the parents take off for the day, Pierce decides to take advantage with a little quality personal time. But Duncan catches him as he's heading out, and senses that his step-brother is up to something, so as Pierce creeps around the corner to find some privacy, Duncan lurks not too far behind, stealing a view of Pierce as he whips out his giant cock and begins thumbing through the pages of his mag. Duncan pulls out his cock and he's rock hard just watching, stroking it as he imagines what it would be like to sit on Pierce's chubby.
   Consumed by his desire, Duncan throws caution to the wind, and creeps up on Pierce as he strokes away, eyes closed. Duncan reaches out and grabs Pierce's cock, who is immediately startled and initially freaked out by the whole scene, but Duncan assures him there is no problem, and that it could be mutually beneficial.
   Pierce is so horny that he gets to a point where he doesn't even care anymore, so long as he busts his nut, and seizing on this opportunity, Duncan falls to his knees and immediately begins sucking off his step-brother. Pierce is new to the whole experience, but the better Duncan sucks him off, the more and more he warms up to the idea, so he offers to return the favor on Duncan. Duncan lays out on a stone wall while Pierce goes down on him, eyeing his sweet hole as he fills his mouth with cock. Duncan closes his eyes and grabs the side of the wall as Pierce slobbers all over him, but what he really wants is Pierce's sweet cock inside him, so he bends over and lets Pierce enter from behind. Pierce grabs Duncan by the back of the neck and pounds away at his perfect little bubble butt, before sitting down and letting Duncan ride him. Duncan grinds on Pierce's cock and it fills him up inch by inch, and as Pierce pounds away, Duncan strokes himself feverishly, losing his load as Pierce pulls out and blasts him with his own long-overdue load. As both brothers clean up, they exchange a knowing look that this is one secret they'll both be glad to keep.
CLICK HERE TO GO TO HIS NEXT DOOR STUDIOS BIO PAGE
VIDEO ON-DEMAND: Raging Stallion Films @ AEBN SMUTJUNKIES THEATER
DVDs & ON-DEMAND: Raging Stallion Films @ TLA VIDEO
Hot or Not? Let us know.
[Total:

126

Average:

3.7

]