American Gay Porn Star, Brandon Rivers
Known Aliases:
Years Active: 2016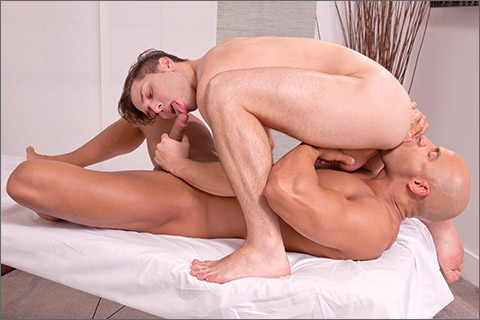 DEEP RELEASE (FVP-265): Sean Zevran fucks Brandon Rivers
Laying facedown on the massage table in a tranquil, white room, Sean Zevran awaits the expert touch of Brandon Rivers. Brandon slicks up Sean's back with massage oil, working his way from Sean's muscled shoulders down to his perfect, round ass. Flipping over, Sean reveals his massive, throbbing erection. Without hesitation, Brandon reaches down and strokes Sean's hot, hard meat. Opening his mouth, Brandon takes Sean's cock inside his mouth, then slides up to stimulate the sensitive head with his tongue. Wrapping his hand around the base of Sean's cock, Brandon combines his sucking and stroking for a potent oral servicing. Loosening Brandon's pants, Sean reaches around and probes Brandon's tight ass. Brandon climbs up and sits on Sean's face, and Sean eagerly drives his tongue into the dark recesses of Brandon's inviting ass. As Sean thrusts his cock up into Brandon's mouth, Brandon jerks his hard cock. Brandon is eager to get fucked, so he sits down on Sean's huge cock for an intensely deep ride. Stretching Brandon's ass cheeks apart, Sean thrusts upwards, driving his tool faster and faster into Brandon's hole. Switching to missionary position, Sean ramps up speed and intensity with long, powerful pumps. The intense penetration brings Brandon to the point of no return, and he blasts a huge, white load across his abs. Kneeling above Brandon, Sean jerks out his thick load directly into Brandon's mouth, with one final, massive rope pooling right in the middle of Brandon's tongue.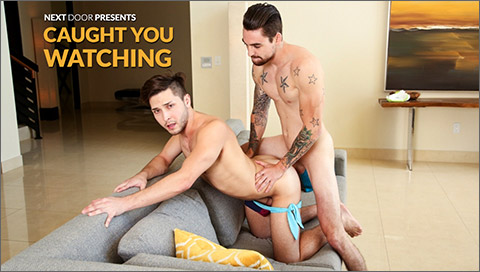 CAUGHT YOU WATCHING
With their fellow roomie busy out by the pool, Brandon Rivers steals away inside to go check on Johnny Torque, who has been gone for quite some time now. Passing by a cracked doorway, Brandon catches Johnny in the middle of a furious self-love session, but makes the mistake of bumping the door and Johnny looks up and sees him, giving chase as Brandon flees. Catching up to him on the sofa, he throws Brandon down and with his dick still out, puts it all up in Brandon's face. To his astonishment, Brandon takes it willingly, opening his mouth and sucking on the tip, then downing it completely as Johnny feeds it to him. Brandon sucks Johnny off quietly so as not to alarm or bring any suspicion. Johnny trades off with Brandon and gives him head, licking his balls as he jerks Brandon off, and Brandon gets all the way turned on, asking Johnny if he's ever had his ass eaten. Johnny shakes his head but bends over anyway as Brandon eats him out, tonguing Johnny deep as he realizes how much it turns him on. Ready to fuck, Johnny bends him over and pounds Brandon's sweet ass from behind. Brandon takes it like a champ but tells Johnny he wants to be in control, so he mounts Johnny and proceeds to ride him good and proper. Johnny watches Brandon's bubble butt bounce on his cock, giving it a nice smack as he watches his cock disappear inside Brandon. As they fuck, they hear the back door open and sprint to the bathroom. Fairly positive that they haven't been caught, Brandon tells Johnny to fuck the cum out of him so Johnny pins him up against the sink and pounds him hard as Brandon strokes himself to orgasm. Covered in his own cum, Brandon tells Johnny to feed him his load, so he gets down on his knees as Johnny quenches his lustful thirst. Exhaling, they hear the door creak and catch their other roommate spying through the door. Seems what goes around cums around after all.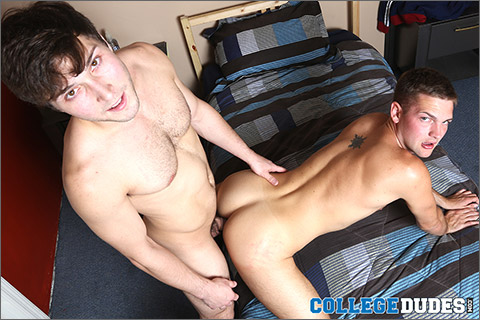 BRANDON RIVERS FUCKS CONNER MASON
Conner Mason and Brandon Rivers are two sexy guys looking to have some fun and get their dick sucked, and they get right at each other, kissing and touching until Conner goes down on Brandon. Conner sucks Brandon's sweet cock, massaging that hard dick with his hand and mouth as he sucks on Brandon's balls! Brandon rubs the tip of his cock across Conner's lips, making sure he tastes the precum before Conner lies back on the bed and it's Brandon's turn to give him head!
   Brandon blows Conner and then lifts Conner's ass up, spreads it open and buries his face in it, rimming Conner's tight little hole and then slowly sliding his cock inside of it. Conner moans as he takes Brandon's full length up his ass, feeling it deep inside of him as Brandon fucks him nice and slow, slapping Conner's ass as he pounds him. Conner rides Brandon's cock, moving his ass up and down on that fat dick as Brandon sits back and enjoys the view of Conner jerking his own member until he comes right in front of him! Brandon pulls out and stands over Conner, stroking his throbbing shaft until he drains his cum into Conner's open mouth!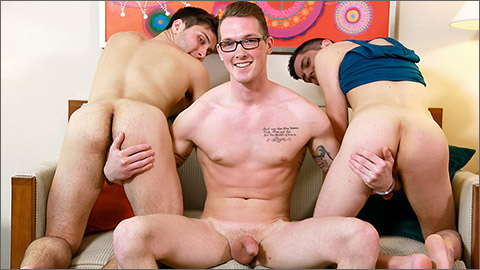 FRAT BROS ON SPRING BREAK – PART 2
FALCON STUDIOS
NEXT DOOR STUDIOS
COLLEGE DUDES
GAY ROOM
GAY ROOM / MANROYALE
CLICK HERE TO GO TO HIS GAYROOM DETAILS