American Gay Porn Star, Jason Maddox
Known Aliases: James Diesel, James Shield
Years Active: 2013 – 2016
TWITTER @jasonmaddox111
NAKEDSWORD INFO:
Position: Top
Cock Size: 7″
Ethnicity: White
Build: Muscular
Jason Maddox is an amazing young stallion, his beefy muscular body must come from years of muscle fucking… and horse training. Jason likes to smoke his cock and look into your eyes to coax you to a huge cum load.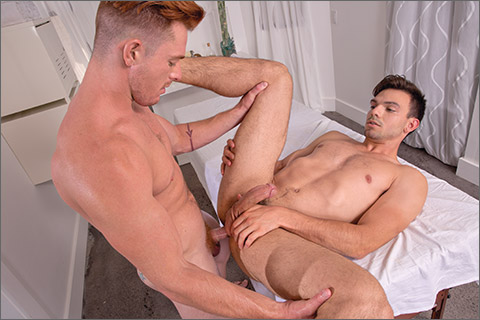 DEEP RELEASE (FVP-265): Brent Corrigan fucks Jason Maddox
Brent Corrigan slips into a luxurious soaking tub; as he relaxes, his cock swells and hardens. Jason Maddox, Brent's masseur, begins the bodywork session with firm strokes along Brent's muscled backside. The round, meaty cheeks of Brent's ass are irresistible to Jason, who's fingers reach into Brent's tight hole. With his right hand, Brent reaches out and fondles the growing bulge in Jason's pants. Loosening his belt, Jason let's his pants fall to the ground, and Brent leans in to swallow Jason's rock hard cock. Climbing up on the table, Jason plunges his face into Brent's crack, driving his tongue deep into his client's fuck hole. As he rims Brent's hole, Jason uses his hand to stroke Brent's cock. With massage oil for lube, Jason drills his meat into Brent's ass, Brent moans with pleasure as Jason's low hanging balls slap against him. Turning the tables, Jason gets on the table and opens up for Brent to fuck him in the ass. After Brent delivers a thorough pounding, they flip once more, and Brent uses his strong legs to fuck himself on Jason's stiff rod. The intense pleasure on Brent's prostate is so great, he shoots a gigantic load over Jason's torso. One huge blast goes past Jason's head, and the rest puddles on Jason's ripped abs. Standing up, Brent expertly jerks Jason's cock until Jason blows his load, dripping globs of thick, white cum everywhere.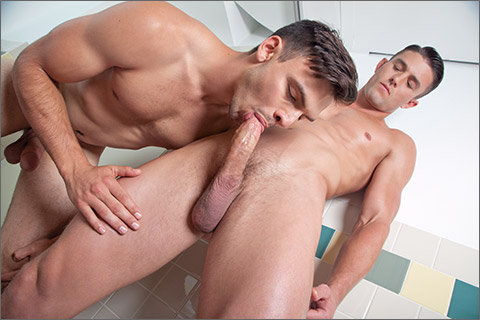 WILD WEEKEND: Ryan Rose & Jason Maddox
Roommates JJ Knight and Wesley Woods stroll through the Castro. All around them, San Francisco is gearing up for Pride. The guys are headed up to the river for a chill weekend getaway with some friends, including JJ's college roommate Ryan Rose, who's now the hottest male underwear model in the world! Over coffee, JJ tells Wesley about the one time he and Ryan got drunk and sucked each other's dicks in college. Meanwhile, as Ryan himself cruises the San Francisco Embarcadero, Jason Maddox cruises for cock on his phone. After sharing some sexy pics, Ryan and Jason meet up in a public restroom for spontaneous cock sucking. Jason uses his tongue to stimulate Ryan's sensitive mushroom head. Trading places, Ryan impales his face on Jason's meat. As Jason thrusts his hips, his big nuts bang against Ryan's chin. Switching once more, Jason deepthroats Ryan's cock with steady, intense strokes that bring Ryan to orgasm, shooting his milky load all over Jason's face. With Ryan's cum streaming down his cheeks, Jason jerks out his load onto the bathroom floor. They kiss, pull their clothes back on, and Ryan makes his way to meet up with his friends. JJ and Wesley return to their place to find JJ's cousin, Brute, waiting on their doorstep. He just arrived from London with his Austrian friend, Ken Rodeo. Ryan rolls up and the guys all trade introductions. Wesley is really excited to meet Ryan, but Ryan seems more interested in Brute and Ken. What will happen when they all get to the river?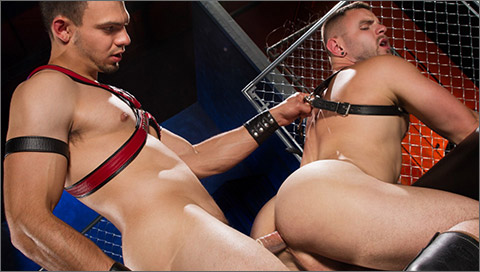 THE URGE – POUND THAT BUTT: Jason Maddox fucks Nick Sterling
Horned up Jason Maddox is on the hunt when he notices leather-stud Nick Sterling wandering aimlessly in the sex club. Nick strokes, inviting Jason over to grab a handful of his succulent ass. After being roughed up by Jason, Nick buries his scruffy face into Jason's bulge and takes a few deep sniffs before fishing his thick cock out with his talented mouth. Locking Jason's cock in handcuffs, Nick slaps Jason's rod making Jason slap him back. Nick gets on his back and gives Jason's throat an oral pounding. The heat rises as Nick bends over and Jason eats his firm, round ass in a rough and dominating manner. With the handcuffs still gripped around his throbbing cock, Jason eases his meat deep into Nick's hungry asshole. Starting off slow and steady, they quickly pick up the pace and Jason pounds Nick rough and hard holding him down by the back of his harness. Nick lays on his back and the chains on the cuffs rattle on between Jason's balls and Nick's ass as he pumps in and out of Nick's hole. Nick shoots his load all over his rock-hard abs while Jason keeps pumping. On his knees once again, Nick anxiously holds his mouth open for Jason's oozing load to be spilt down his throat. With his mouth full of cum, Nick spits some in Jason's mouth and Jason spits it right back.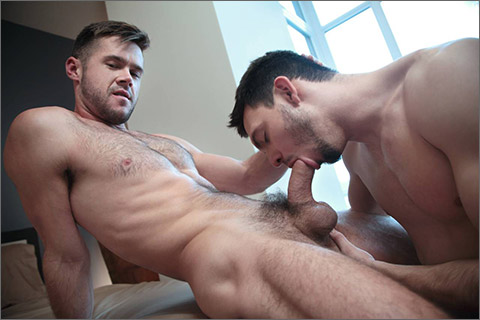 ON THE LOOKOUT
EPISODE 4 – HI-RISE HOOKUP: Jason Maddox fucks Mike De Marco
Rents aren't the only thing on the rise in San Francisco when Jason Maddox puts on a show in the window of his luxury condo for passer-by Mike de Marko. As soon as Jason buzzes him in they start making out and Mike goes down on Jason's chubby dick. Jason kicks back and feasts on Mike's monster-cock then pushes him down on the bed to get a better taste of his balls and ass. Both guys want it bad so Jason shoves his cock in Mike's ass and fucks him like a beast in every direction — even backwards! Mike shoots first followed by Jason who drops a thick load all over Mike's hairy chest.
FALCON STUDIOS
NEXT DOOR STUDIOS
MEN.COM
GAY ROOM
GAY ROOM / MAN ROYALE
CLICK HERE TO GO TO HIS NAKEDSWORD DETAILS
CLICK HERE TO GO TO HIS MEN.COM BIO PAGE