Handsome Young British Gay Porn Star, Brute Club
Known Aliases / aka: Brute (Falcon Studios)
Years Active: 2015 – 2016
BLAKE MASON INFO:
Age: 24
Body Type: Toned
Dick Size: 8″
Hair: Brown
Orientation: Gay
Preference: Top
Pubic: Trimmed
MODEL INFORMATION: Brute is stunning, and we mean really stunning! This handsome and incredibly fit guy works as a personal trainer, but he's just starting out in gay porn, he's most definitely going to be welcomed with open arms (and butt holes!) He's a dedicated top, his arse is virgin territory and he wants it to stay that way. We're okay with that, because he has a big uncut piece of meat to use on other bottoms!

BRUTE UP CLOSE
A candid interview and a hot photoshoot, both taped right after his Hustlaball win for Best Newcomer, tell much more about this 24 year old top from the UK than his porn name would suggest. Yes, he's self-confident and determined. Yes, his 8 inch "club" is mighty. But his b-side is as impressive and you'll soon discover something far less "menacing" about this personal trainer's personality. Introverted, almost shy. With a soft spot for Spanish boys…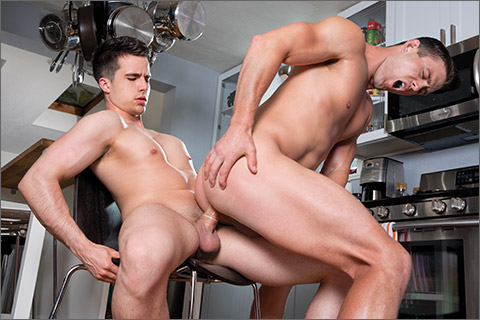 WILD WEEKEND: Brute Club fucks Ryan Rose
As Ryan Rose makes coffee in the kitchen, English hottie Brute makes his move for Ryan's morning wood. They start to kiss as Brute grasps Ryan's stiff cock. Pulling off Ryan's shorts, Brute takes a mouthful of Ryan's throbbing meat. Ryan's perfect body is on full display, and his washboard abs ripple. Stripping off Brute's clothes, Ryan uncovers the Euro stud's thick, uncut cock, and alternates between impressive deep throating and tonguing the inside of the foreskin. Ryan leans over a table and spreads his cheeks for Brute to tongue Ryan's tight hole. With Ryan's ass begging to get fucked, Brute thrusts his cock deep in Ryan, doggy style. Moving to a chair, Brute sits down and invites Ryan to ride his cock. With sweat starting to glisten on their skin, Ryan grinds his big cock into Brute's chest as he fucks himself on Brute's girthy meat. Turning around, Ryan jerks his cock while riding Brute's, spewing a giant load on the floor. Ryan gets on all fours and sticks his ass up in the air to be Brute's target, and Brute jerks out a massive load that splatters Ryan's ass with wet, white cum.
[jwplayer mediaid="23706″]
THE BLOGGER
Everyone writes his own blog these days. So does 25 year old Brute, who ponders the many colors of gay sex. "Preliminaries. Kissing. Touching… If you're into romance", he writes. "But if you like it rough and nasty… That's my thing really". Spanish jock Sergyo brilliantly demonstrates one… and the other.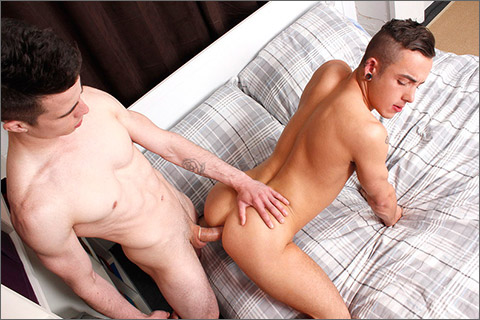 HARD FUCK FANTASY: BRUTE CLUB FUCKS JACK GREEN
Stroking his handsome young dick, cute dark haired twink Jack Green lays back on his bed letting us see his tattooed and toned body, his smooth skin slightly tanned, as he plays with his now rock solid dick, imagining his perfect fuck buddy and what he'd do with him! Appearing instantly, the damn sexy Brute Club arrives right on cue, his muscular frame and cute boyish face making way for his giant twink dick, this is some porn star in the making! Brute gets immediately into action with Jack, stroking his skin then coming by to offer his giant dick to his waiting bottom boy who willingly take sit down his throat – who wouldn't?! After some intense deep ass licking, Brute is ready of truly offer his services to Jack and slams that long thick dick into him, moving the full length back and forth inside that smooth beautiful butthole, leaving Jack gasping for breath as each thrust fucks the breath out of him, all the while jerking himself off until he can't hold back and empties his sack over himself, swiftly followed by the gallons of spunk squirting from Brute, the smile on Jack's face says it all!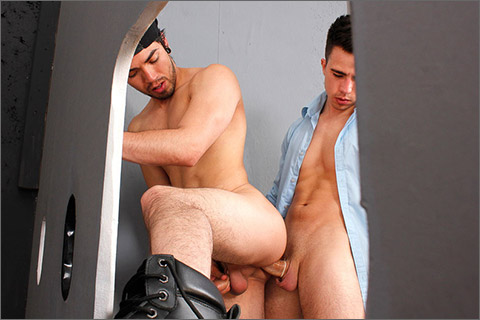 HOLES – SCENE 4: BRUTE CLUB FUCKS ALEXIS BELFORT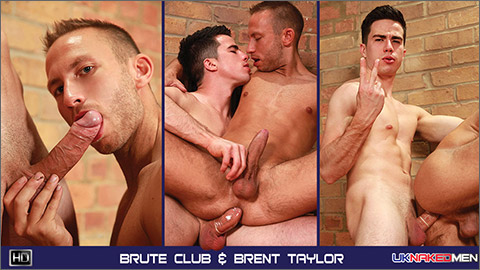 BRUTE CLUB FUCKS BRENT TAYLOR
Down by the trash dumpsters – where else – Brute Club is taking out the rubbish when he runs into Brent Taylor – "you live in this block" Brent asks ….. berdoing ! The guys are stripping off back at Brent's flat, and when greedy-bottom Brent ( our sexiest and most bi, bisexual) pulls down Brute's slightly too tight pants, the pushy bottom's eyes are out on stalks. TEN uncut inches all to himself, wowzer ! Brent strips him down and sucks on that juicy, veiny, two-hander of uncircumcised cock like there's no tomorrow, he tries valiantly to deep throat it, but its just too big – luckily this tanned, handsome hunk has got one hole that can accommodate it with only a little grunting and straining… its in. The two handsome boys are fucking like pistons with Brent pushing back for every delicious inch as Brute pushes him forward and says "right up to the nuts you fucking slut". Doggy is deep, but our top wants to see Brent grimace as the uncut meat slides in so Brent rolls over and lifts his legs before, Brute slides backwards and with Brent on top riding his monster meat to a shuddering, splatter cummy climax – its not over. We LUV spunky Brute's handsome face, ripped body and magnificent dick but most of all we luv LUV luv it when he cums in a handsome face….and so does he!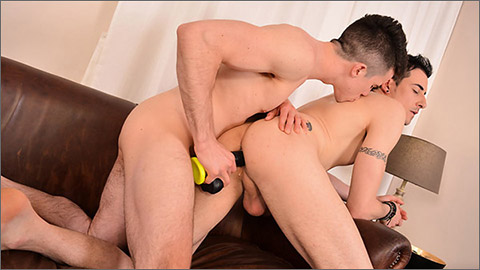 TIMMY TREASURE & BRUTE CLUB
After enjoying Brute in his solo we knew Timmy would be a great choice to bottom for the fit and hung top. Timmy was so down for that too, starting off with some foot play, but then getting on that big uncut dick the moment he could. His arse is so hungry, Brute stretches him open with a big toy before filling him up with his dick and giving him a ride on that thing. With Timmy wanking his cum out while bouncing on that boner all that's left is for the handsome top to spew his own wad, and what an impressive eruption he delivers too! We knew this lad would be a great top, able to take control of a guys hole, and he proved us right.
FALCON STUDIOS
LUCAS KAZAN
BLAKE MASON
UK NAKED MEN
BULLDOG PIT
HARD BRIT LADS
CLICK HERE TO GO TO HIS BLAKE MASON DETAILS