Muscular Corbin Fisher Amateur College Hunk, Ashton
Years Active: 2012 – 2016
Known Aliases: Marshall White
CORBIN FISHER INFO:
Age (2012): 22
Waist: 32
Eyes: Brown
Height: 6′ 2″
Weight: 198 lbs
Hair: Brown
Build: Muscular
Cock: 7.5″ cut
Shoe: 11.5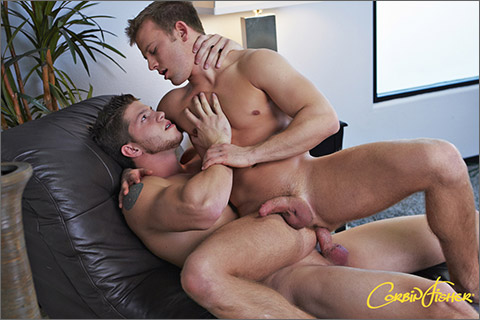 ASHTON FUCKS CAMERON
Ashton is a big and buff nightclub bouncer and he knows how to handle trouble. Since Cameron is nothing but trouble (of the best kind!) it's a sure bet Ashton will handle him right. Ashton kisses and blows Cameron, then eats out Cameron's ass before pounding him.
   Once Ashton starts fucking, Cameron is in for the ride of his life. The bigger bodybuilder uses all of his muscle to slam in and out of Cameron's perfect bubble butt. Ashton fucks an explosive load out of Cameron, then blasts his load straight into Cameron's mouth.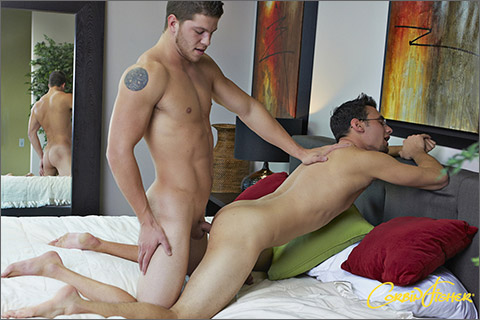 HUNTER & ASHTON'S MORNING FUCK
Imagine waking up naked next to Ashton's muscular body. Or the sun rising with Hunter's handsome face and devilish eyes looking at you. Who should fuck? Who should get fucked?
   When it's Hunter and Ashton, the answer is- both! These two wake up from a great sleep and get right into sucking and fucking. Hunter worships Ashton's dick with his mouth and then Ashton pounds Hunter's ass with his thick cock.
   Ashton wants to get pounded as well, so Hunter thrusts his dick inside Ashton, fucking him hard from behind. Both guys lose themselves in the moment and enjoy every thrust and every touch. Hunter fucks a thick load out of Ashton then feeds Ashton his huge load, who swallows every drop.
   The guys settle back in for more sleep, and chances are they'll wake up horny again later!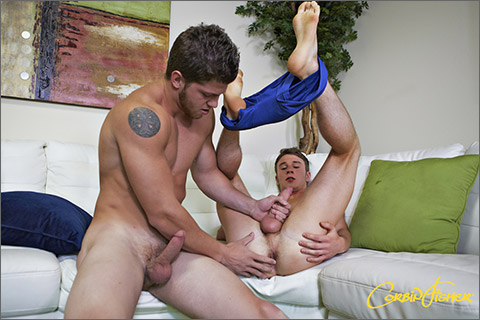 ASHTON RAILS BRAYDEN
We recently interviewed Brayden on Corbin's Campus and he confessed he couldn't help but find the idea of getting teamed up with a guy that's considerably bigger than him in a scene intriguing. If he was already going to get fucked, there was something to the thought of getting thrown around a bit by a bigger guy, he figured.
   Well, Brayden – here you go! Ashton is definitely one of our bigger, buffer studs and just oozes masculinity from everywhere. There's more to him than just that jock look and build, though – he can be intense and passionate as much as anyone else!
   This pairing is a perfect one – a lean, younger, smooth Brayden getting fucked by a tall, buff and bigger Ashton. Listening to both of them and seeing them fuck and, especially, hearing everything that comes out of Brayden's mouth while he's getting railed by Ashton's big dick, and it's safe to say both of these guys were more than happy we put them together.