Corbin Fisher Amateur College Man, Hunter
Years Active: 2012 – 2016
CORBIN FISHER INFO:
Age: 22
Waist: 32
Eyes: Hazel
Height: 5′ 10″
Weight: 158 lbs
Hair: Brown
Build: Swimmer
Cock: 6.8″ cut
Shoe: 11.5
No … you didn't blink and miss something! Lean, mean fucking machine Hunter was so hot and so rarin' to go, we didn't dare slow him down for a solo. Plus, with Bradley and a crowd of other hot freshmen we have coming your way – I figured I better get some of these guys right into action!
   I can tell you, Hunter is a military brat who loves music and plays drums guitar AND sings. This young stud also told me he's always tried to "live up to the clichés that come with being Italian … being a passionate lover, very romantic and a true ladies' man."
   Hunter's off to a great start with Tiffany! We've had some stellar guy/girl action on here recently – and Tiffany's chemistry with Hunter was a joy to watch. Hunter went right to work on Tiffany, eating her out and fingering her.
   Tiffany goes down on Hunter's big cock. He loves it and pushes her head down even farther. Once they start fucking, nothing can stop this guy – not even cumming! When Tiffany rides him, he pulls out to blow his load.
   Hunter wasn't satisfied yet. He jumped right back into action, plowing Tiffany from behind. Hunter pounds away, nearly fucking her off of the bed. He keeps going until he shoots another thick load, this time onto Tiffany's ass.
   Whew! I definitely hope I can get Hunter to move into some guy/guy action. He's extremely passionate and there's about ten guys right off the bat I'd love to pair him up with.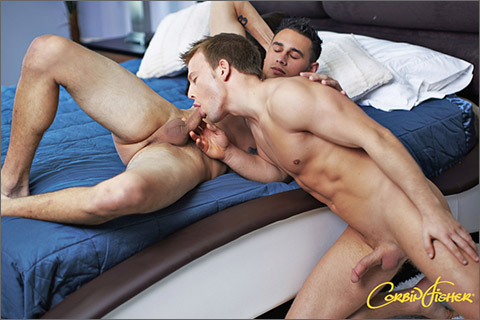 HUNTER & CAMERON SWAP LOADS
If you like fun- and dirty- and dirty fun- this is the video for you!
   Cameron and Hunter are both kind of crazy- and you see it full on in this video. As they get ready for their scene, they are joking around and having a blast with each other and Pete. Once the joking around stops though, it's time to satisfy Cameron's cum munchies!
   Hunter's an intensely passionate person and that passion ramps up Cameron's own sexual enthusiasm full blast. From sucking and stroking each other's rock-hard dicks to Cameron riding Hunter's thick dick, they never stop talking or playing dirty.
   Hunter takes control of Cameron, pushing him off him and onto the bed, slamming his cock back into Cameron's delicious ass. Hunter cums inside Cameron then creampies him until Cameron busts his load. Hunter sucks up Cameron's load then passes it to Cameron as they kiss! Cumming again, Hunter feeds Cameron, who turns right around and kisses Hunter with Hunter's load still in his mouth.
   I like the dirty and fun side of these two!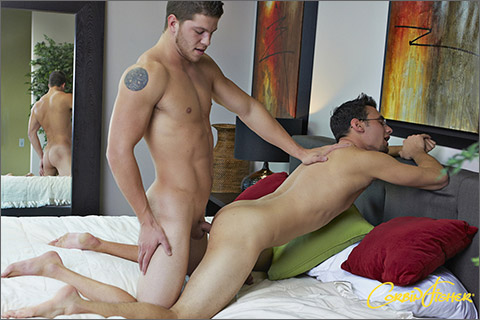 HUNTER & ASHTON'S MORNING FUCK
Imagine waking up naked next to Ashton's muscular body. Or the sun rising with Hunter's handsome face and devilish eyes looking at you. Who should fuck? Who should get fucked?
   When it's Hunter and Ashton, the answer is- both! These two wake up from a great sleep and get right into sucking and fucking. Hunter worships Ashton's dick with his mouth and then Ashton pounds Hunter's ass with his thick cock.
   Ashton wants to get pounded as well, so Hunter thrusts his dick inside Ashton, fucking him hard from behind. Both guys lose themselves in the moment and enjoy every thrust and every touch. Hunter fucks a thick load out of Ashton then feeds Ashton his huge load, who swallows every drop.
   The guys settle back in for more sleep, and chances are they'll wake up horny again later!

CAIN FUCKS HUNTER
Cain's back!
   Our favorite bodybuilder has been super-busy with work (yes – he actually has a real job and does more than fuck on camera – damn it!) and hasn't had the chance to come see us lately. Cain told me he's missed being here and while he was only able to visit for a short period of time, he managed to make the most of it.
   He clicked immediately with Hunter, who's become a rapidly rising star here at CF. Both of these studs were totally into each other – Hunter loved Cain's buff body and Cain loved Hunter's lean physique.
   Hunter has never bottomed either, so he was eager to try that. He wasn't afraid to go big and start out by taking Cain's huge cock!
   The guys make out. Hunter surprised me by how enthusiastically he went down on Cain. He kept choking on that big dick going all the way down the back of his throat, but Hunter kept going back for more! I love that!
   Cain may have been gone for a while, but he had no problems diving right back into action, blowing Hunter and rubbing his cock up against Hunter's. The guys 69, Hunter kept amazing me at being able to take Cain's dick so well. Cain pulls Hunter towards him ans stuffs his cock into Hunter's virgin ass.
   Hunter moans loudly – it's a lot of dick to take -but he loves it. He yelps as Cain pounds his ass. It may sound like Cain was a little tough on Hunter, but trust me, Hunter loved it. At one point, he yells out, "Oh yeah! Fuck me so good!" and he meant it. He was in ecstasy.
   Hunter rode Cain's cock and grabbed Cain's massive pecs – I can't remember when I've seen a new guy take such a big dicking so ferociously!
   Cain fucks a huge load out of Hunter. Cum sprays out as Hunter yells out for Cain to fuck him. Cain follows up by blasting his load into Hunter's mouth. Hunter gulps it down.
   Welcome back, Cain!