Handsome Hung Corbin Fisher Deans List College Hunk, Cain
Years Active: 2010 – 2016
CORBIN FISHER INFO:
Age (2010): 20
Waist: 30
Eyes: Brown
Height: 5′ 8″
Weight: 166 lbs
Hair: Brown
Build: Muscular
Cock: 7.5″
Shoe: 9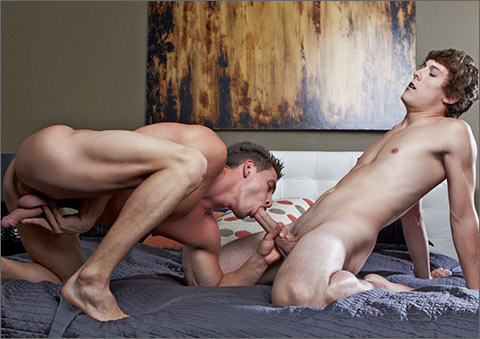 CHANDLER & CAIN'S FLIP FUCK
We could have called this one simply "Big Dick Flip Fuck!" Muscle god Cain boasts a mighty huge cock … and lean Chandler has one of the most impressive dicks I've ever seen. And the great thing is, they both know how to use them!
   It's hard to believe they haven't been paired up before. But now, they go at it fast and furious! Chandler worships Cain's uncut dick with his throat, and then he feeds Cain his huge cock. Cain grabs Chandler by the hair and pounds him mercilessly – then Cain sits down on Chandler's cock – and takes every inch!
   Cain blasts his load and then Chandler explodes with cum onto Cain's ass and creampies him!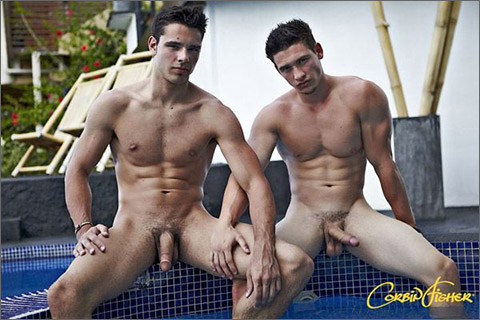 CAIN & TREY COOL OFF
To celebrate releasing our Pura Vida collection on DVD, here's the extra BONUS scene from Pura Vida! Hope you enjoy this week's extra update!
   One of our best trips ever was to Costa Rica, which we chronicled in the Pura Vida collection (available on CF Select and now on DVD on the Corbin Fisher Store!)
   It was an amazing time for everyone involved – 11 of our hottest guys on a two-week vacation in one of the most beautiful spots on Earth – oh, yeah … and there was a lot of sex, too! Some of the most awesome pairings we'd done to date. we'd done to date.
   One of them hasn't been seen till now – but here it is!
   Cain and Trey have been walking around Costa Rica and working up a sweat. The cool water of the hotel pool is tempting – but their hard bodies are even more tempting! The pool can wait – their cocks can't!
   Enjoy a taste of the sensual heat of Costa Rica!

CAIN FUCKS HUNTER
Cain's back!
   Our favorite bodybuilder has been super-busy with work (yes – he actually has a real job and does more than fuck on camera – damn it!) and hasn't had the chance to come see us lately. Cain told me he's missed being here and while he was only able to visit for a short period of time, he managed to make the most of it.
   He clicked immediately with Hunter, who's become a rapidly rising star here at CF. Both of these studs were totally into each other – Hunter loved Cain's buff body and Cain loved Hunter's lean physique.
   Hunter has never bottomed either, so he was eager to try that. He wasn't afraid to go big and start out by taking Cain's huge cock!
   The guys make out. Hunter surprised me by how enthusiastically he went down on Cain. He kept choking on that big dick going all the way down the back of his throat, but Hunter kept going back for more! I love that!
   Cain may have been gone for a while, but he had no problems diving right back into action, blowing Hunter and rubbing his cock up against Hunter's. The guys 69, Hunter kept amazing me at being able to take Cain's dick so well. Cain pulls Hunter towards him ans stuffs his cock into Hunter's virgin ass.
   Hunter moans loudly – it's a lot of dick to take -but he loves it. He yelps as Cain pounds his ass. It may sound like Cain was a little tough on Hunter, but trust me, Hunter loved it. At one point, he yells out, "Oh yeah! Fuck me so good!" and he meant it. He was in ecstasy.
   Hunter rode Cain's cock and grabbed Cain's massive pecs – I can't remember when I've seen a new guy take such a big dicking so ferociously!
   Cain fucks a huge load out of Hunter. Cum sprays out as Hunter yells out for Cain to fuck him. Cain follows up by blasting his load into Hunter's mouth. Hunter gulps it down.
   Welcome back, Cain!