ChaosMen Amateur Guy, Amador / Jacob Lucha
Known Aliases: Jacob, Jacob Jake
Years Active: 2012 – 2015
BRIAN OCKERT / CHAOS MEN INFO:
Start Age: 21
Debuted: October 27, 2015
Height: 5'9″
Weight: 160 lbs
Cock: 8.5″ Uncut
Amador is another hot Cuban dude!
   He came to the U.S. when he was about 11 and still has a very thick (and sexy) Cuban accent.
   That's not the only thing thick on him. He has an 8.5 to 9 inch uncut cock, that takes him no time in getting hard. Ok so maybe he is longer than thicker, but would you say "No" to his amazing meat?
   He has a couple of black belts in jiu-jitsu and other martial arts. Not only does he hit the gym, but he hits the fighting ring as well. He has a few cuts on his knuckles from a recent fight. He also got in a motorcycle accident, damaging the other hand, and we had to wait a month for him to recover. This also allowed for us to get some nice bush on him. Yep he was shaved bald when I first got his photos.
   With his fighting prowess, he may sound like wild child, But Amador is actually VERY quiet. He readily admits he doesn?t is not much of a talker. He always looks very serious, and that goes with his personality. Though, we did get some nice photos of him smiling.
   Amador has a girlfriend who knows what he is doing, though he himself is not so sure he can get it on with a guy.
   We sure will try next week, but for now, this is a rock solid solo, and since he is so turned on, we get to see his hard boomerang flopping and waving around for us!

RAW: AMADOR & MALIK
I had two Cuban guys come to the studio with a about a week or two. I knew I wanted to put them together. Malik loves to bottom, and with Amador's big cock, he assured me he could take him. Two hung uncut Latin guys!
   Malik knew he could handle Amador, but I was not so sure how Amador would do. Even though he has stripped for guys in clubs, he seems quiet and reserved. You can tell this is his first time being filmed. He has a 'down low' vibe going.
   Still I asked that maybe he jump into doing porn by sucking some dick right away. He didn't seem to mind at all, and you can tell it was his first time tackling another's guy cock. Amador kept Malik reasonably hard, and Malik seemed to enjoy the fact he was getting sucked by such a straight acting guy.
   Malik returns the favor, and Amador is more in his element. Getting his dick sucked! Malik is having a great time servicing him, and his passive nature really comes to the foreground. He has no problems keeping Amador hard. I think he was hoping Amador would be more verbal. We encouraged him to talk dirty, but he seemed a little shy and silly about it.
   Malik gets on his back so he can fuck his face. It is so hot seeing Amador's curved cock slide down his throat. Amador strokes his cock, trying to keep his buddy hard. Malik works his way to his ass, rimming his hairy hole.
   It was time to fuck and we let Amador fuck Malik doggy style so he would easily penetrate him. Amador's seems uncertain about how much motion he can use, so Malik just does all the work, grinding his ass back and forth on his uncut cock.
   Since Malik was doing most of the work, and Amador was staying hard, we had Malik ride him next. Using his down curve, Malik sat on him reverse style. Perfect! Malik grinds up and down, servicing his cock with his ass.
   Amador fucks him on his back next, and that gets Malik's cock rock solid. At first I thought they were evenly matched in the cock department, but I do believe Malik's cock is quite a bit bigger than Amador's already significant cock!
   Amador gets his speed going, and fucks the cum out of Malik. It is a huge load that flies everywhere!
   Amador then breeds his hole, shooting a huge wad of cum on Malik's spent hole. He drives his cock in, and you see it spasm as he continues to unload inside him.
   He pulls his cock out and makes Malik clean his cum soaked cock! It slides perfectly down his throat!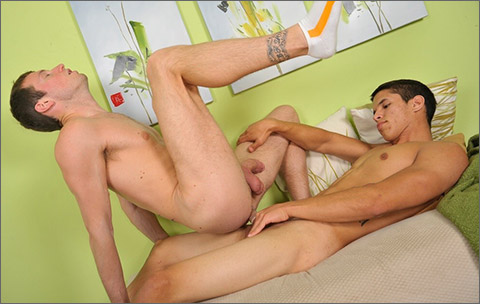 THE ROSETTA BONE
This week we have a blast from the past as we welcome back Kyle Quinn. It's been a while since we've see Kyle who is now 27, originally from Washington D.C. and is keeping busy helping out with the family business. Making his debut this week is a hot Hispano from the Pearl of the Caribbean, Cuba that goes by the name of Jacob Lucha. Jacob is 18 and obviously packin' which is why he's here. We asked these studs to tell us of all the places they've been which their favorite city would be. Exotic Fiji is Kyle's answer while Jacob, who may not necessarily be a 'friend of Dorothy', knows there's no place like home. Miami is the only place this hung, uncut hottie wants to be. Both of these studs started exploring their sexuality in middle school; and while both broke the ice with girls their age only one stuck to that dietary menu. 'Some' men can not live on fish alone. (evil grin) So to wrap things up we asked these studs to tell us what the biggest dick they'd ever seen was. Kyle saw one that was 10′ long. He would've taken it too if only his hole was more accommodating. For Jacob, it would have to be his own dick. He's not being cocky, it's just, being straight; he doesn't make checking out other guys' junk a habit.
CHAOS MEN
PRIDE STUDIOS
STRAIGHT RENT BOYS
SD BOY
CLICK HERE TO GO TO HIS CHAOSMEN BIO PAGE