ChaosMen Amateur Guy, Augustine
Years Active: 2015
BRIAN OCKERT / CHAOS MEN INFO:
Start Age: 21
Debuted: September 28, 2015
Height: 5'5″
Weight: 120 lbs
Cock: 8″ Cut
Augustine sure has a nice long cock for a shorter guy! At about 5'5″ he has an 8 inch cock. He says he gets up to nine, but didn't want to over sell it. Regardless, on his small frame it looks 10 inches! The proverbial kick stand!
   He has a little bit of a country accent, which I think fits with his bushy goatee. We waited for him to grow his pubes out, and so glad we did, because I think guys with facial or chest hair intact, but no pubes, looks even more out of place.
   He likes red-heads, and girl's asses. He says he has wedged his cock into a few girl's butts, but many struggle to take it.
   He has a calm sexy vibe about him, and loves to stroke his hard cock for us.
   We definitely need to see that cock slide down a guy's throat!
   Stay tuned!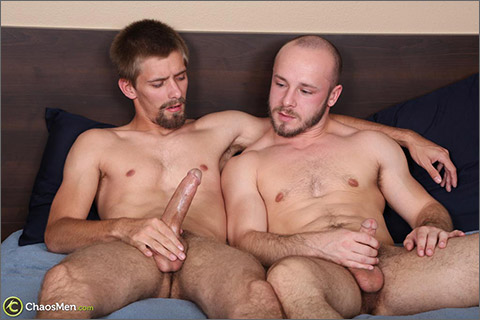 SERVICED: AUGUSTINE & BJORN
Augustine said he would not be shy about playing with another guy. Phew!
   He said that only once when he was really drunk did he mess around with a guy. Sounds like they sucked and fucked each other, so in his mind, he would be fine.
   He actually takes the lead, and works at getting Bjorn's cock out so he can stroke it. His cock does not spring to life, so Bjorn slides down to help his buddy out. It grows to a thick tree in no time!
   Once it was up, Bjorn was all about worshiping his long cock! And clearly Augustine loved having someone slurp up his meat. He has a natural ability to dirty talk, and it is great to hear him encourage Bjorn to slobber on his knob.
   Augustine gets up on his knees and then you really see how long his cock is! Bjorn does his best to take his cock at that angle, but his eyes keep watering.
   He flips Augustine onto his back so he can fuck his throat. That gives Bjorn a chance to play with his own cock. Once it is up, it too tempting for Augustine to not give cock sucking a try. Yeah! He tried sucking dick while not drunk!
   Augustine also loved having his ass rimmed. His hair is very fuzzy, so a little hard to see, but Bjorn did his best to bush whack. Augustine would writhe around as his ass gets eaten, then shove his cock down Bjorn's throat.
   Augustine pulls out and jerks his cock until he cums. The cum drops straight down Bjorn's gullet! He shoves his cock in, forcing the cum all the way down his throat.
   Bjorn starts jerking his cock in order to cum. Augustine is a patient and helpful buddy. He dirty talks to him and lets him continue to suck his cock. He knew Bjorn got off eating his hole, so he even goes to sit on his face to help his buddy over the top!
   Bjorn load shoots out like a laser, coating his body, and even splatting on Augustine's thigh!
   If you love long cocks and cum eating, you will love this video!
CLICK HERE TO GO TO HIS CHAOSMEN BIO PAGE