American Bad Boy Gay Porn Star, Christian Wilde
Known Aliases: Chris Stevens (Bait Buddies)
Years Active: 2008 – 2017
AEBN INFO:
Gender:Male
Date of Birth:1/1/89
Height: 6 ft 3 in (190 cm)
Weight: 180 lbs (81 kg)
Hair: Brown
Eyes: Blue
Ethnicity: White
That face says "guy next door" while the tattoos add, "who might have a little bad-boy streak." Christian Wilde's athletic physique and eight-inch, cut cock make him totally irresistible to legions of porn fans who have been following his every move since he hit the XXX scene in 2007 at age 18. As a skinny twink he was active in the amateur circuit, doing gay and bisexual scenes for Next Door Male studios and their affiliated sites.
   Later, Christian buffed up and became more of a "hunk-next-door." The big studios caught wind of this cute top and he started working for companies like Mustang and Raging Stallion Studios, while sometimes mixing it up with BDSM shoots. Be sure to check him out in The Wilde Bunch (Raging Stallion/Twinks.com), where Christian is paired with the other "Wild(e) boys," Austin Wilde and Kurt Wild.
   Christian became even more popular than ever in late 2012, when he appeared in the Wilde Road vignette series for Naked Sword.
PERFECT GUYZ STATS / INFO (2008):
Name: Christian Wilde
Age: 20
Zodiac: Aquarius
Eye Color: Blue
Hair Color: Brown
Height: 6′ 3″
Weight: 180lb
Waist: 32″
Chest: 42″
Shoe Size: 13
Cock: 8″ cut
Physique: Athletic
Introducing Christian Wilde for PerfectGuyz. This 6-foot, handsome blue-eyed, tanned stud is a genuine heartthrob. Christian is the classic boy-next-door with a well built athletic body, just the right amount of body hair, and a big cock. There is something very erotic about a gorgeous guy in the showers at the gym, especially a gang shower – naked with hot sudsy water running down his abs, through the soft tuft of pubic hair soaking his cock and balls and over the curves of his ass – fully exposed for public viewing. Wow – does it get any better than this? Yes, it does – because what is so alluring about Christian is the delicate balance of boyish innocence set against the intrigue of his prominent tattoos. Indeed, the Ink is evidence that there is a sly, bad boy behind the sweet smile and charming swagger. What can definitely be said about PerfectGuyz Christian is that this guy is a work of art, a true masterpiece of young, red hot masculinity. Next time you're in the shower at the gym, as you enjoy the soft caress of water over your naked body…..take a moment and remember Christian! Enjoy Christian Wilde in this special PerfectGuyz presentation.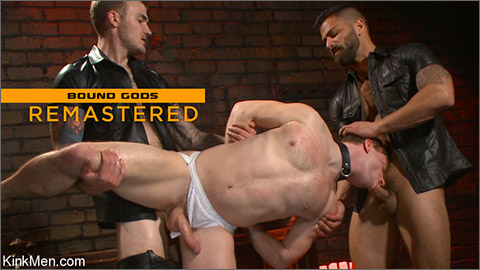 REMASTERED 2022: WELCOME TO THE HOUSE MR RAMZI
Head to toe in his tight leather uniform, Christian Wilde admires a new deerskin crop. Doug Acre, house slave #153 stands at attention to Christian's left, stuffed in a cramped cell. They await the arrival of Adam Ramzi, who will undergo dom training today. With Adam's arrival, Christian presents #153 to Adam, outlining the essential concepts of BDSM as he smacks the slave with his hands and crop. Christian has the boy get to boot blacking as he explains to Adam the importance of keeping the slaves tasked with chores. #153 sets down the polishing rag and gives Mr Wilde a proper spit shine with his tongue. Mr Ramzi learns first hand how a slave properly services his master's cock as #153 begs for more. While sucking Mr. Ramzi, Christian stands the slave up and fucks him from behind, as he struggles to balance on one leg. Christian then brings Doug back to his knees and blows a hot load all over his face. Adam then tries his hand at flogging, delivering a vicious treatment in tandem with Christian as #153 endures every blow. With his slave all to himself, Mr Ramzi binds & blindfolds his boy to a fuck platform, legs spread upward, hole at full presentation. #153 feels every inch of his master's uncut cock ram inside him before Mr Ramzi blows his load all over the bound stud's fat cock. On his knees, #153 is ordered to cover the new house dom's boots and lick it up clean.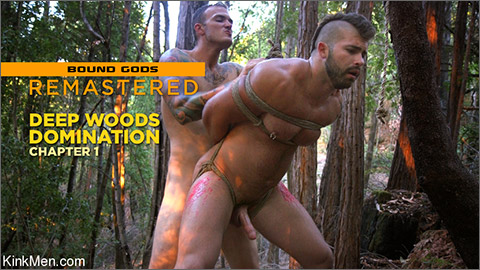 REMASTERED 2022: DEEP WOODS DOMINATION: CHAPTER 1
In this first installment of a 3-part series, "Deep Woods Domination", the always dominating Christian Wilde and the thick, muscled Jonah Fontana are perverts on the run. They're driving from town to town, dominating one man after another, having their way and moving on. It's been a hot, exciting time, but Jonah is starting to have second thoughts.
   After helping Christian subdue their latest conquest, he hesitates, then admits he can't do it anymore. But Christian is adamant that they continue. He takes Jonah down and makes his former partner his bitch. He drives Jonah out to the woods, where no one can hear him scream, and ties him to a fallen tree. Jonah will submit or else, and Christian spares no punishment. He flogs his chest and tight ass, demanding his submission. He pushes his face down to his rock hard cock and makes Jonah suck it good and sloppy. Christian is totally in control as Jonah takes what he's given and endures the punishment for his disobedience.
   He later ties Jonah to a tall tree, stark naked on a mountain path. Lit candles are tied into the bondage and drip hot wax on Jonah's naked, muscled body. His screams echo into the woods, but no one hears him. No one comes to his aid. He's Christian's toy to be punished and fucked at will. And fuck him he does. After sucking Jonah's cock and smacking the hot wax to intensify the burn, Christian gets behind Jonah and pushes his big thick cock into his ass. Jonah's in the perfect position to get slammed, partially bent over with his ass sticking out. Christian delights in ramming his hard cock deep inside, demanding that Jonah submit completely to him. When it's done, and Christian shoots his hot load, Jonah takes his cock back into his mouth to clean him off. It's then Jonah's turn to get off and he cums in thick hot ropes all over the forest path.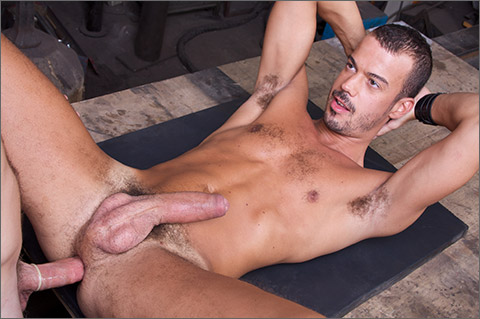 HEISSE KISTEN (LUBE JOB): Christian Wilde fucks Ivan Alonso
No sooner does Ivan think he's alone in the shop than he whips out his cock. Hard-working mechanics need to let off steam. Just as he's jerking it hard, he notices a handsome young blond man watching him through the window. But he doesn't just want to watch. He comes in and fucks the spunk out of Ivan's balls.

LAID OFF: Dean Tucker & Christian Wilde fuck Ari Silvio
Dean Tucker and Ari Silvio are stunned after getting their pink slips. So when Christian Wilde comes in as security hired to watch they don"t steal anything, Dean blows his top. Driven by rage and frustration, Dean decides he"ll give the guard something to watch. He forces Ari down on his knees and makes him suck his cock. Reluctant at first, Ari soon gets into it, swallowing Dean"s dick all the way down to its base. Christian gets so turned on he pulls his meat out and starts to masturbate. Dean is a dynamo as he guzzles down his buddy"s dick and rims his ass. Then he goes for Christian"s pole, working both men to a frenzy. With his dick stuffed down Ari"s gullet, Dean invites Christian to fuck his coworker"s hole. Ari squeals with delight getting plugged at both ends. Dean and Christian switch places still ramming Ari"s ass and mouth. Then Christian fucks Dean"s hole as Ari eggs them on. Ari and Dean blow their wads and Christian follows, splashing them with his cum.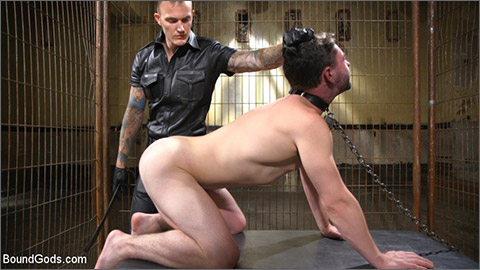 MR. WILDE SHOWS COCKY EXECUTIVE WHO'S THE BOSS
Jackson Fillmore impatiently sits in a cage, wondering why the dom he hired, Christian Wilde, hasn't started yet. Mr. Wilde finally gets up to silence the ungrateful bitch, barking at him to remove his clothes. He inspects every inch of Jackson, reducing him to only pieces of flesh. When Jackson thinks he can order Mr. Wilde around, Mr. Wilde responds with his hard leather paddle all over Jackson's feet and ass. Jackson learns to follow orders and show gratitude as Mr. Wilde turns his body lobster-red with a belt. After choking all over Mr. Wilde's massive dick, Jackson has whatever remaining noncompliance flogged out of him. Jackson accepts his nothingness, swinging over the ground in ropes while Mr. Wilde continues to take his time. He finally approaches Jackson and fucks his ass relentlessly before coating his face in hot cum. He unties Jackson and commands him to crawl to his throne over the sharp iron bars of the cage and lay his body at his master's feet. Jackson complies with Christian's order to cum, finally grateful for his master's treatment. As Jackson gasps in relief from his orgasm, Mr. Wilde stomps on his tender cock.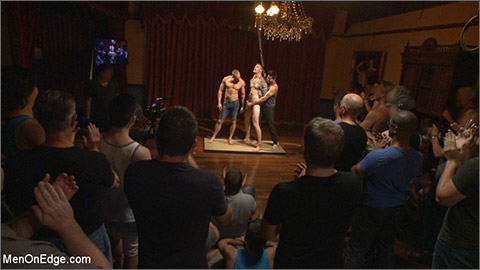 EDGED IN FRONT OF A LIVE AUDIENCE CHRISTIAN WILDE BLOWS A MASSIVE LOAD
With Christian Wilde as a model sub, Van Darkholme shares his expertise in bondage and edging in front of a live audience. He walks through practical rope work for chairs and beds, binding Christian and with the help of Jessie Colter, working a throbbing erection from the horny stud. Christian reveals to the crowd that he hasn't cum in three days as he moans and squirms in his ropes with each edge. Van then moves to a live Kinbaku demonstration, sensually binding Christian in a suspension. With Jessie teasing Christian's cock along the way, Van guides Christian through different positions and suspensions. After an aerial edge with Van hanging from Christian's swinging body, Van finally decides to allow Christian to cum. With three days of cum built up, Christian busts a huge load to the approval of the crowd.
VIDEO ON-DEMAND: Christian Wilde @ AEBN SMUTJUNKIES THEATER
NOW STREAMING: Christian Wilde @ NAKEDSWORD
Hot or Not? Let us know.
[Total:

840

Average:

4.9

]