Sexy French Gay Porn Star, Nathan Hope
Years Active: 2015
TWITTER @NathanHopeXXX
French XXX Porn Model / Dancer / Stripper – based in Paris
UK NAKED MEN INFO:
Slender, sexy, hot 'n' horny, we couldn't wait to get our grubby hands on this French hunk. Nathan loves showing off, just the thought of those hungry eyes wandering over his smooth bendy, taut toned stomach and big, uncut dick …. makes him hard. He shows off everything, from his dark foreskin to his tight hole and then he rolls right over to shoot a creamy, thick load down his rock hard belly ( Mmmm lick it off boys!)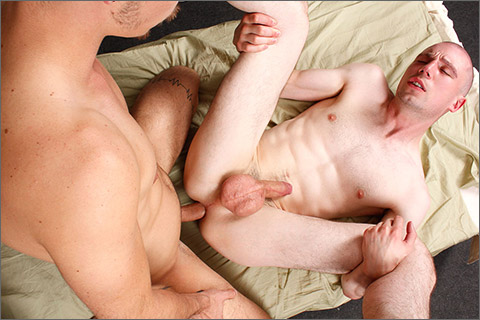 DISTRACTION TECHNIQUE: NATHAN HOPE FUCKS JASON DOMINO
Making the most of their down time, Skin head Jason Domino and French beauty Nathan Hope use their time playing poker, and Nathan has one very specific distraction technique to use on his opponent! Whipping out his semi-hard dick from beneath his boxers, the trick works! Jason drops his cards, giving in and taking up the opportunity for some much more hardcore action in the empty barracks. Making out with the handsome Nathan, Rough and ready Jason is soon wanting nothing more than to slide his giant raw dick into his bunkmate, and Nathan is more than willing to oblige him. Pumping him hard, so hard they nearly break the bed, Nathan's never had so much raw cock inside him and as we look down Jason's toned torso, past Nathans airborne legs and feet to the ass pounding action, Jason's loving the feeling of every inch slide in and out from tip to hilt over and over. Nathan however wants more than a dick up his ass, he wants his own dick serviced too, and slides that perfectly formed shaft deep into our British solider, the hairy young stud taking it all as compensation for the previous fuck. Biting the pillow as Nathan pounds mercilessly, Nathan is gifted with a face and mouth full of cum after fucking his own load into Jason, lapping up every drop!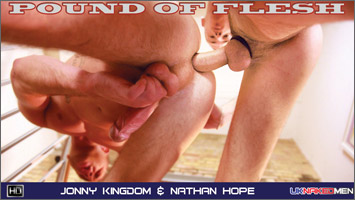 POUND OF FLESH – NATHAN HOPE & JONNY KINGDOM
Jonny Kingdom is an escort desperate for money, so when his sexy, young client insists on a bareback fuck Jonny finds himself between a cock and a hard place. Jonny wants to feel that thick, raw dick inside him and he wants the money! Nathan lubes up the lads hungry hole with spit and slides up to his nuts in the tight, muscle hole while Jonny pushes back, his arse sucking hungrily on Nathan's uncut cock. They fuck frantically, doggy, missionary, Jonny rides that raw pole, feeling its heat inside him until he can hold back his gushing spooge no longer and unloads all over his abs, closely followed by Nathan's gushing load all over Jonny's bollocks, balls, cock and hole, before Nathan pushes back into the battered pulsing hole to finish with a few squirts of spunk inside him!
BULLDOG PIT
UK NAKED MEN
BLAKE MASON
UK HOT JOCKS
CLICK HERE TO GO TO HIS BLAKE MASON DETAILS