Handsome Hung Hunk Cuban American Gay Porn Star, Romeo Alfonso
Known Aliases: Claudio at Chaos Men
Years Active: 2015 – 2016
RANDY BLUE INFO:
Sometimes you look at a guy and just see perfection. Romeo Alfonso is just that guy. First, he has a body to die for. Not overly muscular but chiseled in all the right places. Well formed pecs, a six pack you just want to run your hands over, and strong legs make him a stunning sight from head to toe. Then you look at his adorable face, sultry and intense one minute, as if he could seduce the pants right off of you, then a smile that could charm a wild animal. Then he strips completely and you see the beautiful cock hanging between his legs. A stunning sight while flaccid it only gets more impressive as he works it up to full hard on. Romeo is naturally smooth with little patches of well trimmed hair. He shows you his sexy ass and all you want to do it bury your face in it. This is your sneak preview of a stunning new model who has a lot to offer. Just wait until his first hardcore video.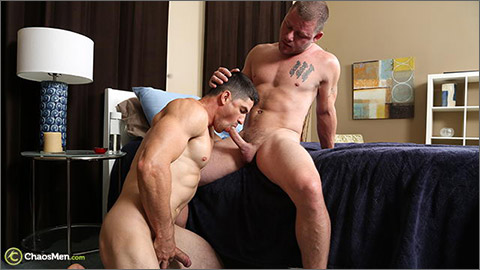 SERVICED: CLAUDIO & RANSOM
I wanted to showcase Claudio's amazing body by oiling him up, but didn't want to do a massage video where he would be very passive.
   So we start the video with a little oil, and muscle worship. Claudio identifies as straight, but he was hard with only a little attention from Ransom. His cock pops out of his compression shorts hard.
   Ransom gets him on his back to show-off his cock-sucking skills. He had him fully hard in no time, while Claudio strokes on Ransom's cock.
   With Claudio already familiar with playing with guys, we got some 69 sucking action going.
   Ransom then sits at the edge of the bed so that we could check Claudio's cock-sucking skills. He gets high marks! He eagerly sucks on Ransom while stroking his own big uncut cock.
   Claudio, who clearly shaves his hole, loves to be rimmed. Ransom teases his hole with his tongue, and sucks his giant knob backwards. Grrrrr?it makes me want to get Claudio to Bottom! He has such a great cock, but it would be nice to see him taking one up that perfect ass! I will work on him!
   Ransom sits Claudio down to try to make him cum. Claudio gets close a couple times, but he definitely is dependent on being totally upright in order to cum.
   He gets up on his knees and jerks his cock until he pours his load into Ransom's open mouth.
   Ransom quickly stands up, cum all over his chin, and strokes his cock until he fills up Claudio's foreskin with his own load! Ransom goes down and cleans up both loads, cum dripping everywhere!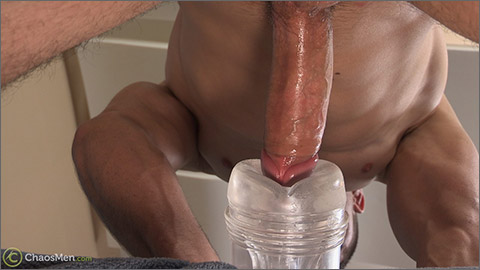 SOLO: CLAUDIO
I thought I would start the year off BIG!
   Big muscle dude with a BIG uncut cock!
   Claudio has done video work before. As always, sorry about the name change as I never know if a studio feels like they own the name that they gave him. Think of it this way, he is an actor who is now playing the role of Claudio at ChaosMen.
   He has beefed up recently too. Other than spending hours in the gym each day, he also does martial arts to stay in shape. He is yet another Cuban guy. I believe that makes my fourth or fifth Cuban guy in 2015! Giving all new meaning to 'opening relations' with Cuba!
   As usual, I started him off with a solo. He was also curious about how I shot video, and was not quite ready to jump all the way in. So we will get the full spectrum of his performance, with a solo today and a swap oral video next week. Then hopefully some raw fucking after that! Fingers crossed!
   He is straight, so I queued up some of the other model's all-time-favorites, and he was hard in not time. Claudio did keep suggesting I get some women in, but thankfully the porn did the trick.
   His cock is nearly 9-inches, and if you like big uncut cock, my guess is that it would score a 10 for perfection.
   His body is perfect too! Nice abs, and those pecs! With that handsome face he is a total package! Yum!
   I had him use a FleshJack, to which he nearly destroyed with some aggressive fucking. He could get a job doing safety testing of their toys!
   For cumming, Claudio is best standing or upright. Yet another dude who grew up jacking-off in the shower.
   So for his cum shot he is up on his knees and he spills a juicy load that fills up all that delicious foreskin!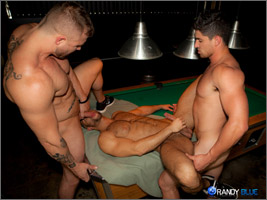 WELCOME TO LA EPISODE 3 – SILVERLAKE
Silverlake. It is full of artists, hipsters and bears, oh my. Austin is just sipping on his coffee and celebrating the fact that Justin Owen is the newest movie star he discovered. He decided to continue his celebration into the evening at the Los Angeles Daddy Bar, The Faultline. There is a party going on called, Raunch, and Austin is ready to get down and dirty. He enters the dark bar. Everyone is drinking and having fun. He grabs a beer and starts watching the gay porn on the screen. But he is then distracted by the two gogo dancers at the front. Romeo Alfonso his shaking his money maker in a speedo while Sean Zevran dances in a jock strap. Austin has to buy them. He starts tipping them dollar after dollar. And these two see this muscled beef cake in front of them and decide right then and there to take the rest of the night off. They pull him in a back room and start to make out. Clothes start to come off and slowly the last patrons leave the bar. This leaves the place open for these three to play. Out by the pool table, Sean gets on his knees and starts to suck them both off. Next Romeo gets on his knees and starts slurping down Austin and Sean as well. Austin wants to get something in his mouth. He pulls Romeo up and eats his ass while sucking on Sean and his big fat cock. Sean then turns around so that Austin can get to his ass. Next Romeo sits back and lets Austin suck him off while Sean rims him. But they are ready to take this to the next level. It is time to fuck. Austin slides into Sean while they both suck off Romeo on the bar. Next, Romeo sits back and lets Sean ride his long hard cock, while Austin sucks on Sean and tries to take him all the way down to the base. Sean screams out as he is sandwiched between a cock and a mouth. Finally Romeo lays Sean down on the pool table and fucks him on his back. Austin feeds him his cock. They fuck until hey all get close. They all cum one after another all over Sean. Sean takes both loads in his mouth. Then the three start to make out passionately. Just another night in Silverlake. Where the action never ends until the sun comes up. Welcome to L.A.
CHAOS MEN
RANDY BLUE
RANDY BLUE LIVE CHAT & PRIVATE SHOWS
CLICK HERE TO GO TO HIS CHAOSMEN BIO PAGE
CLICK HERE TO GO TO HIS RANDY BLUE DETAILS