Handsome Hung William Higgins Czech Gay Porn Star, Milos Ovcacek
Known Aliases: Jeffrey Lloyd, Adrian, Czech Hunter 240
Years Active: 2016 – 2017
WILLIAM HIGGINS INFO:
Milos Ovacek is aged 19. This handsome straight guy lives in Prague and works as a bartender. In his spare time he enjoys, sports and in particular ice-hockey and soccer. He is such a good looking guy and is soon showing us his sexy chest as he poses. Milos does some lovely poses in his jeans, and then wearing only his underwear. With the underwear pulled down some he shows off his sexy ass. As we enjoy that ass Milos twists his body with his hands held behind his head. Then, after checking his bulging underwear we see Milos naked with his stiffening dick poking out in front of him. That is one very large cock and it is soon rock hard and standing proud as Milos poses to show it off. He sits on the bed, cock in hand with the thick vein on the underside very prominent. After more great shots of Milos' beautiful dick we get to enjoy his ass hole as well as he lays back and lifts his legs in the air. Reaching between his legs Milos grabs them and pulls them up to his sholders, which spreads his sexy ass for a perfect view of that tight hole. Then he turns over, onto his knees to give us more of his sexy ass before ending a great shoot with more of that big, hard, cock.
Age (2016): 19
Home Town: Prague
Height: 180cm/5'10"
Weight: 70kg/154lb
Foot Size: EU43/US8.7/UK8.2
Penis Size: 17cm/6.69″
Profession/Student of: Bartender
Hobbies: Sport
Favorite Sports: Ice-Hockey
Active Sports: Soccer
Movie/Music/Sport Stars: Charlize Theron
Visited Coutries: Switzerland
Want to Visit Coutries: USA
Dream of My Life: I don't know.
Zodiac Sign: Leo (July 23 – August 22)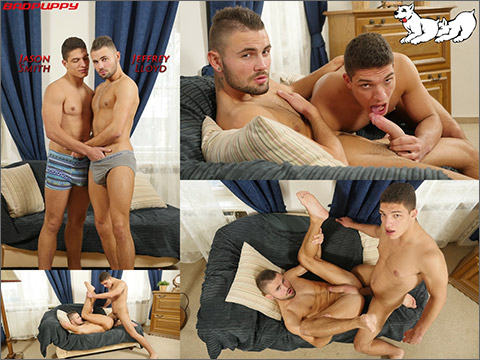 JASON SMITH FUCKS JEFFREY LLOYD
We catch Jeffrey Lloyd lying on the sofa with Jason on top of him; the pair deeply entwined in kissing and groping each other hunky, tight bodies. Jason helps Jeffrey out of his jeans to find that Jeffrey has on no underwear; but, his cock is definitely ready and standing at attention. Jason wastes no time sucking up every inch of Jeffrey's thick, long man-meat. Jeffrey sits up and as Jason takes off his shirt, Jeffrey rips off Jason's pants and swallows the entire length of his cock. Jason continues beating his thick dick while he chokes and gags on Jeffrey's hugeness. Jeffrey motions for Jason to sit down on the sofa and then Jeffrey slides right down onto Jason's thick dick. Thrusting with his legs, Jeffrey rides Jason's cock, his own dick bouncing with the rhythm, getting even thicker and harder the deeper Jason's cock goes in his ass. Jason continues to work Jeffrey's hole; legs pushed back, his hole being seriously abused by Jason. The passion intensifies as the pounding sends Jason over the edge first. He pulls his cock out of Jeffrey's ass, grabs it with his hand and with a few strokes; jizz starts flying all over Jeffrey's cock, balls and chest. Jeffrey's loving every bit of the cum soaking and; grabbing his cock, he sprays thick, juicy cum all over his tummy and chest.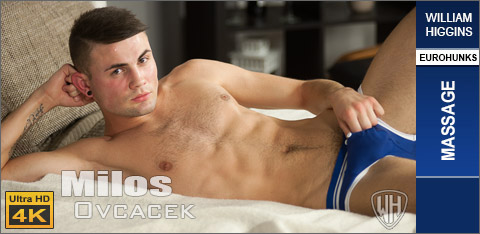 MASSAGE: MILOS OVCACEK
Milos Ovcacek is a very hot guy. He came in for a massage and lays on the bed, wearing just his underwear. His back hurts, apparently, as he tells the masseur who takes some oil and begins work. Petr Zuska is the lucky masseur who gets to feel that hot body. His hands work all over Milos' back and up to his shoulders and neck. Then his hands work over Milos' arms too. He turns and works down the back, and onto Milos' legs, pushing the underwear down as a little as he works. Petr's hands work both legs at the same time and then he concentrates on each leg in turn massaging deep. He moves back up to Milos' ass, removing the underwear and massaging the hot cheeks. Milos' dick is pushed back between his legs and his ass cheeks part as the hands work it. More oil is applied to the sexy ass and Petr rubs it in, opening the cheeks to expose Milos' hot hole. Petr teases the hole with a finger and then slips it inside. His finger works that sexy hole before his hands return to massaging the ass. More oil is dripped into the ass crack and two fingers slide into the hole. They work deep into the tight hole and begin some gentle fucking. Then Petr slides a vibrator into the ass and grabs Milos' cock to wank it. The vibrator fucks the hot ass as Milos moans. He lifts his sexy ass off the bed as it is fucked my the vibrator. Petr wanks Milos' cock as he keeps up the ass play. Then Milos turns over and lays on his back. Petr takes hold of his cock and wanks it, getting it nice and hard. He uses two hands to wank it. Then Milos takes over the wanking himself moaning loudly as he shoots his hot cream all over his sexy body.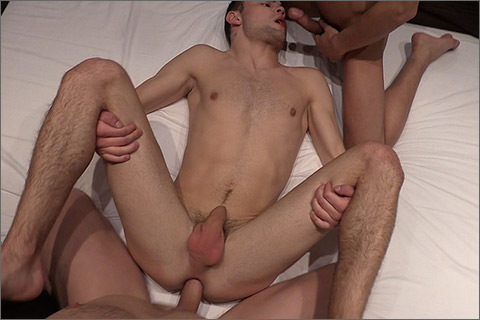 CZECH HUNTER 240
I got a call from a guy who I hunted long time ago. He mentioned having pretty serious financial problems. Not my problem, I told him. Then he promised to bring along his roommate. I was a bit reluctant but my curiosity won eventually. We met at St. Matthew's Fair, which is a very famous event in Prague. I thought it would be fun but bad weather ruined everything. The boy changed quite a bit since the last time I saw him. He got much cuter and stylish. Also his roommate was really nice and sweet. It took some time to convince him and I had to offer him a lot of money. But the effort was well worth it. I booked us a luxuriously looking room and we enjoyed a nice threesome. Just the poor boy had to endure two cocks while loosing his virginity.
BADPUPPY
WILLIAM HIGGINS
STR8HELL
CZECH HUNTER
GAY WAR GAMES
STAXUS
CLICK HERE TO GO TO HIS WILLIAM HIGGINS BIO PAGE