Sexy American Gay Porn Star, Ian Greene
Known Aliases / aka:
Years Active: 2016
TWITTER @iangreenexxx
FAB SCOUT INFO:
Age (2016): 22
Height: 5'10"
Cock Size: 7″ Cut
Position: versatile, bottom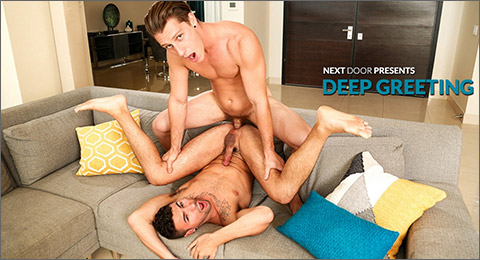 DEEP GREETING
With new neighbor Paul Canon on his couch, Ian Greene tactfully inquires about what Paul does for a living, disclosing to Paul that he does adult films in the process. Paul, a student loans collector, has ethical issues with his own job, but seems to project unfounded assumptions on what Ian does for a living. Ian reassures him that Paul has the wrong idea, and asks him if he's ever had sex with a porn star. Paul denies the possibility, and Ian asks him if he knows what he's missing. Paul, again, answers in the negative, and so Ian inches closer, kisses Paul on his ear and asks him if he'd like to. Paul stammers, but Ian has already begun to slide down Paul's body to remove his pants, taking Paul's cock in his mouth and downing it to the base. Paul stiffens his back and his cock, locking up at the touch of Ian's tongue, and Ian proves his professional acumen as Paul gets rock hard inside his mouth. Paul is instantly ready to fuck, so he flips Ian over, tonguing his ass to get it ready for penetration while stroking Ian's dick from behind. Ian's bubble butt is well maintained and ready for action, so Paul slides his cock deep inside. Ian takes every inch of Paul's thick cock with no problem, telling Paul to pound him. Paul does as instructed, fucking Ian hard from behind, then slamming Ian up and down as Ian rides, before finally flipping over his new neighbor onto his back. Ian watches Paul fuck the cum out of him, then begs for Paul's seed. Paul pulls out and blasts him with a huge load, coating him in jizz like a real pro, as Ian tells him to imagine getting paid for this. Paul smiles and considers taking Ian's advice to change careers.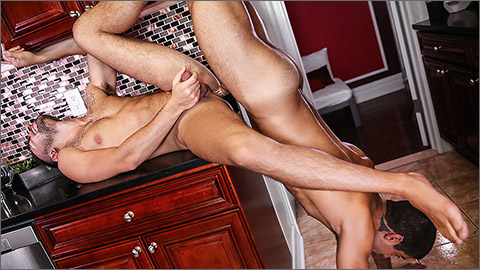 TOGETHER
Diego Sans and Ian Greene spend an intimate fuck-session together.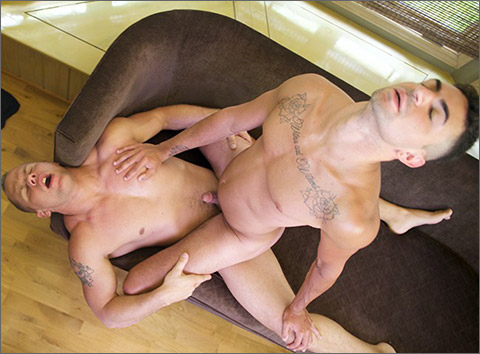 RAW CASTING #369: IAN GREENE
Ian Green is the Latin jock dream and is the type of guy who will go far in this industry. We all know how the casting couch candidate trumps up their skills and experiences to either calm themselves down or be the right man for the job, but Ian was exactly as he described. He mentions that he is vers/top, but mostly bottoms because people love his ass, and that he loves recording himself fucking. Turns out that his love of home movies was great practice for our camera. We tell him that he has been paired up with Austin Andrews, which he says that he doesn't know who he is. We figured it'd be a nice surprise and test of his claims. Austin and Ian chat a bit and Ian shows off his body for the camera; tan, smooth, and we automatically see why so many people want to top him! Austin seems to get excited too, taking out his fat cock and without a second thought Ian swallows it. That must have been one of the best blowjobs on camera, no problem deep throating, wetting Austin with his watering mouth, and then licking it clean. Ian clearly knows how to lube up a cock for some real raw fucking- lube free. Austin kicks back and lets Ian ride him and boy does he; bottoms could take a page out of Ian's book. He bounces on that cock like it's his last meal, even making Austin cum. At some point this is less of an audition and more of a sneak peek into two long time fuck buddies going at it; the sexual connection was unbelievable! Austin doesn't stop, he keeps pounding rough and Ian doesn't wince or back off from it, they just keep fucking and fucking. Ian mentioned earlier that his favorite position was on his back and Austin gives him that treat. Ian gets so excited that he goes for his cock and starts jacking it, cumming quickly as Austin keeps ramming him as rough as ever, before cumming a second time straight on Ian's tongue. Ian needs no direction, he sucks Austin's cock clean. Austin was so impressed that he says to Ian "you're the first guy to ever take my dick like that-ever!" Quite the fucking compliment!
NEXT DOOR STUDIOS
MEN.COM
RAW CASTINGS
CLICK HERE TO GO TO HIS NEXT DOOR STUDIOS DETAILS
CLICK HERE TO GO TO HIS MEN.COM DETAILS