Club Amateur USA Gay Curious Guy, Xavier
Known Aliases / aka:
Years Active: 2005
CLUB AMATEUR USA INFO:
Age: 20
Height: 5'10"
Weight: 160#
Cock: 8.0″
Brown Hair
Blue Eyes
Straight and Sexploring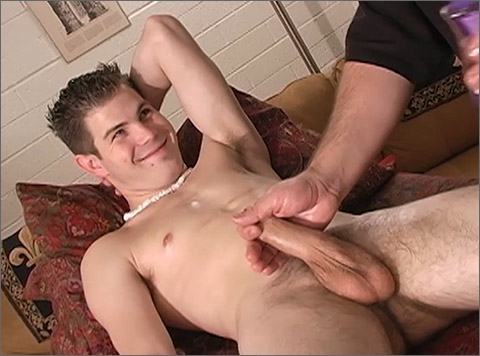 CLASSIC 083 – XAVIER
Several weeks ago, I scheduled a surprise for y'all for this weekend. Unfortunately, when he arrived into town late this week, he was feeling well under the weather. So, we're going to try again in the latter part of next week before he again leaves town. As a result, I'm again reaching way back into the CAUSA Vault to January 2005 and the cameo appearance of ASG's Xavier. I'd forgotten how cute, genuine, and personable Xavier was. Looked him up, today, on the ol' FB, and he's still in the area and at 32, he still looks as young as he did back in the day. Here's what I had to say about this shoot and Xavier 11+ years ago when he was a wee lad of 20:
On several levels, this video shoot was a challenge. For one, many of you have seen Xavier on another like-genre site. As with D. Cypher, Xavier was strongly counseled to not work with ClubAmateurUSA.com. Luckily for all of us, his email inquiry to the folks at that other site regarding his scheduled shoot with me, went unanswered. So, we went forward with the shoot. Of course, I anticipate that his appearance here will end any future shoots once the others find out.
   So, going into it, I wanted to do more with Xavier than just a rub and a tug. I learned from making that mistake with D. Cypher.
   This shoot was scheduled as a "Round Two" video with both massage and oral since Xavier has participated in male-male sexual interaction on the other like-genre site. I figured that it would be a step back for our shared site members for me to do a strictly massage video.
   As Xavier and I were preparing to get the shoot started, he made a similar comment to Tomas' that he is 100% straight, and it is next to impossible for another guy to get him off without straight porn playing in the background for him to focus on.
   Outwardly, I told Xavier that I was happy to pull out the TV and DVD player after we started the shoot and potentially found that he would not be able to perform, per se. Inwardly, I realized that this was a huge challenge for me, and if it happened as I anticipated, ClubAmateurUSA.com would be the first site within this genre to show Xavier getting off at the hands of another male without him focusing on the pussy on the television screen.
   Guess who won the challenge? Hehehe!
   Yup! This shoot nearly wore me out getting Xavier to orgasm, but I was able to successfully accomplish and capture on video Xavier finding his inner eroticism and reaching climax without any other "aids" other than my "magic hands."
   Of course, before that, I got a little butt munching and cock sucking in just for shits and giggles. LOL!
   So, enjoy Xavier's debut and another first-time sexperience brought to you on ClubAmateurUSA.com!