Indonesian Bentley Race Aussie Mate Gay Porn Guy, Vino Rainz
Known Aliases:
Years Active: 2016
TWITTER @vinorainz
BENTLEY RACE COMMENTS / INFO:
A couple of weeks ago during a weekend trip to New Zealand I met this very cute Indonesian bot called Vino. He is travelling the world and currently staying in New Zealand. I saw his pics and thought he looked pretty dam cute. And it turned out he was staying in a hotel very close to mine. Within minutes he was already up in my hotel room. He's really cute in real life too. The 23 year old was smiling a lot as I gave him a tour or my huge hotel room. I could tell right away that we were going to have a fun shoot. I just noticed that his hair is still wet in this shoot because we had started taking photos in the bathroom prior to taking these shots. Vino starts out doing a strip tease on the bed and the chair. Then he pulls those thigh high socks right up for some cheeky naked photos out on the balcony. This hotel has got a great view of Auckland's Sky Tower, so I got a few cheeky photos of our new friend stark naked in front of the tower. You can tell my the photos that I'm completely taken by Vino's beautiful little bum. Vino Rainz is super fit and even though it was a dull rainy day in Auckland, his photos look great! I will also post his hot video later this week.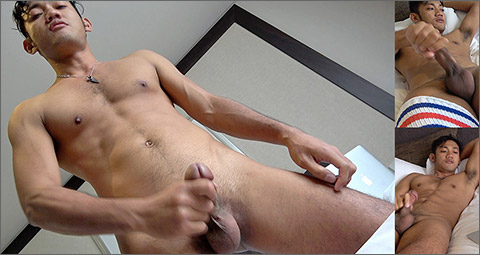 A HOT JACKING SESSION WITH THE VERY CUTE VINO RAINZ
This is one hot video from my cute new mate Vino. The very fit Indonesian had gotten really horny during the photoshoot. He had already stripped off twice and ran out on to the balcony naked. So it was time to get naked one last time and jack off on my bed. I followed him around the room as he got naked and showed himself off again. I couldn't resist playing with his bum as he pushed it up in the air for me to see. Vino looks amazing as all his muscles tighten and release while he's jacking his fat cock. And wait until you see the cum shower he gives himself at the end. This really turned out to be a really fun day in Auckland. I will post the BTS video of our shoot together very soon. In the meantime you can enjoy getting off with Vino.