Skinny Hung Bentley Race Aussie Mate Gay Porn Guy, Caleb Knight
Known Aliases:
Years Active: 2016
BENTLEY RACE COMMENTS / INFO:
My obsession with skinny boys with big dicks continues with my mate Caleb Knight this week on Bentley Race. 22 year old Caleb and I have been friends for a long time. I hadn't considered asking him about modelling for me until recently when I spotted a photo of him naked. So, as well as being quite cute, Caleb is actually sporting a really fat cock. I can't believe I didn't know this! He surprised me when he said yes right away to modelling for me. Of course the shoot went really well and we had lots of fun doing it. But you have to check out the video where Caleb pushes half of this very long fat black double ended dildo up his bum. His cock grow even bigger as he starts riding the big rubber cock. I had no idea his video was going to get crazy. Then he lubes up the fleshlight and starts ramming his cock in and out of it. I sense he's just showing off now. Eventually Caleb lays back on the bed and squirts cum all over his belly. Was a nice satisfying end to our first shoot together. I think our friendship has changed now.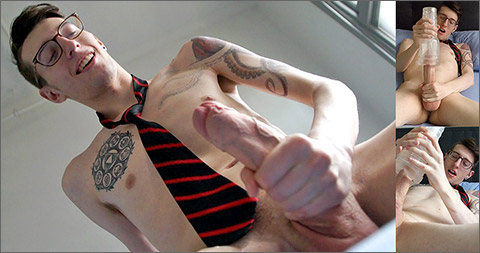 CALEB KNIGHT'S FIRST PORN VIDEO – RUBBING MY FAT COCK
I had no idea that things were going to get this wild in my mate's first porn video. With the photoshoot out of the way I gave Caleb a few instructions on how the video scene was going to work. I prefer to give any instructions before the scene and not interrupt while the guys are getting off. I could tell that Caleb was excited by some of the things in the toy drawer, but I didn't know what he was going to choose. Once he had stripped down and was wearing just his shoes, socks and a neck tie, Caleb reached for the toy drawer to grab the big black long dildo, And with a bit of lube he was already pushing it deep up in to his hole. Okay, now I knew this was going to be a hot show. Caleb also shows me how he can split open a fleshlight with his fat cock. I'm actually surprised by my mate's hot show. After seeing all of this I think I'll be getting Caleb back for more scenes very soon.