Handsome Hung Italian Gay Porn Star, Vilem Cage
Known Aliases / aka: Cage Kejc, Martin Karvina, Rick Sandowski, Kajc
Years Active: 2001 – 2009
STATS / INFO:
Residence: Czech Republic
Birth date: January 1978
Height: 5′ 11"
Weight: 175
Size: 7" uncut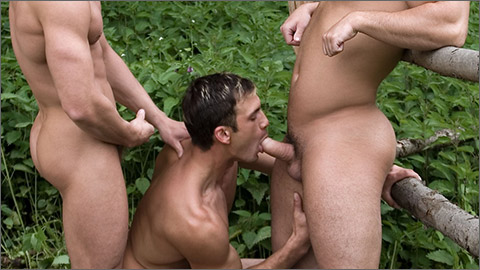 FARM HANDS: Vilem Cage & Tadeusz Tesar fuck Pavek Neumann
Pavek Neumann, Vilem Cage and Tadeusz Tesar return from a hike and suck and jerk each other off, then fuck on some farm equipment. Lean, tight Pavek Neumann, smooth and hunky Vilem Cage and stocky muscled Tadeusz Tesar return from a hike shirtless and sweaty, playfully throwing punches into each others' thick chests and wrestling around like the young bucks they are. Taking a quick rest break by a paddock fence, the guys' horseplay quickly turns to lust. Tadeusz strokes Vilem's hefty bulge and pulls his jeans down while Pavek plays with Vilem's nipples; once they've got Vilem naked, Pavek starts stroking Vilem's uncut dick and Tadeusz sucks it down. Pavek and Vilem passionately kiss while Tadeusz deepthroats Vilem's cock. They switch, with Tadeusz tonguing Vilem's tantalizing pits while Vilem thrusts his stiff rod down Pavek's willing throat. Vilem and Pavek take turns pumping Tadeusz's handsome square-jawed mug, and Vilem bends over and gets a taste of Pavek's meaty dick, skillfully swallowing it down to the base. Vilem pumps 2 Tadeusz' face while Pavek jerks off with his arm around Vilem's broad shoulders, and groaning and moaning, they both bust a nut all over Tadeusz's massive pecs and thick beefy shoulders.
   Then it's Tadeusz's turn to get off. Vilem and Pavek peel Taseusz's jeans off, revealing an incredibly beefy ass and large piece of uncut meat, and push him forcefully up against the fence. Vilem relentlessly sucks and jerks Tadeusz until Tadeusz unleashes a torrent of jizz spilling out all over Vilem's hard smooth pecs.
   Hell bent on doing a deep exploration of each other's asses, the guys move over to an old cart, where Vilem and Tadeusz make out as they relentlessly shove their fingers deep up Pavek's hard musclebutt. Vilem mounts the willing Pavek, slowly sliding his cock in deep, then slamfucks his ass as he and Tadeusz kiss. Tadeusz hocks spit onto Vilem's stiff dick as it's plunging into and out of Pavek's beautiful butt, slicking it up for a good ride. Vilem sits on an old chair, providing the perfect position for Pavek to slide up and down on his cock while Tadeusz sucks down his thrusting, throbbing dick. Then Pavek leans against a ladder with one leg on the ground and one leg up a rung so that Pavek can get in even deeper as he fucks him from behind. Tadeusz takes a turn pumping Pavek's ass as Vilem climbs on the ladder to give Pavek a chance to suck him while getting banged from behind. Vilem dumps his cum load all over Pavek's shoulders and onto his back, and Tadeusz shoots his sperm on Pavek's muscled ass cheeks, coating them with creamy cum.
LUCAS KAZAN
TITANMEN FRESH
KRISTEN BJORN PRODUCTIONS
ALL WORLDS VIDEO
US MALE / ELITE MALE AT MALE DIGITAL
CLICK HERE TO GO TO HIS TITANMEN FRESH DETAILS
VIDEO ON-DEMAND: Vilem Cage @ AEBN SMUTJUNKIES THEATER
DVDs & ON-DEMAND: Vilem Cage @ TLA VIDEO