William Higgins Dark Handsome Czech Gay Porn Star Hunk, Viktor Burek
Years Active: 2014 – 2015
WILLIAM HIGGINS INFO:
Age: 25
Home Town: Prague
Height: 184cm/6'0″
Weight: 92kg/202.4lb
Foot Size: EU45/US9.1/UK8.6
Penis Size: 17cm/6.69″
Profession/Student of: Sales advisor
Hobbies: Sport
Favorite Sports: Soccer
Active Sports: Fitness
Movie/Music/Sport Stars: Xindl X
Visited Coutries: Croatia
Want to Visit Coutries: Australia
Dream of My Life: I don't know.
Zodiac Sign: Taurus (April 20 – May 20)
Viktor Burek lives in Prague. He is a great looking guy, that face is just so handsome. Viktor also has a very good body, as we see when he gets naked. But the good things don't stop there, as we get to see his cock nice and hard too, as well as good look at a very sexy ass.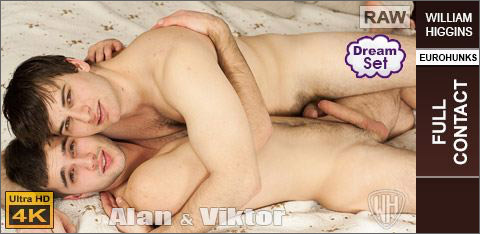 FULL CONTACT: VIKTOR BUREK & ALAN CARLY RAW
In a beautiful Dream Set Viktor Burek is laying face down on the bed, wearing only his underwear, when he is joined by Alan Carly, similarly attired. Alan lays on top of him and they begin to kiss as Alan feels his buddy's hot body. He rubs Viktor's shoulders and dry humps him a little, reaching under to rub his chest too. Viktor turns over, onto his back with Alan astride him. As Alan works his way down Viktor's body he lowers the underwear showing his friend stiff cock. He rubs over the cock and balls and begins to suck. His mouth wraps around the stiff cock sucking as he continues rubbing his hands over the body, cupping the balls. Viktor lifts his legs in the air, exposing his tight hole and Alan quickly slips a finger into the hole. Then he takes a vibrator and uses that on Victor's hole. Viktor wanks himself as the vibrator fucks in and out of his tight ass. A larger vibrator is then used to open that hole up real good, as Viktor moans. His ass takes the toy nicely as Alan works it for him. Then Alan, whose own cock is ready for action takes his underwear off and begins to fuck that eager hole. He fucks hard and fast as Viktor moans. Viktors jands feel Alan's sexu chest as his ass takes the dick deep inside. Alan really fucks well, stretching the hole as he uses long strokes to fuck. He leans over and kisses Viktor as he fucks him. Then Viktor turns over, onto his knees and takes that cock so deep in his hole. Alan fucks deep, his balls tight against that hot ass as they continue kissing each other.As Alan fucks that hot ass he cant hold back and cums deep inside the ass. He pulls out and his hot cum oozes out of Viktor's ass. Then Alan lays, face down, on the bed as Viktor gets to work on him. He turns Alan over and sucks on his cock and kisses over his hot body. Then Alan's legs are in the air, his ass cheeks spread to show off his hole. Viktor fingers that tight hole as Alan wanks himself. Then Viktor uses toys on that ass too. First a vibrator opens the hole and is then replaced by a dildo which fucks it nice and deep. Alan keeps his legs wide apart as his hole gets used. A thicker dildo is then shoved into that hot ass, and goes in nice and deep as Viktor fucks it in and out. Then, with the hole really ready he slides his throbbing cock deep inside and starts to fuck. He fucks Alan so well, making him moan with each thrust of the throbbing cock. As he takes the dick deep in his ass Alan wanks his own meat, faster and faster and he drops another load of cum, over his belly. Viktor continues to fuck that hot ass, turning Alan over onto his knees. His cock works in and out of that ass until Viktor cums inside it. He pulls out and spreads Alan's ass, as his cock still has a pearl drop of cum on it. Then Alan turns over and the two of them lay down and kiss again to end a wonderful scene.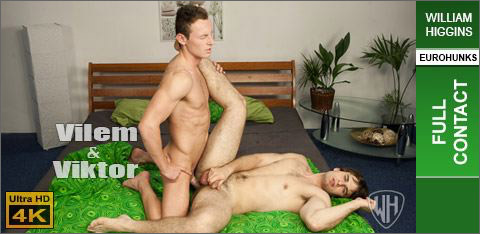 FULL CONTACT: VILEM TEL FUCKS VIKTOR BUREK
The hot and hunky straight guy Viktor Burek is taking a shower and is then joined by the equally sexy Vilem Tel. As the water cascade over them they start to feel each other's bodies and then kiss. Viktor works his way down Vilem's body, taking his cock in his mouth. Viktor's sucking soon has Vilem's dick rock hard. It is one very thick beauty and Viktor does a great job of sucking it. Then Vilem returns the favor, sucking Viktor's throbbing cock. He licks at it and swallows the head, working his hot mouth over it. Then he sucks on the balls as well. Then, with both cocks rock hard they dry each other and move to the bed. Once there Vitkor is soon sucking on Vilem's big cock again, before they move to a 69. Vilem is then ready for more, he wants some ass and Viktor willingly makes his available. Vilem fucks that ass with his big fat cock, going nice and deep . After fucking doggy style for a while they move to missionary as Vilem continues to work Viktor's hot hole. Viktor wanks himself too, as he gets fucked deep. As his wanking speeds up Viktor feels that big cock really pounding his ass. Then Viktor's dick releases its'hot, creamy cum. Vilem continues to fuck that tight ass until he is ready to cum too. Pulling out he shoots his load over Viktor's cock and balls. Then he leans forward to kiss his once again to end a lovely scene.
EROTIC SOLO: VIKTOR BUREK
FULL CONTACT: VIKTOR BUREK & VILEM TEL
FULL CONTACT: VIKTOR BUREK & TONO MILOS – SCREEN TEST
FULL CONTACT: VIKTOR BUREK & ALAN CARLY RAW
WANK PARTY 2015 RAW #1
WANK PARTY 2014 #8
WANK PARTY 2014 #7
CZECH UP: VIKTOR BUREK & STEVE PERYOUX RAW
WRESTLING: VIKTOR BUREK vs ALAN CARLY
CLICK HERE TO GO TO HIS WILLIAM HIGGINS BIO PAGE