William Higgins Czech Gay Porn Star, Roman Madlec
Years Active: 2014 – 2015
WILLIAM HIGGINS INFO:
Age: 21
Home Town: Lidecko
Height: 200cm/6'6″
Weight: 98kg/215.6lb
Foot Size: EU47/US9.5/UK8.9
Penis Size: 19cm/7.48″
Profession/Student of: Unemployed
Hobbies: Sport
Favorite Sports: Football
Active Sports: Football
Movie/Music/Sport Stars: Jennifer Lawrence
Visited Coutries: England
Want to Visit Coutries: Australia
Dream of My Life: To be a star!
Zodiac Sign: Scorpio (October 23 – November 21)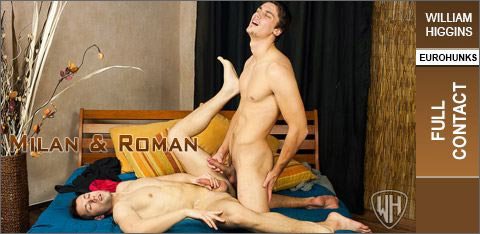 FULL CONTACT: MILAN NEORAL & ROMAN MADLEC
Milan Neoral and Roman Madlec, two very straight guys, are on the bed kissing at the start of a very hot scene. Then Milan unzips a banana and begins to slide it in and out of his mouth in a very provocative manner. He leans over and kisses Roman again and then passes him the banana. Roman repeats the process with the banana, licking and sucking it. Then this sexy pair kiss again before they decide to try it for real. They move onto their knees, kissing some more, and bare their chests. Then they lower their underwear, letting their already hard cocks slip out. Roman removes his underwear and lays on the bed, wanking himself, as he takes Milan's beautiful cock into his mouth. He sucks on the cock for a while. Then Milan takes off his underwear and sucks Roman, who stands before him. His mouth wraps tight around Roman's stiff cock. Then he licks up and down the shaft before sucking it back into his mouth. He does a great job at sucking and then lays on the bed, with one leg resting over Roman's shoulder. With his ass exposed Milan wanks himself as Roman inserts a toy into that sexy ass. He fucks Milan's sexy hole and leans forward to suck on his cock some more. He keeps working on Milan's hole as he sucks the dick and licks on his balls. Then Roman sits on the bed, with his cock big and hard, for Roman to slide his ass down on it. Roman rides that big cock so well, taking it deep into his hole. His own cock is rock hard and Roman reaches for it to give it a little wank. After riding Roman's cock for a while Milan moves, laying on his belly so that Roman can fuck him nice and deep. His big dick really stretches Milan's hole as he fucks him. Then Milan turns over, into missionary position, and wanks himself as Roman continues to fuck his hot ass. He keeps wanking as he gets fucked, with his breathing and moaning getting louder, until his cock explodes with his creamy cum. Roman keeps fucking Milan's ass until he too is ready to cum. He pulls out of that hot ass and wanks himself to release his cum as well. Then they finish, as they started, by kissing each other again.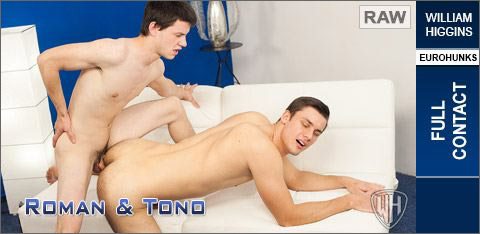 FULL CONTACT: TONO MILOS & ROMAN MADLEC RAW
Tono Milos is relaxing in his apartment, with Roman Madlec massaging his feet and legs. He works up the legs to Tono's thighs and it seems that there is a hard cock in in Tono's underwear. Roman's hand rubs over the underwear and onto Tono's chest. Roman then releases Tono's cock from the underwear and it is nice and hard. The underwear comes off and Roman wanks on the cock before leaning over to kiss Tono, who sits up to meet the lips. Tono's tee shirt is removed as well, followed by Roman's who bends over and takes the stiff dick in his mouth. He sucks on Tono's cock, his head bobbing up and down on it. Licking the shaft and taking the head in his mouth he keeps on sucking. Tono reached for Roman's underwear, pulling his cock out and wanking it. Already hard that cock is ready for sucking as Roman removes his underwear too. Tono is quickly on the cock, his mouth wrapping tight around the head and sucking it. That thick cock looks so good as Tono's mouth and hand both work on it. The thick shaft shines with Tono's saliva as he spits on it and keeps up with his sucking. Roman stands, his big dick poking out, with Tono on his knees to suck somemore. Roman fucks his cock in and out of the eager mouth, as saliva drips from Tono's chin. Switching to a 69, with Tono on top they each suck on the other's cock. Then Roman takes a ride on Tono's throbbing cock, sitting right down on it. His ass wraps around the shaft as it slides up and down on it. Roman's cock stays hard as he takes Tono deep in his ass. Changing position, with Roman on his knees, Tono fucks him from behind, working his dick in and out of the willing ass. Tono really fucks well and they move to missionary, with Roman wanking himself as his ass gets a good deep fuck. His wanking speeds up as Tono fucks him hard, until Roman drops his creamy cum over his leg. Tono keeps fucking, speeding up and really pounding that hot ass. He pulls out and wanks himself until he cums as well, as he stands over Roman. Then Tono leans forward to kiss Roman before they both go to the shower to clean up after some very hot sex.
EROTIC SOLO: ROMAN MADLEC
FULL CONTACT: MILAN NEORAL & ROMAN MADLEC
FULL CONTACT: TONO MILOS & ROMAN MADLEC RAW
FULL CONTACT: PETER VAN DON & ROMAN MADLEC RAW
FULL CONTACT: ALAN FRANK & ROMAN MADLEC – SCREEN TEST
FULL CONTACT: ROMAN MADLEC & JARO GRYGAR – SCREEN TEST
WANK PARTY 2014 #1
DUTY BOUND: ROMAN MADLEC & ONDRA RADNI
CLICK HERE TO GO TO HIS WILLIAM HIGGINS BIO PAGE