Handsome & Hunky Czech Gay Porn Star, Viktor Adam
Known Aliases / aka: Ondre Filip, Nyko (Maskurbate)
Years Active: 2016 – 2017
WILLIAM HIGGINS INFO:
Viktor Adam is aged 18 and lives in Prague. This handsome, well built, guy is a student who enjoys sports and bodybuilding. What a great looking guy Viktor is and he is mighty impressive as he removes his tee shirt to show off his beautiful chest. Clearly his bodybuilding is working well. He flexes his biceps to show them off and then removes his pants. He poses in the underwear, showing off his hot body and thick thigh, with more flexing of the biceps too. Viktor then turns and lowers his underwear to give a great view of his sexy ass, flexing again at the same time. He turns again and teasingly lowers the underwear a little. Then he removes the underwear and stands naked, presenting a beautiful hooded cock. To let us enjoy the cock he poses, hands behind his head. Then Viktor kneels on the sofa, presenting his sexy ass. He reaches back and parts his cheeks to show off his tight hole. He then turns over and stands up to show off a rock hard cock. that beautiful dick points skywards as Vitkor show it off. He wraps a hand tightly around the fat cock, barely enclosing the thick shaft. The cockhead pokes out of the foreskin as he holds the thick dick. Then, with his cock staying rock hard, Viktor works through a series of poses to really show off his hot body. He lays back on the sofa, raising his legs to show his ass, pulling on the cheeks to really expose that tight hole. Then he kneels and stands, working through a series of great poses to show off his hot body and rock hard cock.
Model Name: Viktor Adam
Age: 18
Home Town: Prague
Height: 188cm/6'2″
Weight: 105kg/231lb
Foot Size: EU45/US9.1/UK8.6
Penis Size: 18cm/7.09″
Profession/Student of: High School
Hobbies: Sport
Favorite Sports: Bodybuilding
Active Sports: Bodybuilding
Movie/Music/Sport Stars: Ronan Keating
Visited Coutries: Canada
Want to Visit Coutries: France
Dream of My Life: I don't know.
Zodiac Sign: Taurus (April 20 – May 20)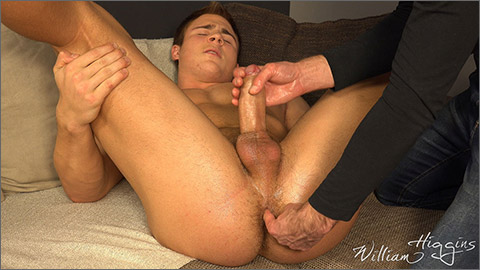 HELPING HAND: VIKTOR ADAM
Viktor Adam is aged 18 and lives in Prague. This handsome, well built, guy is a student who enjoys sports and bodybuilding. He looks magnificent as he sits on the sofa for his interview, his tee shirt promising to reveal a very hot body. Then Viktor lays along the sofa, removing his tee shirt to show off his chest. His pants come off too and his bulging underwear impresses as Viktor feels over his body. He soon has his cock out of the underwear, wanking it. The cock is rock hard in his hand as a helping hand arrives and begins to oil Viktor's hot body. The hands work all over the chest and gradually down to the thick cock. Soon the hands are wanking the cock and dripping oil onto it as Viktor moans. Then Viktor moves, raising his legs in the air and showing off his sexy ass. He pulls his cheeks apart and feels oil dripped onto his hot hole. One hand wanks on Viktor's dick as the other rubs over the ass and the tight hole. A finger rubs over the hole and gently dips inside as Viktor keeps up his soft moaning. The thick, long, cock stays hard as the finger plays in his hole. Then Viktor moves, laying along the sofa and wanks himself. His wanking speeds up and his balls tighten as his cock releases the squirting cum that goes right up his chest and hits his chin too. What a great video from a very hot guy.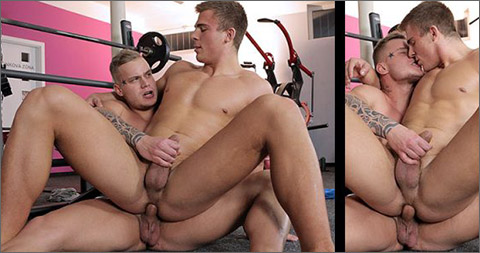 RYAN CAGE BAREBACKS ONDREJ FILIP
Blond muscle stud Ryan Cage is pumping iron at the gym when young muscle jock Ondrej Filip goes to assist him. Everyone needs a "gym buddy" and, with these two mega hunks alone in the gym, the relationship soon turns into "fuck buddy". Ryan lays down his weights and pulls out Ondrej's big uncut cock. When Ryan pulls out his dick Ondrej takes his clothes off. It's amazing that his buff body belongs to an 18-year-old. You read that right! After some 69ing Ondrej rims Ryan's ass. He then kneels on the bench and Ryan slips his raw cock in bareback. Ryan then sits on the floor and Ondrej goes for a bareback ride on his pole. Ondrej lays down on the floor and Ryan pounds him from behind with his raw cock. Ondrej gets back on the bench and lays sideways, his legs together and his ass readily available. Ryan barebacks Ondrej's hot ass through his tight buns. They take a break and suck each other, then go back to raw fucking. Ryan lays on the floor and Ondrej shoots his load onto his face. Ryan stands up and fucks Ondrej's mouth until he cums in his mouth. They kiss with each other's cum in their mouths.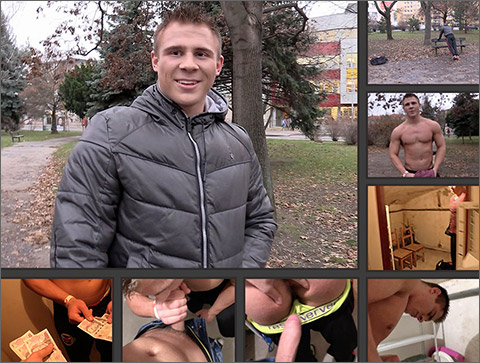 CZECH HUNTER 277
My very good friend kept begging me to let him be the Czech Hunter just once. I was at an awesome private party yesterday (no cameras allowed, sorry guys) so I decided to give him all my equipment and free hand to do whatever he wanted. He didn't start well, he got lost and was freezing terribly. But then he found one of the greatest guys we have ever had on Czech Hunter. If you like buffed dudes, you're going to love him. My friend fooled around with the big boy, flattering him and stroking his ego. The boy was still a student, his only income was a part-time job as a fitness instructor. Of course he didn't mind extra money. While looking at the video, I was growing more and more jealous. What do you think, should I invite my friend into our crazy Czech Hunter band?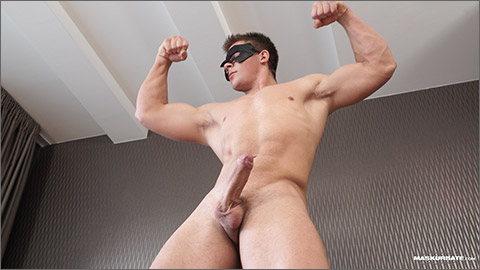 HYPNOMASK
I sent a HypnoMask to my hot straight neighbor. As soon as he put it on, he became all mine… I have commanded Nyko to enter my hotel room. I've heard he's got a large uncut dick. Time to find out!
WILLIAM HIGGINS
CZECH HUNTER
MASKURBATE
JAKE CRUISE'S COCK SURE MEN
CLICK HERE TO GO TO HIS WILLIAM HIGGINS BIO PAGE